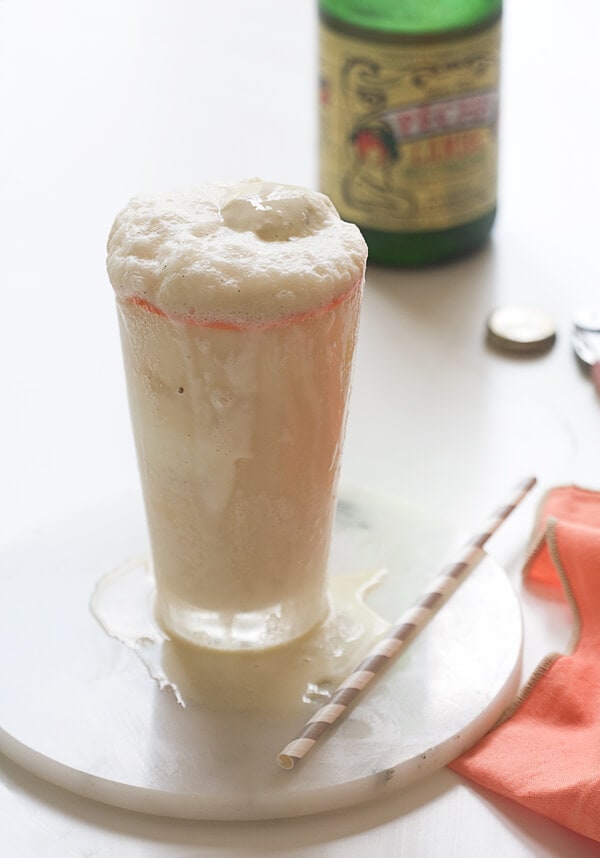 ICE CREAM WEEK, SUCKASSSS'! It's here.
I'm so excited to share with you a bunch of fun ice cream recipes. My hope is that you're super sweaty and so over summer. Think of this like a reboot because we still have a month or so to go and I don't want to hear anything about fall. I'm not ready, we still have ice cream to make/eat!
This has been the summer of beer for me. I've had a good amount of it–with most of it not being suitable for a float of any kind, except lambics, which are forever my favorites. (Remember last year when I made popsicles with cherry lambic?).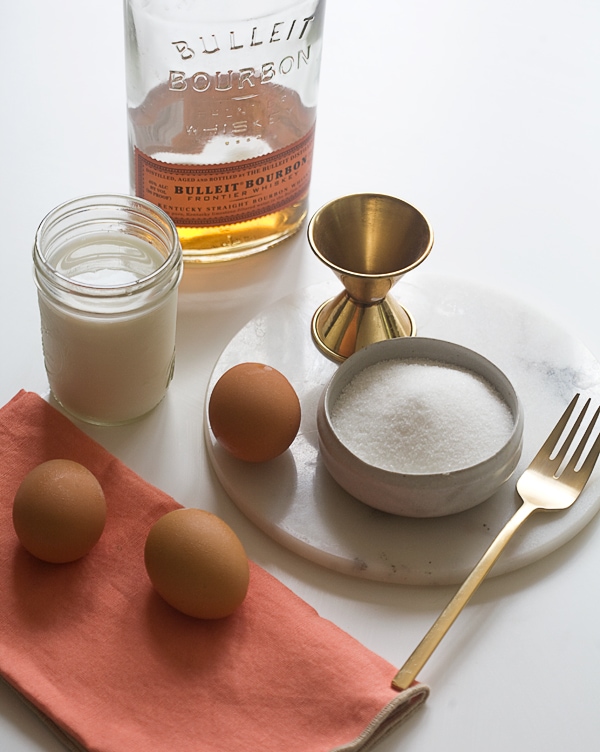 Peach and bourbon or whiskey is pretty much a no-brainer combination and I figured a peach-flavored beer and ice cream spiked with whiskey would be a sure-fire win.
If you're unfamiliar with lambics, here's a quick download: Fruit Lambics (because they're not all made with fruit) are Belgium beers fermented with wild yeasts and bacteria. Often times, during their secondary fermentation time, fruit is added, i.e., peaches, strawberris, cherries, etc. The beer is tart and takes on the flavor of the fruit it's fermented with. Think one part shrub and one part beer. It's effervescent and very, VERY summer-y.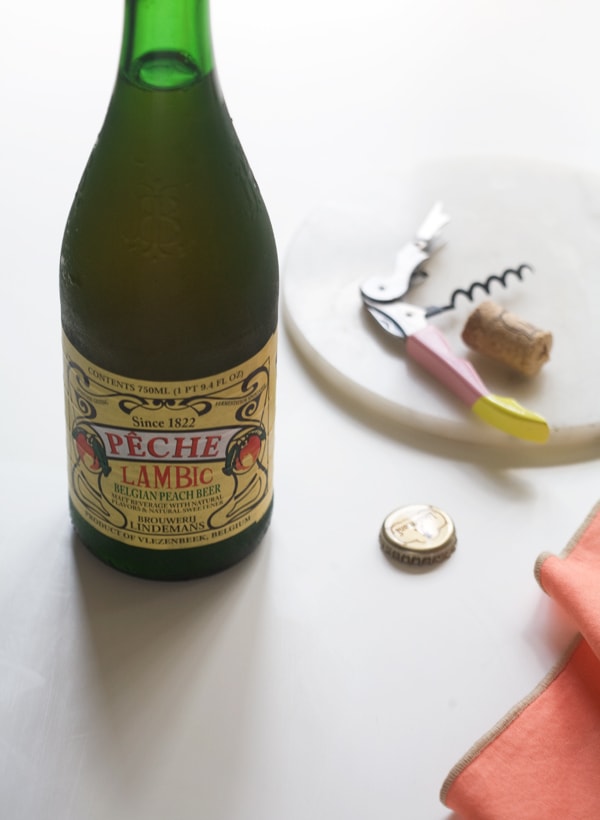 This ice cream is a dream. It's creamy and balanced, slightly salty and the whiskey prohibits it from.
A few thoughts on ice cream:
1. I use this Cuisinart ice cream-maker. There are better ones out there, but this one is pretty economical, especially if you're not making ice cream everyday.
2. I insist everyone get a digital-read thermometer. It makes ice cream-making SO much easier. No guessing as to when the custard is done!
3. I use these deli cups to store ice cream because they're cheap and easy.
4. There's a cute wooden handled ice cream scooper pictured, but I really love these sturdy ones.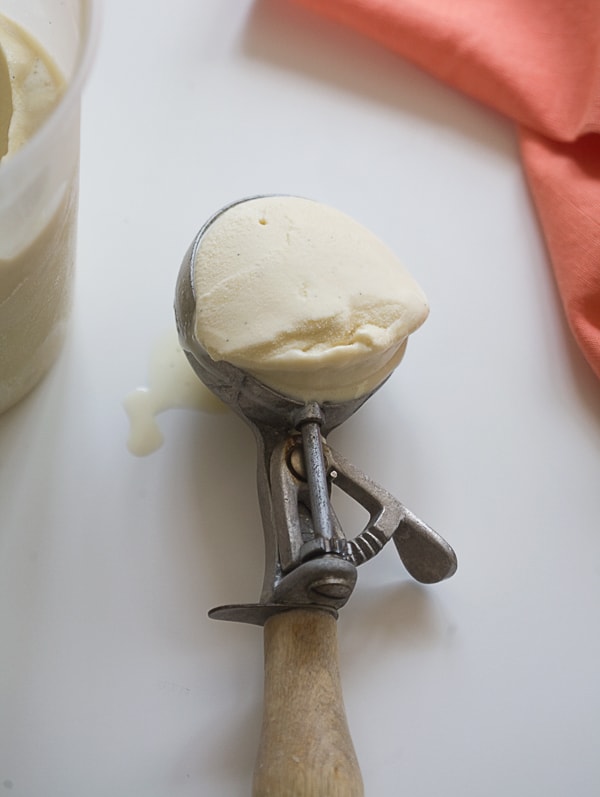 Look at those little speckles of vanilla bean. INSERT EMOJI HEART EYES!
YAY FOR ICE CREAM!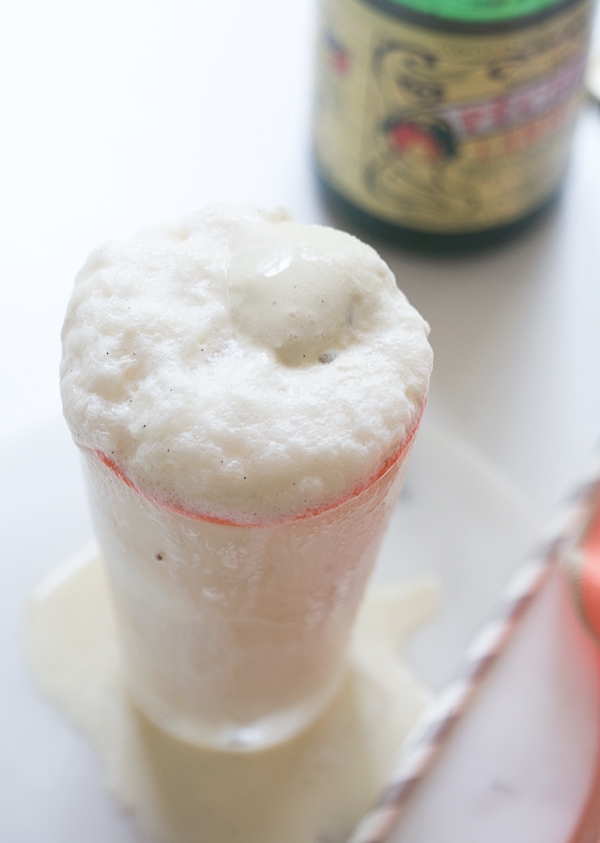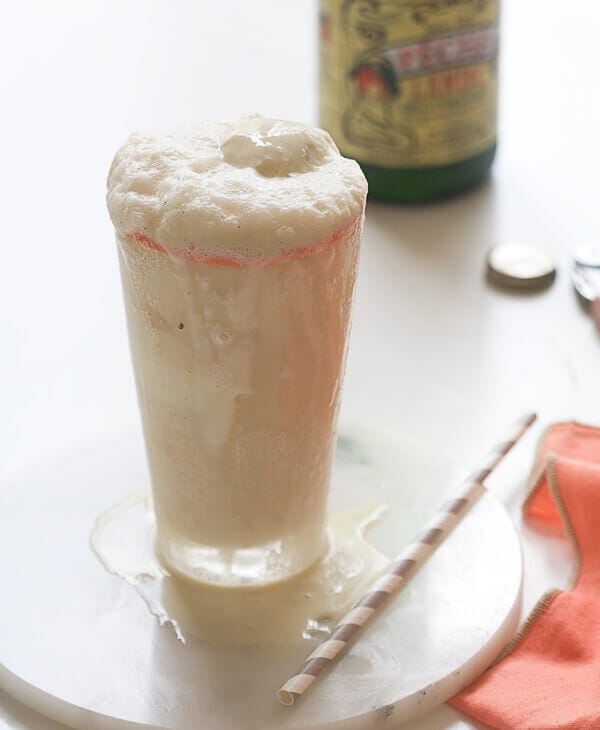 Print Recipe
Peach Lambic Float with Whiskey Ice Cream
Serving Size:
1/2 pint of ice cream
Ingredients
1/4

vanilla bean

1/4

cup

white granulated sugar

1

cup

whole milk

2

tablespoons

brown sugar

1/4

tsp

salt

4

large egg yolks

1

cup

heavy cream

3

tablespoons

whiskey or bourbon

Bottle of peach lambic
Instructions
To a large bowl, prepare an ice bath by adding a heaping handful of ice cubes to a large bowl and topping it off with a few splashes of water. Set a slightly smaller bowl inside the larger bowl and place a sieve or strainer inside. Set the whole ice bath contraption aside.

Add the vanilla sugar, whole milk and brown sugar to a medium saucepan. Turn the heat to medium and stir until the sugar has dissolved and the milk is hot to the touch. Whisking the entire time, add about 1/4 cup of warm milk to the beaten egg yolks. Return the egg yolk and milk mixture back to the medium saucepan and place over medium low heat. Cook the mixture, stirring constantly, until the thermometer reads 170 to 175 degrees F and the custard appears thick and coats the back of a spoon.

Pour the custard through the sieve into the bowl. Stir in the heavy cream until completely incorporated. Next, add the whiskey, stirring until completely combined. Keep mixing until the mixture is room temperature. Place plastic wrap on the surface of the custard, which will prevent the surface from creating a skin, and transfer to the fridge for 4 to 5 hours, until very cold.

When the custard is cold, churn the mixture into the bowl of your ice cream maker, according to the maker's instructions.

Transfer the ice cream to a quart container and freeze until the ice cream is firm, about 4 to 8 hours.