Mint Dark Chocolate Chip Ice Cream (w/ a secret ingredient for coloring)
19
Aug 07, 2014, Updated Dec 22, 2018
Disclosure: This post may contain affiliate links, which means I may earn a commission if you click on the link and make a purchase.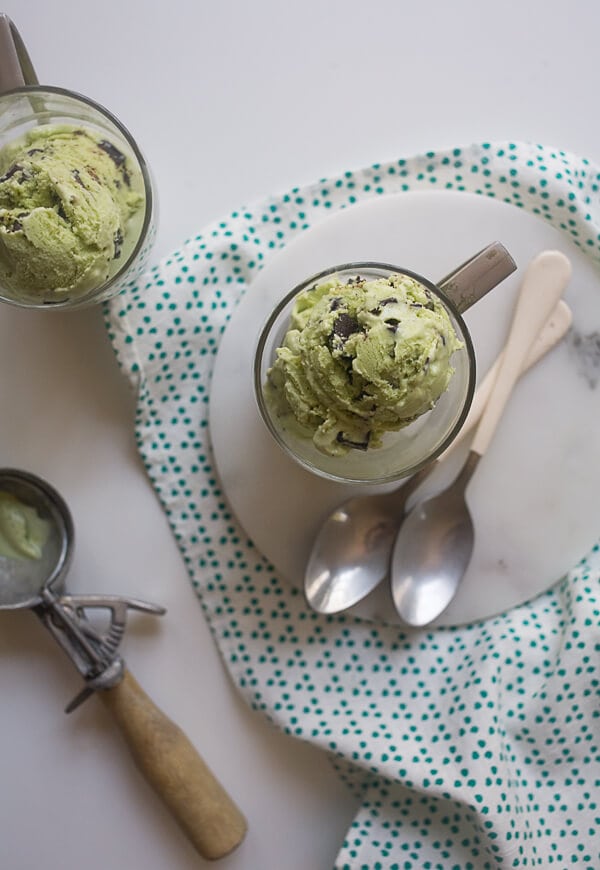 Today I'm very (what I like to refer to as)….#Hormotional. (And the hashtag part is important.)
Do you ever have friends who teach you things? A few weeks ago my friend Lara was talking about trying to buy a new home and all the pitfalls and hang-ups that come with that, especially in city like Los Angeles where property is ridiculously priced and everyone seems to have more money than you. After a phone call of bad news from her realtor, she hung up and decided to fix up her apartment. Not because she felt like she'll be there forever, she still intends on moving, but she felt like if she was striving for something bigger and better, that maybe it'd be a good idea to feel grateful for what she already has. Asking, striving from a place of gratefulness.
I haven't really stopped thinking about that conversation for a few weeks now. I'm not sure what it really means for me, but I know that every day I try and with that comes anxiousness and impatience. Two traits that aren't the most admirable in myself and in other people.
Recently, I've felt like stopping for a moment to say thank you. Not necessarily to a specific person or thing but just in general.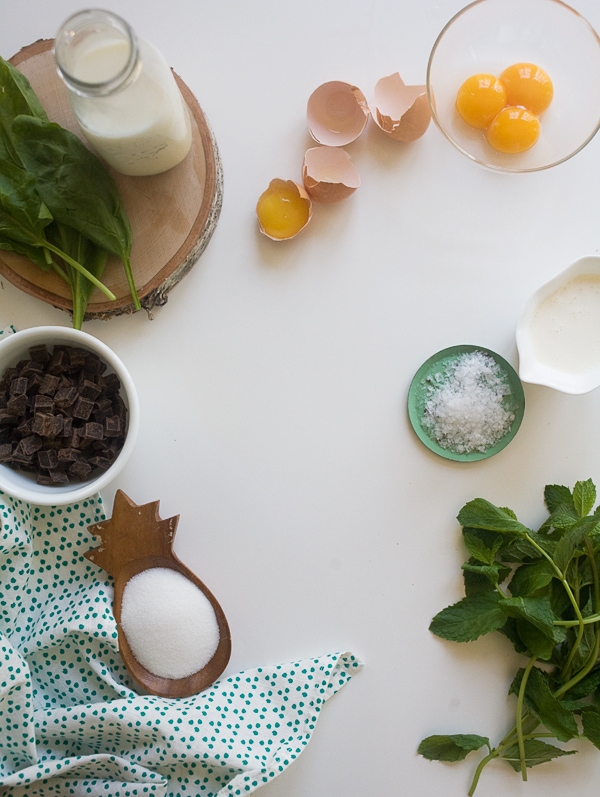 So every single day, I've been taking mental notes of things that make me happy in the smallest ways.
Do you ever do this? It's one part cheesy and one part absolutely necessary.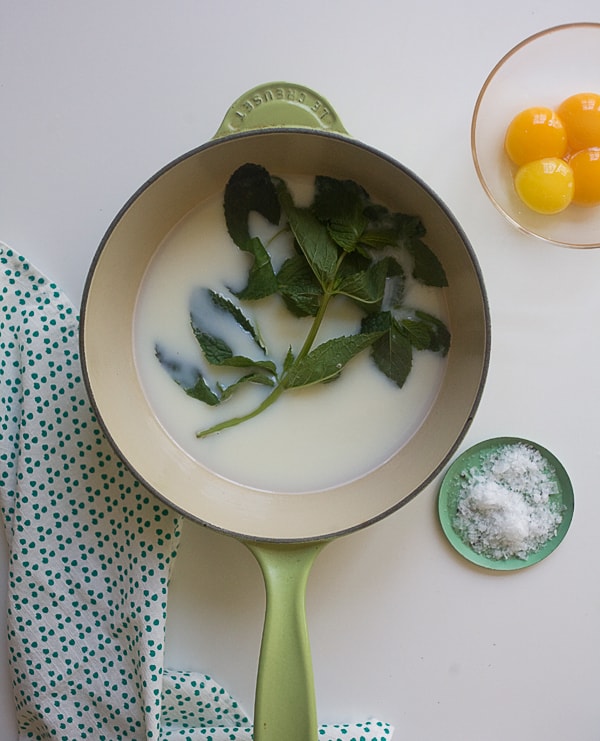 In other #hormotional news, there is Mint Chocolate Chip with dark chocolate and coloring that comes from juicing spinach!
I tried juicing mint but it came out brown? What? Very strange, especially since the mint I had was so beautiful and bright and fresh.
Spinach gives this mint ice cream, a beautiful hue of green without tasting a bit like spinach. This ice cream is so minty fresh and pleasantly sweet. The dark chocolate chunks are cold and delicious.
Please try it and tell me what you think.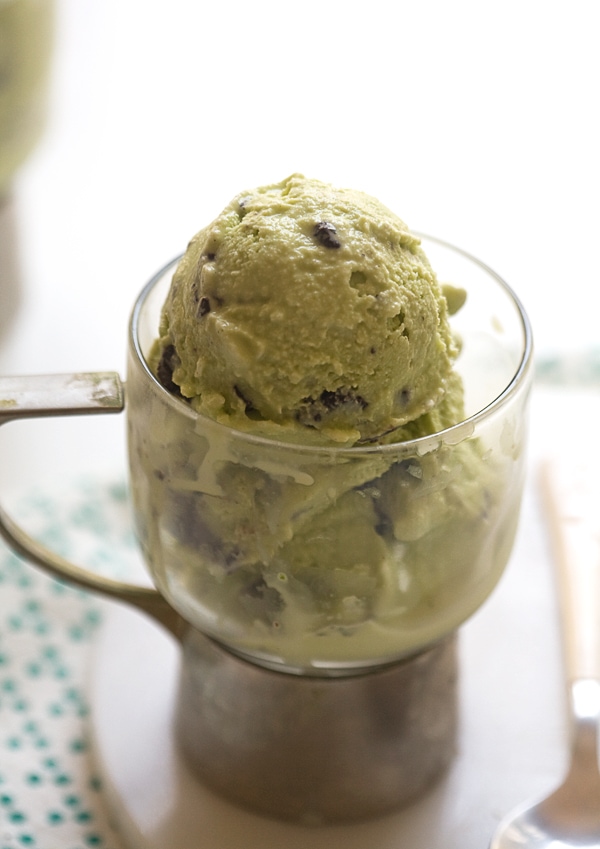 Mint Dark Chocolate Chip Ice Cream (w/ a secret ingredient for coloring)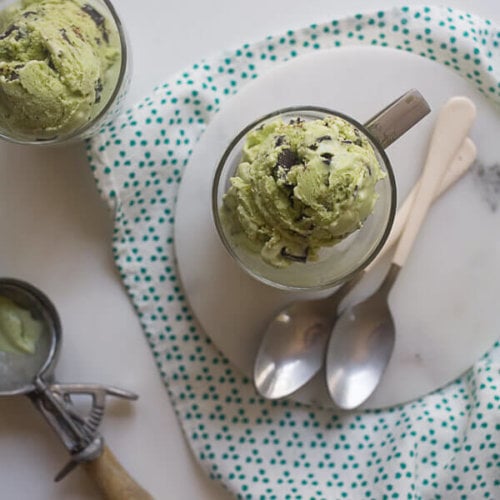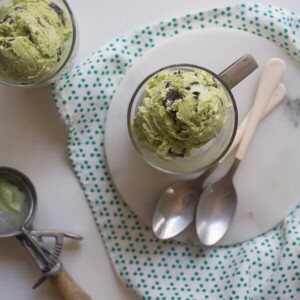 Ingredients
1

cup

whole milk

1

large sprig of mint

,

about 5 to 6 mint leaves, plus a few more for folding in the ice cream

Pinch

of salt

1/2

cup

sugar

4

egg yolks

1

cup

heavy cream

4

ounces

dark chocolate chunks

Handful of spinach

,

juiced (about 3 tablespoons)
Instructions
To a large bowl, prepare an ice bath by adding a heaping handful of ice cubes to a large bowl and topping it off with a few splashes of water. Set a slightly smaller bowl inside the larger bowl and place a sieve or strainer inside. Set the whole ice bath contraption aside.

Add the whole milk and pinch of salt to a medium saucepan. Turn the heat to medium and stir until the milk is hot to the touch. Turn off the heat and add the mint and submerge it in the milk; cover the pot and allow it to steep for 1 hour.

In a medium bowl, beat the egg yolks with the sugar; whisking them together until they turn a pale yellow, about 2 to 3 minutes. Remove the mint from the milk and discard. Bring the milk back until it's hot to the touch. Whisking the entire time, add about 1/4 cup of warm milk to the beaten egg yolks. Return the egg yolk and milk mixture back to the medium saucepan and place over medium low heat. Cook the mixture, stirring constantly, until the thermometer reads 170 to 175 degrees F and the custard appears thick and coats the back of a spoon.

Pour the custard through the sieve into the bowl. Stir in the heavy cream until completely incorporated. Keep mixing until the mixture is room temperature. When the custard has cooled down, stir in the spinach juice, about 2 tablespoons until it turns a pale yet vibrant green color. Place plastic wrap on the surface of the custard, which will prevent the surface from creating a skin, and transfer to the fridge for 4 to 5 hours, until very cold.

Mince up 3 to 4 leaves of fresh mint. When the custard is cold, churn the mixture into the bowl of your ice cream maker, according to the maker's instructions. At the very end of the ice cream churning, pour in the dark chocolate chunks and sprinkle in the minced mint. When the chocolate and mint are mixed and distributed throughout the ice cream, transfer it to a quart container and freeze until the ice cream is firm, about 4 to 8 hours.
Nutrition
Nutrition information is automatically calculated, so should only be used as an approximation.