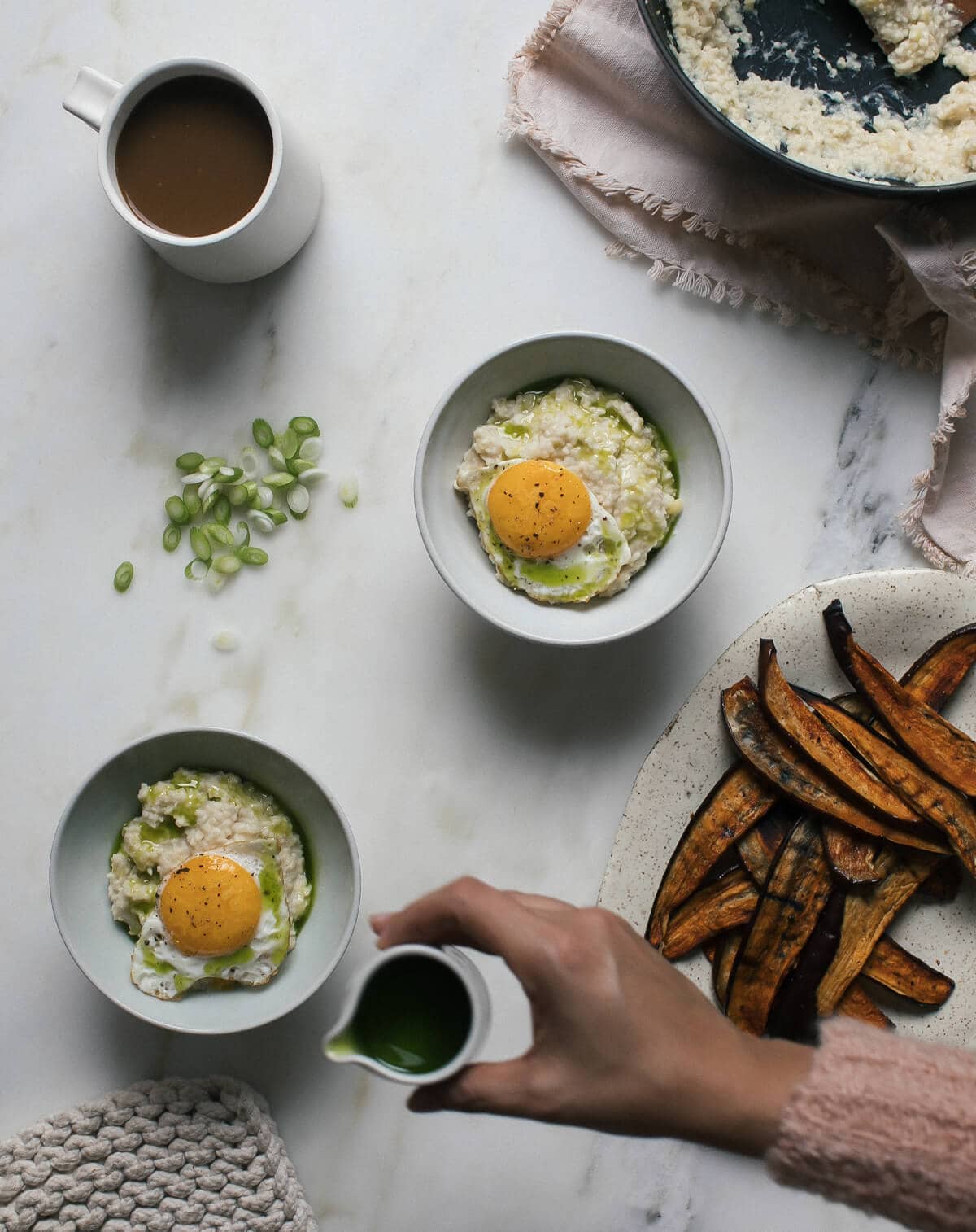 Hiii!
This past Monday it was rainy and stormy. I spent the entire day cooking in fluffy socks from two new vegan books and loved every single second of it!
The first up is a book, THE FIRST MESS COOKBOOK, from my friend Laura Wright. You might know her blog, The First Mess. Every single thing she cooks I want to eat.
If you've followed this blog for a little while, you know that I am the furthest thing from a vegan human. I love cooking things in butter and ghee. I love dairy. I love cheese. But from time to time, I'll steer clear of all of that, especially if things aren't sold to me as such and they're just presented to me as delicious and healthy-ish.
I feel like all of Laura's food is that way. I like to think of it as food that just so happens to be vegan and healthy; it's not forced. It's food that naturally is vegan and doesn't really feel or taste like health food. All of the recipes I've tried from her are done with ease and finesse. And my favorite part is that all of her food is cozy and comforting.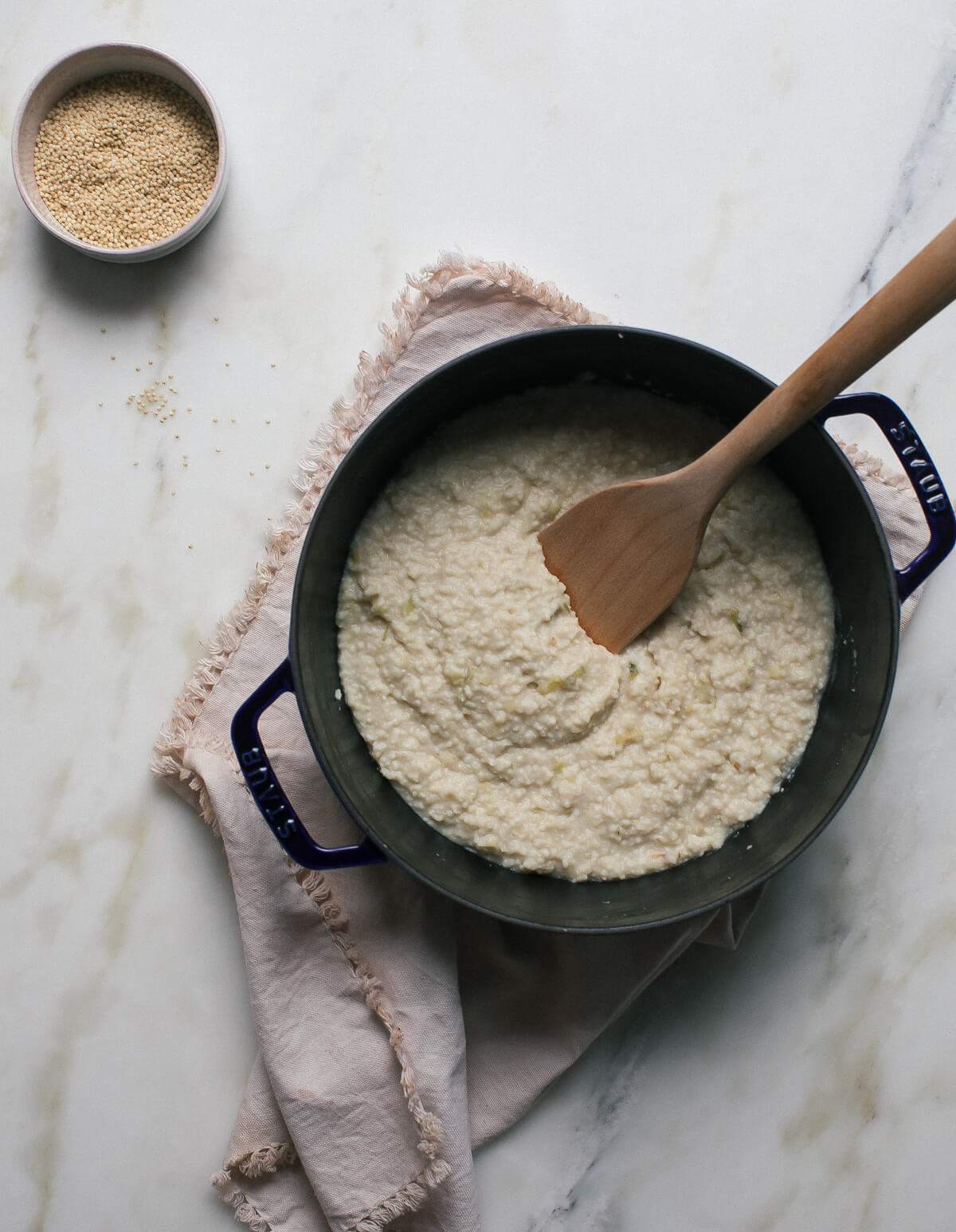 As I was flipping through the book, there were SO many dishes I wanted to try (and will try), but the one that intrigued me the absolute most was this millet "polenta." It's such a smart idea and one I hadn't come across ever. You take millet (which I happened to have a ton of in my pantry), grind it up and make it into a "meal."
It's boiled the same way that polenta is and boom! Polenta! but without the corn and all that. (Remember when I found out I was sorta kinda allergic to corn?)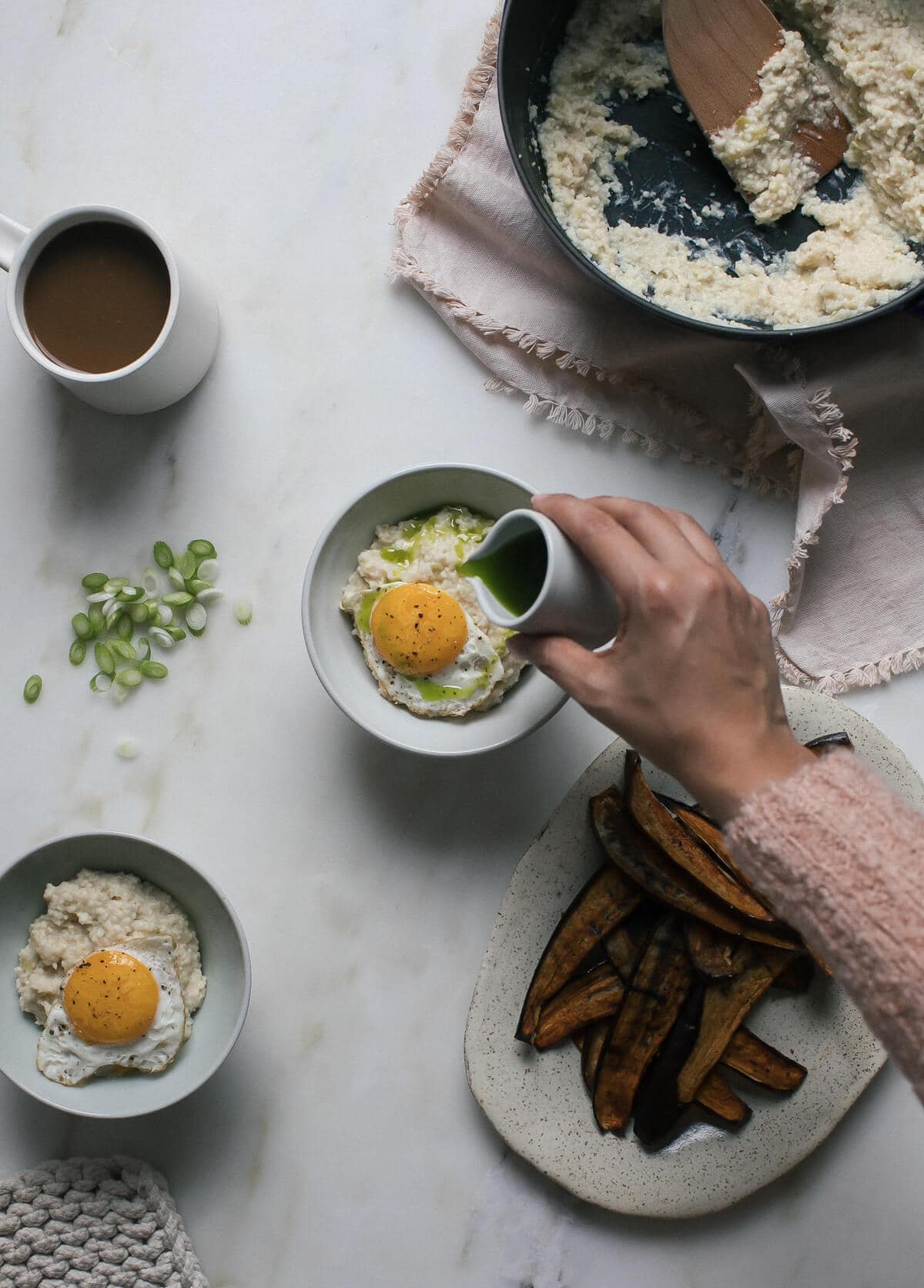 I paired it with some eggplant "bacon" from the book, which was also SO good. Eggplant already has sort of a "meaty" quality to it. Laura has you add a sauce that's so full of flavor. Does it taste like bacon? No way! Bacon is bacon. But it is super delicious and flavorful and it's a million times more healthy.
I served this as breakfast and since I'm not a real vegan human, I topped each bowl of millet polenta with a baby fried egg and ate it with a whole lot of milky coffee.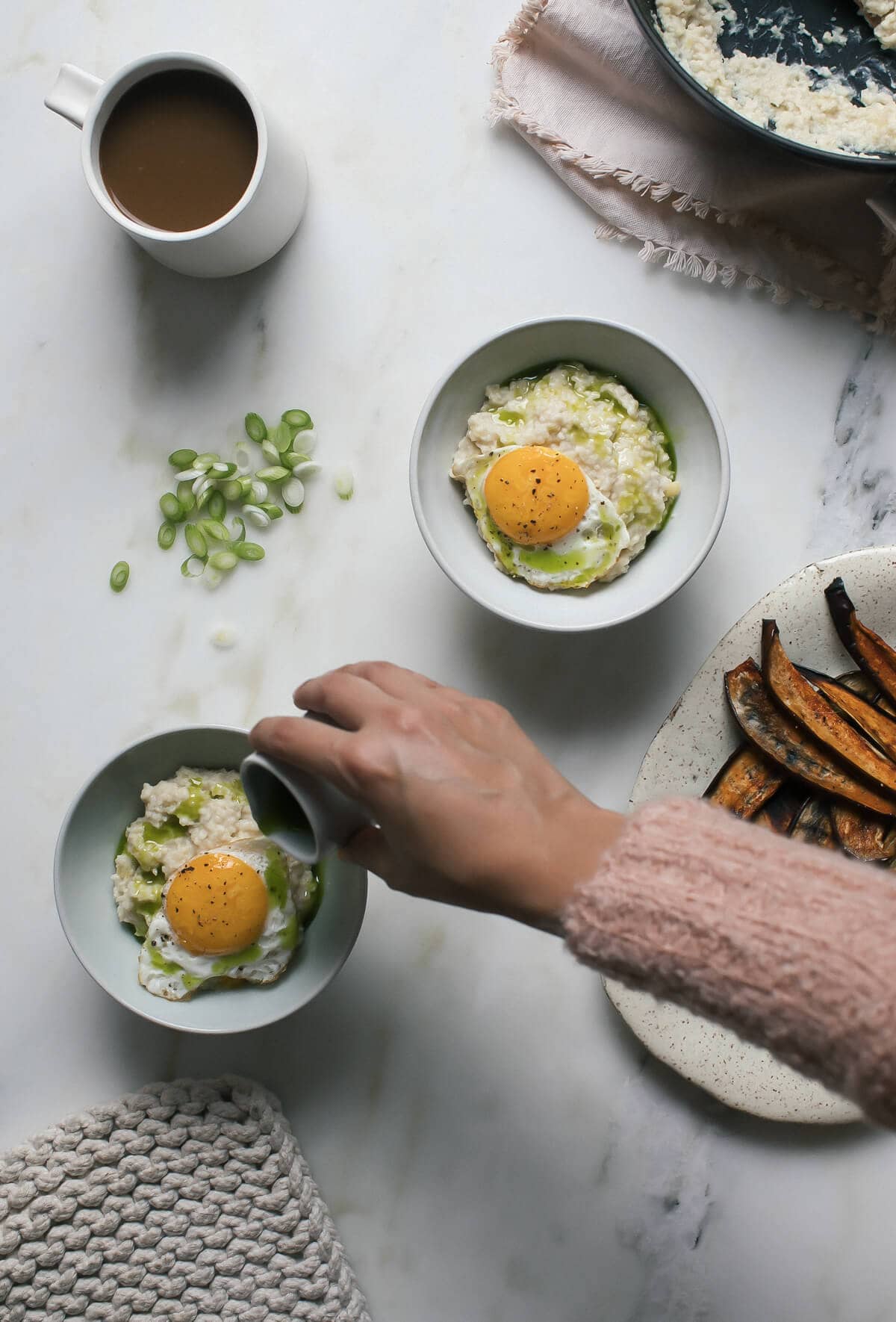 This tofu dish is what I'm making later this week.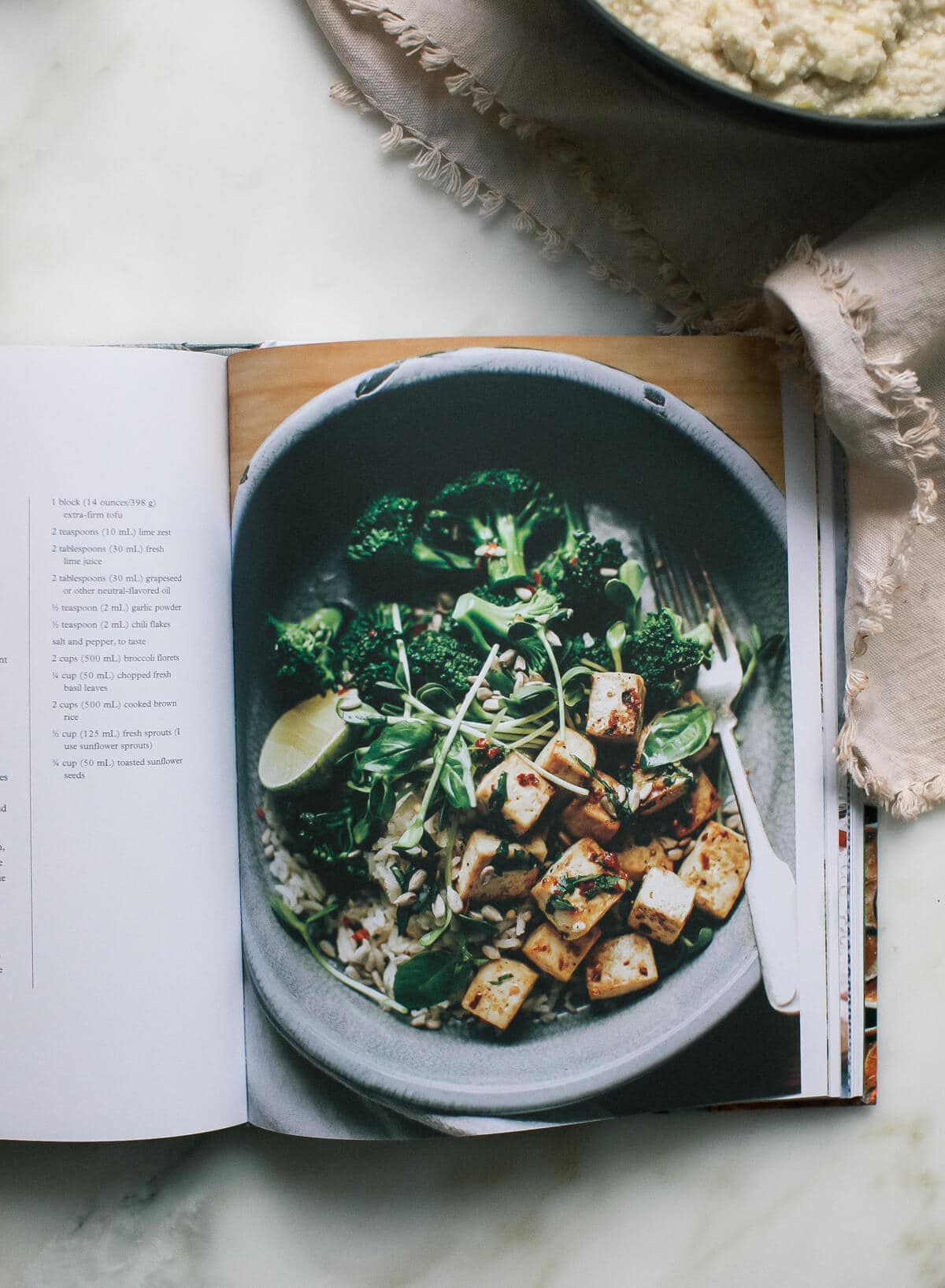 And this salad is all I want for lunch tomorrow and the next day!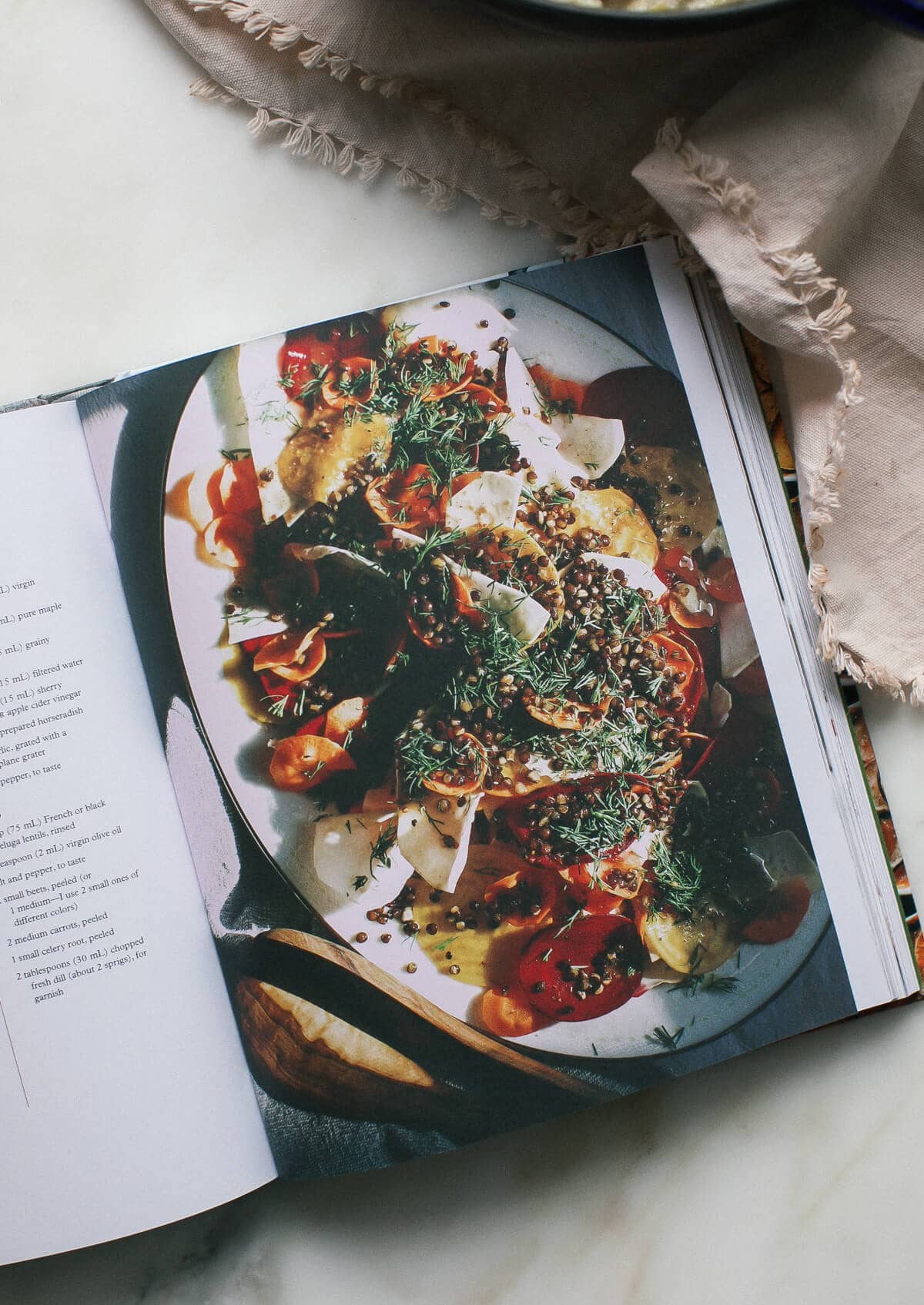 And these pancakes!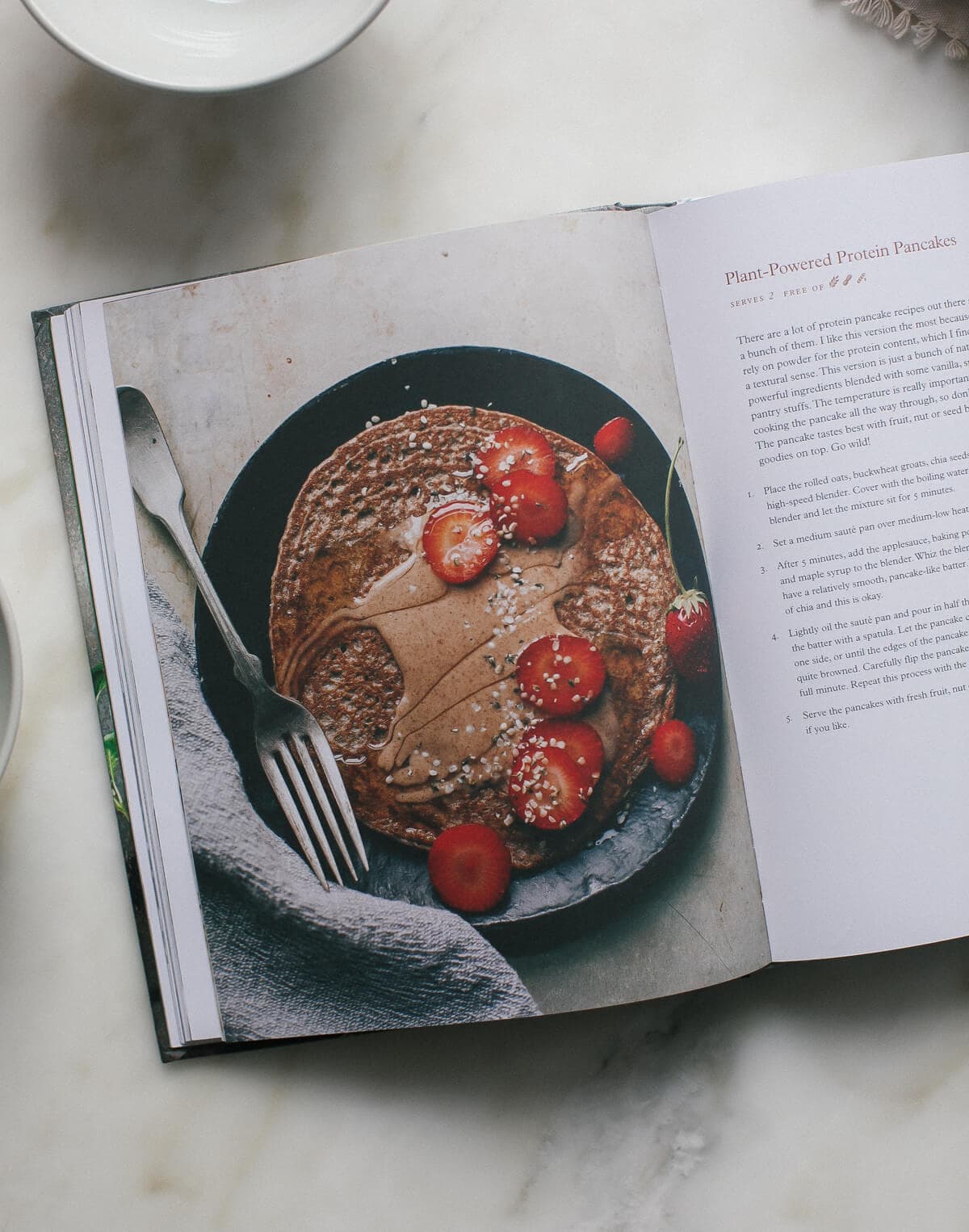 I feel like her food is the food I should be eating at the end of a long day, especially when my days have consisted of cakes and pies and indulgent things I have to try and taste-test.
Here's a link to her book and blog!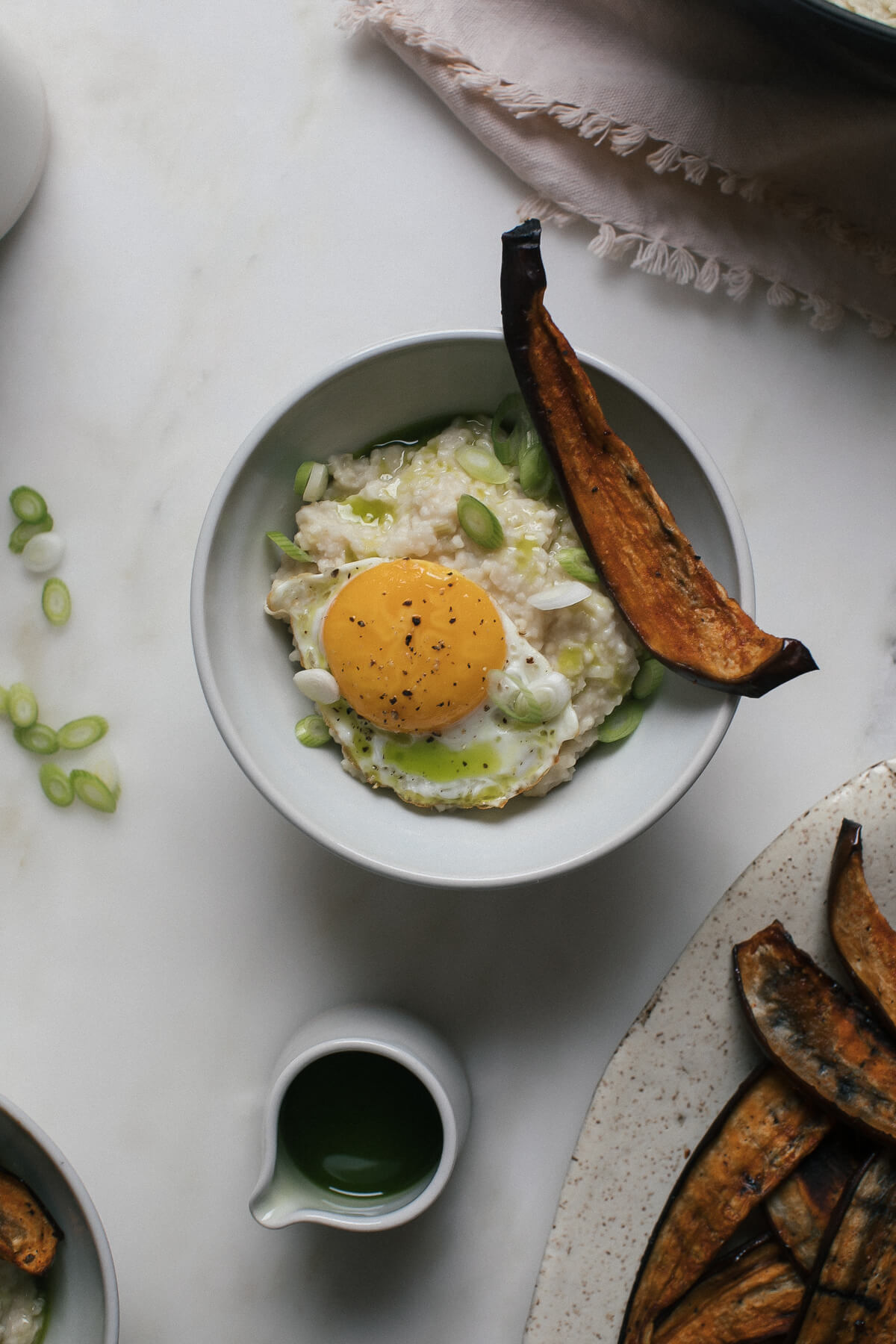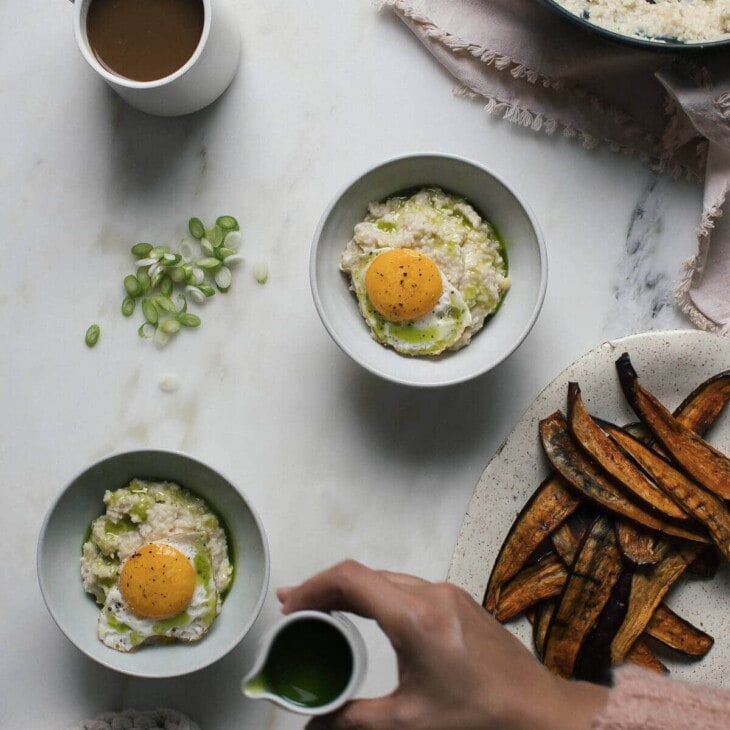 Print Recipe
Millet "Polenta" with Green Onion Oil + Eggplant Bacon
Ingredients
Eggplant Bacon:
1

large eggplant

1

tablespoons

sea salt

1

tablespoon

virgin olive oil

1

tablespoon

pure maple syrup

1

tablespoon

apple cider vinegar

1

teaspoon

smoked paprika

1/2

teaspoon

gluten-free tamari soy sauce

1/2

teaspoon

mellow or light miso

Freshly ground black-pepper

to taste
Green Onion Oil:
1/3

cup

grapeseed or other heat-tolerant oil

divided

1/2

cup

green onions

white and green parts, chopped, plus extra for garnish

Generous pinch of salt
Millet Polenta:
1

cup

millet

2

leeks

white and light=green parts only, chopped

3

cups

vegetable stock

2

teaspoons

mellow or light miso

Fried eggs

for serving (optional)
Instructions
To Make the Eggplant Bacon:
Preheat the oven to 400 degrees F. Set a cooling rack on top of a parchment-lined baking sheet. Cut off both ends of the eggplant. Then, with the cut button end flat on the cutting board, cut the eggplant down the middle. Lay each half, cut side down, on the board, and slice into 1/4-inch strips.

In a large colander, layer the eggplant strips, sprinkling liberally with sea salt as you go. After you finish the layering, let the eggplant sit for 15 minutes. I usually set the colander over a plate or in the sink to collect the liquid escaping the eggplant.

Rinse the eggplant thoroughly. Towel-dry-the pieces of eggplant, and arrange them on the rack-fitted baking sheet.

In a small bowl, whisk together the olive oil, maple syrup, apple cider, vinegar, smoked paprika, tamari, and miso. Brush half of this mixture onto the eggplant strips. Season the eggplant with black pepper.

Slide the baking sheet into the oven and roast for 20 minutes. Remove the eggplant and use tongs to carefully flip over all the strips. Brush the remaining half of the oil and maple syrup mixture onto the exposed side the eggplant. Season the eggplant with black pepper once more. Roast the eggplant for another 15 minutes or until you start seeing some crisped edges. Serve eggplant bacon hot.
To Make the Green Onion Oil:
Heat the 1/3 cup of grapeseed oil in a medium saucepan over medium heat. When the oil starts shimmering or rippling, it should be hot enough. Carefully transfer the chopped green onions to the oil. Let them sizzle and fry until they turn bright green and fragrant, about 15 to 20 seconds.

Carefully transfer the oil and green onions to a blender. Add a fat pinch of salt and blend until the oil appears creamy and green with no visible chunks of green onion. Set aside.
To make the Millet Polenta:
In a food processor or blender, grind the millet until the texture resembles coarse flour. Set aside.

Return the saucepan to the stove over medium heat with the remaining 2 teaspoons of oil. Add the leeks and stir. Cook until the leeks are quite tender, about 5 minutes. Add the vegetable stock and miso to the pan, and bring to a boil. Slowly sprinkle in the ground millet flour while whisking. Keep whisking the ground millet and stock until you have a thick, cooked, polenta-like mixture.

Serve the millet polenta hot with drizzles of the green onion oil (there will be extra--store remainder in a sealed jar in the fridge for up to 1 week) and chopped green onion on top. I added a few fried eggs for a full breakfast experience but of course, that's optional.