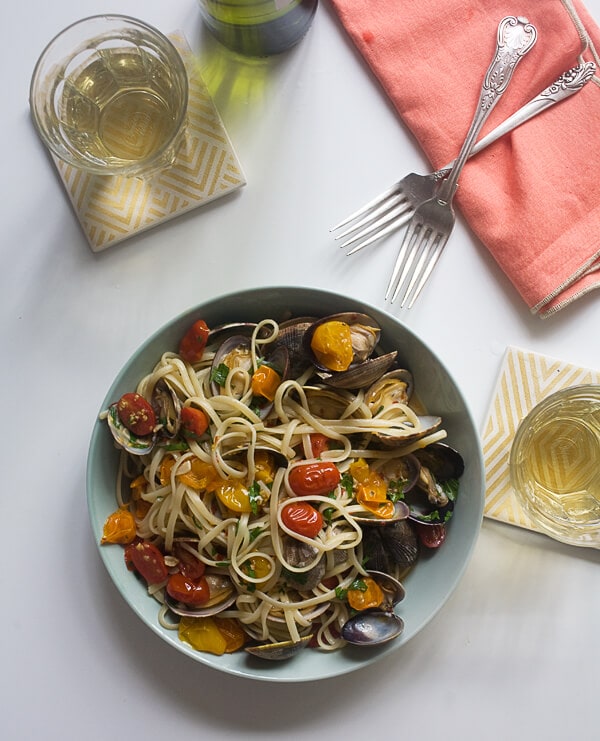 I feel like I've told you about my obsession with the Amalfi coast and how all I've wanted to do recently is get on a plane, stay in an apartment overlooking the ocean, swim all day and eat all night. The dish that I'm guessing I'd eat copious amounts of is this linguine con le vongole.
Since there's no trip to Italy in sight, I figured maybe making the dish from the place I've been dreaming about might make me feel better. It totally didn't, but it did make for an amazing lunch so I figured I'd share it with you in case you, too, might be needing a dish to make you want to be in some place other than your desk/current location/grey cubicle, etc.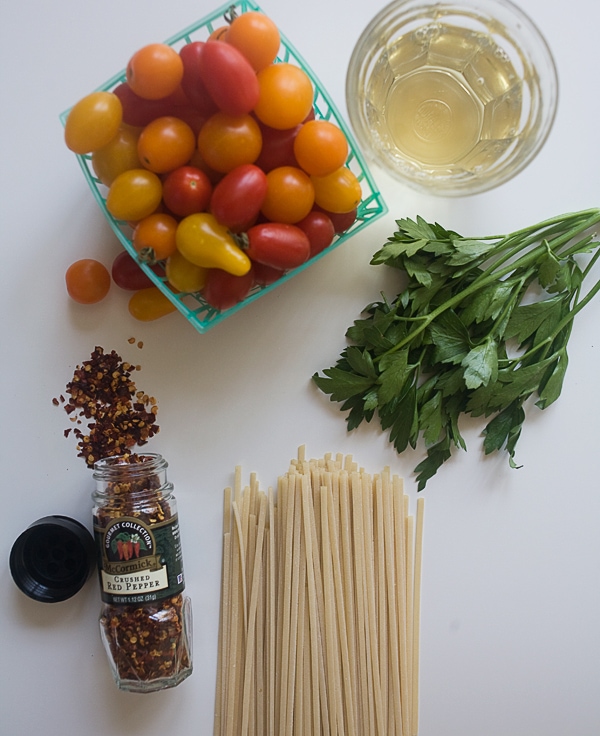 For this dish, I teamed up with McCormick Gourmet spices because it seems like I can't really make anything without adding a bit of crushed red pepper flakes. They are staple in my house. A ramekin of them sits right next to the black pepper and salt. I add them to EVERYTHING.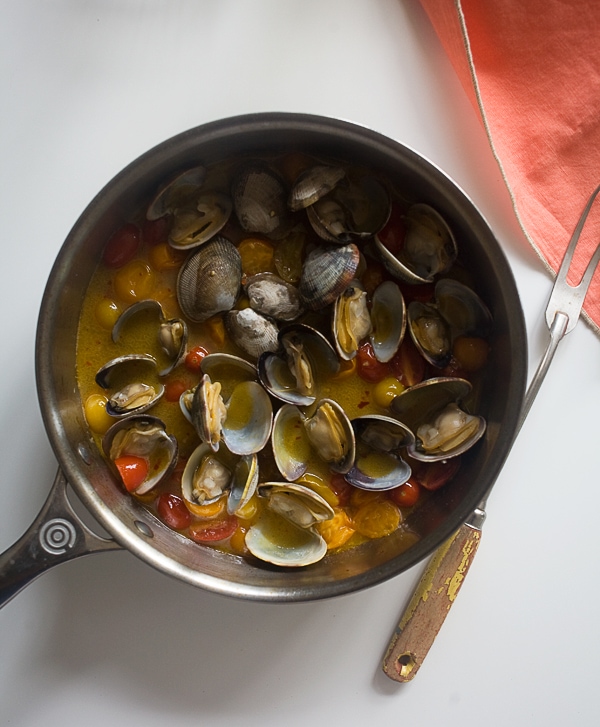 This dish is seasonal in that it reminds you of summah. There's the flavor of the fresh, briny ocean, along with sweet cherry tomatoes and a kick of heat. The wine gives it a nice brightness that I love. And butter! It adds just a bit of creaminess without adding cream, which would be way too much.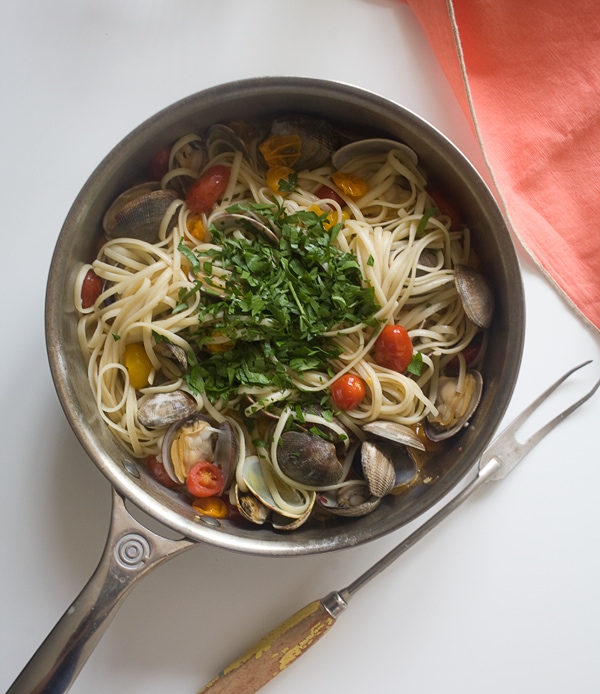 It's simple in its ingredient list, prep time, cook time and wait time.
The flavor is simple too; you've had this dish before, I bet.
The taste is recognizable, but that doesn't make it any less delicious.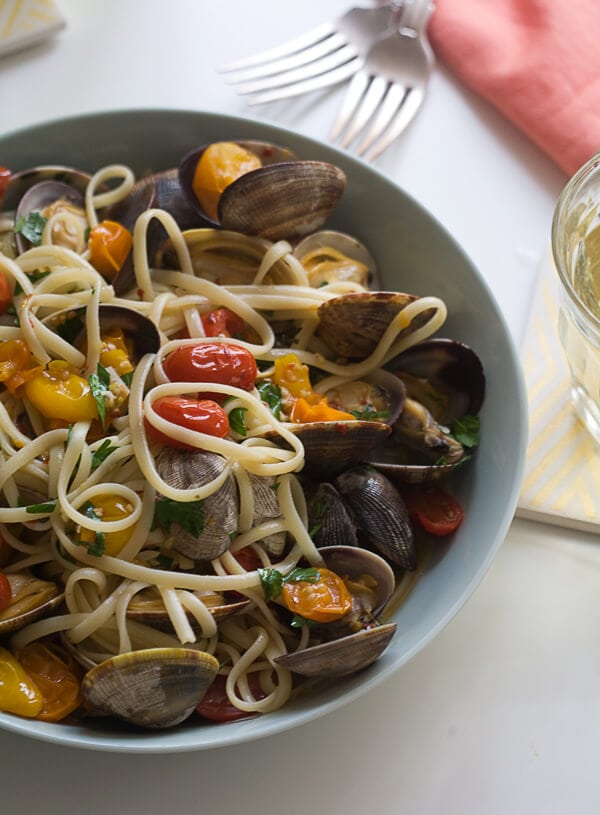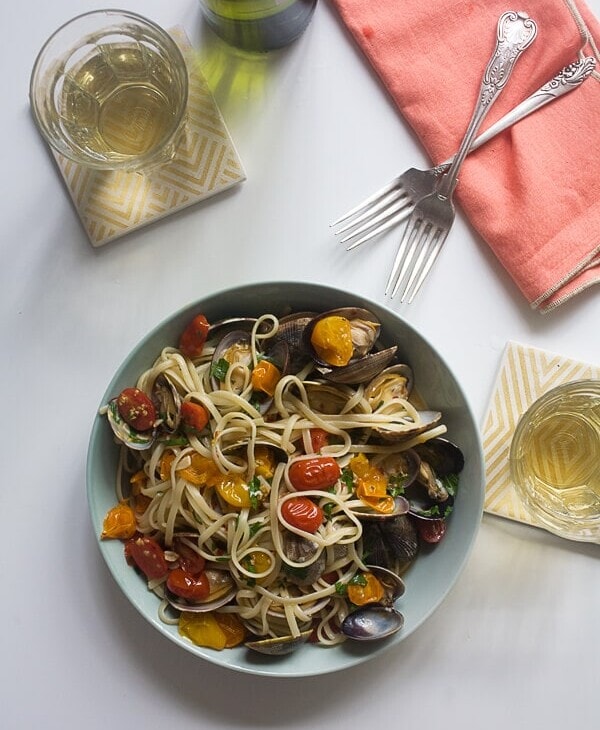 Print Recipe
Linguine con le Vongole
Ingredients
6

ounces

linguine pasta

2

tablespoons

olive oil

2

tablespoon

unsalted butter

2

garlic cloves

minced

1/2

teaspoon

McCormick Gourmet crushed red pepper flakes

1/4

cup

white wine

1/2

pint

of red and yellow cherry tomatoes

halved

Salt

1

pound

manila clams or littlenecks

scrubbed

2

tablespoons

roughly chopped fresh flat-leaf parsley
Instructions
To clean the clams, fill a bowl with water. Mix in the tablespoon of flour and add the clams. Allow to sit in the water for 15 minutes. During this time, the clams will expel any sand or grit. Remove the clams, discarding the water, and rinse the clams under cold water. Transfer to the refrigerator while you prepare the rest of the meal.

Bring a pot of salted water to a boil. Add the pasta and cook until al dente, about 8 to 10 minutes. Drain the pasta and set aside.

In a large saute pan, set over medium-low heat, pour in the olive oil and 1 tablespoon of unsalted butter. When the butter has melted, add the garlic cloves and red pepper flakes; mix until garlic has softened. Pour in the white wine and bring to a simmer. Cook for about a minute and then add a few pinches of salt and the halved cherry tomatoes. Cook until the tomatoes have softened and the skins have blistered slightly, about 3 minutes. Add the remaining 1 tablespoon of butter and gently add the clams. Cover the pan and cook until the clams have opened, about 2 minutes.

Discard any clams that haven't opened; there's always one or two that don't. Add the cooked pasta and parsley. Carefully toss the pasta in the sauce until it's thoroughly coated. Divide between two plates.
Notes
If you're adverse to spice, decrease the crushed red pepper to 1/4 teaspoon.
{This post is sponsored by McCormick Gourmet. Thank you for supporting the sponsors that keep A Cozy Kitchen cozy!}