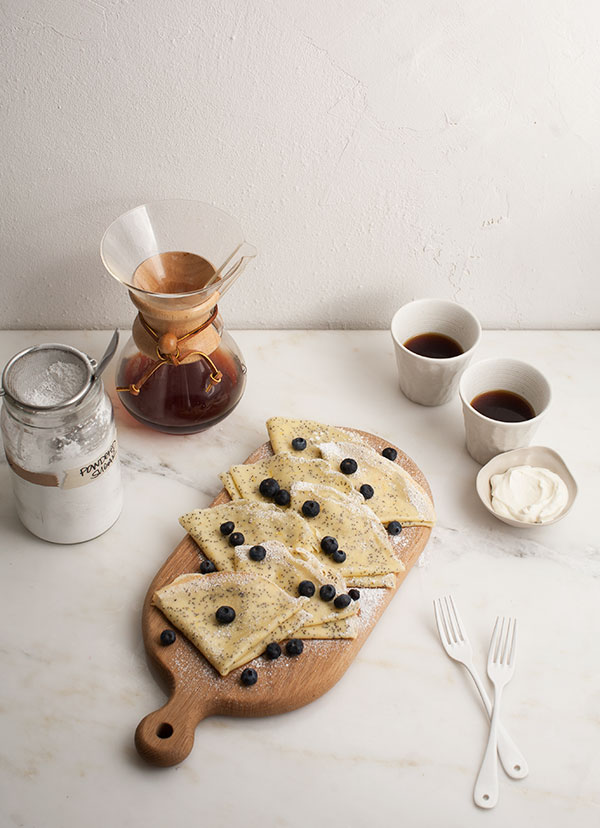 When's the last time you made yourself a super damn nice breakfast? If you can't remember when, this weekend you have werk to do. Honestly I asked myself this question a few weeks ago and this shrug emoji was my response: ¯_(ツ)_/¯
I dunno. I've been busy. Sometimes I skip breakfast. Sometimes I'm lazy. Sometimes I'm trying to eat healthy All really terrible answers, minus the last one. I decided I was going to make an effort on Saturday morning and made a version of these. They're everything you want in crepes: light and airy, sweet and lemon-y, and the poppy seeds give them texture. Yas.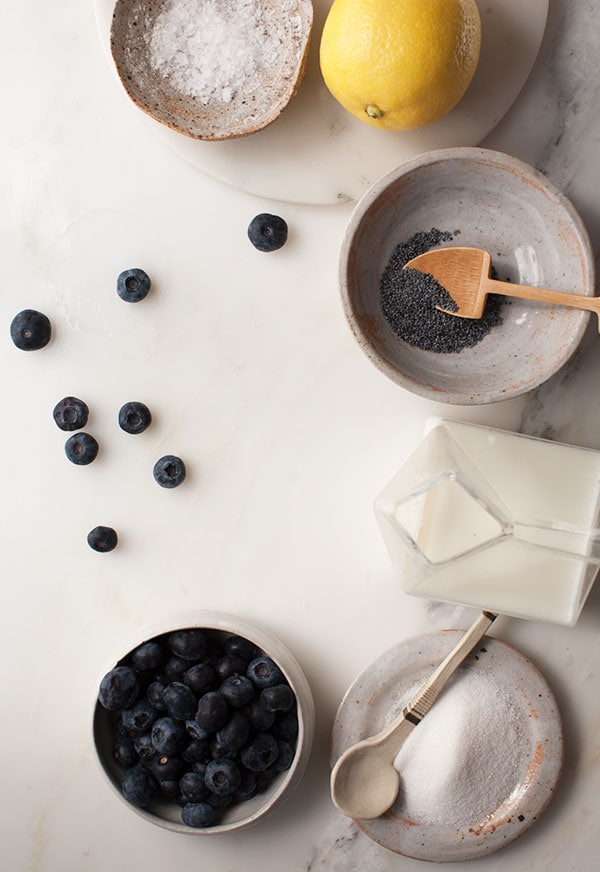 They deserve a place on your Saturday morning table. If you've never made crepes before, please don't be super alarmed. Here are a few rules to keep in mind when making crepes:
1. A non-stick skillet is a must. You don't HAVE to have a crepe pan (I do but don't recommend the brand that I have).
2. The first one goes to the pan. This is an old idea but it still rings very true.
3. Cook for the full 1 to 3 minutes per side. I know this is a long gauge but they really do need to cook or else they'll be too fragile to flip and too fragile to handle.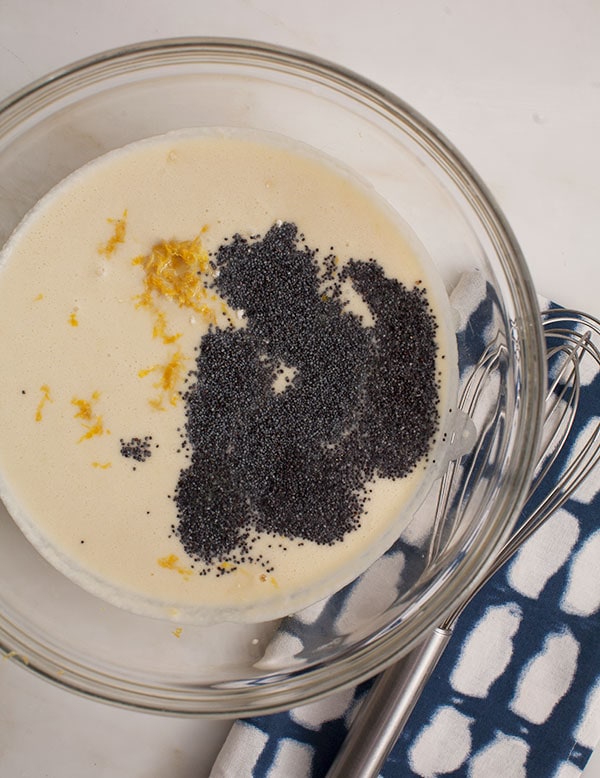 4. You might burn the tips of your fingers a teeny bit when you flip. WOMAN UP! (Do you see what I did there?) I'm kidding, well, not all the way kidding. I ended up using a fish spatula and it worked best.
5. Crepes don't need to be filled with things to be awesome. I was going to fill these with honeyed-ricotta but forgot the ricotta at the store. When I ate them, I instantly knew that the filling would've been a bit too intense, too decadent. It probably would've been great for Pinterest but we don't make food for it to just be Pinned around these parts.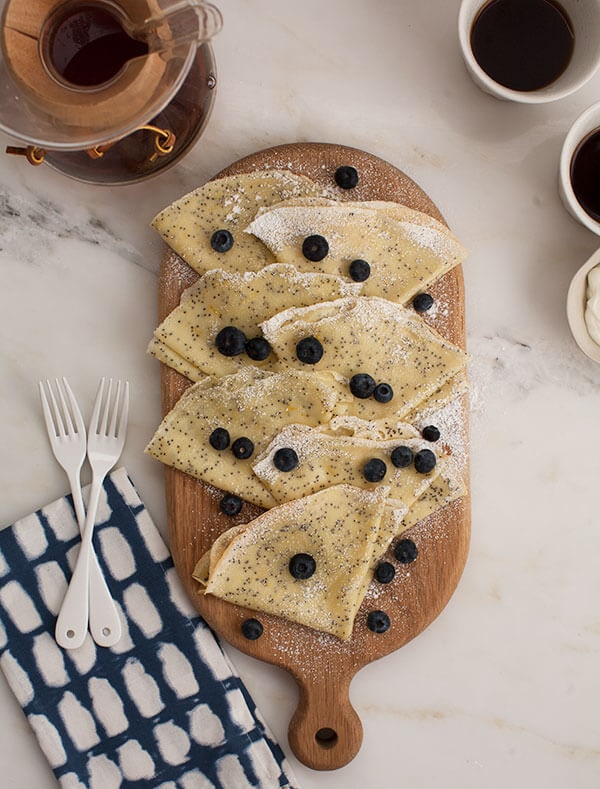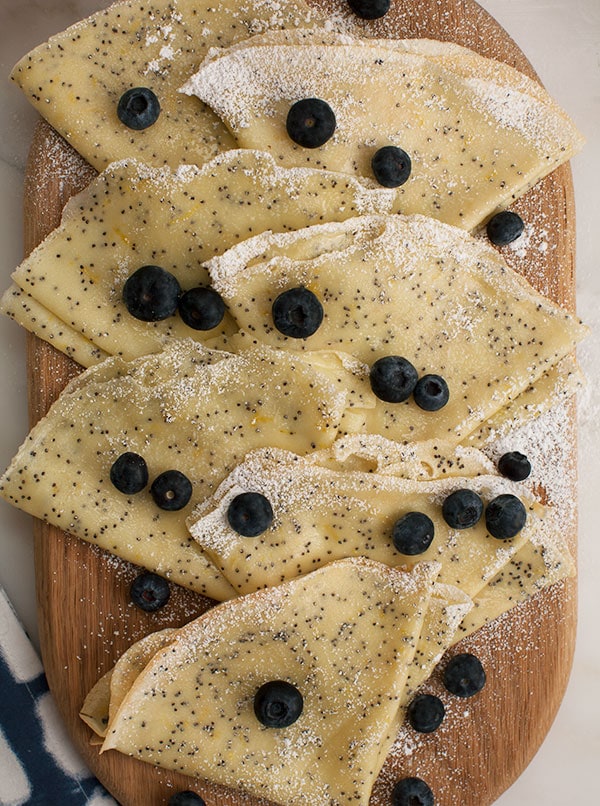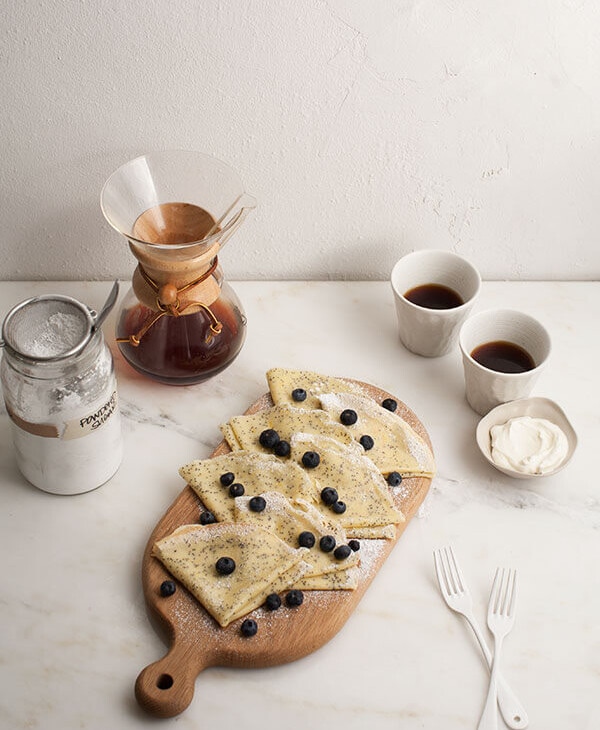 Print Recipe
Lemon Poppy Seed Crepes
Ingredients
2

large eggs

room temperature

1

cup

whole milk

at room temperature

1/4

cup

water

2

tablespoons

unsalted butter

melted and cooled

1

cup

all-purpose flour

Zest from 1 lemon

2

tablespoons

sugar

1

tablespoon

poppy seeds

1/4

teaspoon

salt

Butter

for the crepe pan

Powdered Sugar

for garnish

Fresh blueberries

for garnish
Instructions
To a medium bowl, whisk the eggs, milk, water, and melted butter until thoroughly combined. Fold in the flour, lemon zest, sugar, poppy seeds and salt and give it one last mix. Cover with plastic wrap and place the batter in the refrigerator for about 30 minutes.

Place a crepe pan, or nonstick skillet, over medium heat. Brush the pan with a very light coating of butter. Add 2 ounces (1/4 cup) of batter to the center of the pan, and swirl it around until the bottom is coated evenly. Cook until the edges of the crepe pull away from the pan, 1 to 2 minutes. Flip and cook on the opposite side for another 30 seconds. Transfer the crepe to a baking sheet and place in a preheated 200 degree F oven to keep warm. Repeat the process with the remaining batter, adding more butter to the skillet when needed, stacking the crepes on the baking sheet.

You can stuff crepes with all sorts of awesome stuff or you can sprinkle them with powdered sugar and arrange blueberries on top.