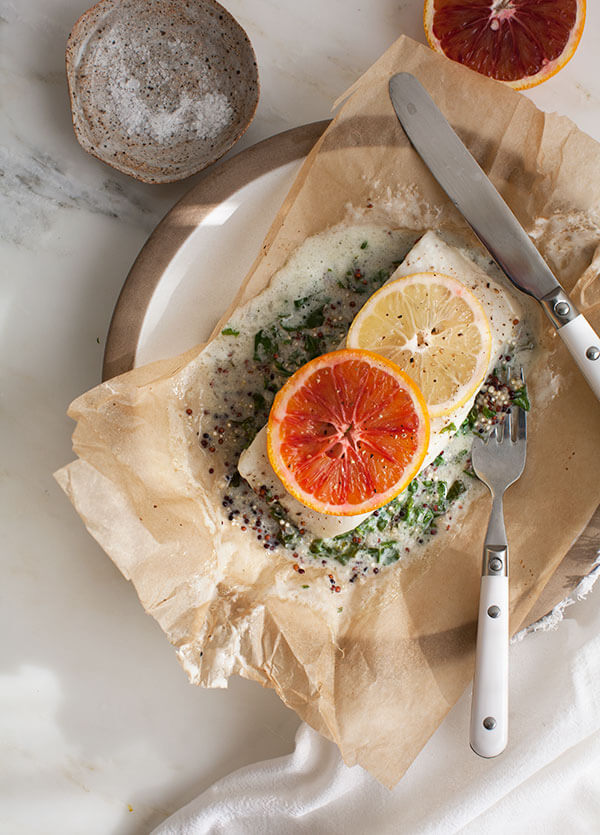 Cooking fish in a papillote will forever remind me of going to Benihana as a kid. The chef (after he caught a shrimp tail in his hat) would always make my mother her favorite: a piece of salmon steamed to perfection in a piece of folded parchment. It was the first time I saw this technique, and I imagine it was my mom's first time, too, because after that she always cooked her fish this way. "It's healthy and easy and no clean-up!" she would always say. My mom, like all moms and lazy adults with no children, hates doing dishes so this technique is great to ease this sentiment.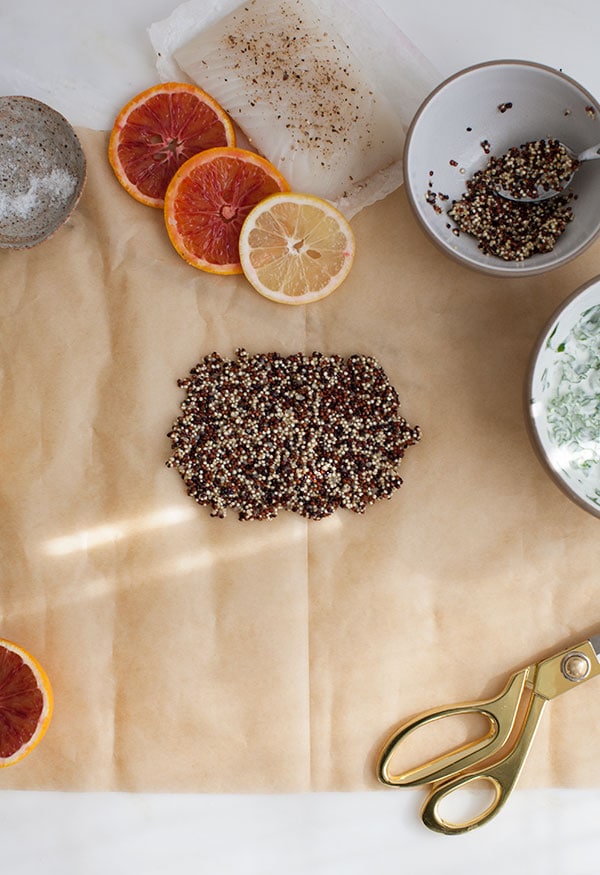 Today I teamed up with Samsung, who recently put together these beautifully shot videos with some amazing chefs (Christopher Kostow? Whoa, hello!) on some of my favorite techniques. I personally love cooking technique and since I didn't go to culinary school but have somehow found myself cooking for a living, I often times need videos likes these for reference. They help when I need to brush up on the basics.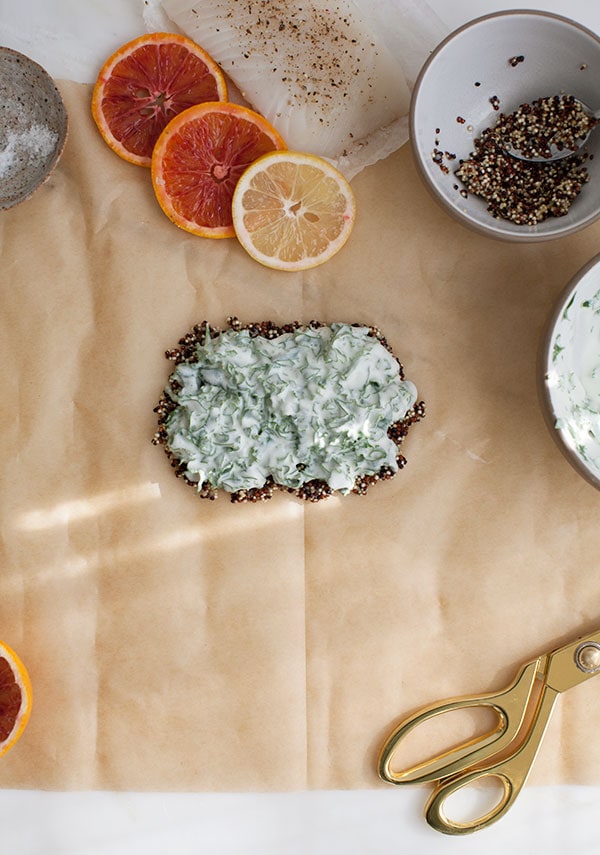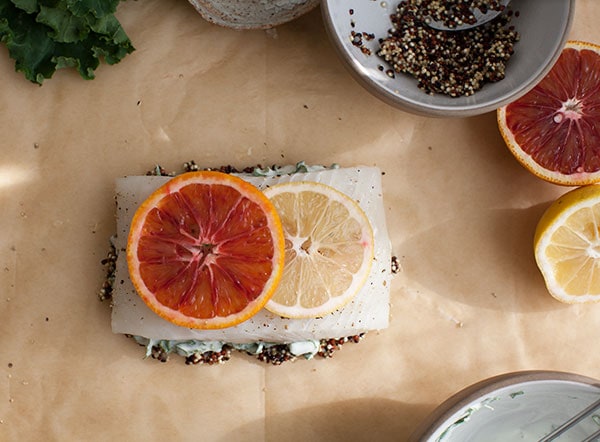 My personal favorite was the en papillote video, mainly because it reminded me of my mom, but also it fell in line with what I'm feeling at the moment: healthy cooking that is V V EASY. The last thing I want to do after The New Year is eat a donut (lies, but you know what I mean) and wash tons of dishes.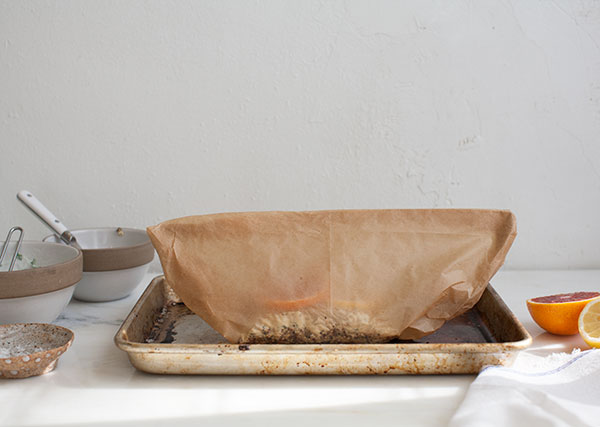 For this recipe, I chose to go with halibut, but really other fishes would do well too, like salmon, sea bass (pricey but delicious), tilapia. I massaged the diced kale with coconut milk for a healthy take on creamed spinach. And the quinoa adds a bit of heft to this otherwise super light meal. The fish was perfectly cooked in like 15 minutes. Not long at all.
While it's in the oven, feel free to watch more videos and plot other kitchen quests you want to tackle.
Oh! And if you want to head over to Samsung's Instagram they're having a contest that involves giving away a beautiful new fridge. You can create a video or photograph to enter!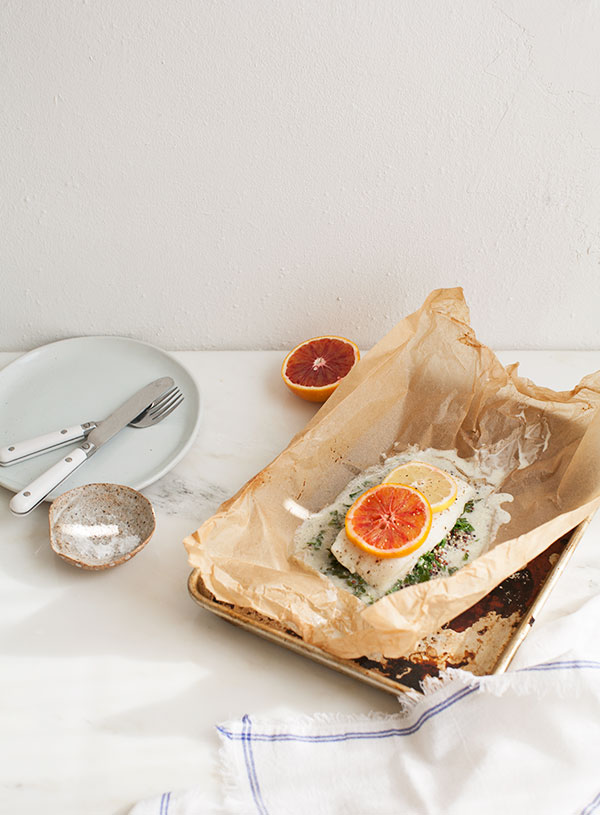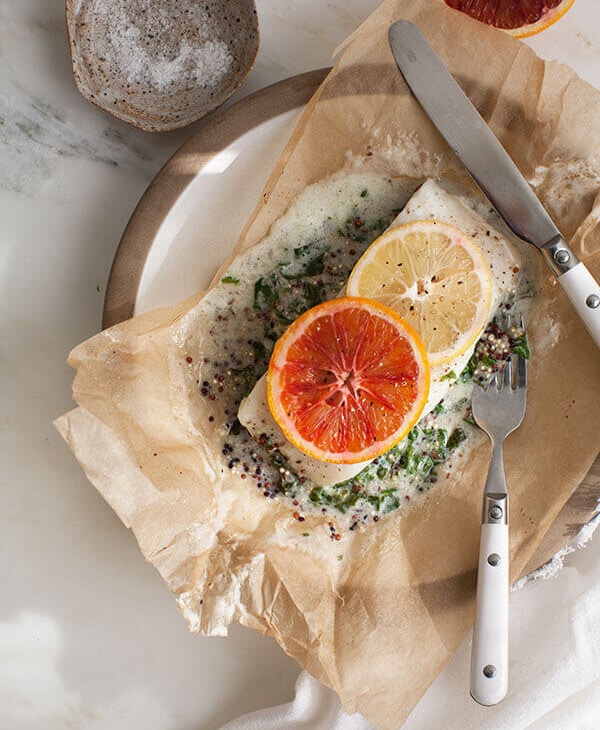 Print Recipe
Halibut with Coconut Creamed Kale and Quinoa In a Papillote
Ingredients
1/4

cup

quinoa

rinsed

Water

Salt

1/2

cup

full-fat coconut milk

with about a teaspoon of coconut cream set aside, divided

1

leaf of red kale

rib removed and finely chopped

3

ounce

halibut fillet

washed and patted dry

Pepper

2

blood orange

1/2

lemon

divided

Parchment paper
Instructions
In a small sauté pan, set over medium heat, add the quinoa, along with 1/2 cup of water and 1/4 cup coconut milk. Give it a good stir and sprinkle in a pinch of salt. When the water reaches a simmer, turn the heat down to medium low. Cook for about 15 minutes, until the liquid evaporates and the quinoa is tender yet not overcooked. Transfer to a small bowl and set aside.

Preheat the oven to 350 degrees F. Meanwhile, in a small bowl, mix together the coconut milk and teaspoon of coconut cream. (It might be a bit lumpy but don't worry, it'll be fine after it's cooked). Add the chopped kale and sprinkle with a few pinches of salt and set aside.

Season the halibut filet with a few pinches of salt and a couple turns of freshly cracked pepper. Squeeze about a 1/4 of a lemon over the halibut.

To assemble, start by cutting your parchment into a 12x12-inch square. To assemble, scoop the quinoa in the center and flatten it out a bit with the back of a spoon. Next, scoop the kale on top of the quinoa. And then, add the halibut. Finish by laying a few slices of blood orange and lemon on top of the halibut. Bring the top seams of the parchment together and fold over a few times, like you would a brown paper bag. Fold in the sides, making sure no air can escape. For super helpful (and quick) step-by-step visuals, definitely watch the video that is embedded in this post.

Transfer to a baking sheet and place in the oven for about 15 minutes. This time will vary depending on how big your piece of fish is. Carefully undo the seams and allow the hot air to escape. Open completely and transfer to a plate, parchment and all, to serve.
This post is brought to you by Samsung. Try one of our top #chefsecrets tips next time you're whipping something up. Terms and details of the contest available here.