Funfetti Cinnamon Rolls
16
May 30, 2017, Updated Feb 23, 2019
Disclosure: This post may contain affiliate links, which means I may earn a commission if you click on the link and make a purchase.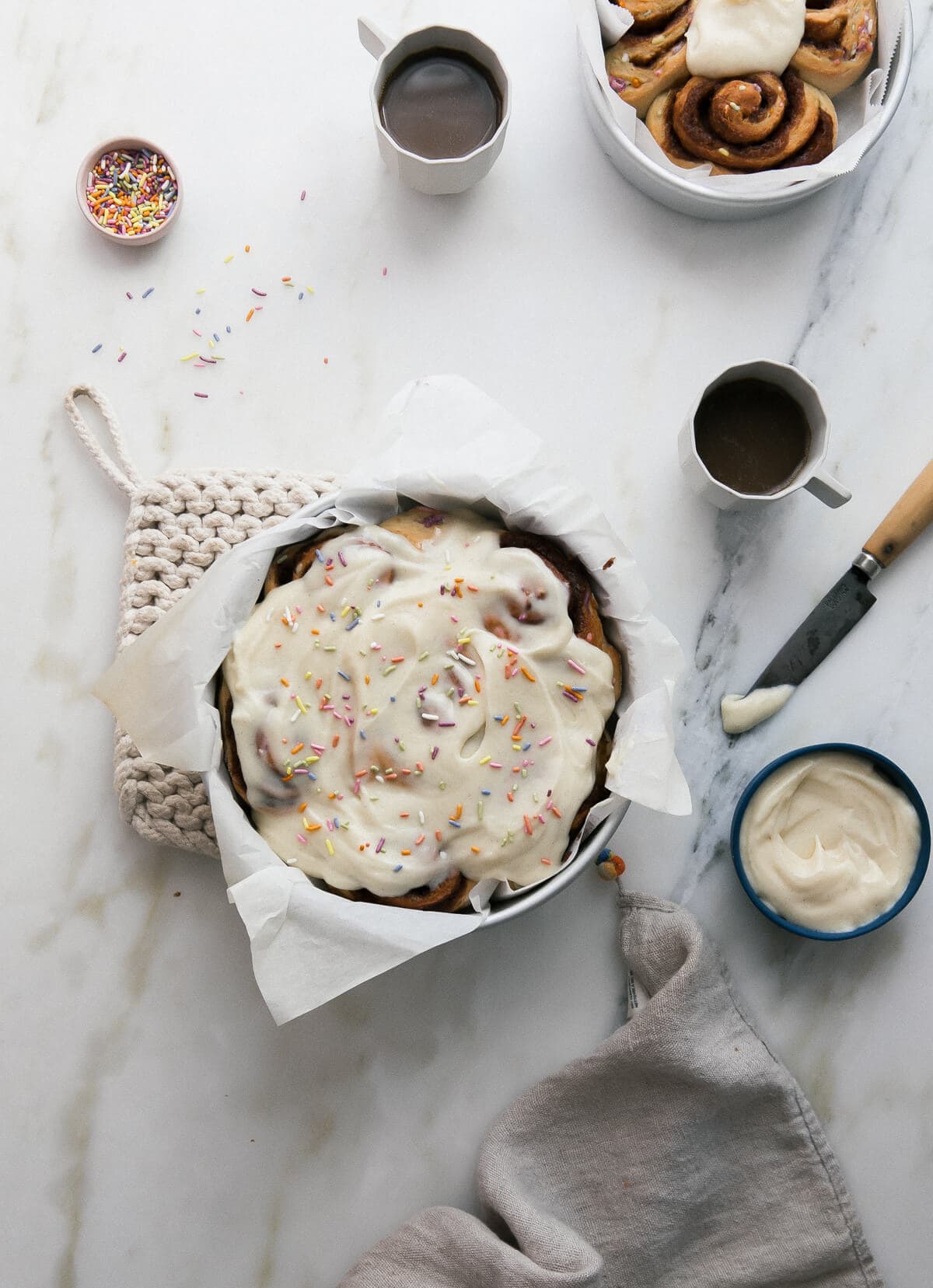 A few Saturdays ago, I flew up to Maryland (from Florida when I was visiting my mama) to visit Holterholm Farms, an Organic Valley co-op farm. They wanted to show me around to meet their cows and see how their dairy is produced.
I have never had a friendship with a cow but from the few farms I've visited prior to this, I knew that cows have strong personalities, much like dogs. The cows on this particular farm are Jersey cows and they are so beautiful, with the longest eyelashes and funniest expressions. A few of them kinda reminded me of Amelia because she is equally as expressive and dramatic.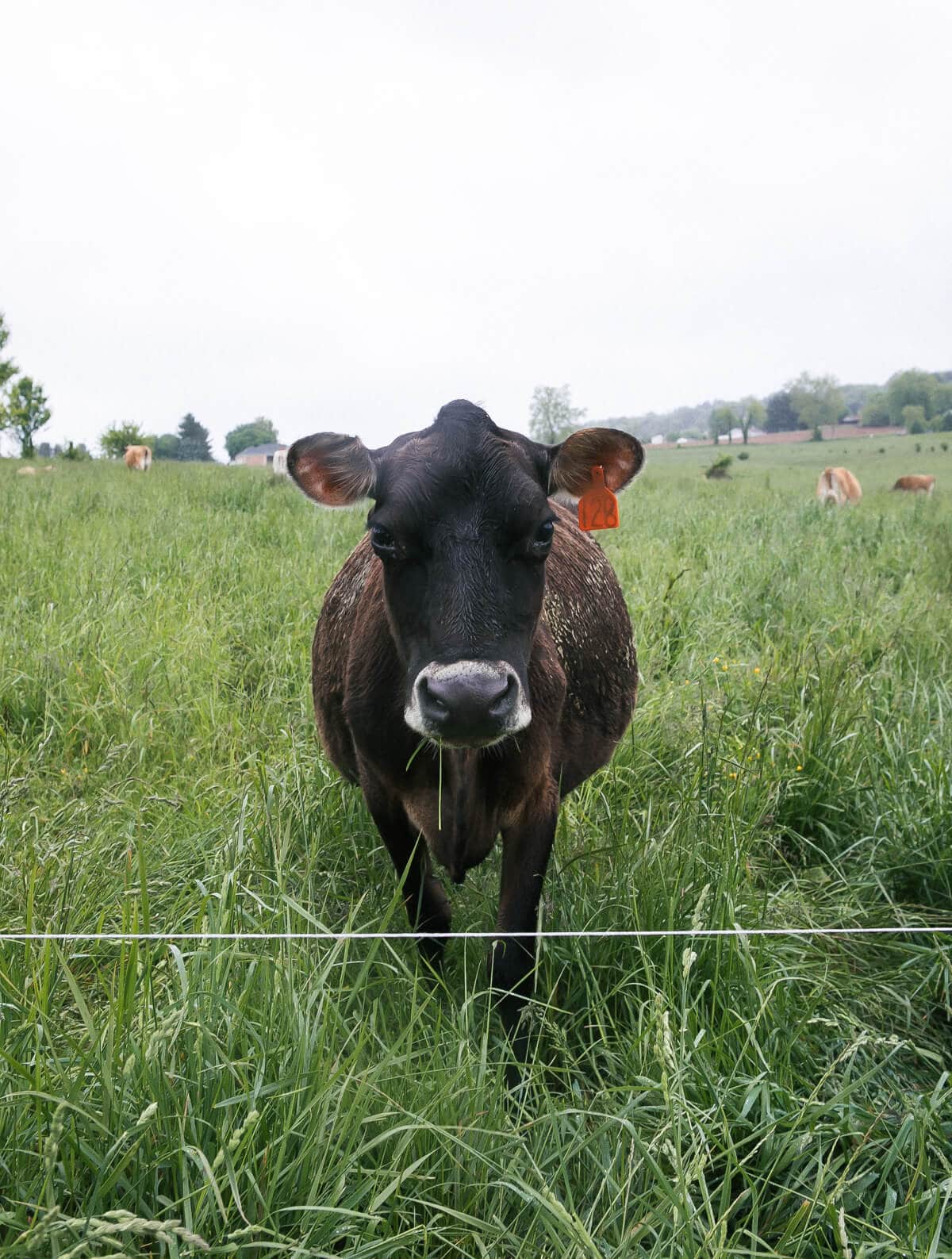 The eighty or so cows that live on this farm, roam and eat ONLY grass and are milked twice a day. They're moved every single day to ensure that each day they're eating new, freshly grown grass. I wanted to hang out with them for hours and hours; my city-slicker self could totally see farm life as the best life.
When I was on the farm and I tasted the milk and cream, I instantly knew I wanted to take advantage of their 100% grass-fed milk by putting it into a dough. I knew it would make any dough-like thing even better, even softer.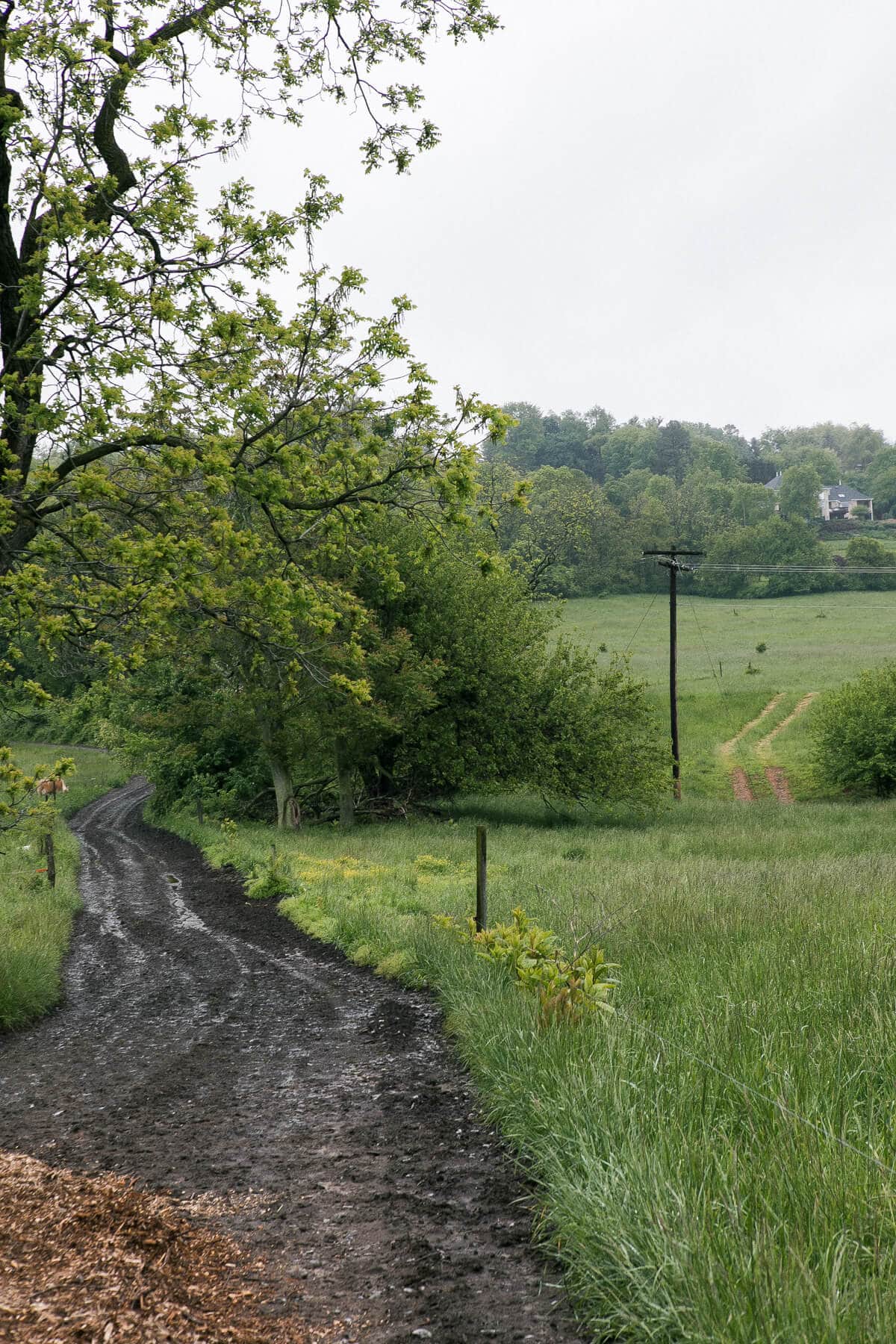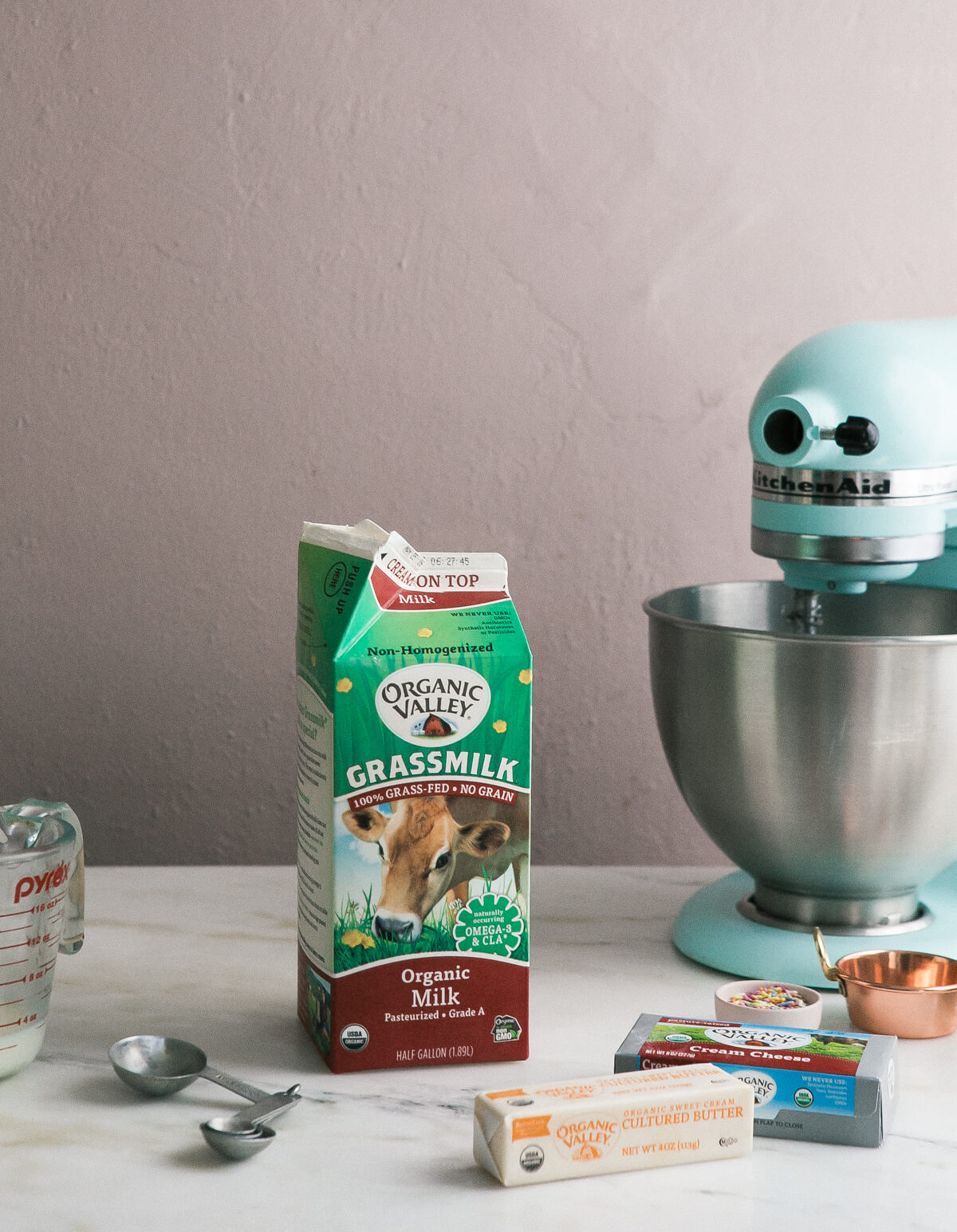 These funfetti cinnamon rolls are the softest! Have you ever had a crunchy, not soft cinnamon roll? They're not great. And usually, I judge a cinnamon roll on how soft the center is. The edges can be crispy because sometimes they're touching a baking dish and what-not but the center? It's gotta be soft and gooey.
The one thing I love to do with cinnamon rolls is add orange juice to the mix; it cuts the richness just a bit and adds a nice freshness and tartness to the dough.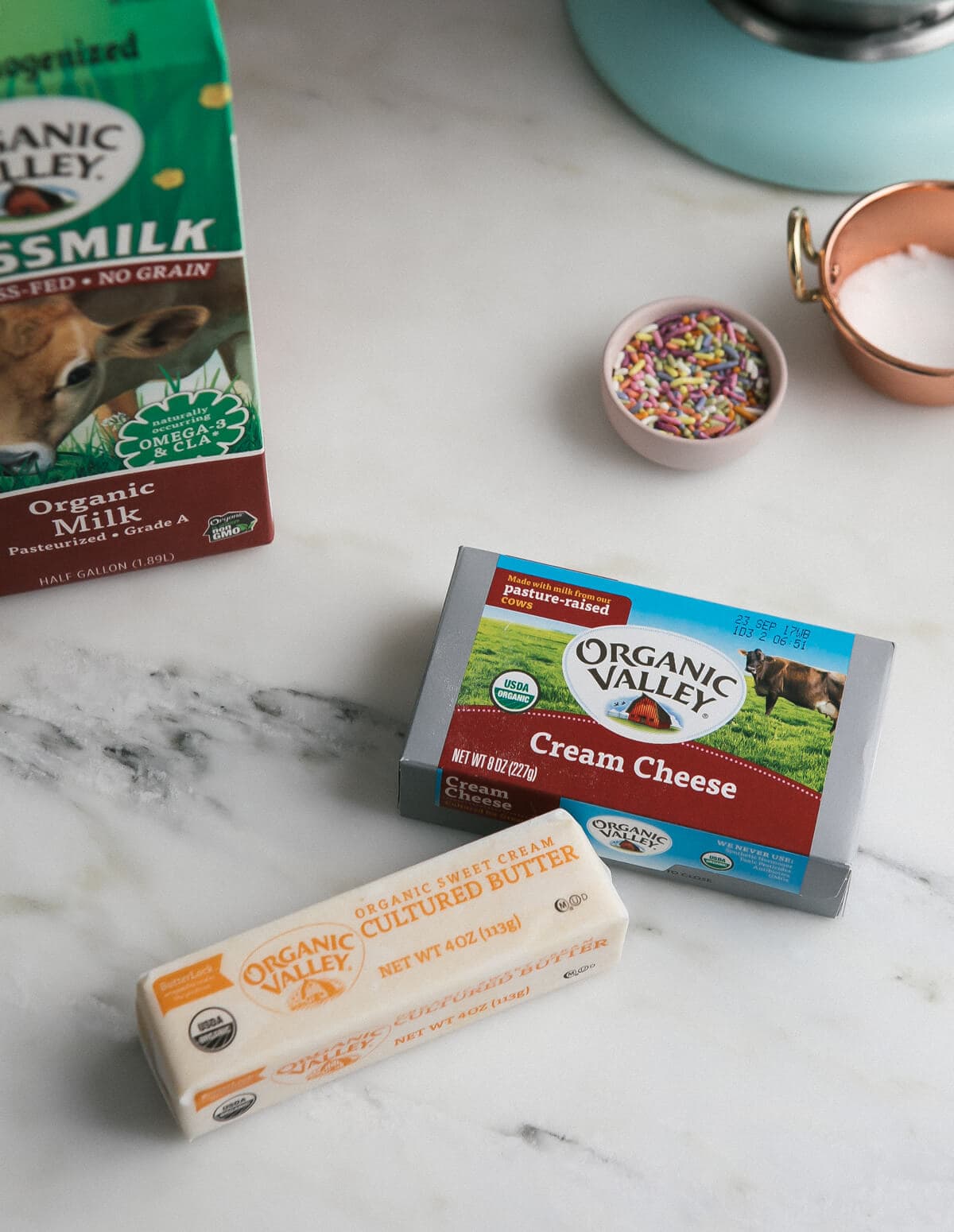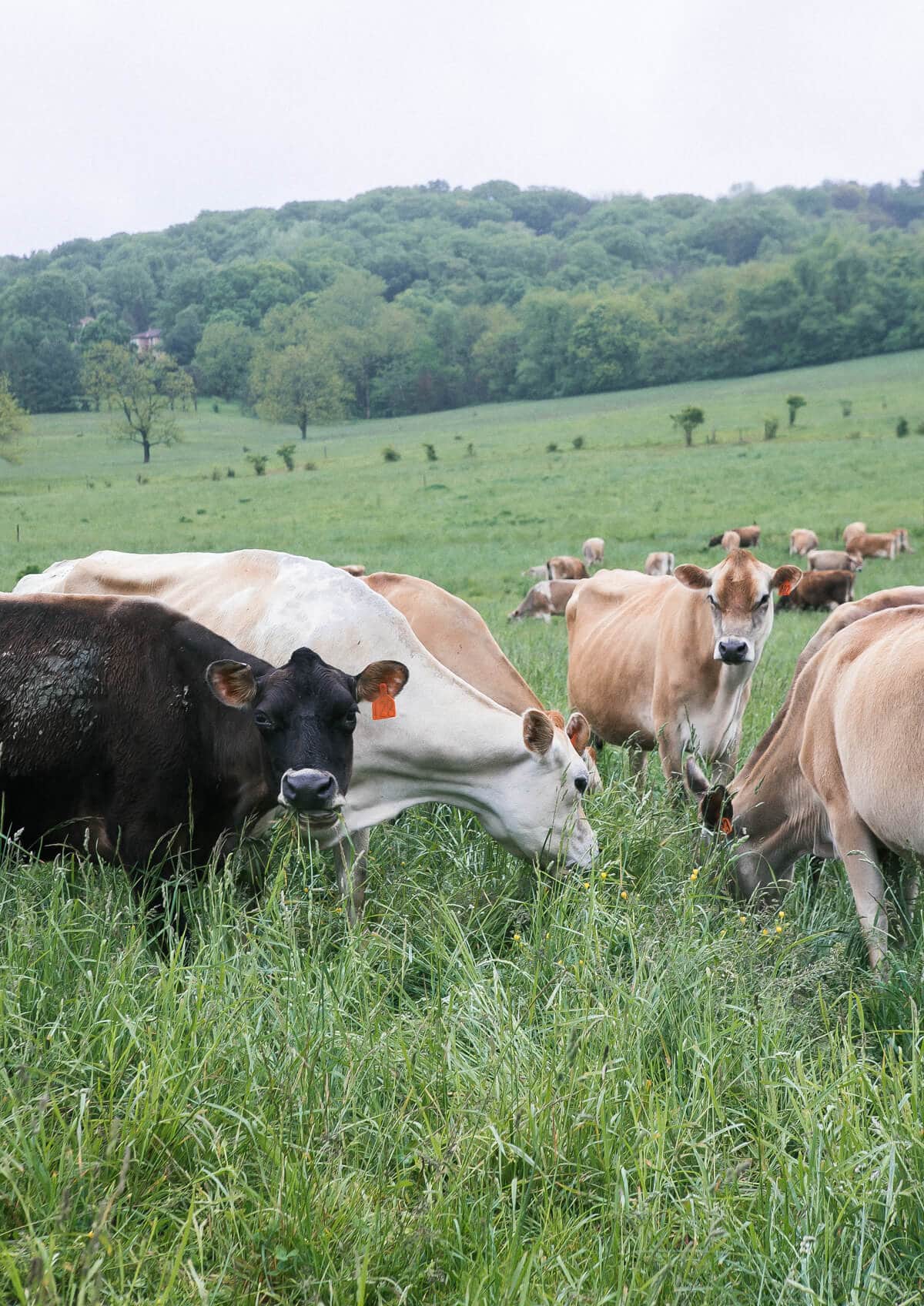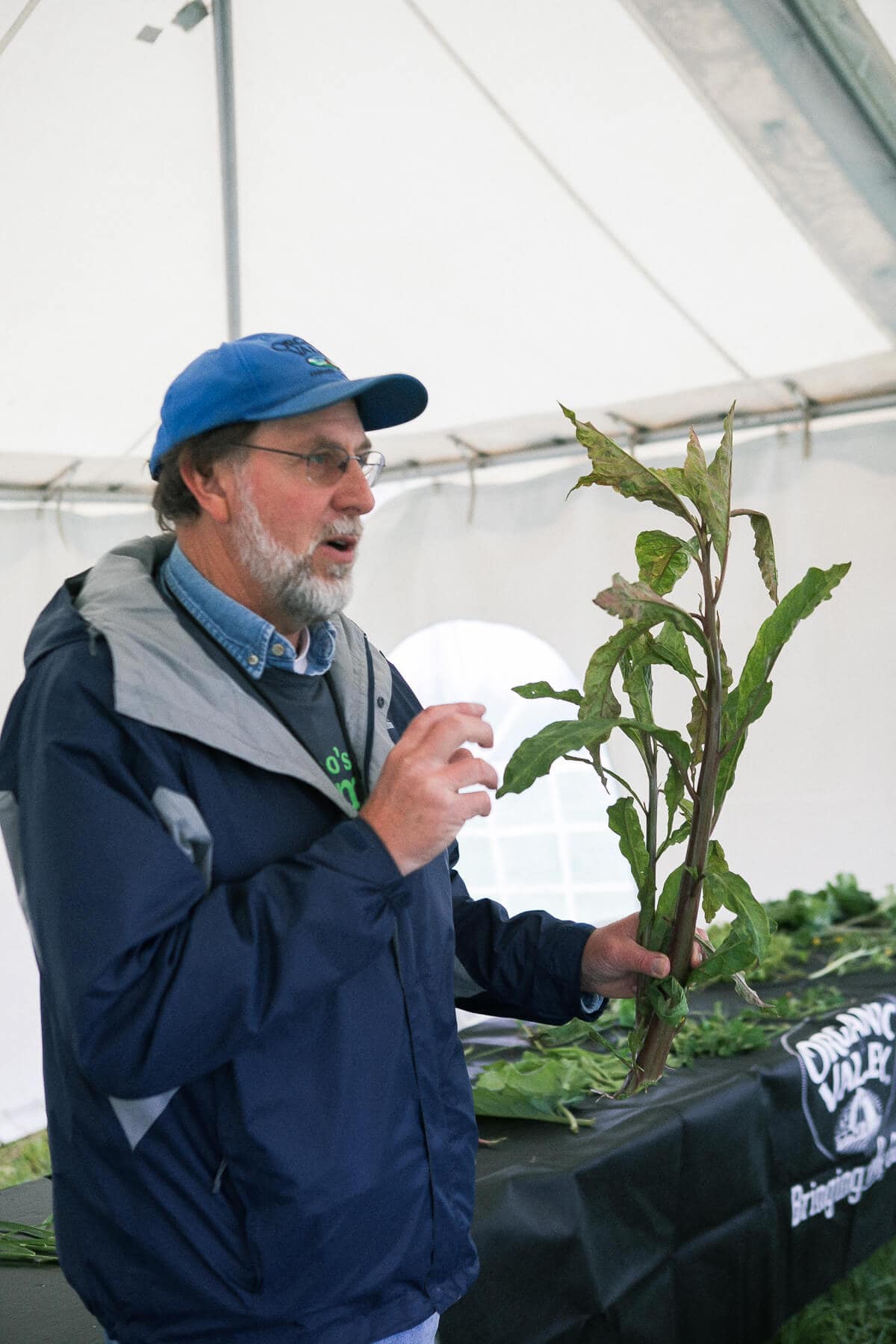 These cinnamon rolls are laced with naturally colored sprinkles and topped with a a delicious, tart, vanilla-spiked glaze that is BOMB.
If you want to make them "overnight" rolls, which I highly recommend, you can do the following:
1. Make the dough the night before, let them rise their 1 hour, and then stick them in the fridge.
2. Make the filling, cover the bowl and leave butter on the counter overnight so it's soft the next morning.
3. Make the glaze and stick it in the fridge.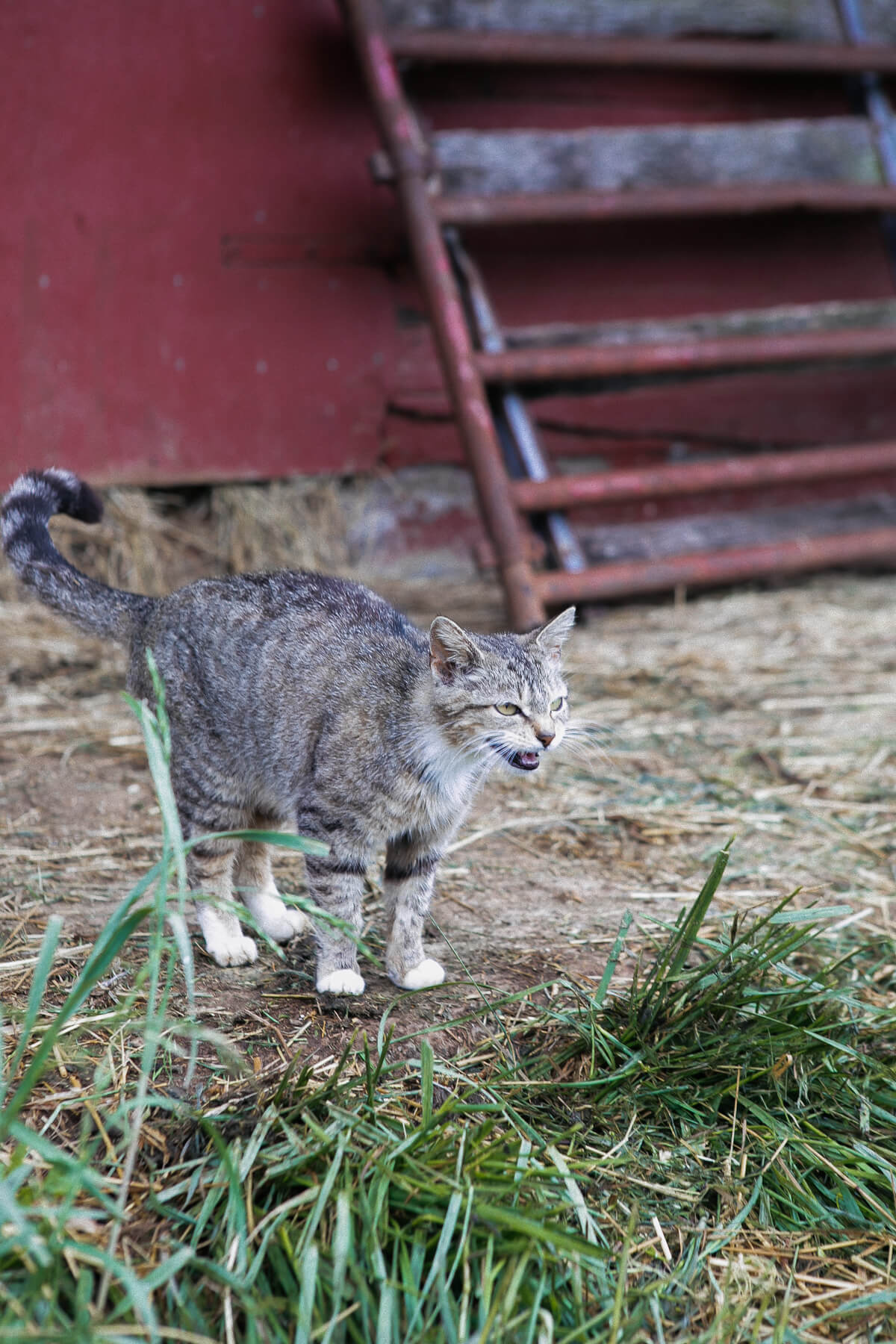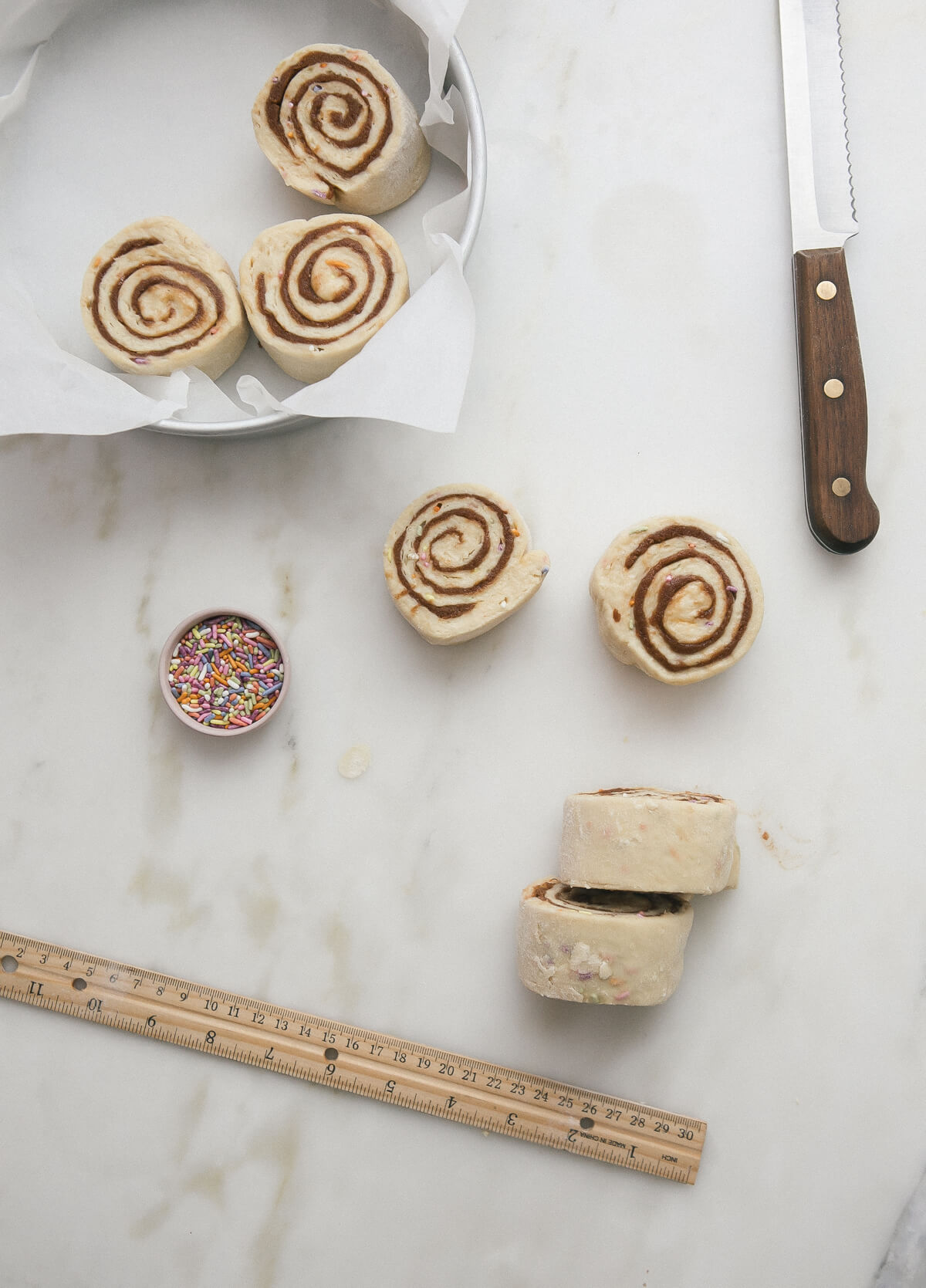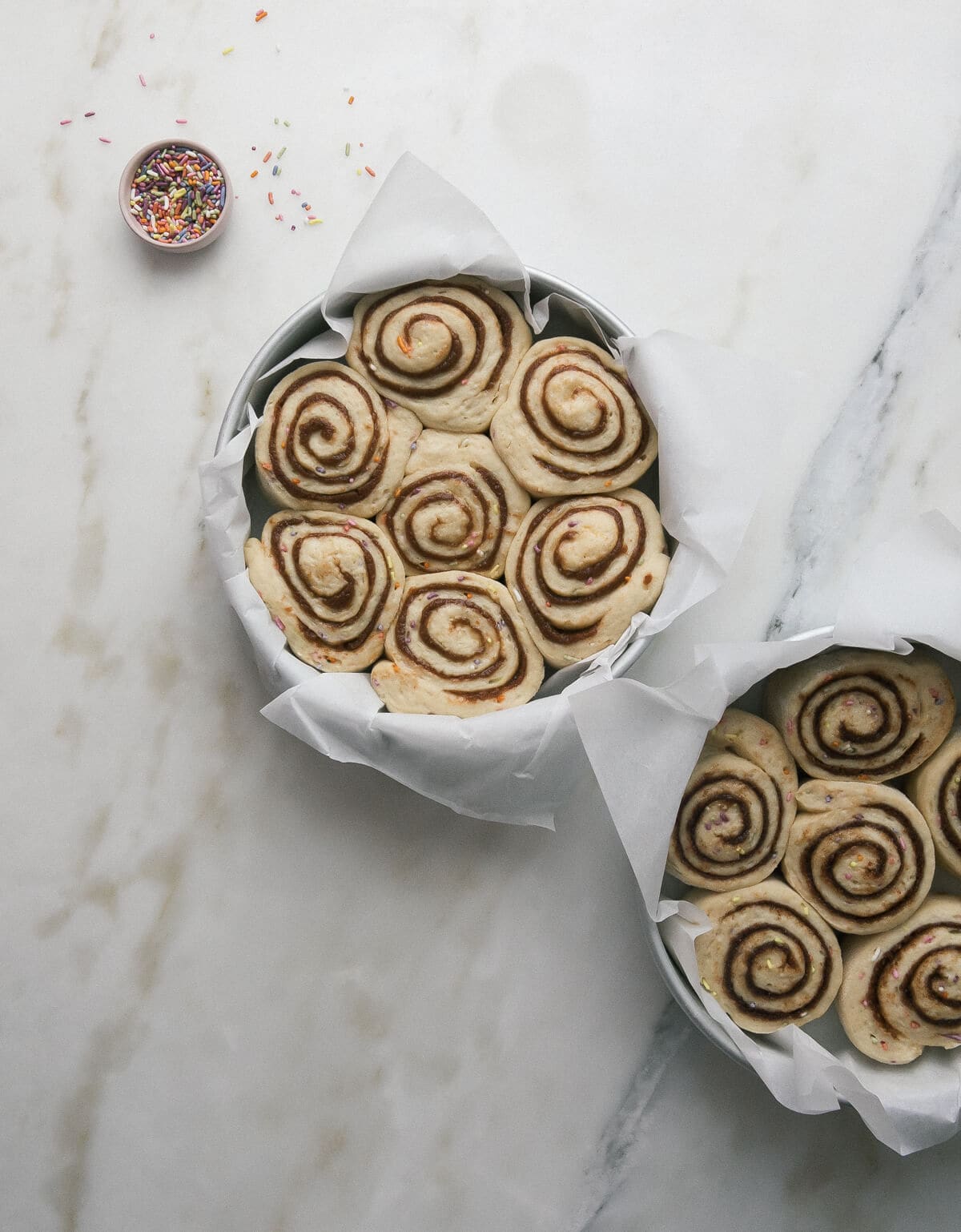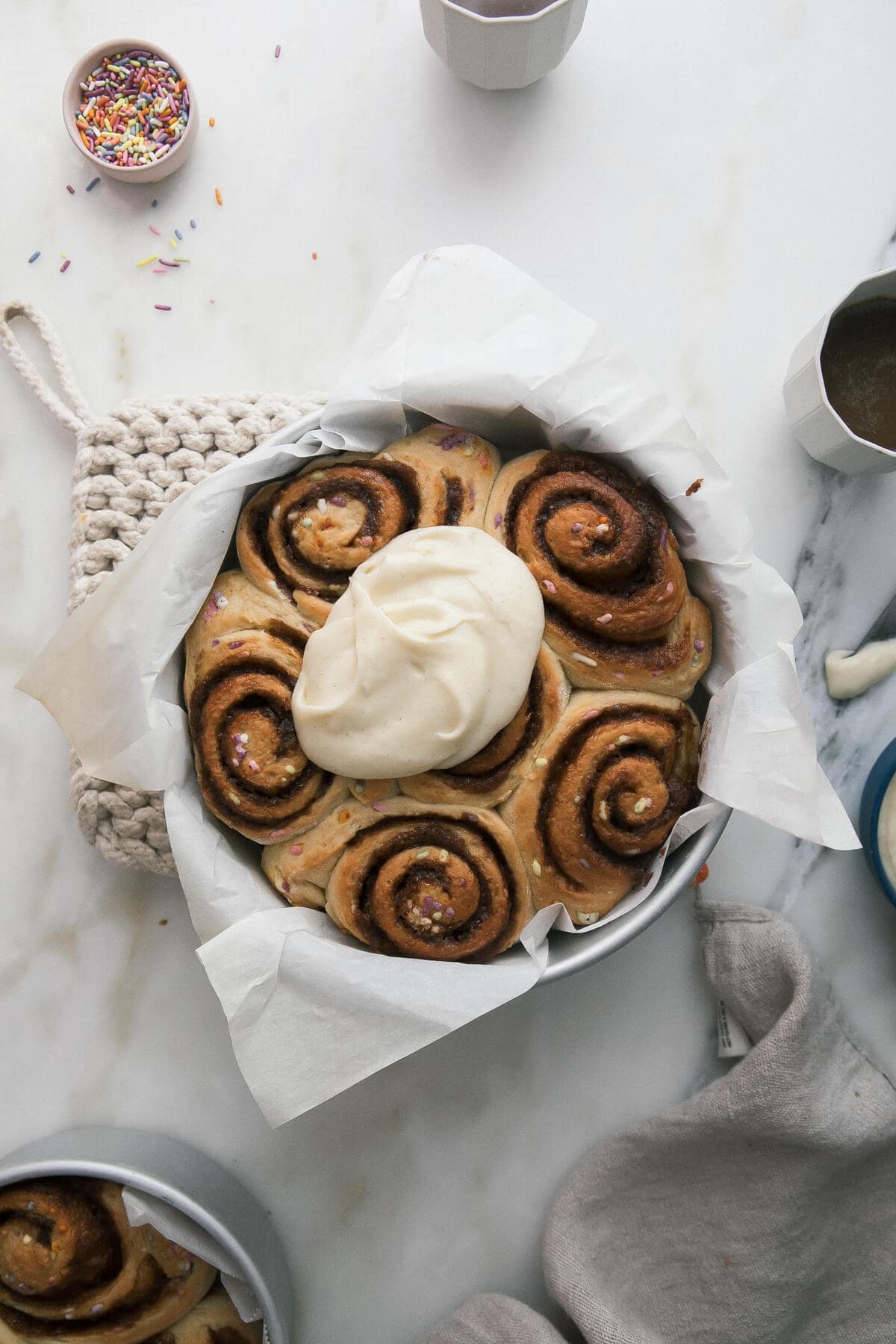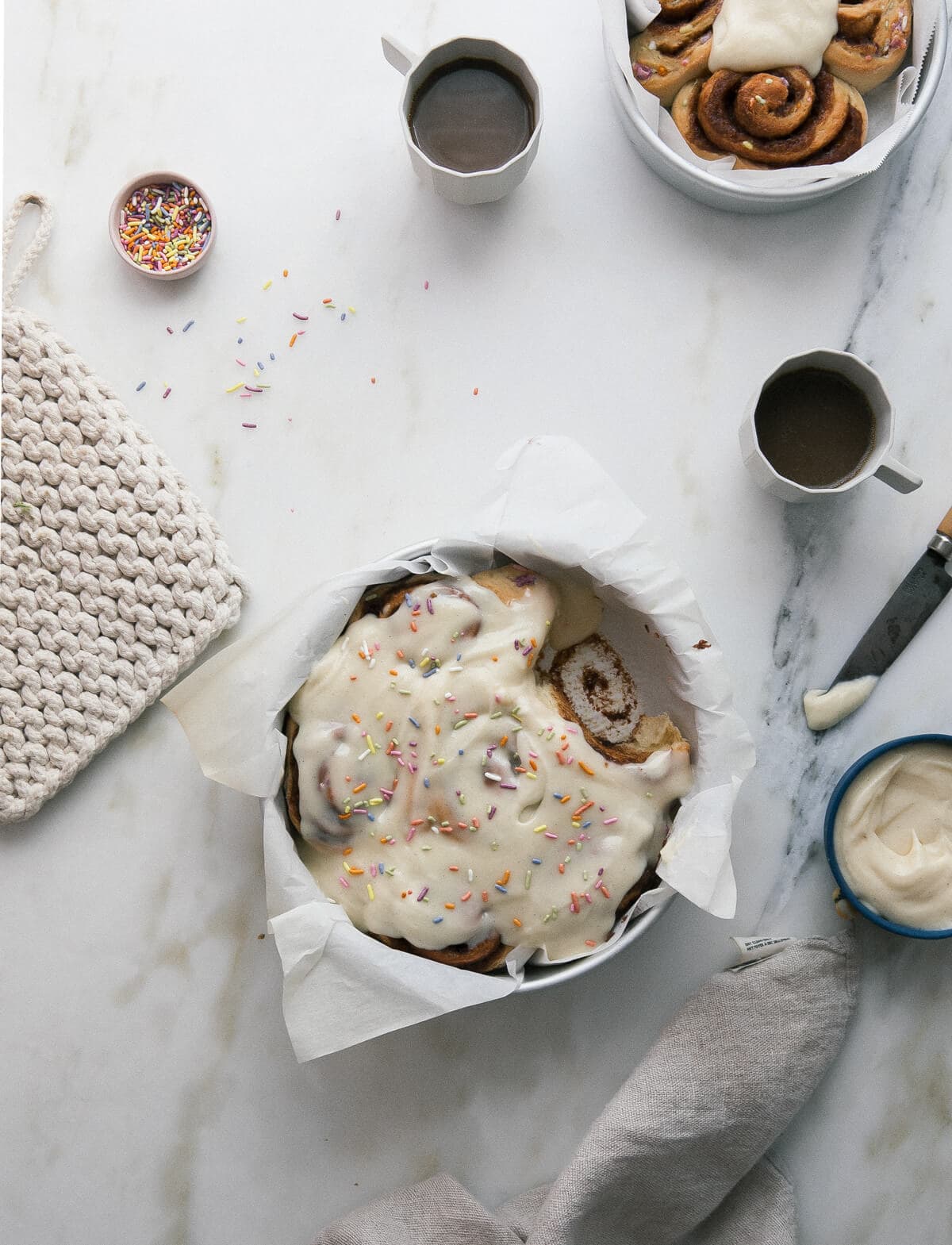 In the morning, all you'll have to do is roll them out, assemble them, let them rise one more time and then bake 'em! All the components will be done!
This means soft, cinnamon rolls in the morning for your family and friends. That's that A+ life!
Seriously a big thank you to Organic Valley for showing me around their farm. It was so beautiful and wonderful to see all the happy cows doing what they do: eating and chilling with each other. A few of them even cuddled with one another, which made me very hormotional and happy about this life!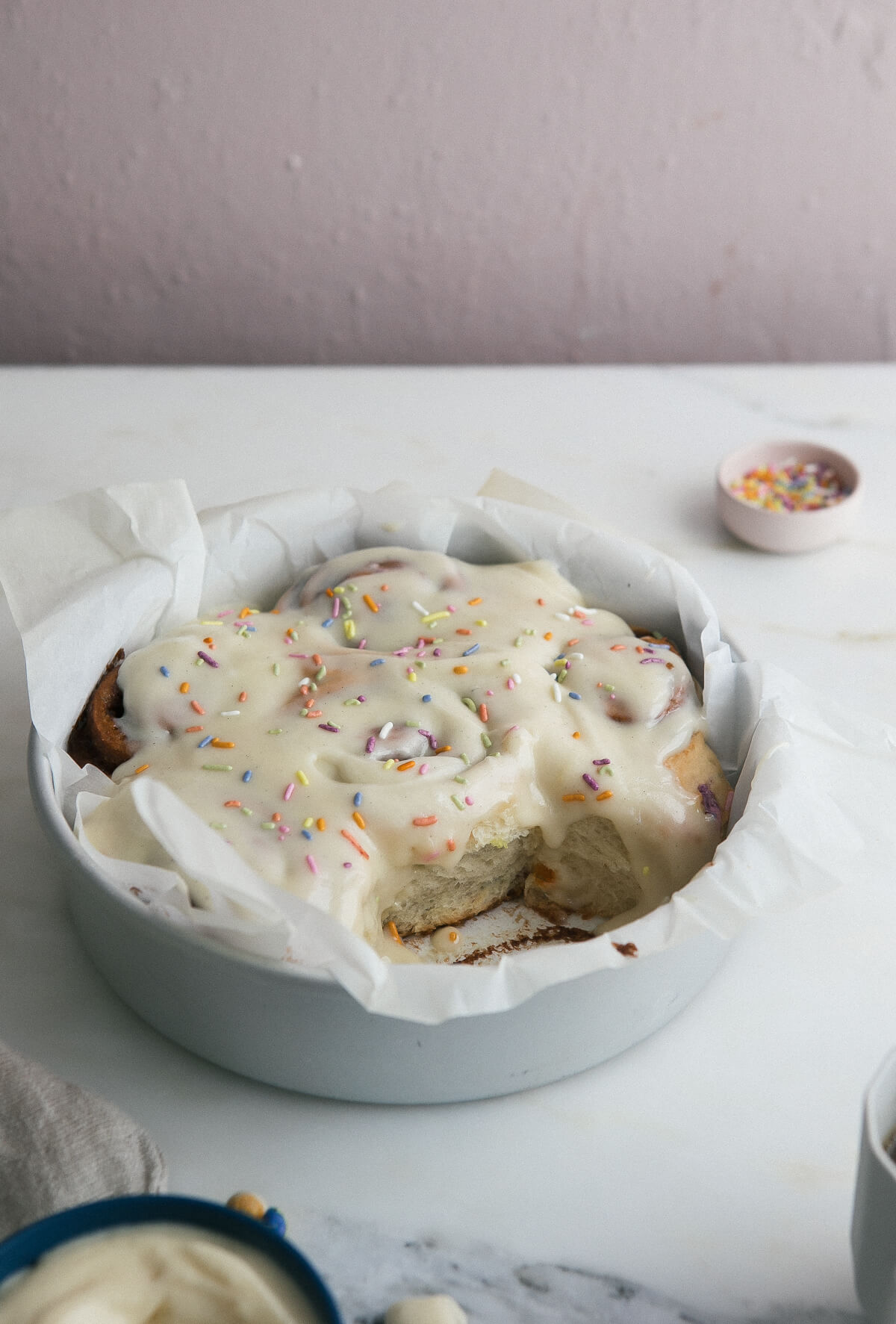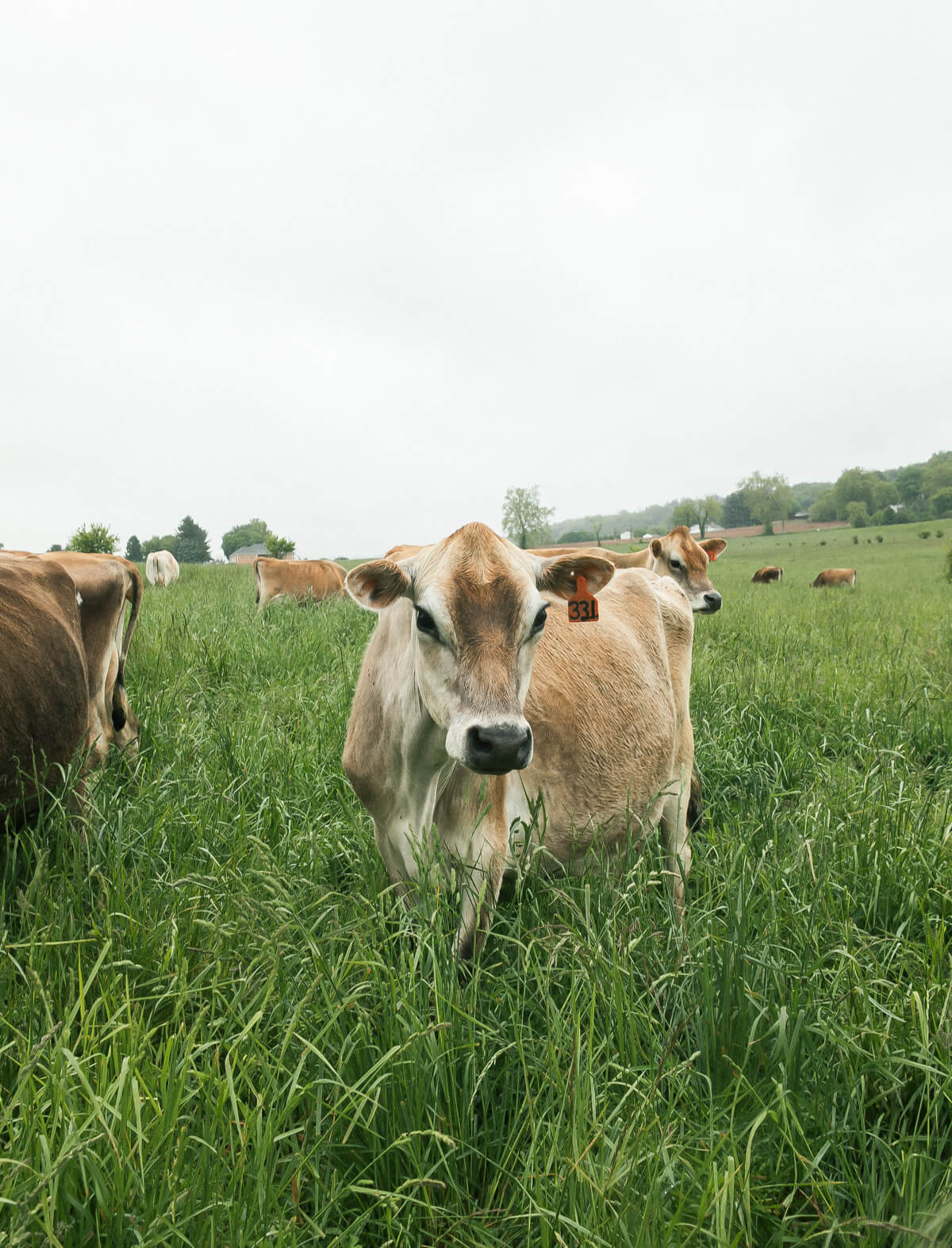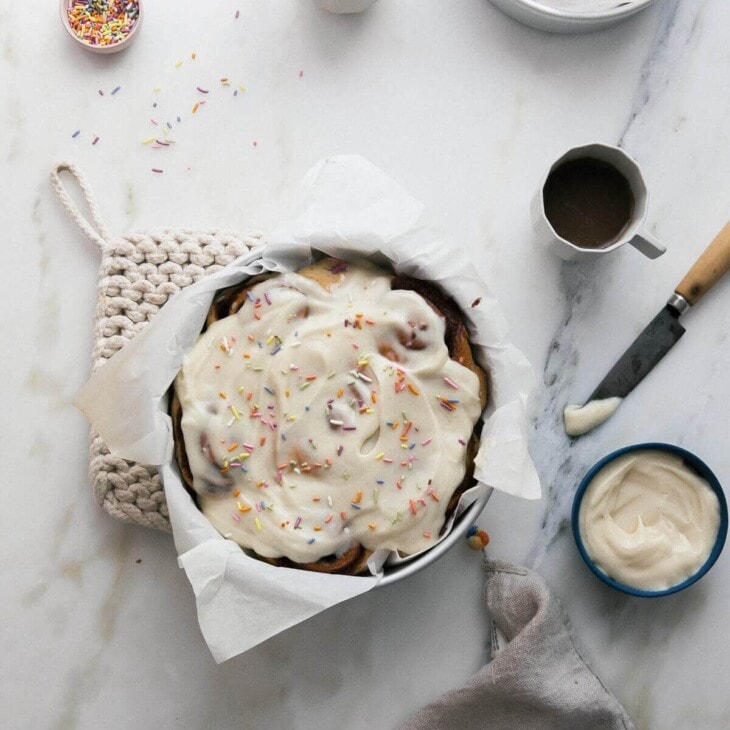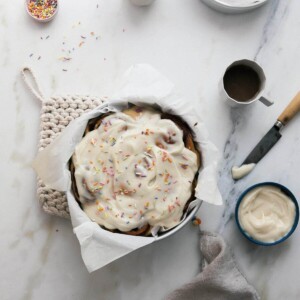 Ingredients
Dough: 
6

cups

all-purpose flour + 1/4 cup more if needed 

1/2

cup

white granulated sugar  

1

tablespoon

fine-grain sea salt 

1

cup

Organic Valley Grassfed Whole Milk

2

tablespoons

,

plus 3/4 teaspoons, instant yeast

2

tablespoons

honey 

1 1/4

cups

orange juice

,

pulp-free

1/2

cup

Organic Valley unsalted butter

,

cubed, at room temperature

1/4

cup

naturally colored sprinkles

,

plus more for garnish
Cinnamon Filling: 
3

tablespoons

ground cinnamon

1 3/4

cups

brown sugar

1/2

teaspoon

salt 

1/2

cup

unsalted butter

,

at room temperature 
Cream Cheese Glaze: 
8

ounces

Organic Valley cream cheese

,

at room temperature 

2

cups

powdered sugar

1/2

cup

Organic Valley unsalted butter

,

at room temperature 

1

tablespoon

pure vanilla extract or 1 teaspoon pure vanilla paste

Pinch

of salt 

Splash of Organic Valley Grassfed Whole Milk 
Instructions
To Make the Dough: 
In the bowl of a stand-up mixer with the hook attachment, mix together the 6 cups of flour, sugar and salt. 

In a small saucepan, warm the milk to 100 degrees F. Remove from the heat and mix in the yeast and honey. Allow to stand for about 3 minutes, until a little foamy. Add the yeast/milk mixture, orange juice and cubed butter into the flour-bowl. Mix on medium speed for about 3 to 4 minutes, until the dough is smooth. If it's still super wet, add about 1/4 cup more of flour and mix for an additional minute or so. Cover with a clean kitchen towel and let rise in a warm, draft-free area until doubled in bulk, about 1 hour. 
To Make the Filling: 
In a medium bowl, combine the cinnamon, brown sugar and salt. I did this with my hands and it worked the best. Set the butter aside. 
To assemble: 
Flour your work surface generously and rolling pin lightly. Divide the dough in half. Roll the first half as evenly as you can into a 1/4-inch square and add about a tablespoon of sprinkles to the top of the dough. Using your hands, press the sprinkles into the dough, fold it over and roll it out once more. Add another tablespoon of sprinkles and then fold it over again. Lastly, roll it out to a 1/4-inch thick square that's about measures to be about 14 x 14 inches.

Using an offset spatula or clean hands, rub spread half of the butter onto the surface of the dough square, stoping 1/2-inch from the edges. Sprinkle and spread half of the filling sugar mixture until it's one even layer. Starting from the opposite long side, roll the dough toward you, snuggly but not so tightly that you push the filling out. When rolled completely, pinch the seam together. 

Lightly flour a cutting board and transfer the roll to it. Put the roll in the freezer to chill for about 10 to 15 minutes—this helps with slicing. Repeat that entire process with the second half of the dough. 

With a sharp serrated knife, cut the roll crosswise into buns 1 1/2-inch thick, using a sawing motion to avoid pressing down on the roll. Transfer the buns to two lightly greased 9" cake pans and space them about 1-inch apart. (A variety of baking dishes can be used.) Repeat this entire process with the remaining dough and filling. Cover the buns with a clean kitchen towel and allow them to rise in a draft-free part of your house until they're puffy and doubled in size, about 1 hour. 
To make the glaze: 
In a medium bowl, using a handheld mixer, mix together the cream cheese, powdered sugar, butter, vanilla and salt. The glaze should be thick yet pourable. If it gets too thick, mix in a splash of milk. 

Preheat the oven to 350 degrees F. Uncover the cinnamon rolls and bake for 20 to 25 minutes, or until slightly firm to the touch and lightly golden brown. When the cinnamon rolls exit the oven, pour the glaze over them and add some sprinkles on top. Rolls will last 3 days when stored in an airtight container, but we all know they'll be served warm, straight from the oven. 
(This post is sponsored by Organic Valley. Thank you for supporting the sponsors that keep A Cozy Kitchen cozy.)