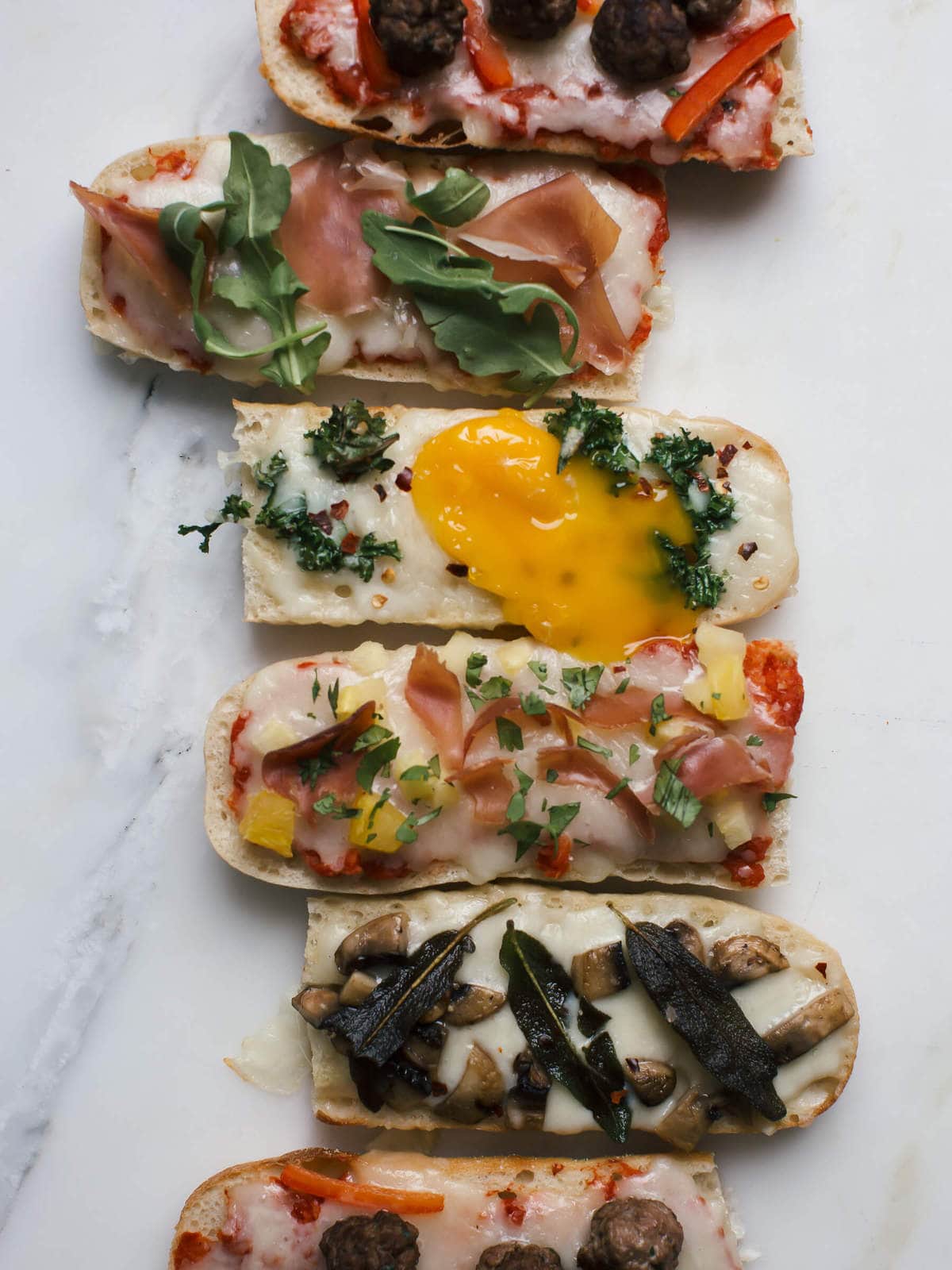 As health-conscience as my mom was growing up, she was not above shoving a frozen French bread pizza in the oven. I'm so glad I was privy to that childhood experience!
Lately I dunno why–maybe I've been browsing Pinterest too much–but I've been craving really trashy French bread pizza. But since I am a person who cooks stuff for a living, I figured I'd make a non-frozen version that is slightly classy. I figured I'd try and give it a bit of a facelift (not that it really needs it!).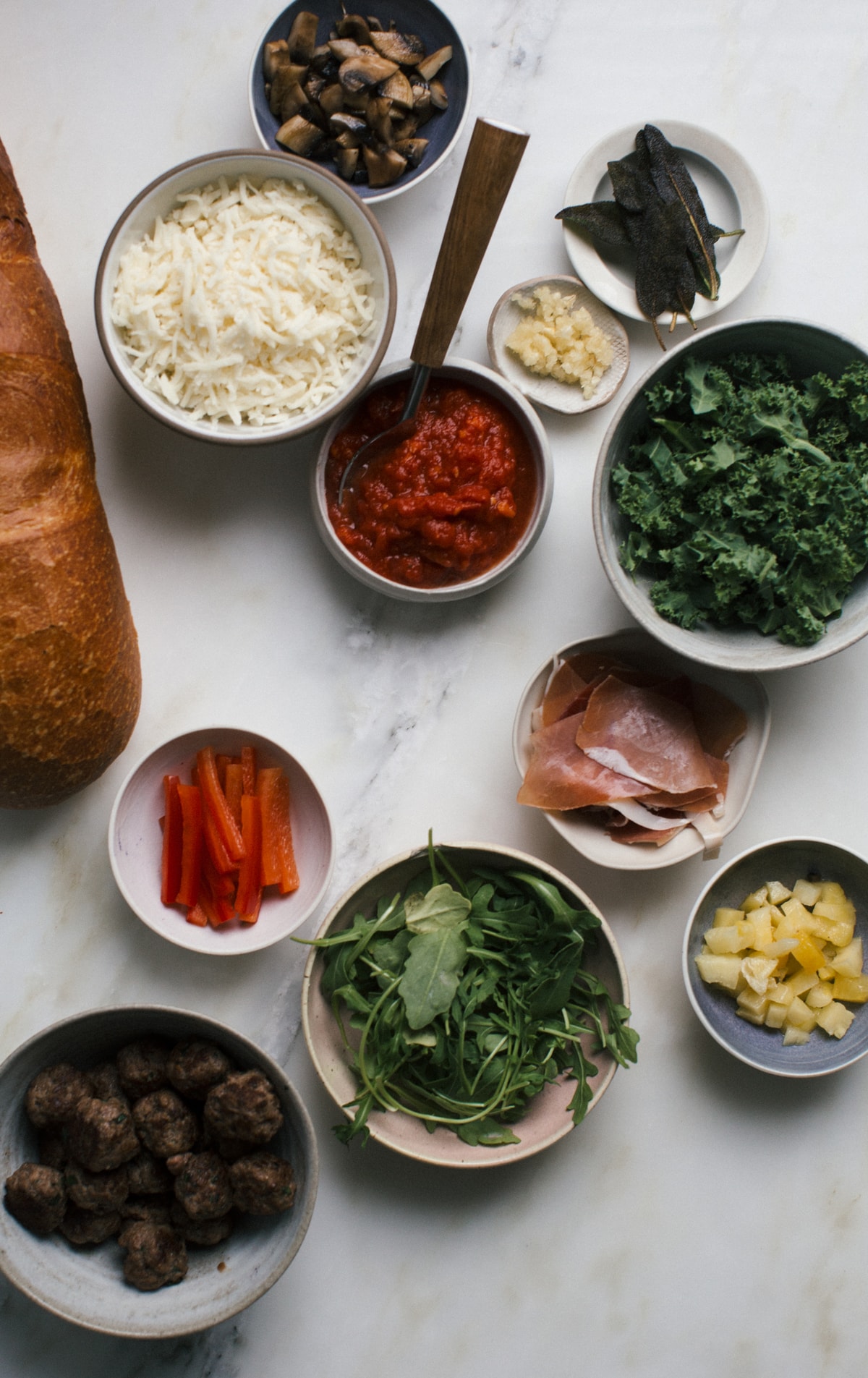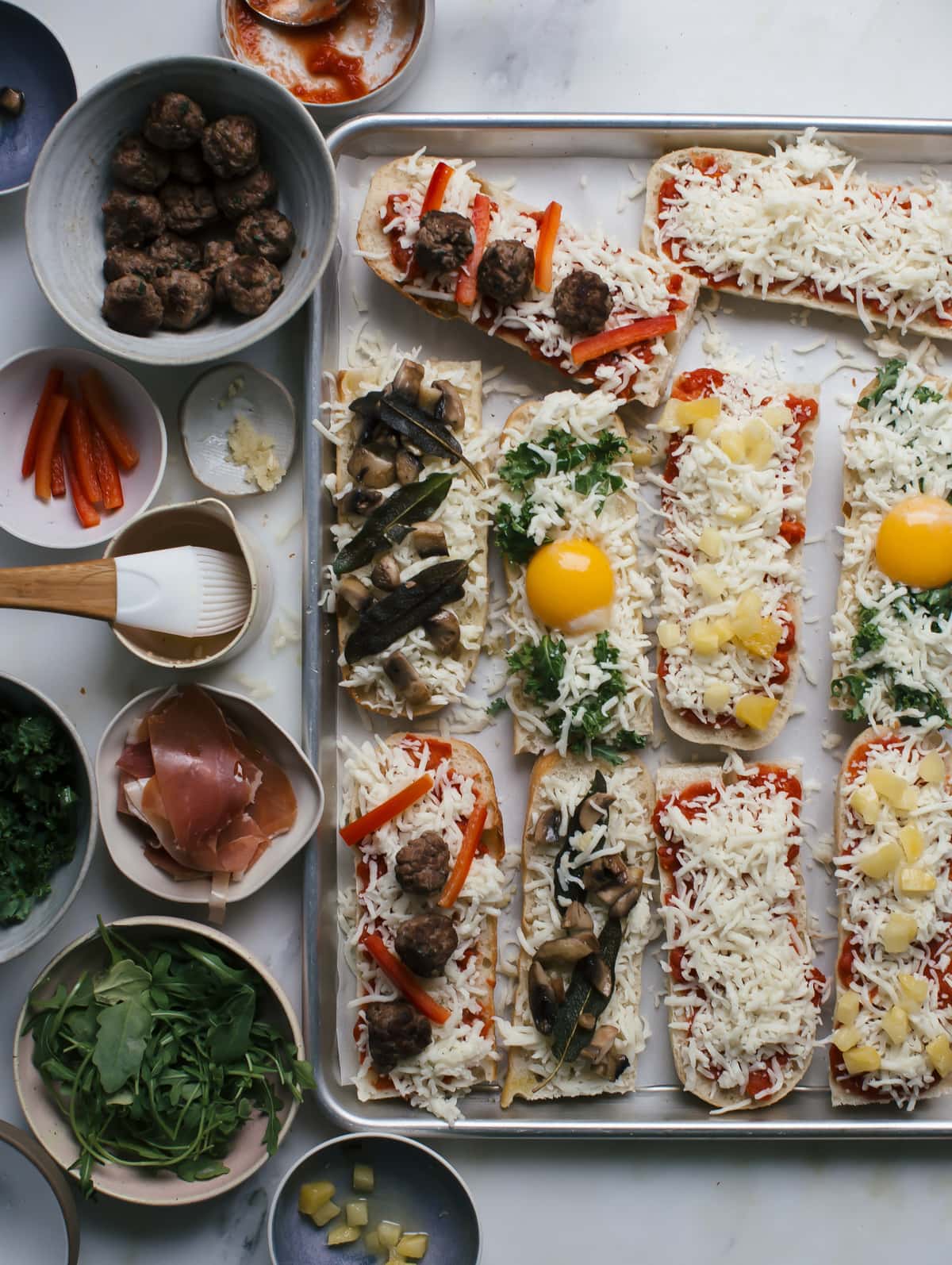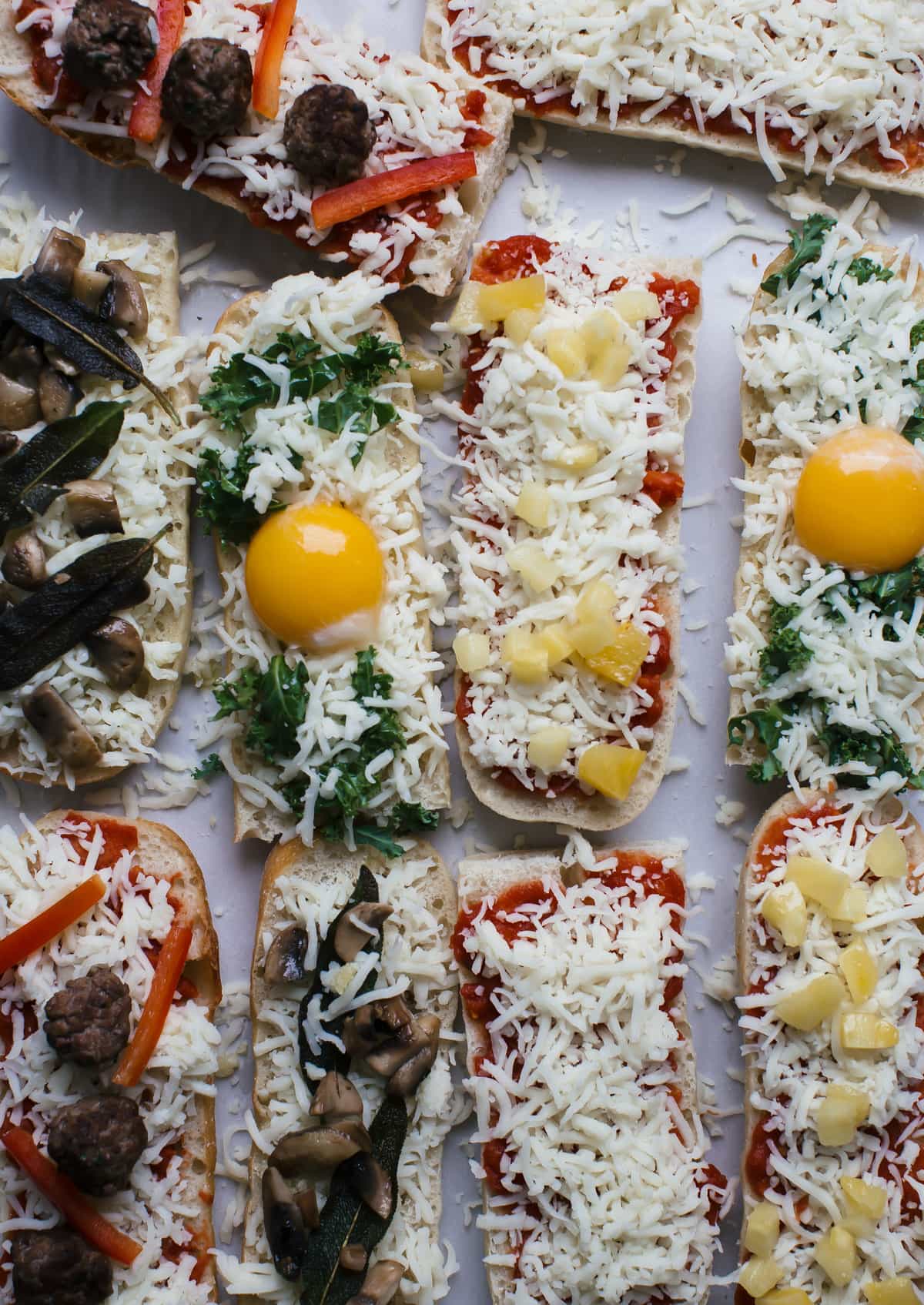 I decided the route that I should go is a variety of toppings. French bread pizzas, every which way for everyone!
Here are the flavors:
1. baby meatballs + red bell pepper
2. prosciutto + pineapple (hello hawaiian pizza)
3. egg yolk + kale
4. parmesan + mozzarella + crispy sage leaves + mushrooms
5. prosciutto + arugula
My hope is to have kids one day and this will be a sure-fire thing I make them because no one should be deprived of fun food like French bread pizzas.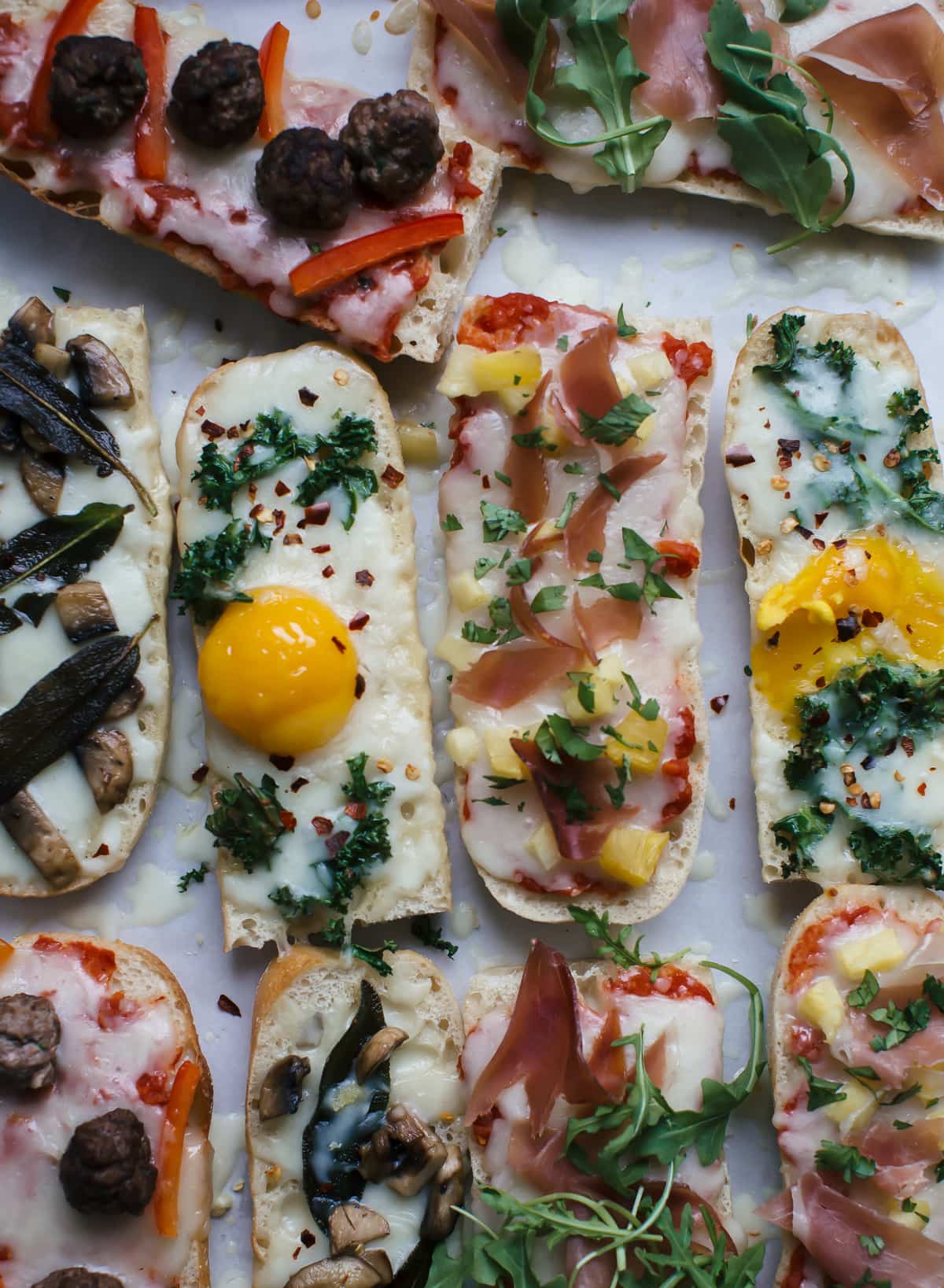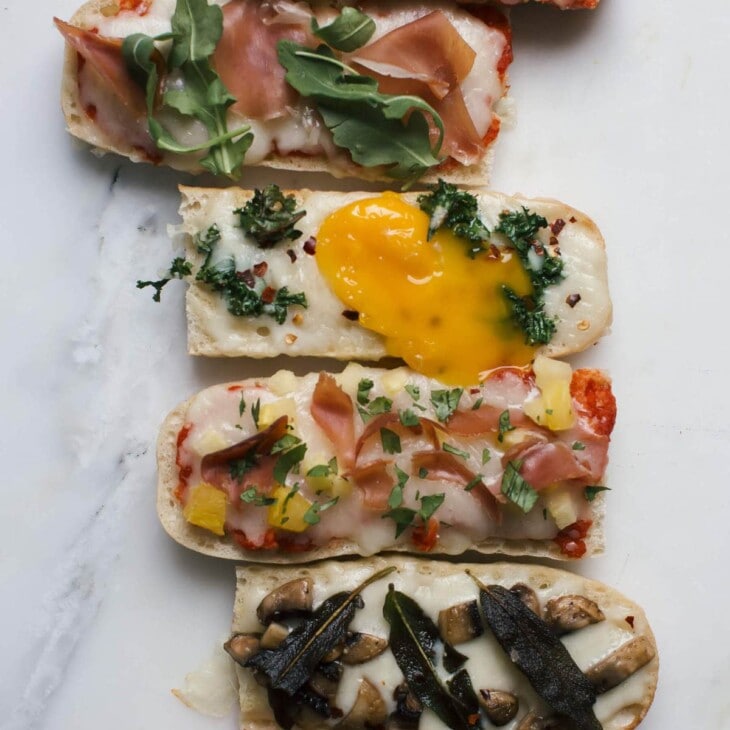 Print Recipe
French Bread Pizzas
Serving Size:
to 12 French Bread Pizzas
Ingredients
French Bread Pizza Basics:
2 to 4

loaves of French bread

1 to 2

cups

homemade or store-bought marinara sauce

3 to 4

cups

shredded mozzarella
Baby Meatballs & Red Bell Pepper Pizza
1/2

pound

ground beef

1

teaspoon

minced Italian parsley

1

tablespoon

Parmesan-Reggiano

1

garlic clove

peeled and minced

Pinch

of salt

Pinch

of crushed red pepper

1/2

red bell pepper

sliced
Hawaiian Pizza
3 to 4

slices

of prosciutto

5

cubes of frozen pineapple

diced

1

teaspoon

minced fresh cilantro
Egg yolk & Kale:
1/4

cup

thinly sliced kale

Olive oil

Salt

2

egg yolks
Mushroom & Sage Pizza:
Olive oil

4 to 5

sage leaves

Salt

2 to 3

cremini mushrooms

diced

1

garlic clove
Prosciutto + Arugula:
2 to 3

slices

of prosciutto

1/4

cup

arugula leaves
Instructions
To make the baby meatballs French bread pizza: mix together all of the ingredients (except the red bell pepper). Form baby meatballs. Add a few teaspoons of olive oil to a skillet. Sear on both sides for about 1 to 2 minutes. Remove from the heat and transfer to a small bowl. Assemble the French bread pizzas by smothering on tomato sauce, topping it with a handful of mozzarella, arranging a few meatballs and a few slices of red bell pepper

To make the prosciutto and pineapple pizza: Add a few teaspoons of tomato sauce to the French bread slices. Top with a handlful of mozzarella and pineapple. When it exists the oven, top with the slices of prosciutto.

To make the egg yolks and kale pizza: Toss the kale with a teaspoon of olive oil and a pinch of salt. Massage the kale until it has softened slightly. Add the kale to the base of the French bread slices. Top with a handful of cheese and the egg yolks.

To make the mushroom and sage pizza: To a small sauté pan, heat a tablespoon of olive oil. When hot, add the sage leaves and fry until crispy. Remove and place on a paper towel and immediately sprinkle with salt. In the same saute pan (no need to clean it out, add the diced mushrooms and sprinkle with salt. Cook until slightly softened. Rub the French bread slices with a garlic clove. Top with a few handfuls of mozzarella, sage leaves and mushrooms.

To make the prosciutto and arugula pizza: Add the tomato sauce on the French bread slices. Top with a few handfuls of mozzarella.

To bake all of the pizzas: Preheat the oven to 325 degrees F. Bake for 10 to 12 minutes, until the cheeses are melty and the egg yolks have set. Remove from the oven and add the finishing garnishes.