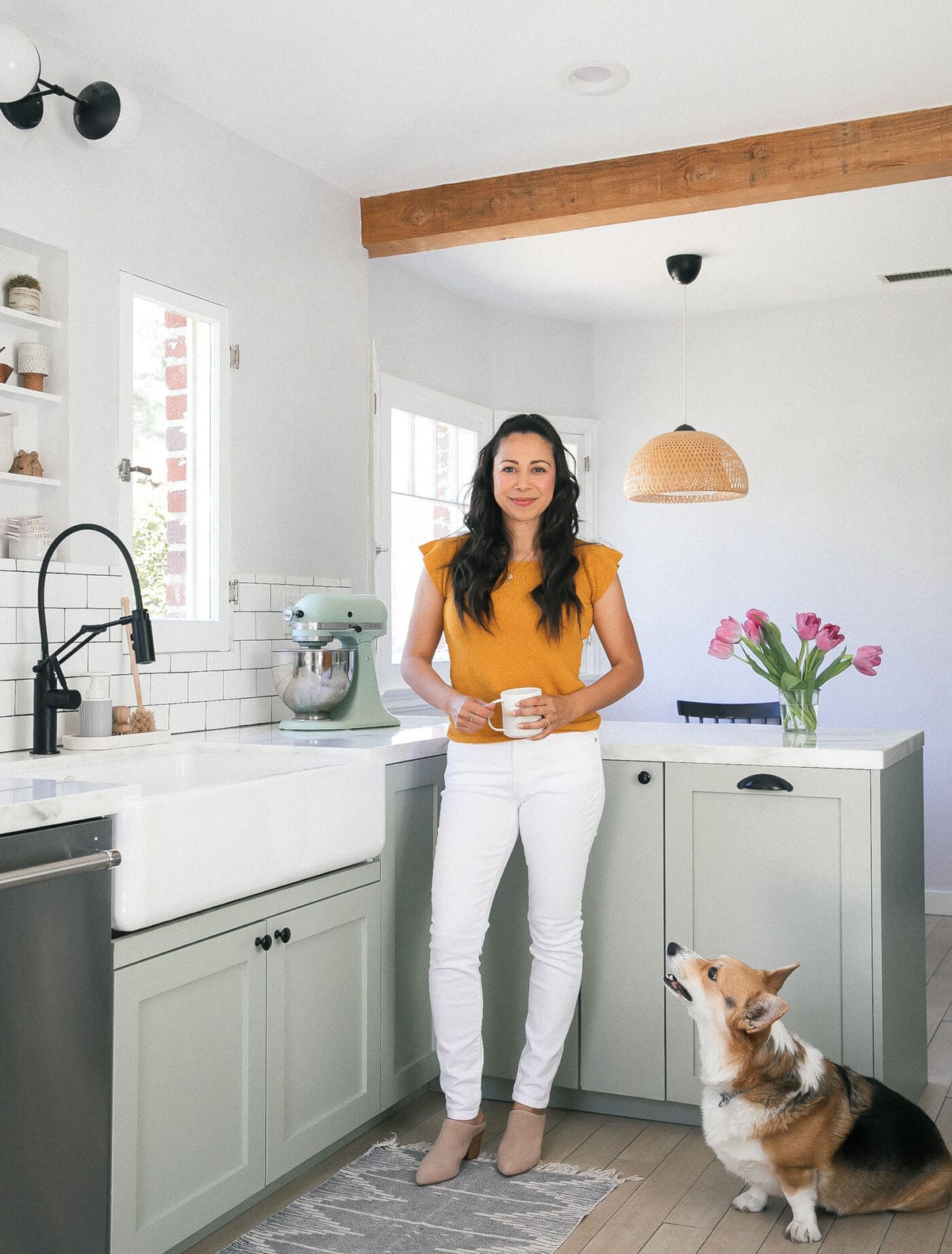 If you hire a kitchen designer they will do a lot of the work for you. They'll pair your style of cabinets with flooring, give you backsplash options, scour the internet for lighting options and sink options, etc. It sounds like a dream, honestly, but we didn't have it in the budget to hire a kitchen designer and the job also kinda sounded like fun! I was up for the challenge!
I'll be completely honest, designing this space took a lot of time and I understand why people hire designers. BUT, if you have the time and love design, I think you'll enjoy the process.
Before we started this project, I hadn't really thought about what I wanted in a dream kitchen. Crazy I know, but I just hadn't given it much thought. I learned a lot along the way so I wanted to share what worked for me and what I would do differently in the future. If I could go back, I still wouldn't have hired a kitchen designer. The process was fun!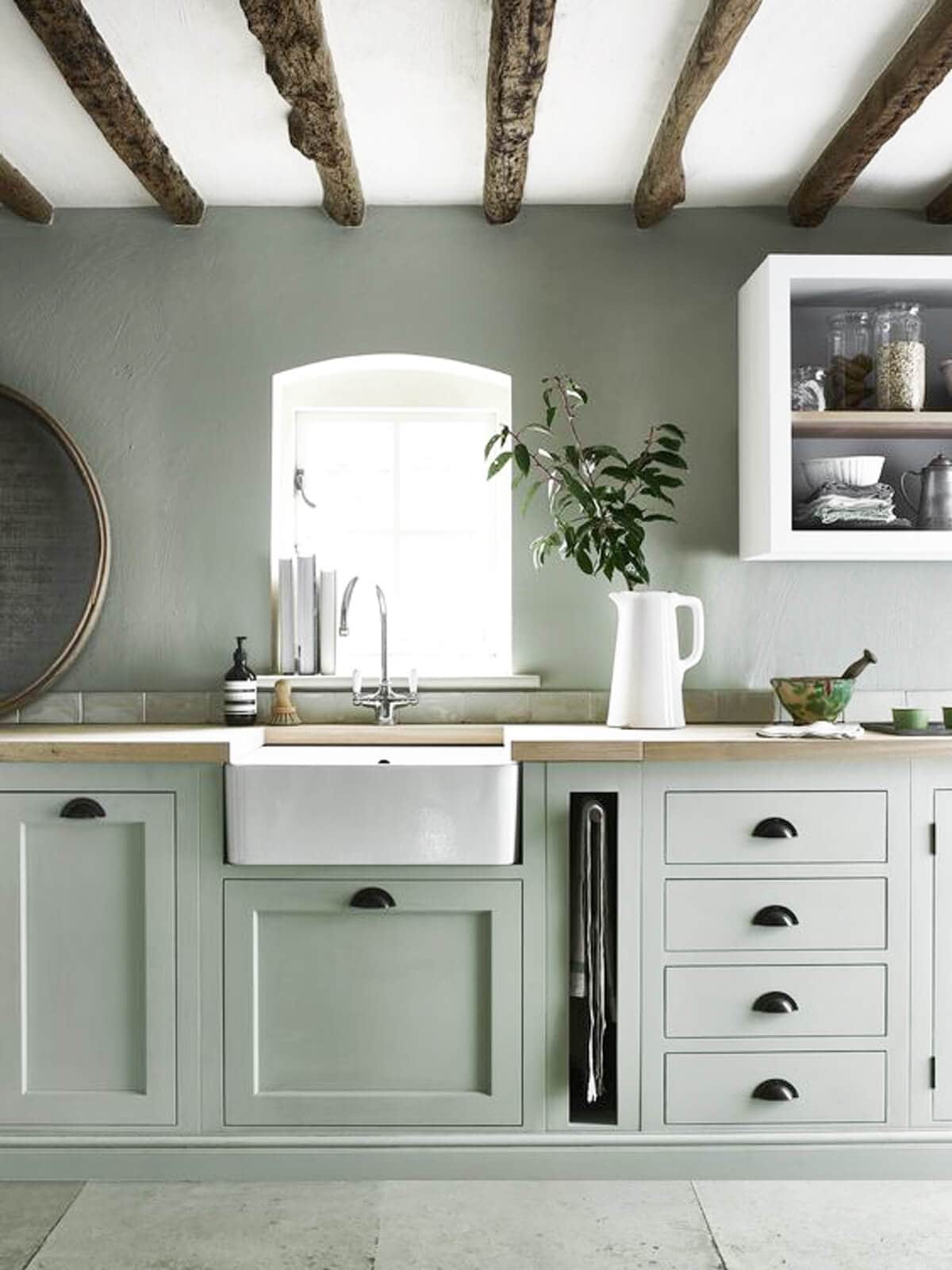 1. The Style of Kitchen Should Match the Style of House – I know this sounds super obvious, but your kitchen should compliment your house. Or at least I think so. Don't put a super modern kitchen in a Spanish-style house. Or a Spanish-style kitchen in a mid-century house. It doesn't mean the kitchen has to feel old or not current but I really do believe it should fit well.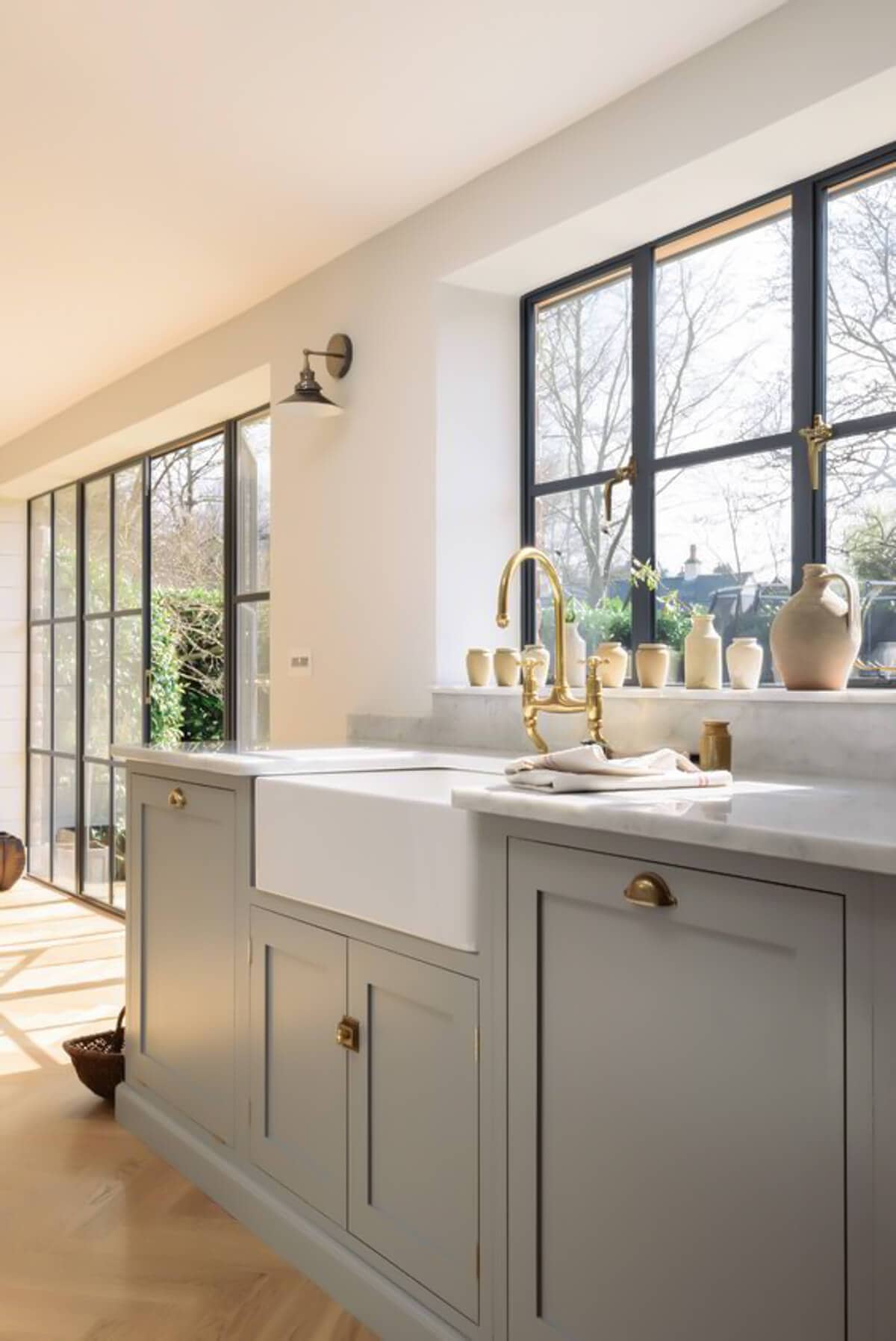 2. Don't Make it Too, Too Custom – Listen, if you're gonna live in the house until the end of time, do whatever works best for you, but if you think that maybe you'll sell the house in the future, don't make it TOO custom or else no one will want it and kitchens often times will sell a house.
3. Pinterest Is Your Friend – Before I started, I began by pinning kitchens that I liked. I looked through the photos and tried to find the commonalities in the photos/kitchens I kept pinning. I found these were the things that kept speaking to me over and over:
soft colored cabinets (mainly some shade of green or blue)
calacutta marble countertops
black hardware
It might be different for you. You might want more elaborate backsplash or floors, wood counter tops, black-framed windows, etc. Figure out what's most important to you design-wise!
I designed the kitchen around those three most-important-to-me elements.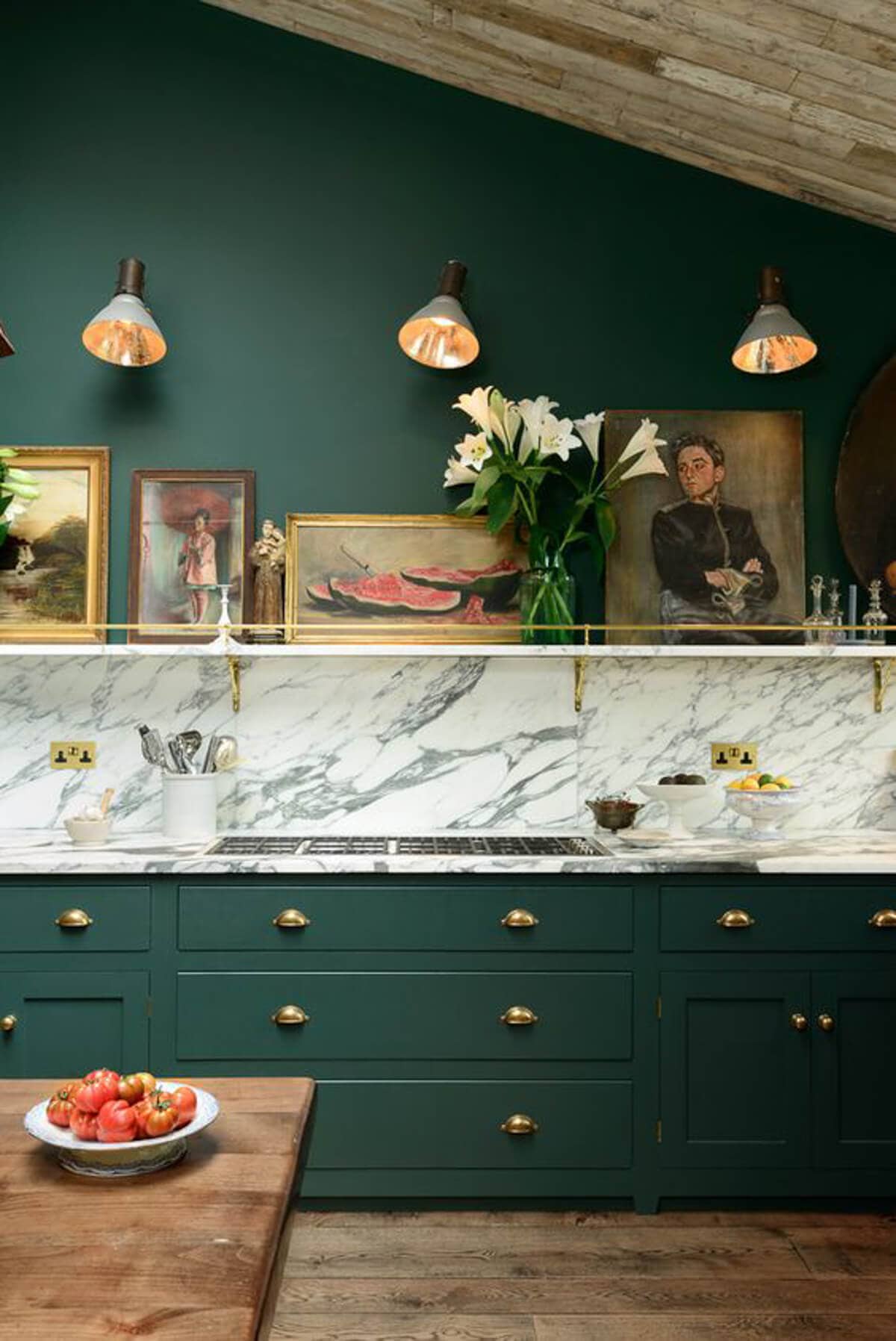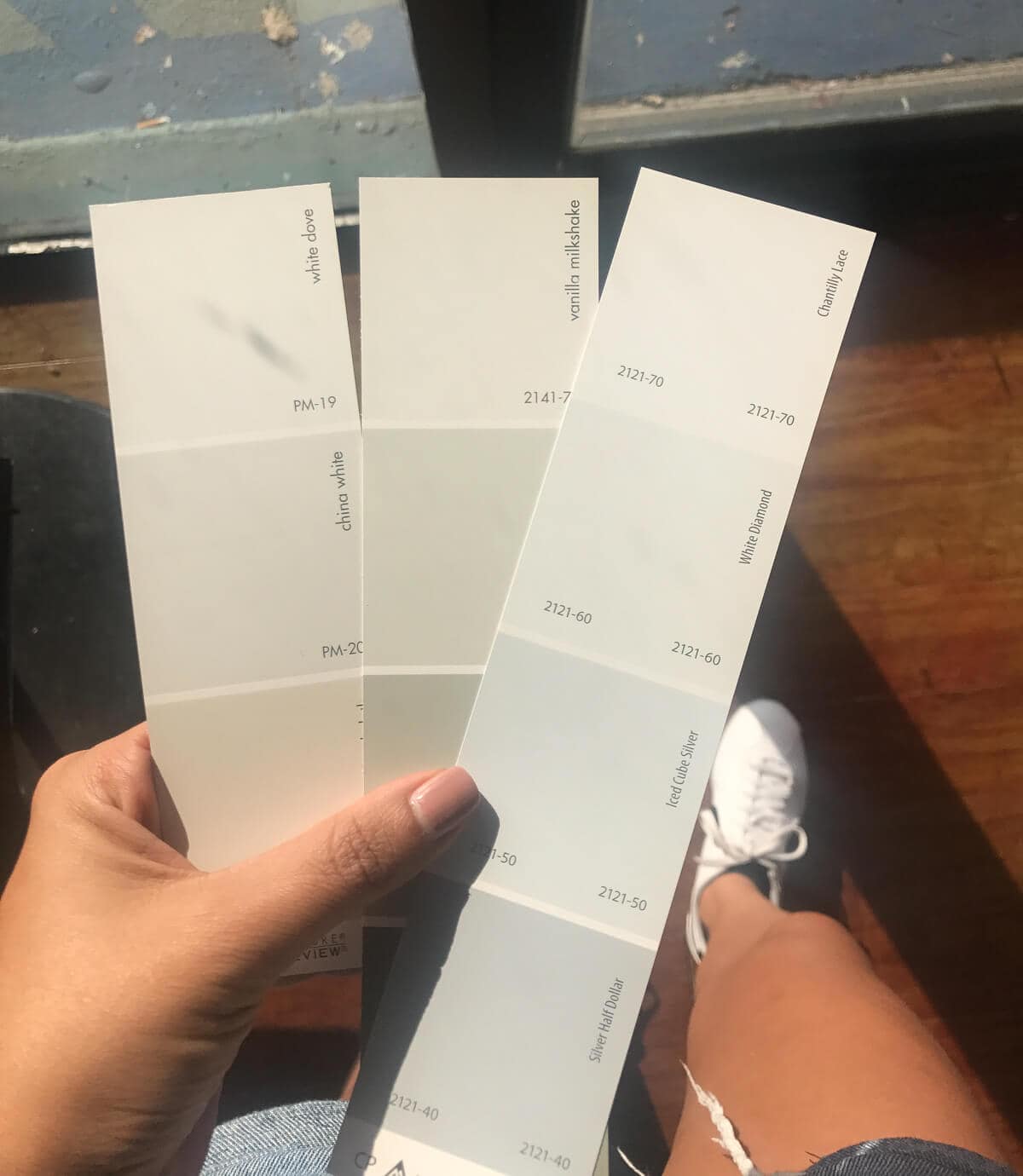 4. Budget – The average kitchen renovation in the United States is about $30,000. Of course you can do it for cheaper. And of course you can do it for more. I would definitely get a quote from a contractor or whomever BEFORE you start or order anything. And I know this may sound obvious but the largest your space is, the more everything will be. The smaller the kitchen, the less supplies and labor you'll need.
Most contractor's budgets do not include supplies/product so just keep that in mind. Some contractors will include flooring and marble in their bids, some won't.
5. Functionally, What's Important to You? – From a functionality stand point, here were some things that were critical to me and the kitchen:
1. A sink that was big enough to fit a half baking sheet. I bake a lot so I wanted to a good sized sink!
2. Countertops that could have hot stuff put on top of it and it not be affected.
3. Floors that wouldn't warp/take a beating. Tile was the answer.
4. An open space. This meant walls had to go bye-bye. We knew this from the start!
5. Counter space! I work a lot in the kitchen with Billy and a lot of times we have multiple projects going on. We worked for years in teeny cramped kitchen but here we had the space so I wanted a lot of counter space for working, hence the peninsula.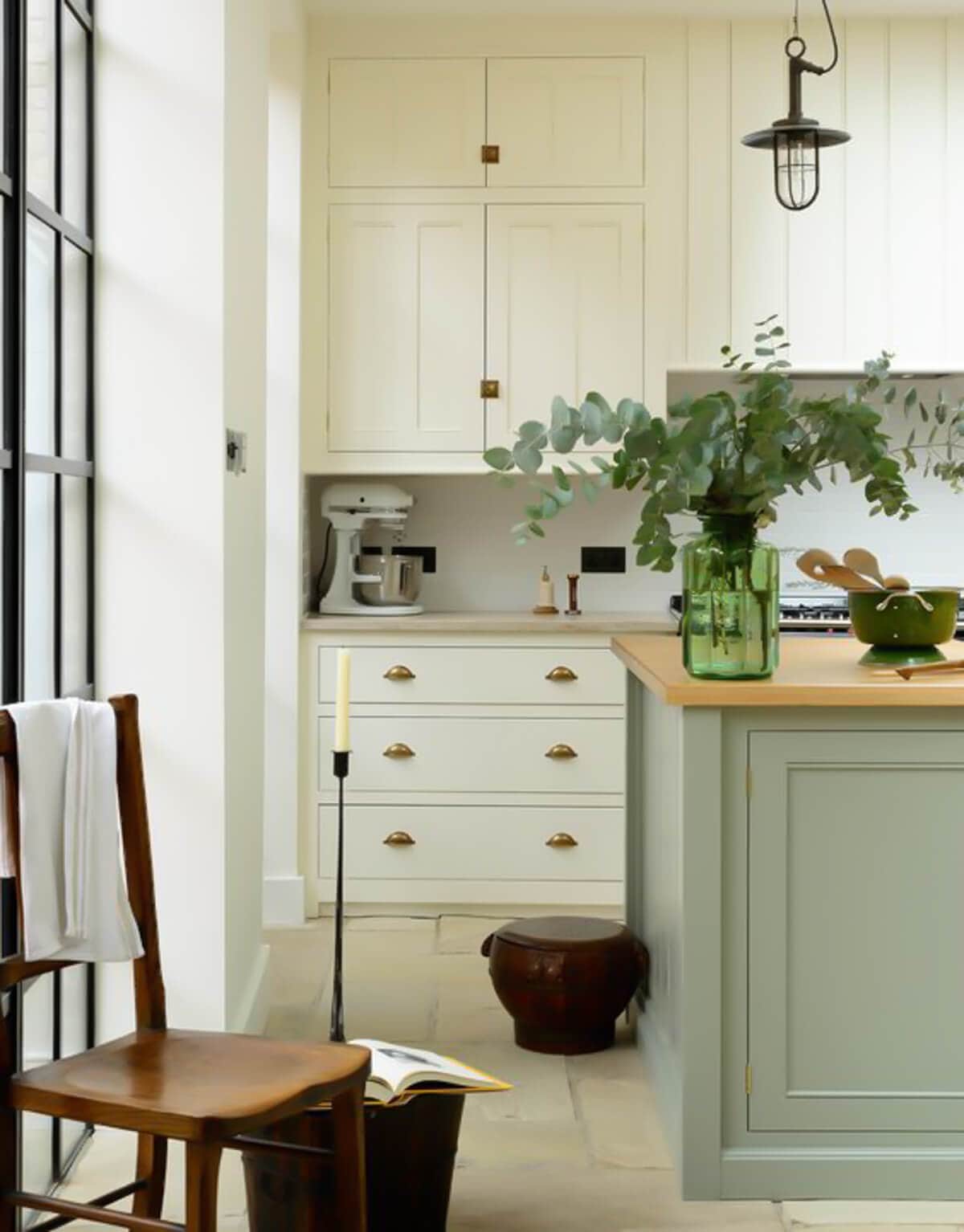 5. Source Everything – Here are a bunch of items that you'll have to order for a full kitchen renovation:
1. Flooring (if you're doing tile, the contractor will provide the grout)
2. Backsplash
3. Cabinets (boxes and fronts)
4. Sink
5. Faucet
6. Garbage Disposal
7. Appliances (dishwasher, fridge, hood, stove, etc)
8. Lighting (our contractor supplied the recessed lighting)
9. Outlets (I wanted ones with USB connects so I ordered some)
10. Paint for ceiling/walls (I went with Chantilly Lace for the ceiling and window trim)
11. In my case, new window hardware
12. Paint for cabinets
13. Cabinet hardware
14. Countertops
I used Shop Style a lot for sourcing certain things. I think it's an amazing aggregator.
I also used Emily Henderson's round-ups. She has incredible resources.
I followed all of my favorite interior brands on Instagram and searched for their items in photos of real life kitchens, BEFORE I pulled the trigger. Sometimes it's hard to imagine everything in your space so seeing it in a real kitchen or living room, even in a photo, is very helpful.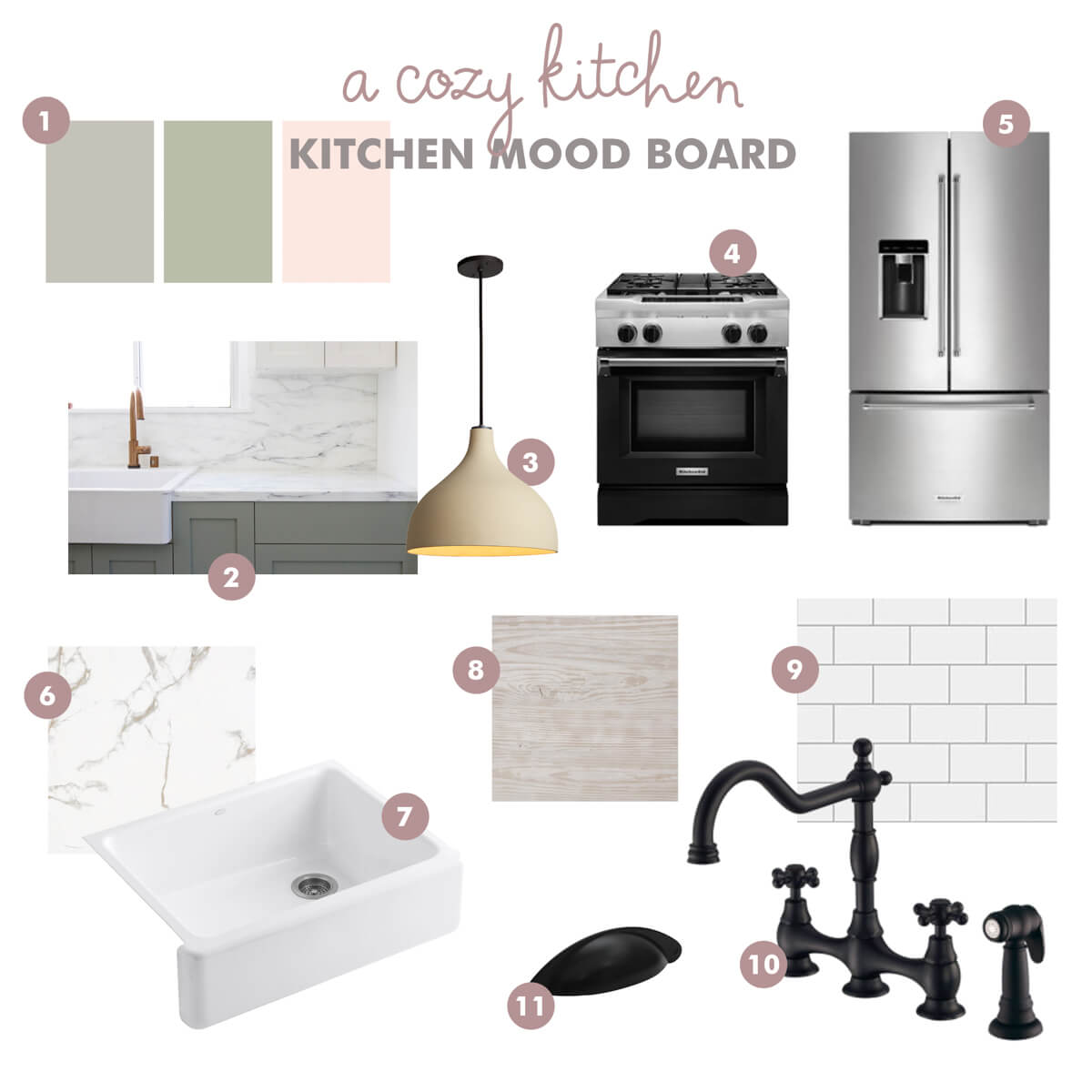 6. Make a Mood Board/Order Samples – Nothing looks the same (online) than it does in person, so order samples or simply order one of something (a lot of companies don't have samples to buy). Very early on, I ordered a few tiles of backsplash from Cle and I'm so glad I did. When it arrived, it was nothing like I imagined. It was also incredibly matte and when I poured spaghetti sauce on it to make sure it could be wiped off, it stained. Crisis averted.
Everyone should be designing kitchens that are durable, not just pretty, especially if you cook. I despise spaces that aren't functional. And I should be able to get spaghetti sauce on backsplash without it staining, you know?! I wouldn't have known this had I not ordered samples. If you can, try and put as many of the elements side-by-side in real life.
I also ordered a few of the same as options. I did this with the faucet so I had three options right before it was installed. Remember you all helped me decide on Insta Stories?! I returned the other two. Just watch the return-policies/timelines.
And then, make a mood board. Here was mine. It had the countertops, color cabinets (not exact color), appliances, lighting, etc all in the same space. It helped A LOT seeing it all together. I ended up going with a completely different faucet and didn't order this lighting because it was too pricey, but you get an idea!
7. Order Everything Before the Work Starts – I ordered about 60% of everything before the work started and I regret not ordering everything. Some of it I was just really indecisive about. I also struggled with finding certain things I liked. Luckily a lot of the big box stores are super fast on delivery. But, keep in mind that custom backsplash, floors, etc, often times will have lead times of up to 12 weeks. Appliance companies usually have lead times of up to 4 weeks.
So plan accordingly!
Ok I think that's it. If I missed anything, feel free to leave any comment/question below!
xox
Adrianna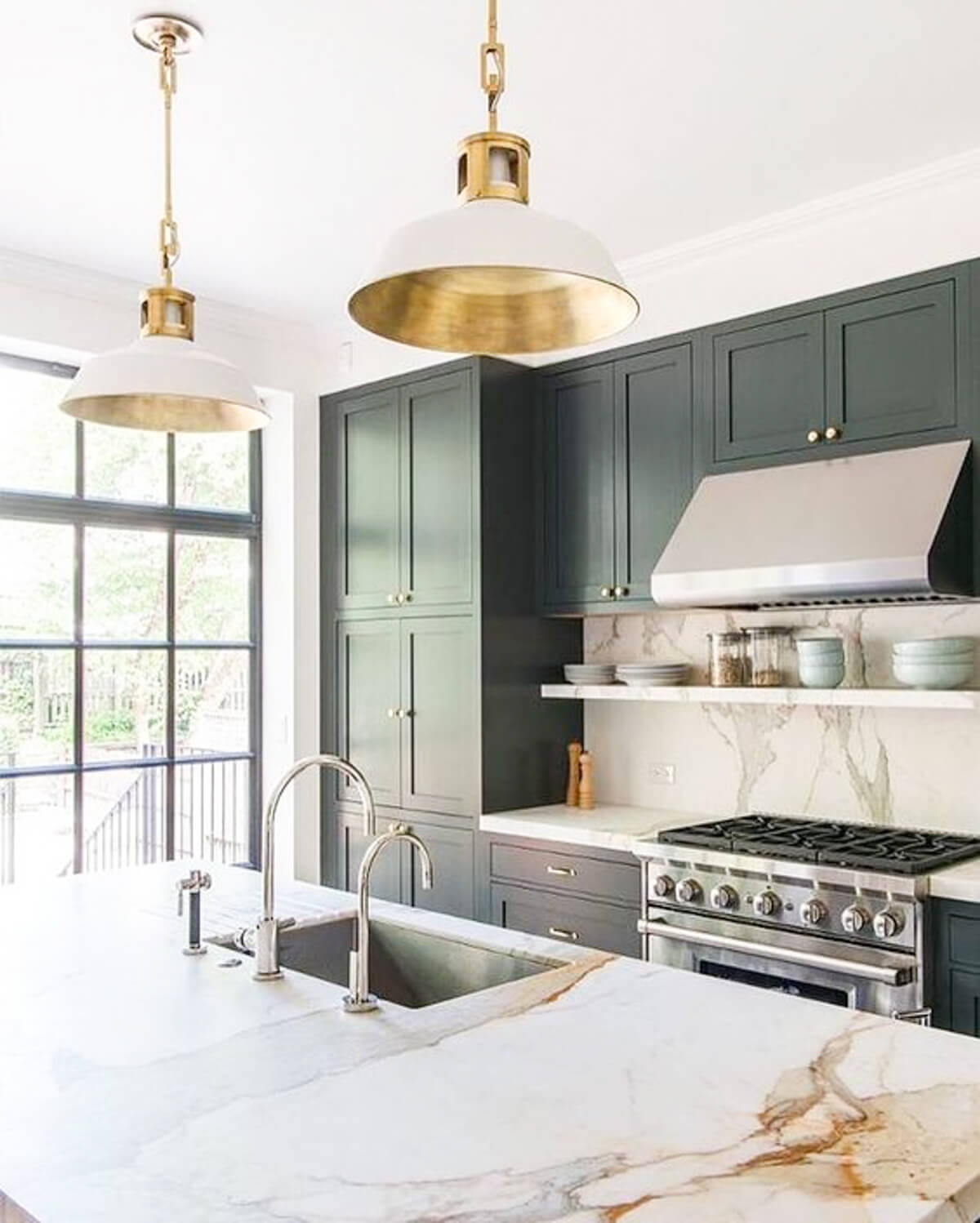 Photos credit: Devol Kitchens