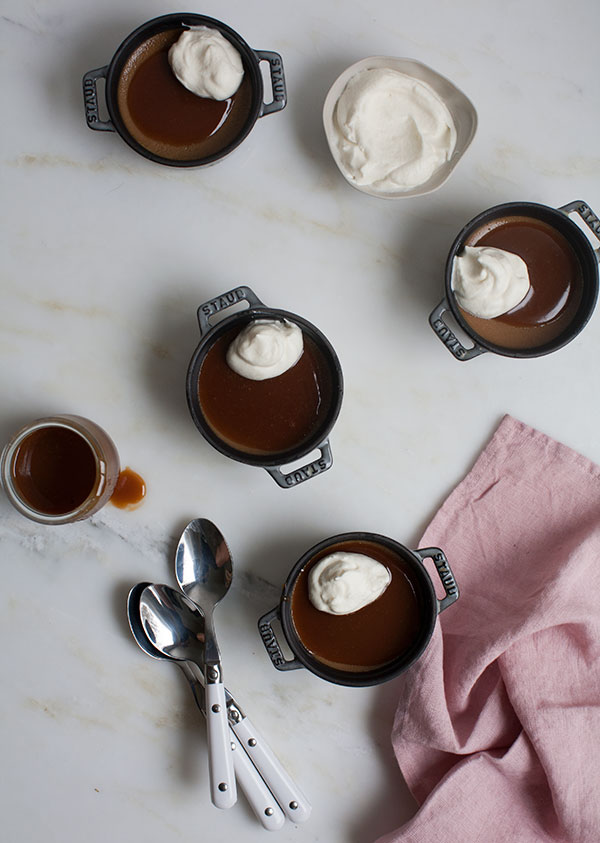 You want to know what a really bad idea sounds like? Of course you do! It sounds like this:
Be home all alone with your really friendly, non-protective corgi and then binge-watch The Jinx. You know, that documentary about the rich murderer who dismembered his neighbor, along with a few other people. I'm not sure you can exist in the world and NOT know about this series. The news of him being arrested is everywhere. But even with him in jail, watching that show all by yourself, in a creaky old apartment is a recipe for a very terrified Adrianna. NO BUENO.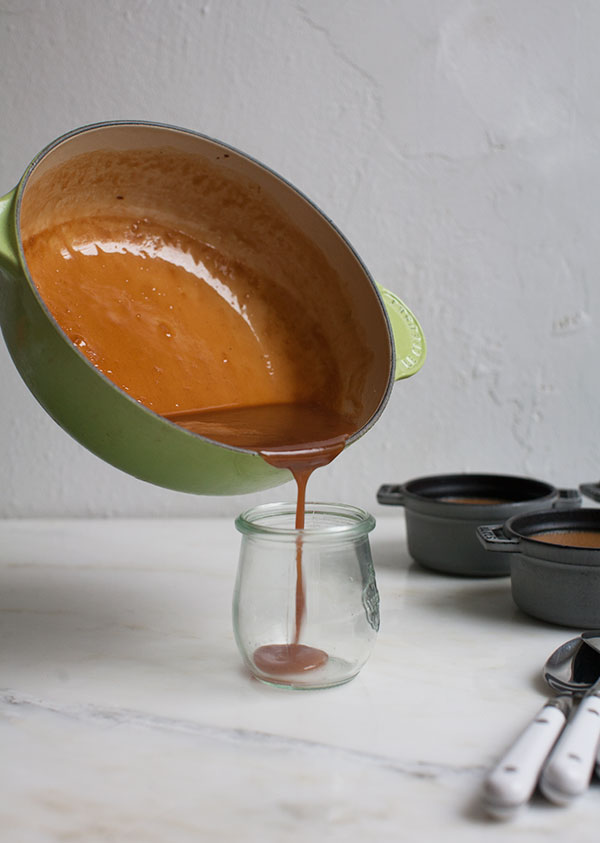 You want to know what a really good idea sounds like? Yes you do! This pot de creme. Girl. It's good.
It comes from one of my favorite funny ladies, recipe writers, authors and bloggers, Shauna Sever. Seriously, this book, Real Sweet: More Than 80 Crave-Worthy Treats Made with Natural Sugars is SO delicious and entertaining; I read through every single recipe headnote because I found them absurd and ridiculous, in a really good way. I smiled my way through the book.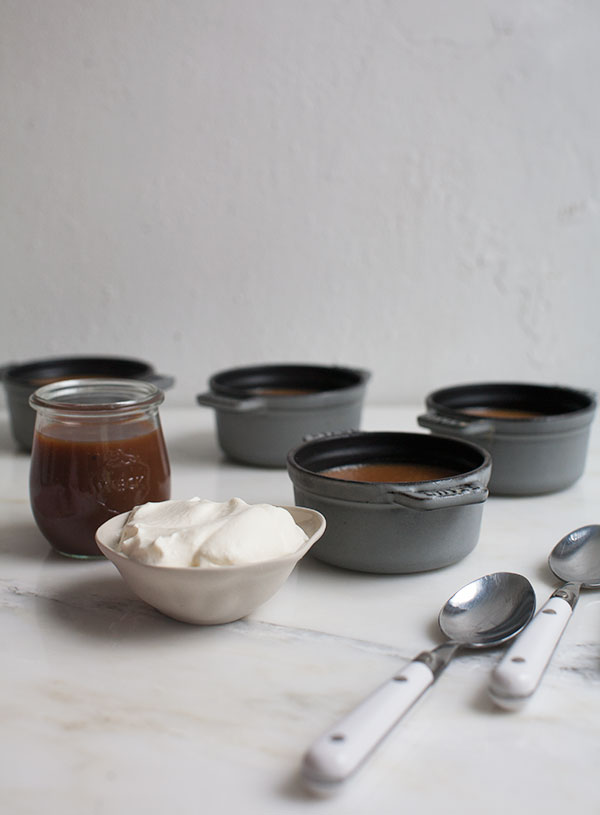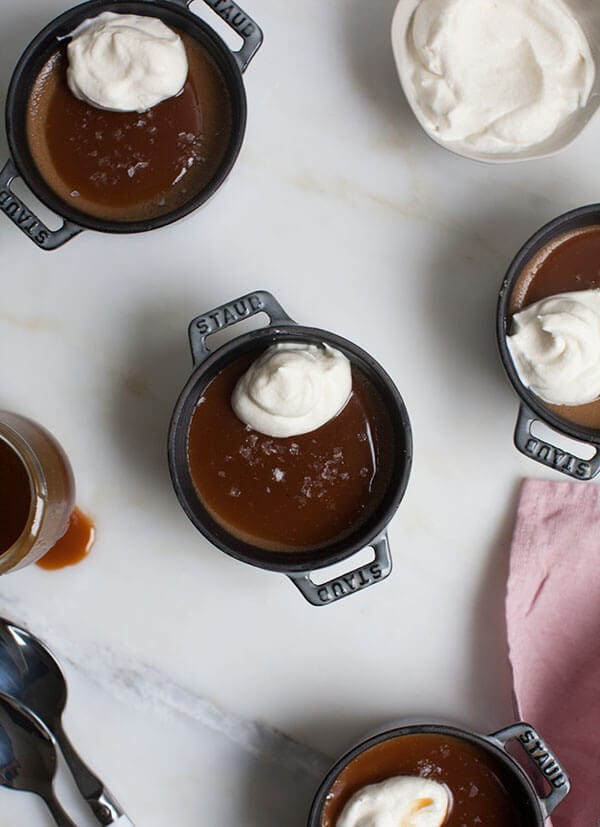 Also, this book is incredibly rich in information; it's full to the brim with recipes using alternative sugars. Think coconut sugar, honey, brown rice syrup, smoky turbinado, brown-buttery panela and more. It's a book that after going through it, you feel smarter, empowered and inspired to bake in a way you probably haven't before.
And Shauna's recipes are vetted. I mean, I can honestly say that every single step was covered to an absolute T. Very well written recipes with really, really good food ideas, equals a total homerun in the cookbook department.
Things got even better when I made the buttermilk caramel.
It's a pretty smart idea to make caramel using buttermilk; the idea hadn't crossed my mind before but I love the tang that buttermilk adds to baked goods and I love cajeta (goat's milk dulce de leche) so duh, of course this would be good!
This is the ideal thing to make when you have people coming over. You can make the entire thing the night before and the next day, BAM, dessert will already be ready. No work. No stress. Just be sure to save one so when you're watching something scary all by yourself, you can have it to keep you company.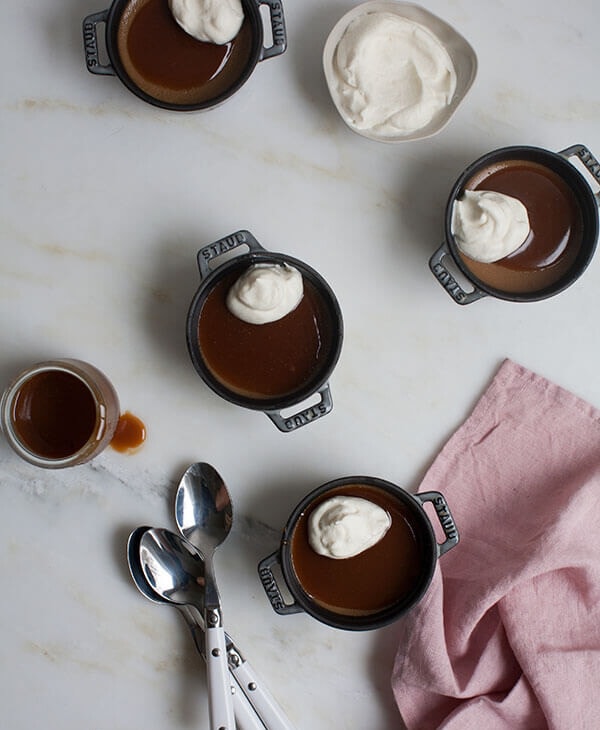 Print Recipe
Butterscotch Pôt de Creme with Buttermilk Caramel
Serving Size:
to 8 ramekins of pot de creme; 1 1/2 cups caramel sauce
Ingredients
Butterscotch Pôts de Creme:
6

large egg yolks

4

tablespoons

2 ounces/57grams unsalted butter

1/2

cup

4 ounces/113 grams firmly packed light or dark muscovado sugar

1/2

teaspoon

fine sea salt

2 1/4

cups

19 1/2 ounces/540 grams half and half*

3/4

teaspoon

vanilla bean paste or pure vanilla extract

Whipped Cream

for serving

Flaky sea salt

for serving
Buttermilk Caramel Sauce:
1

cup

7 ounces/200 grams turbinado sugar or grated piloncillo

2

tablespoons

1 ounces/28 grams water

1

tablespoon

honey

brown rice syrup or agave nectar

1/4

teaspoons

fine sea salt

4

tablespoons

2 ounces/57 grams unsalted butter, cut into cubes

1/2

4 1/2 ounces/120 grams well-shaken buttermilk

1/2

cup

4 1/2 ounces/120 grams heavy cream

1/4

teaspoon

pure vanilla extract
Instructions
To make the Pot de Creme: Position a rack in the center of the oven and preheat the oven to 325 degrees F. Set 8 small (6 to 8-ounce) ramekins, cups, or coffee cups in a small roasting pan. (Just an FYI, I used these Staub Pots and they took a bit longer to cook.) Bring a kettle of water to a boil.

In a medium bowl, whisk the egg yolks until smooth.

In a medium saucepan over medium heat, melt together the butter, sugar, and salt. Whisking often, cooking until the sugar begins to caramelize, darkening in color and smelling nutty, 3 to 4 minutes. Carefully and slowly whisk the half-and-half. The caramel will seize at first, melting back into the mixture once all the liquid is added. Stirring often, bring the mixture to a simmer. Remove the pan from the heat. Stir in the vanilla bean paste or vanilla extract.

Whisk a small amount of the hot liquid into the yolks to warm them and then gradually whisk in the remainder. Set a fine mesh sieve over a large heatproof measuring cup. Pour the custard through the sieve. Divide the custard evenly among the ramekins.

Slice out the oven rack and place the roasting pan on the rack. Carefully fill the roasting pan with boiling water halfway up the ramekins, taking care not to splash any water into the custards. Slide the rack back into place. Bake until the custards are just set but still jiggle when tapped and a thin knife inserted into the center of one of the custards comes out clean, 30 to 45 minutes, depending on the size, depth, and thickness of the ramekins (use the "jiggle test" and knife tester as your clues for doneness). Let the custards cool out of the roasting pan for 5 minutes. Cover loosely with plastic wrap and chill for 3 to 4 hours.

To make the Buttermilk caramel: In a medium heavy-bottomed saucepan, gently stir together the sugar, water, honey, and salt. Set the pan over medium-high heat. Stirring gently, bring the mixture to a boil, and then stop stirring. Cook the sugar syrup until it caramelizes, about 5 to 7 minutes, swirling the pan occasionally. The color of the sugar will make it a bit tough to gauge by sight if the sugar is caramelizing, so watch for a thickening of the syrup and a few wisps of smoke coming from the pot, and keep your nose turned in for a slightly smoky smell; if you'd like to use a candy thermometer for extra insurance, caramelization will happen at about 300 degrees F.

Remove the caramel from the heat and whisk in the butter. Carefully whisk in the buttermilk and cream. Place the pan back on the heat and bring the caramel back up to a simmer, whisking all the while. Cook for 1 additional minute; if any lumps formed when you poured in the liquids, they should smooth out completely during this time. Remove the pan from the heat again and whisk in the vanilla extract. Chill in the refrigerator until you're ready to serve.

To serve, top each pot de creme with a dollop of whipped cream, a drizzle of caramel sauce and a sprinkling of sea salt.
Notes
*I made my half and half since I didn't have it in the fridge. I added one part heavy cream and one part whole milk.