Baked Nashville Hot Chicken
43
Jun 09, 2016, Updated Jan 26, 2019
Disclosure: This post may contain affiliate links, which means I may earn a commission if you click on the link and make a purchase.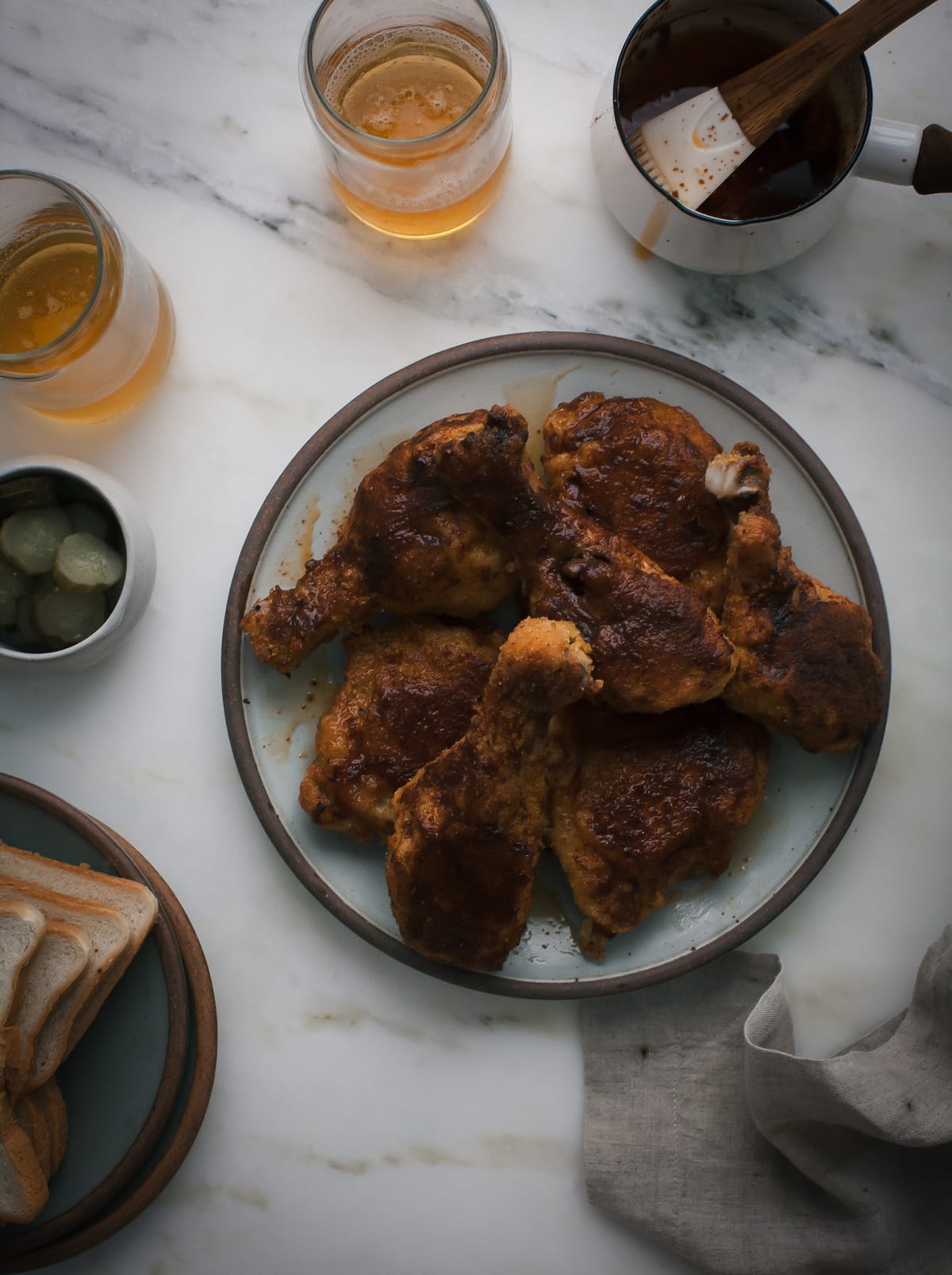 Last September I went to Nashville (here, here and here) to work for Renaissance Marriott. Luckily, I was in New York just before that and my friend Ben told me every place to hit up. Prince's Hot Chicken was at the top of the list and right when I landed, I took my nondescript rental car straight there. I ordered the HOT but immediately regretted my choice when a local woman sat down and told me she would never EVER order the HOT, "it's too hot for me," she said.
I was like uhhhh ok. I'm screwed. When it came, I ate it and it was totally tolerable for me, delicious in fact. But, I did grow up with a Peruvian mama who loved eating spicy food so my brother and I, like, love heat.
Then, I went to Hattie B's which is much more new school in the way of hot chicken. I liked the dredge at Prince's better but I loved the sauciness from Hattie B's. They both have really good attributes.
I've been wanting to make Nashville Hot Chicken for forever but every time I go to make it, a huge feeling of dread comes over me because it's fried. And that means hot oil. And that means a mess. I wanted it to be something I could make on a whim or on a weeknight.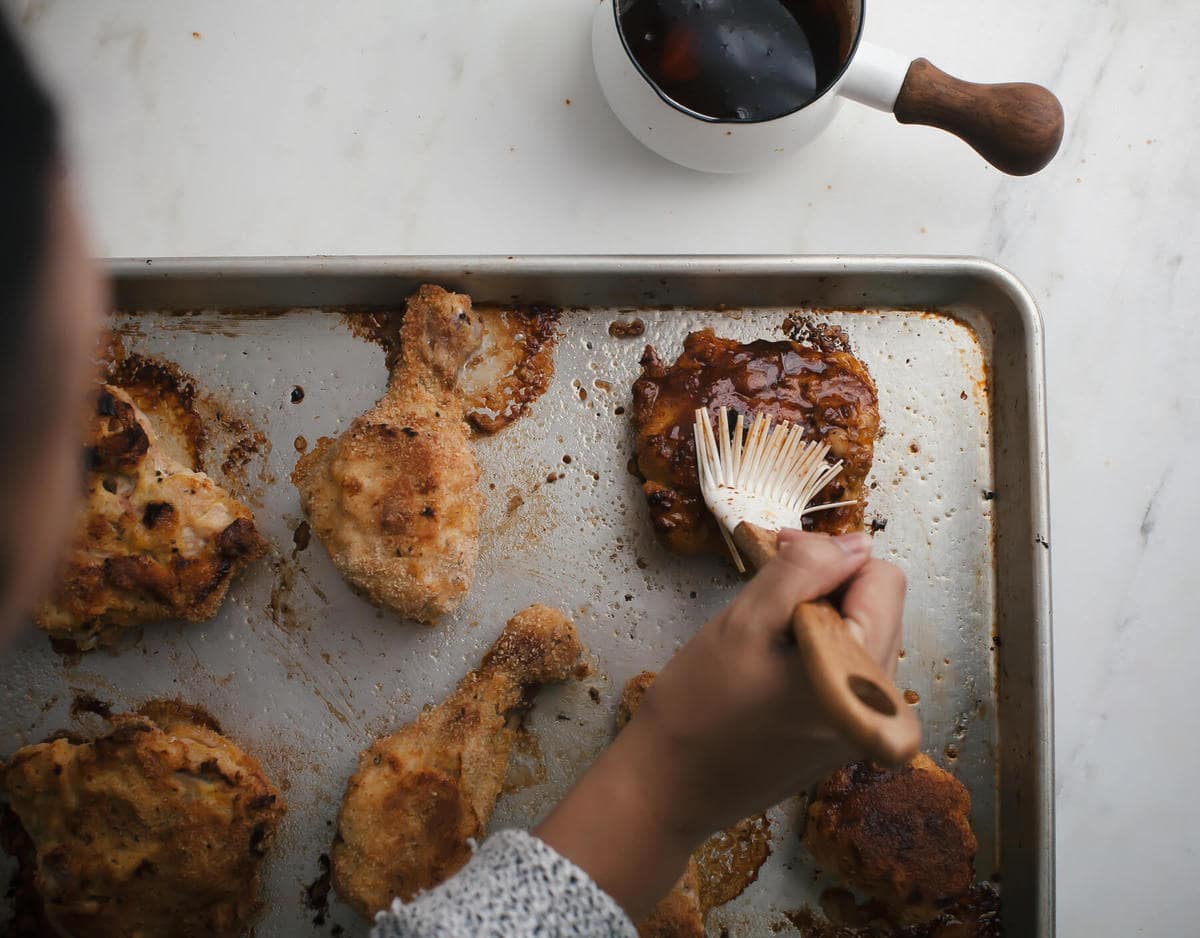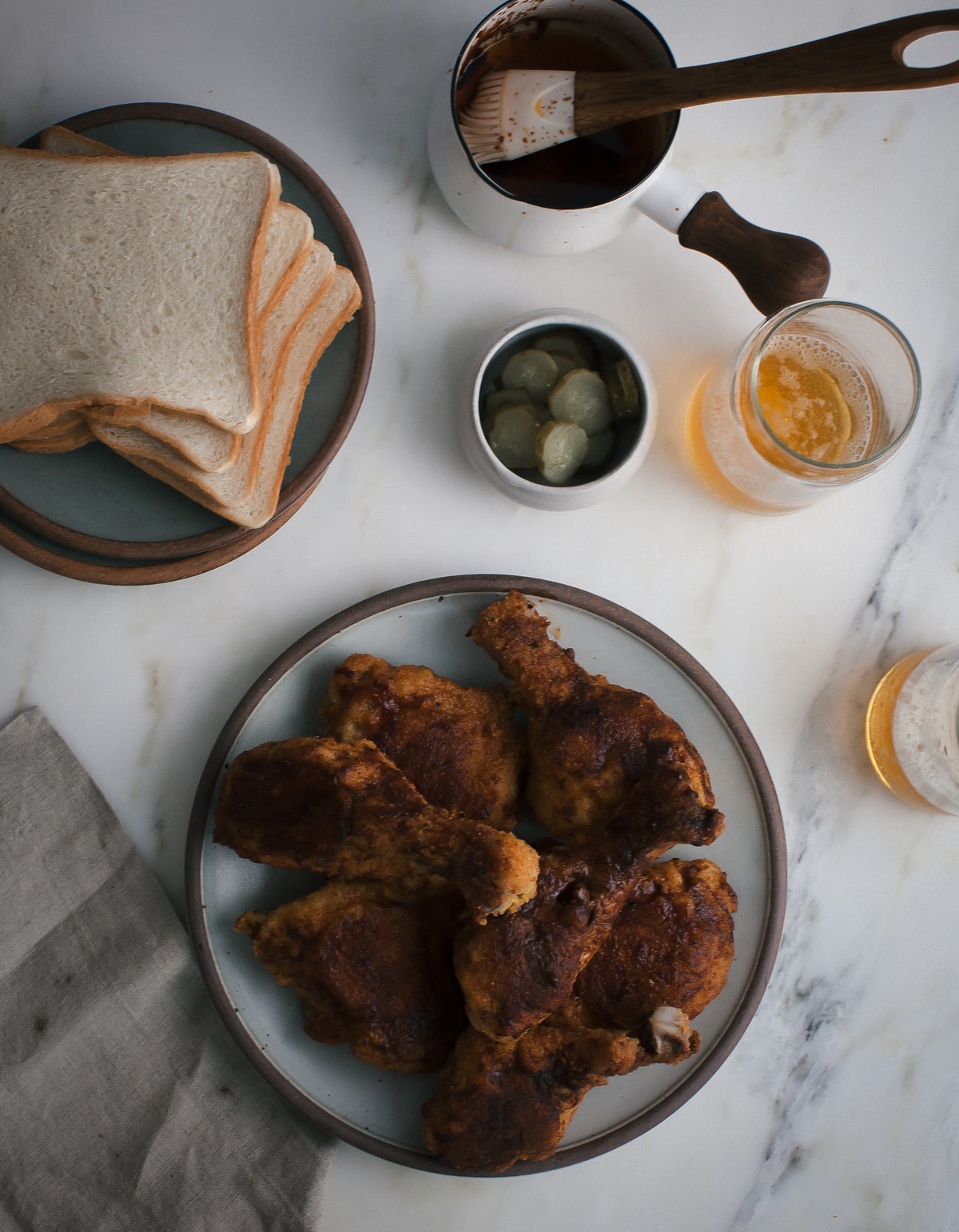 Enter: Baked Nashville Hot Chicken.
If you are a purest, you probably hate me rn. It's ok, I understand this sentiment. I do.
But if you, like me, want to the taste of hot chicken with about half of the work and mess, then you're probably into this.
The chicken has some shake n' bake vibes.
It's soaked in buttermilk, pre-baking and then it's dipped in a spiced dredge.
It bakes in the oven on a lightly greased baking sheet so it sort of "fries" in the oven.
The results are CRISPY AF. All the chicken is brushed with the buttery hot chicken sauce and it's sublime. Eat it with white bread and pickles.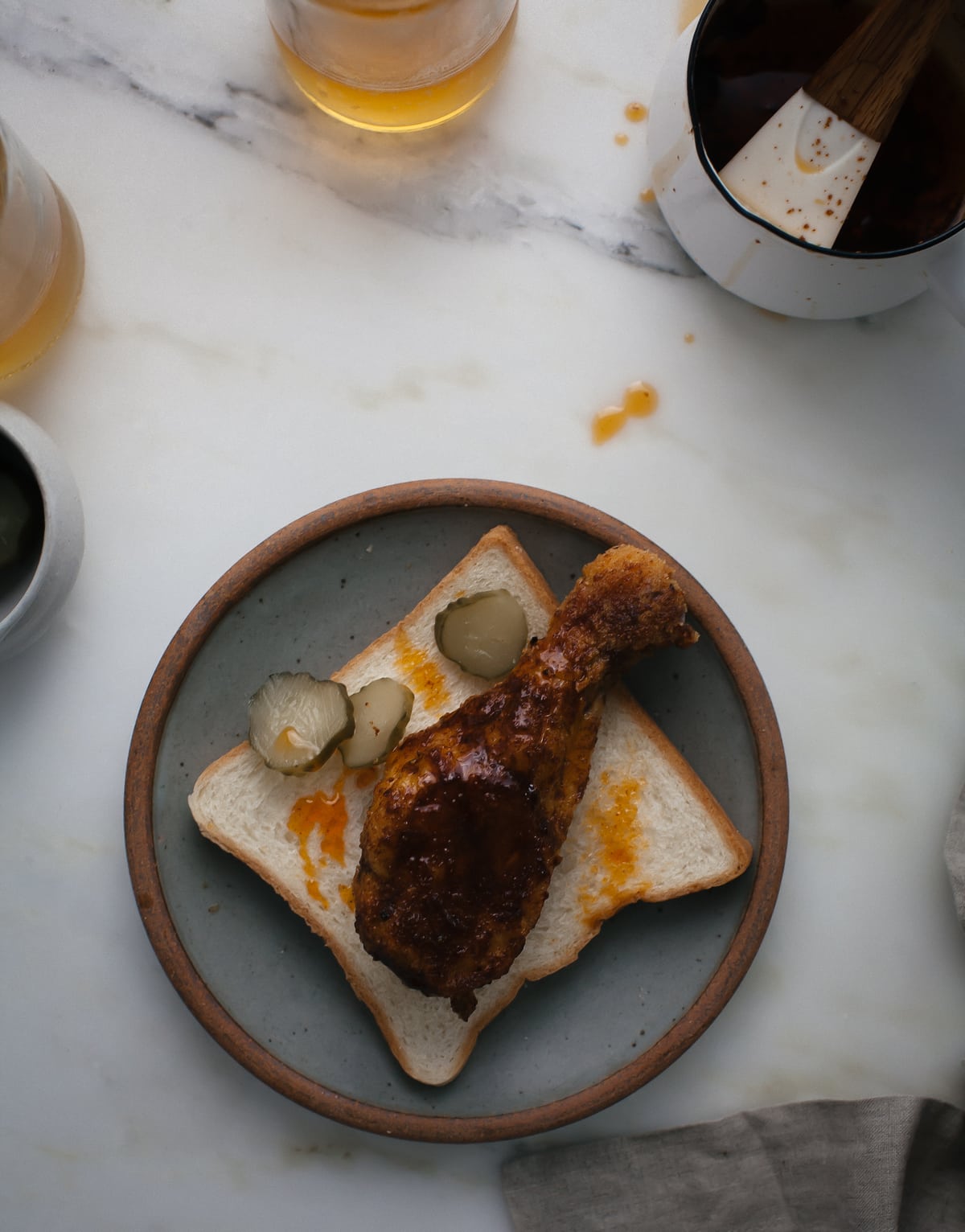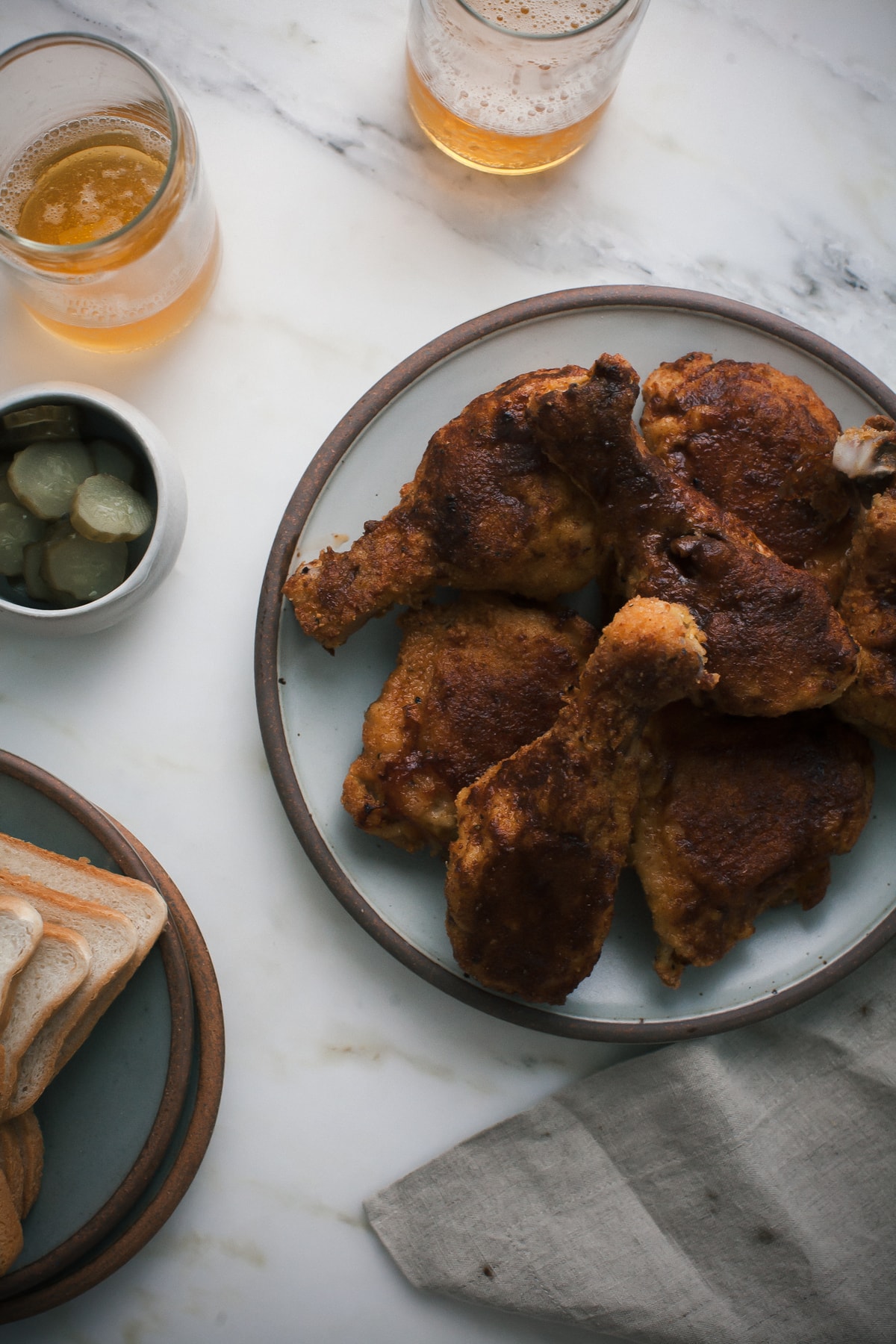 Baked Nashville Hot Chicken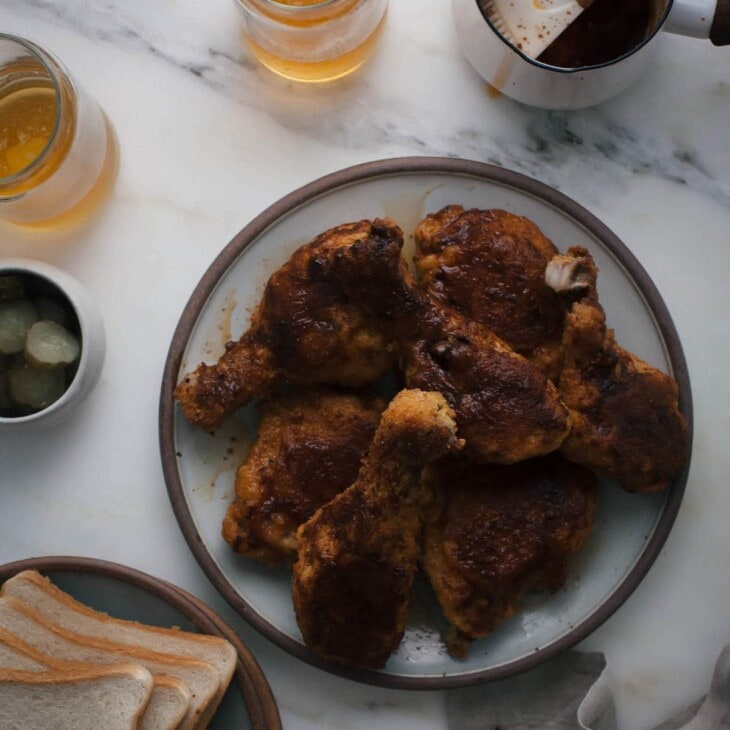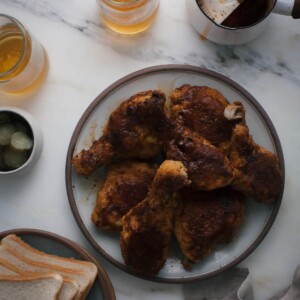 Ingredients
Chicken Marinade:
4

chicken drumsticks

3

bone-in chicken thighs

2

teaspoons

salt

Freshly ground pepper

1/2

cup

shaken buttermilk
Chicken Dredge:
1

cup

all-purpose flour

1

cup

Italian bread crumbs

1/2

teaspoon

salt

1/2

teaspoon

ground paprika

Pinch

of pepper

3

large eggs

2

tablespoons

olive oil

,

sunflower oil, vegetable or grapes oil
Hot Chicken Sauce:
1/2

cup

unsalted butter or mild-flavored oil like sunflower

,

vegetable or grapeseed oil

1

tablespoon

ground cayenne pepper

,

or more or less depending on your heat tolerance

1

teaspoon

brown sugar

1/2

teaspoon

chili powder

1/2

teaspoon

garlic powder

1/4

teaspoon

ground paprika

1

teaspoon

salt
Instructions
In a 9 x 13-inch baking dish, add the chicken. Sprinkle both sides with salt and a few cracks of ground pepper. Pour the buttermilk over the chicken and flip, continuously, until covered in buttermilk. I used tongs for this job. Cover with plastic wrap and transfer to the fridge to marinate for 1 hour or overnight.

Prep the chicken dredge by adding the flour to a wide-rimmed bowl. To another plate, toss the bread crumbs with the salt, pepper and ground paprika. To a medium bowl, beat the 3 large eggs together. This will give you a good assembly line.

Preheat the oven to 350 degrees F. To a clean baking sheet, brush the surface with the the olive oil (or other oil) and transfer to the oven. (The oil will get really hot while you assemble the rest of the ingredients.)

Using tongs, remove the chicken, piece by piece, from the buttermilk, allowing any extra to run off. Dip the piece of chicken firstly in the flour, then the egg and lastly the bread crumbs. Feel free to sprinkle the tops and the sides of the chicken with the bread crumbs. I found it easier to do it this way. Transfer it to a plate and repeat with the remaining pieces of chicken.

Place the chicken on the hot baking sheet in the oven and bake on the first side for 30 minutes. Flip and cook on the opposite side for another 30 minutes.

While the chicken is cooking, let's make the hot sauce. In a small saucepan, melt the butter. Skim the fat solids off the top and discard. This will leave you with clarified butter. Add the cayenne pepper, sugar, chili powder, garlic powder, paprika and salt. Warm until the sugar and salt are dissolved.

When the chicken is done cooking, brush the tops liberally with the spice/butter mixture. I found that what I really wanted was the paste that sits at the bottom; scoop that stuff out and brush