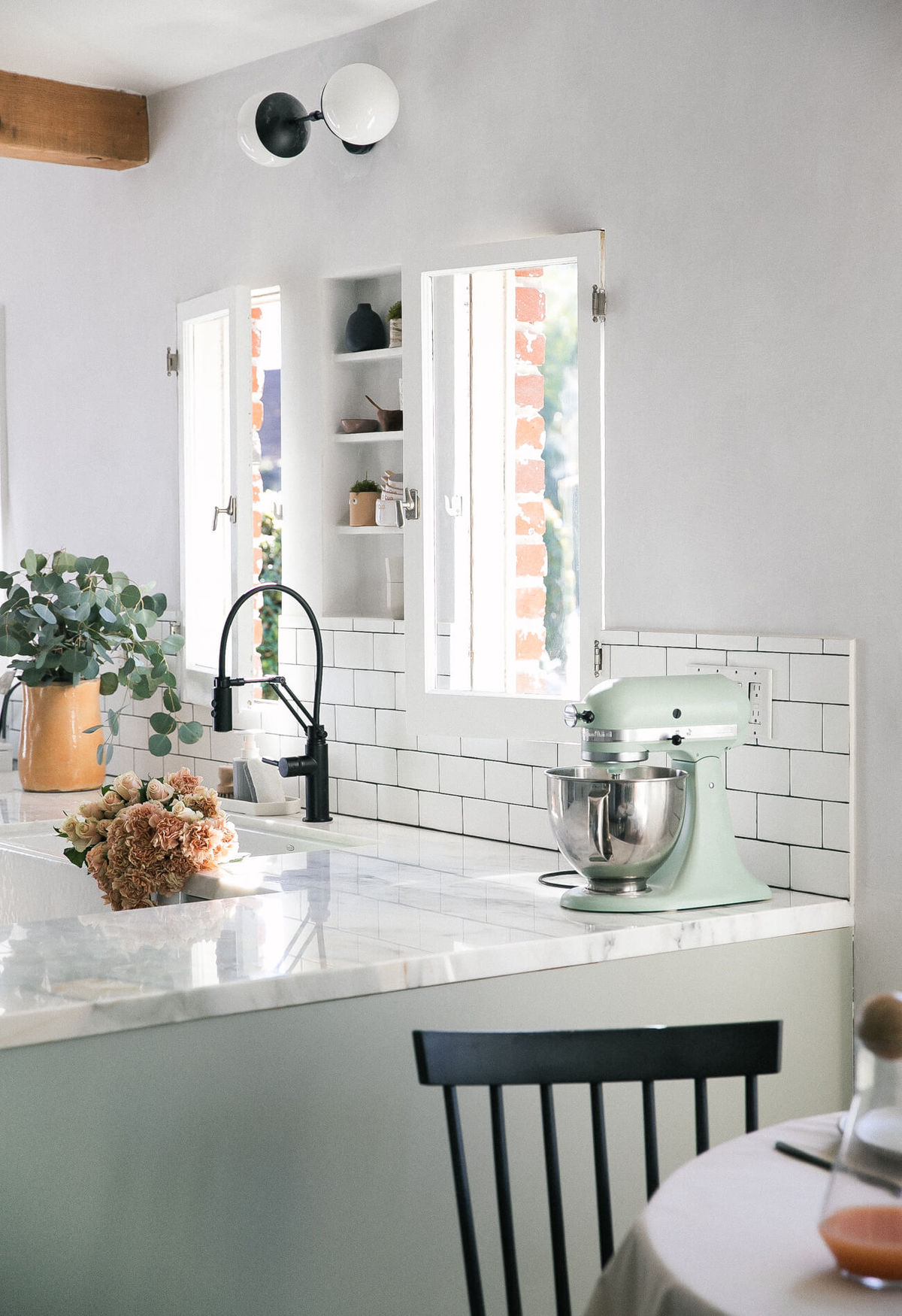 When I first started looking at kitchens, the ones that stood out to me the most, the kitchens I kept pinning and repining were all from Devol Kitchens. Their kitchens are so dreamy. I love the in-set cabinets that just melt into the boxes. I love how cozy and classic and rich they feel. And if you have the budget, Devol Kitchens will actually design your kitchen lay-out and ship a whole set of cabinets to you. They start at around 60k. LOLL. That was not in the budget, unfortunately. Not even close.
SO, I got a bid from a cabinet maker and it was closer to 20k for what I was looking for (shaker-style cabinets that had that in-set). That price tag still hurt, so I did some more research and came across Semi Handmade, a company that makes fronts that fit onto Ikea boxes.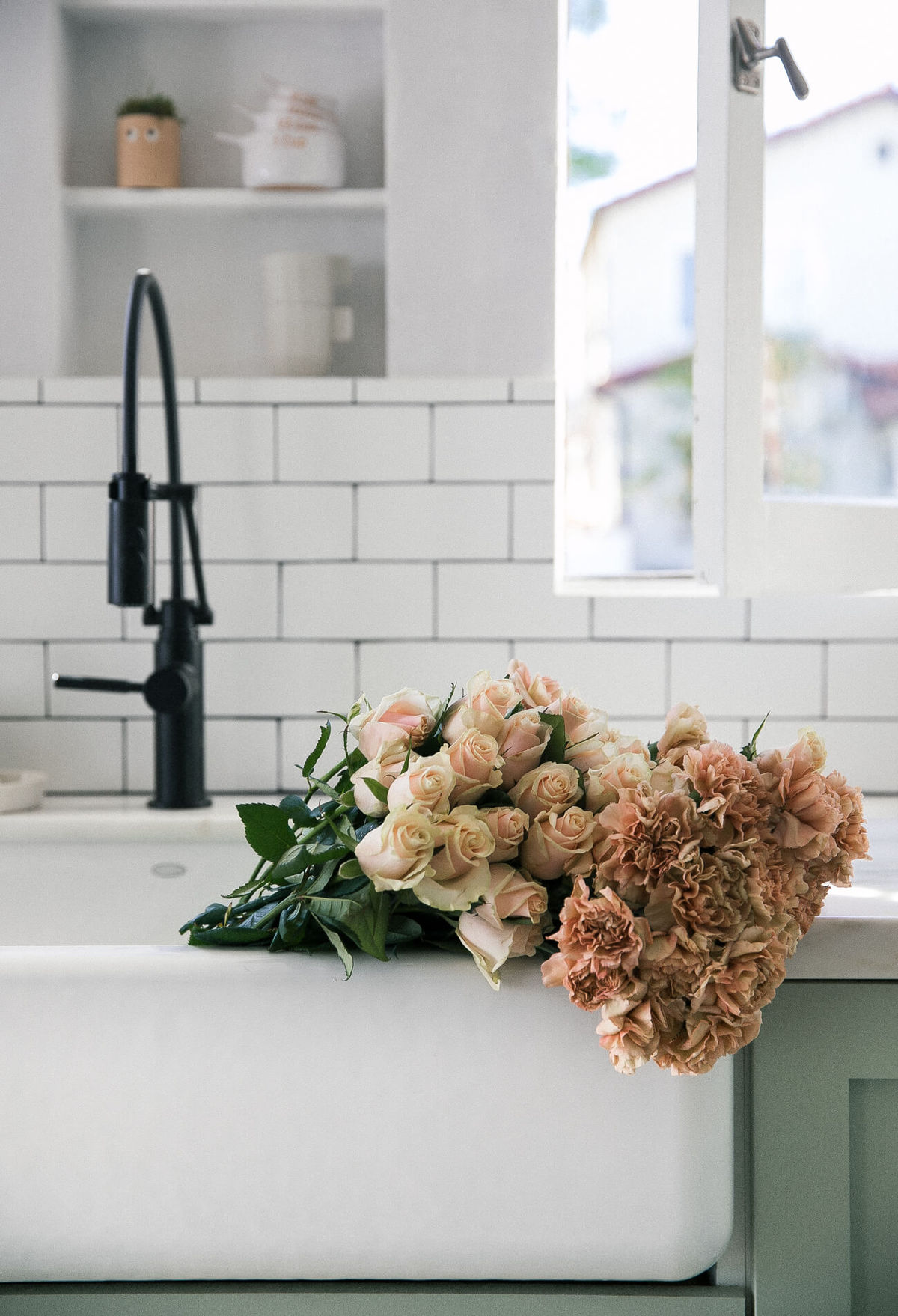 Like everyone who was broke AF in their 20s, I've had a love/hate relationship with Ikea. A few years ago, I vowed to rid my entire apt of anything Ikea so I was a bit timid when it came to this cabinet process. It's safe to say that the cabinet process still resulted in a love/hate relationship! LOL. Still the same—nothing has changed!
So here is how the process went down (I'm including prices just to be transparent and informative but of course this will vary depending on the size of your kitchen):
1. Measuring Kitchen - If you're getting custom cabinets, the process for it usually goes like this: demo, space is cleared out and then the entire space is measured and custom cabinets are built for the space. This is not a bad way to do it. Of course, this is why some kitchen renos take a ton of time.
With Ikea, they sub-contract a company that comes to your house and measures your kitchen space. These measurements then get put into your "profile."
2. Kitchen Design Time- You have to make an appt with Ikea to design the space. There are also companies that will design it at your house in the space. This is the route I wished I had gone because it's easier to imagine.
We went to Ikea and sat down with a super nice guy who was SO patient and lovely. He went through all of the options for cabinets. Get ready to make LOTS of decisions.
Do you want uppers here? do you want three drawers there? A lazy susan, etc. Get ready to make decisions.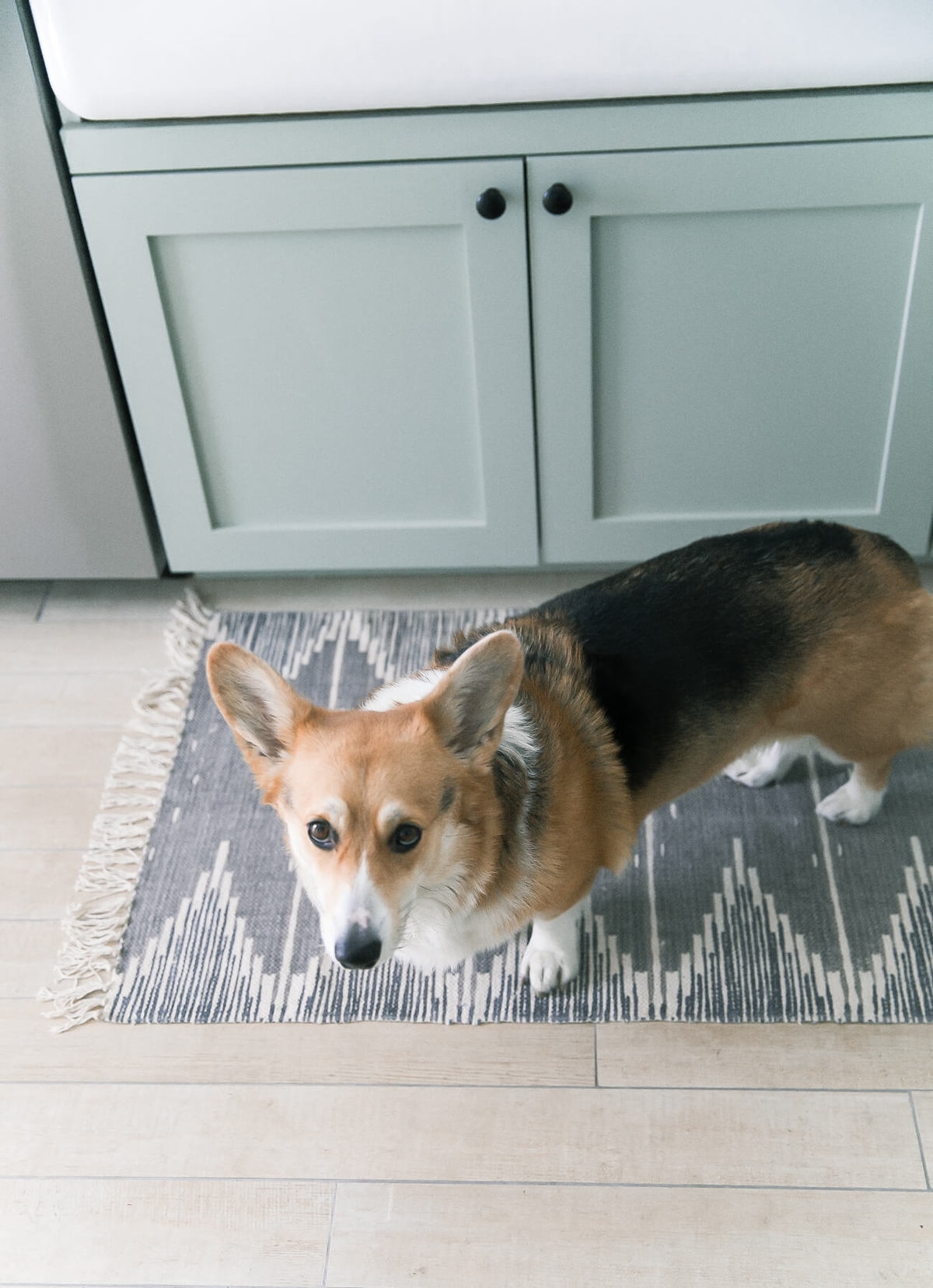 It's honestly not bad at all and so easy. I actually had a lot of fun laying out the kitchen.
3. Order is Made - From this design, they'll print out a huge list of items that you'll need. They'll put in the order. I knew from the get go that I wanted the boxes only and wasn't going to order fronts. I told the guy from the beginning that this is what we were doing so there wouldn't be any confusion. In fact, he told us it was a super popular route so there was really no issues.
The order for just the boxes came to about $2600. They were having a 4th of July sale and honored the sale (even tho it was way after) because I made the appointment during that time. The final total came out to $2000 for just the boxes. (NOT BAD!)
From the time the order was placed to the time the cabinets were at the house, it took two weeks. Also, great.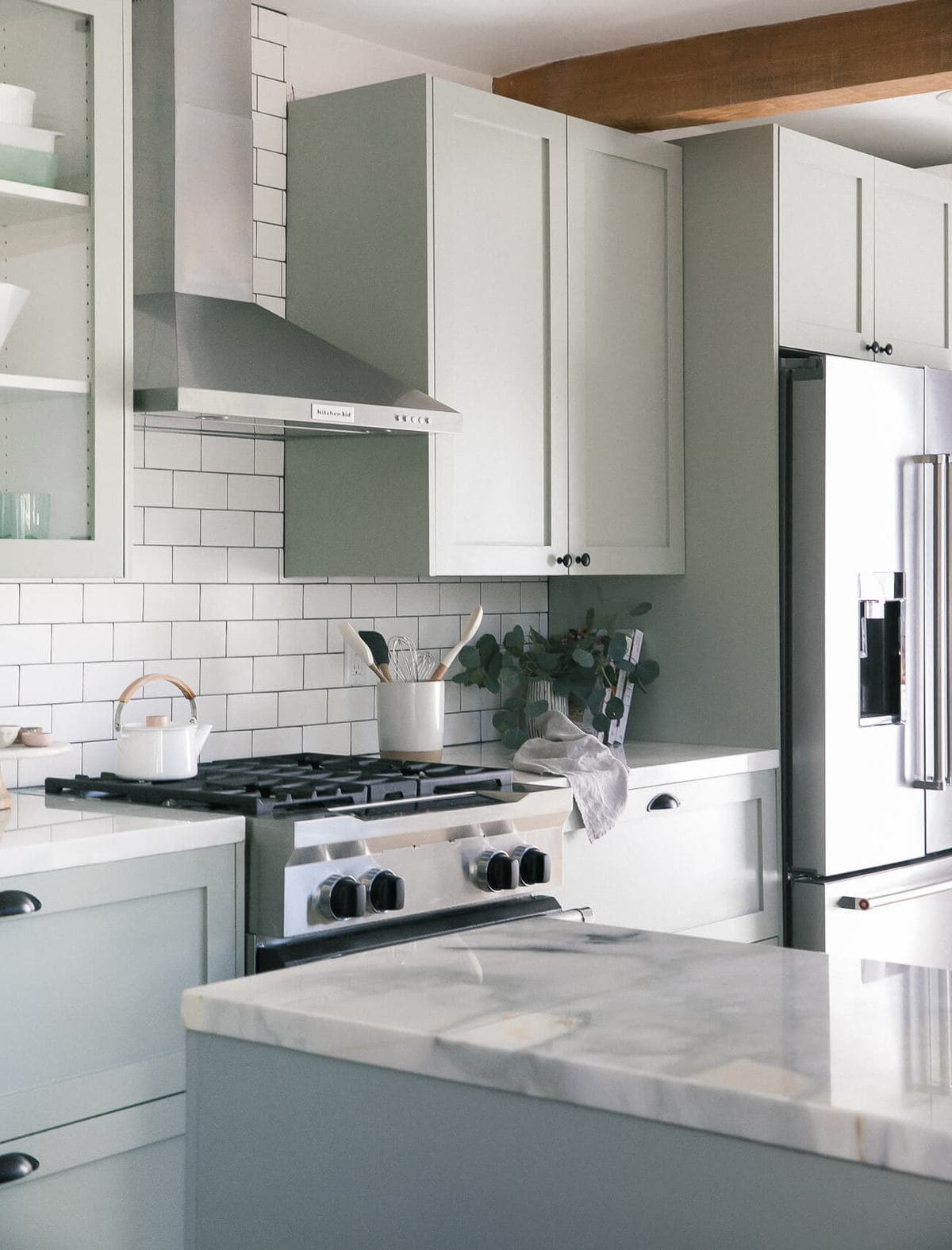 4. Semi Handmade Order - I got in contact with Semi Handmade and they were nice enough to give me a discount in exchange for some coverage. Being super transparent here! But I knew, discount or not, I would've gone with them because for me they were the best option. I went to one of their stores and got samples of their cabinets. I liked the shaker-style and since I wanted a custom color, I got the DIY shaker.
I sent them my Ikea plan and they made the order based on that plan. They were so efficient. In the world of cabinet speak (toe-kicks (the pieces of wood that go under the cabinet) and filler pieces (pieces that fill in gaps), left fronts, right fronts), they explained everything and were super helpful and patient with me. They make everything to order so the lead time was about two weeks.
They delivered the cabinets on a flat bed and I placed it in the garage. They also called a few days later to make sure everything was ok. The total cost, before discount, for the fronts was $4200. Way cheaper than the 20k price tag I was originally quoted for custom cabinets.
5. Painting the Cabinets - We got the cabinet fronts professionally painted and I was at first very floored at the $4k price tag we were quoted for painting the cabinets. But then when I saw the process, and how intense it was, I quickly understood.
I went with Farrow and Ball Blue Grey. Farrow and Ball is amazing quality paint but it is pricey. I believe each gallon was about $150. We used three gallons. To give you some context, Benjamin Moore is about $40 per gallon.
I literally can talk about kitchen renovations all day long. I love it. In another world I would maybe flirt with being a kitchen designer.
The painter lightly sanded the cabinets, put on primer (that was color-matched perfectly to the color paint), dried it, sanded it again, added caulk to any of the creases and then applied two coats of paint, sanding between each coat. It took a full week but they are pretty flawlessly painted. It was also during an October heat wave so bless his soul.
6. Install of Boxes - Have you ever put a piece of Ikea furniture together and considered quitting and throwing it out?! Lol. I have. So when a friend of mine recommended we hire someone who specifically does Ikea cabinets, I listened.
We ended up hiring a cabinet guy who specifically installs Ikea cabinets. Here's the thing that no one tells you about renovations: people will make mistakes. Even people who are pros.
We had some bumps in the road with the cabinet-install. First, him and about two other guys showed up and started putting the boxes together. We quickly learned that the measuring company completely mis-measured the space and the peninsula left about 2-inches of space to walk through (we needed about 3 feet).
So we had to rework the plan on the spot. We lost about 2 cabinets. We also had a few tall boxes missing that Ikea just completely forgot to deliver, even tho it was on the order form and we paid for it.
We also learned that we had to exchange a box that came in the wrong color but the cabinet was too big to fit into either of our cars (and a pick-up return would've taken about 2 weeks) so we had to borrow a friends car and return it ourselves.
7. Mistakes Will Happen!- Basically, Ikea is a hot mess and there was a very dark Thursday night where I found myself at the returns section, eating ice cream, vowing to never step foot in an Ikea ever again. They're also not a very helpful company to deal with over the phone. But truth is, once we got everything figured out, I would still do it.
I love how the cabinets have organized drawers. I love how wide they are. I like that they were affordable and are nice and clean. And I finally have a big drawer thingy dedicated to the trash! Both recycling and trash! I feel blessed. So yes, I would do Ikea again.
Here's what I would do differently: I would hire the guy who installed the Ikea cabinets to design the space and handle all of the ordering from Ikea and Semi Handmade and install from front to end.
And he made mistakes!
The kitchen slopes downward in the house. It's just a thing with old houses, sometimes they're janky. It's called character. Lol. And this house has it. Because of the slope, the way the cabinets were installed, the wine fridge and the dishwasher didn't fit.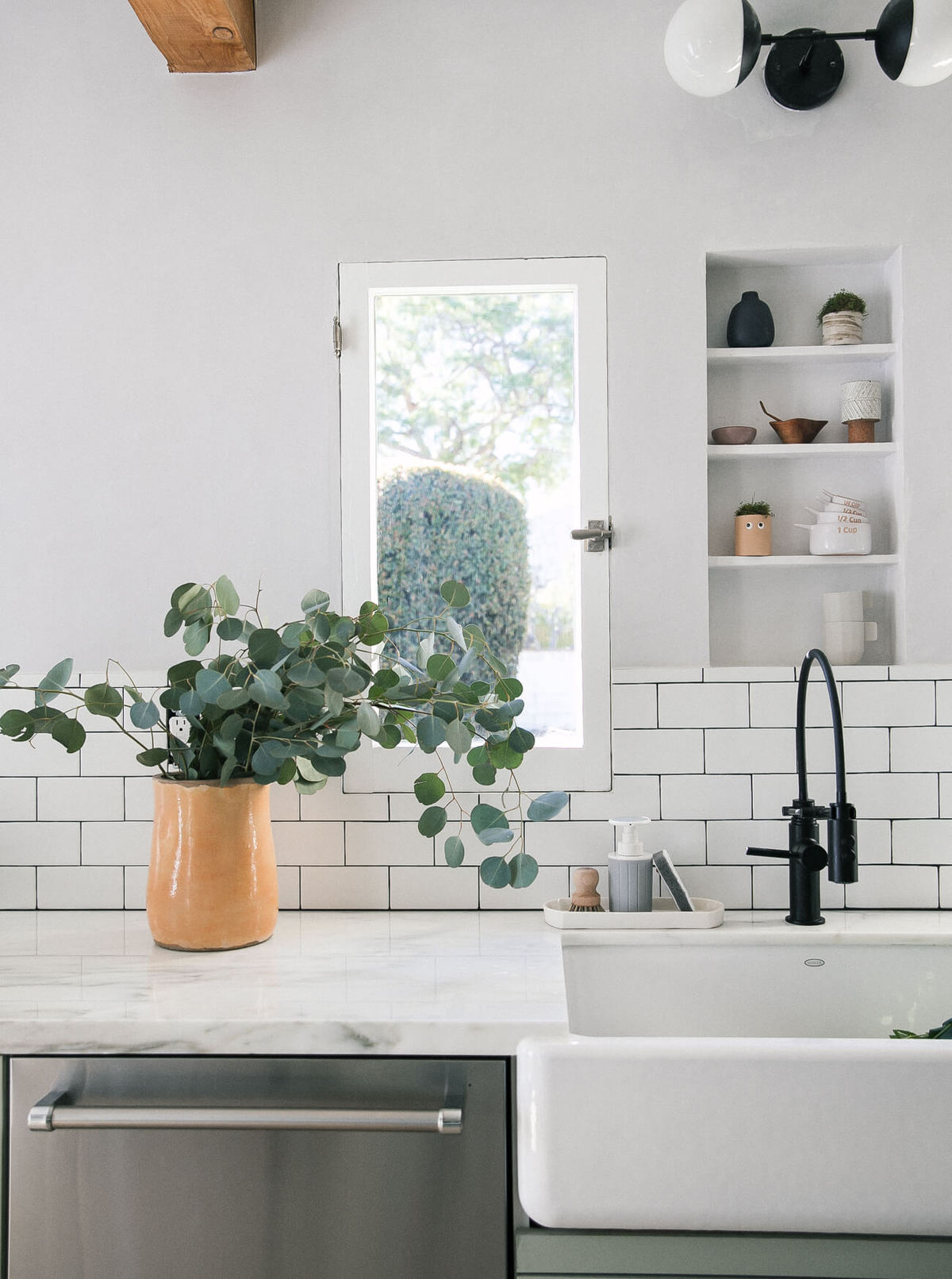 I about passed out. I didn't understand how it was going to work. BUT, the cabinet guy came back and figured it out. He took out a piece of filler, took off the wheels and boom they were in!
The most important thing you can have in someone you hire is someone who fesses up to mistakes and fixes them and moves on. That's what he did. And honestly our contractor did that too. And for that I am grateful! NAMASTE!
7. Install of Fronts - After the boxes were in, he put on the base of the countertops (I forget the exact term for this) and our marble fabricator came out to take measurements for the counter tops. Then, he started to put on the fronts of the cabinets and it started to look like a real life kitchen!
After the cabinets fronts were on, he started putting in toe kicks and filler pieces. And then the hardware went on (we used these guys from Wayfair).
And that's it! From start to finish the install of the cabinets took about a week and a half. I think it could've gone a lot faster but we had some bumps in the road.
Let me know if you have any questions below!
xoxo
Adrianna
(This post is sponsored by SemiHandmade. Thank you to the brands that keep A Cozy Kitchen cozy.)