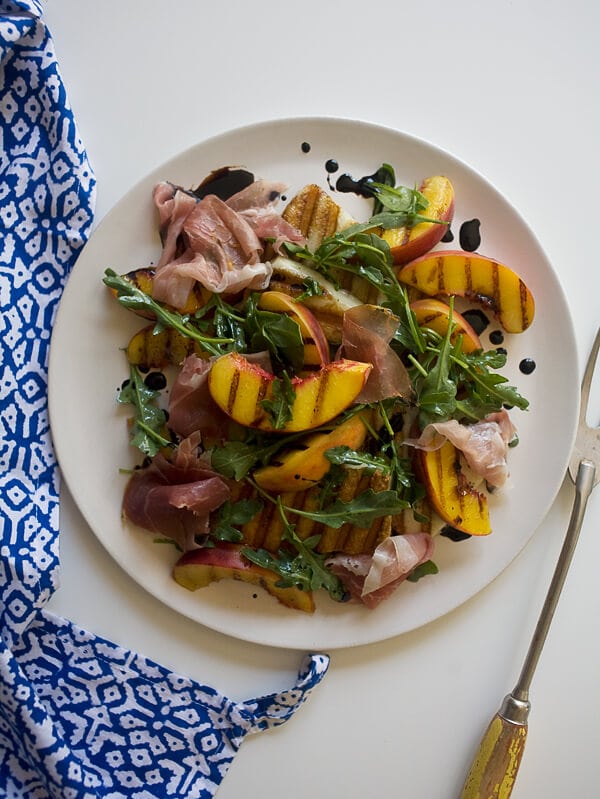 I'm a bit on a grilling kick. I don't own an outside grill so instead I use my big griddle that has a side that is like a grill pan. It's almost like reversible sheets. Or reversible shirts, which were popular for a very short while in the 90s. I think they should come back because seriously, how useful! I also had a shirt that would change different colors if you breathed on it. I'm pretty sure it was supposed to work like mood ring but it failed completely.
Anyway, grilling…fruit. The two surprisingly go hand and hand, AND grilling cheese is an even better idea. The requirement is that the correct cheese be used. A lot of cheese can easily be coated in breading and fried but not many cheeses can be grilled. If you've never cooked with haloumi, I can assure you that it's really really good and super easy to grill. It won't get all melty and crazy, it's really hard to mess up AND it's delicious and salty. I love to pair it with something sweet and something smokey.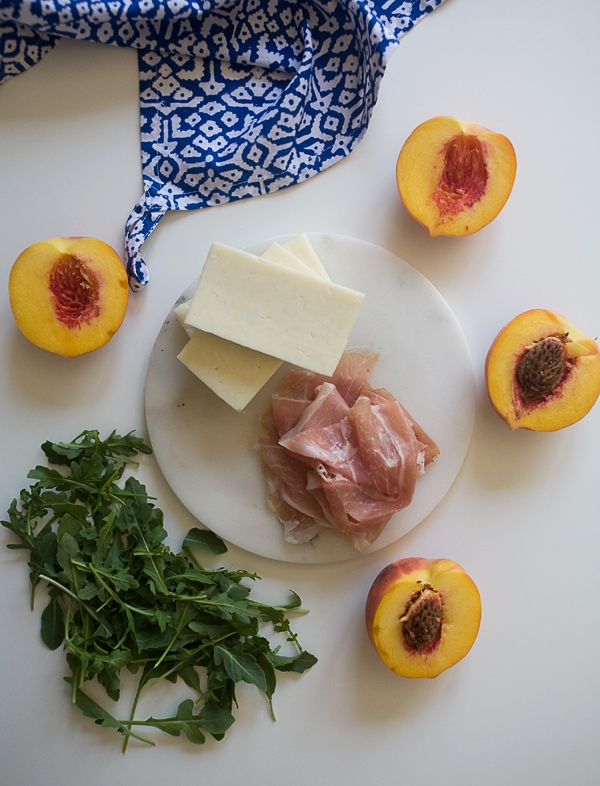 The grilled yellow peaches and the salty and smokey prosciutto were pretty nice with the haloumi. I added a bit of peppery arugula in the mix to fill it out. This way you can serve it and people not just get two bites. This will easily serve a group of 4 for a dinner party or random Tuesday night.
Let's just grill all THE things.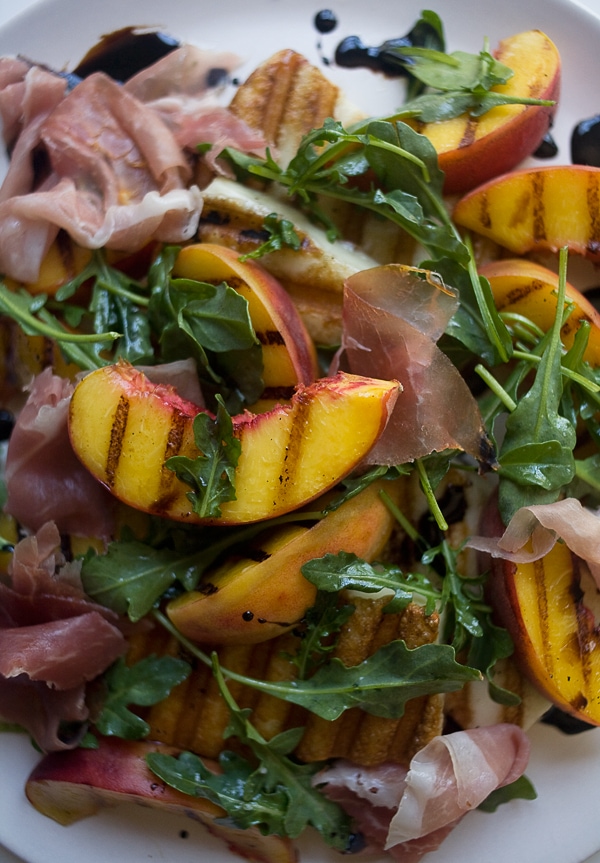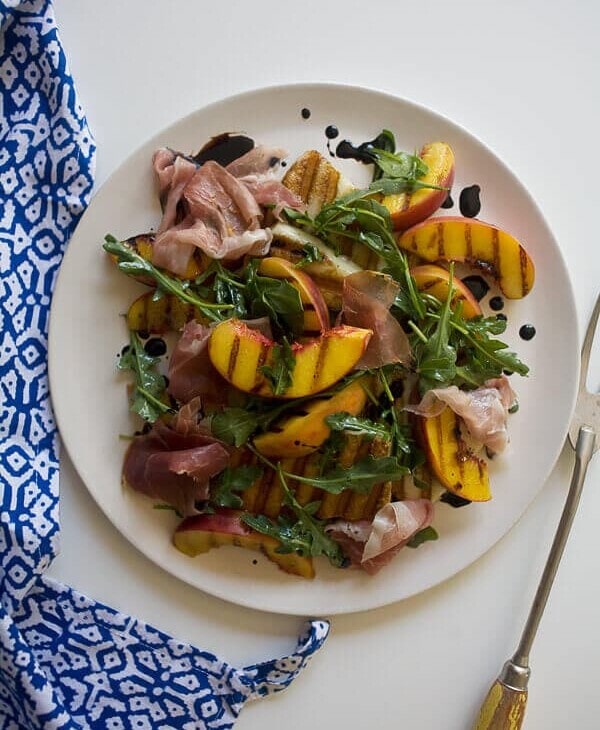 Print Recipe
Grilled Peach and Haloumi Salad
Ingredients
2 to 3

yellow peaches

firm but ripe (not overly ripe - that's for jam)

12

ounces

haloumi cheese

1

cup

arugula

1

teaspoon

olive oil

Salt

1/4

cup

balsamic vinegar

6 to 8

slices

of prosciutto of choice
Instructions
Cut the peaches in half and remove the seeds. Cut up the peaches into 1/2-inch slices. Take the haloumi and using a sharp knife (haloumi is pretty firm), slice it up into rectangles.

Preheat your grill or grill pan over high heat. Grease it with cooking spray, liberally (you don't want the cheese and fruit to stick). While the grill or grill pan is preheating, add the arugula to a small bowl. Pour in the olive oil and add a teaspoon of salt. Rub the leaves until they're thoroughly coated. Set them aside.

In a small saucepan, set over medium heat, add the balsamic vinegar. Bring the mixture to a simmer and then turn the heat down to low. Allow the balsamic vinegar to reduce by half; make sure to keep a close eye on it---it reduces very quickly. Pour the balsamic glaze into a small bowl; it will thicken as it cools.

Add the fruit to the grill. To get those pretty grill marks, lightly press the fruit down with a pair of tongs. Cook for about 1 minute on the first side and 30 seconds on the opposite side. Repeat grilling process until you've worked your way through all of the fruit, adding extra cooking spray as needed.

Next, add the haloumi (you want to do the haloumi last because it's important that's it's as melty as warm as can be) and place a flat lid or plate on top of the haloumi. This will help with those perfect grill marks. Grill the cheese for about 2 minutes per side.

Arrange the grilled peaches, grilled haloumi, dressed arugula leaves and prosciutto on a large plate. Drizzle the balsamic glaze on top and around the salad.