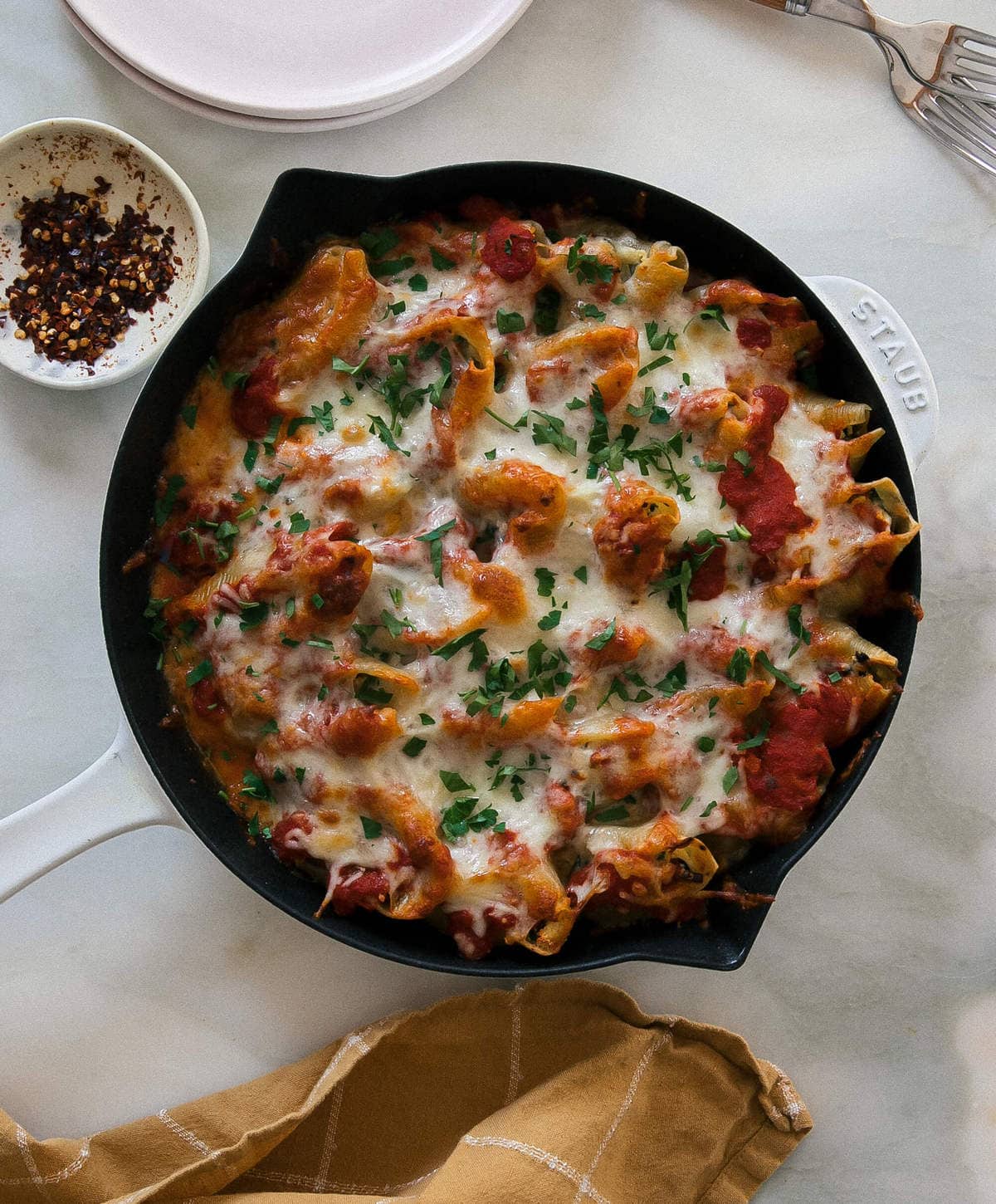 There are only a few dishes that evoke pure happiness from people. Chocolate can sometimes do it. Freshly made bread has that power, always. And stuffed shells. People love stuffed shells!
Baked stuffed shells were one of the first things I ever learned how to cook. And 'til this day, they're still one of my favorite dishes to make because of how easy and delicious they are. Every single time. They never get old. Kids love them, adults love them—everyone!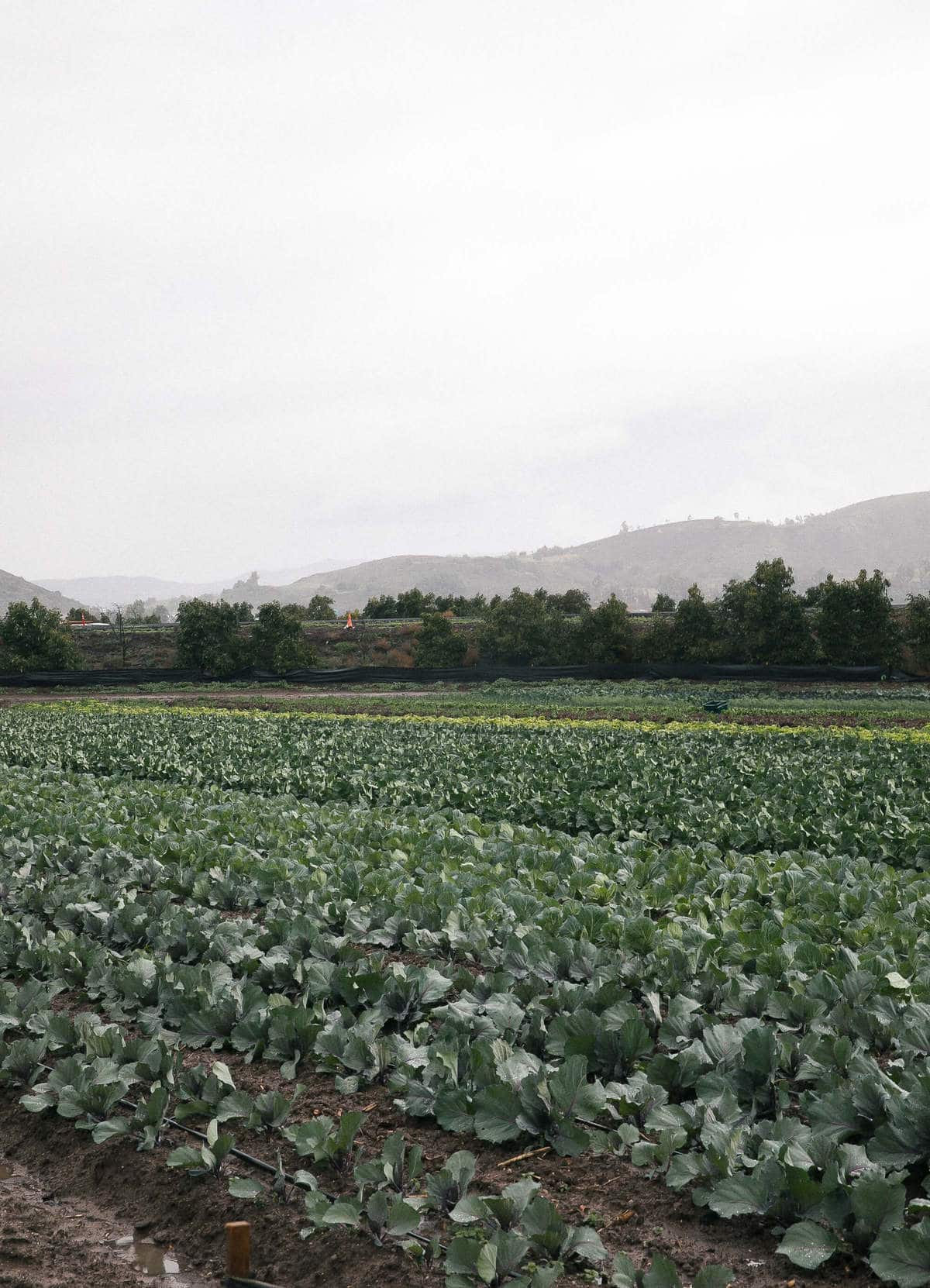 This iteration is a bacon-driven one that begins with bacon being baked in the oven (my favorite way to cook bacon). And then it's chopped up and added to sautéed kale, ricotta, egg and Parmesan cheese.
For this post, I teamed up with Pure Farmland and used their bacon in this dish.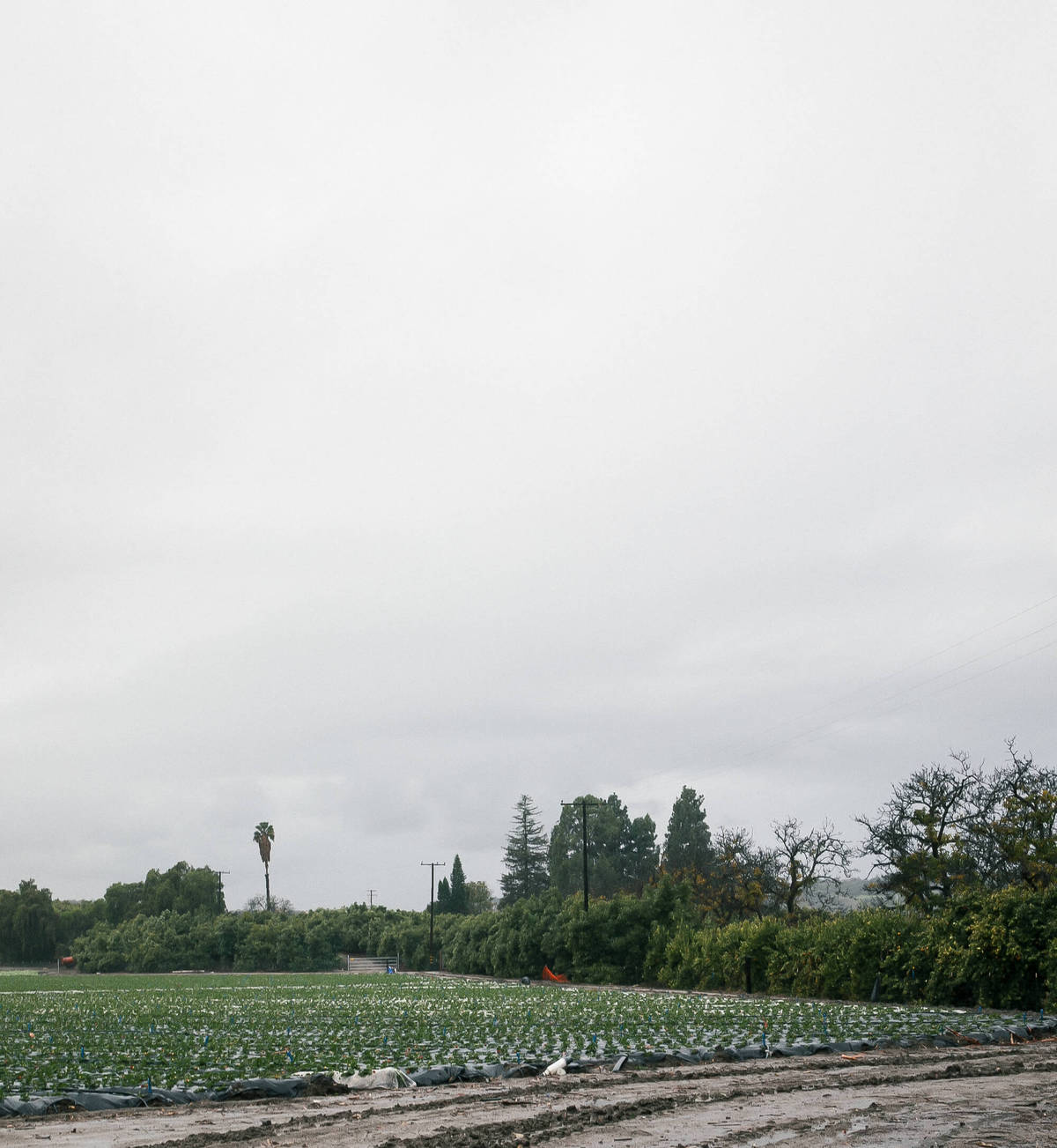 Pure Farmland Bacon is all-natural and free from antibiotics, preservatives and MSG, so you can feel good about incorporating this savory bacon into any meal, including this pan of stuffed shells.
I had the pleasure of visiting Underwood Family Farms. The owner, Craig Underwood, drove me around on a rainy day in Los Angeles (we've had a lot of those lately). We talked about lots of things, ranging from how he farms the land to what produce is his favorite. We toured the beautiful strawberry fields and he and I spoke about the connection between farming and cooking.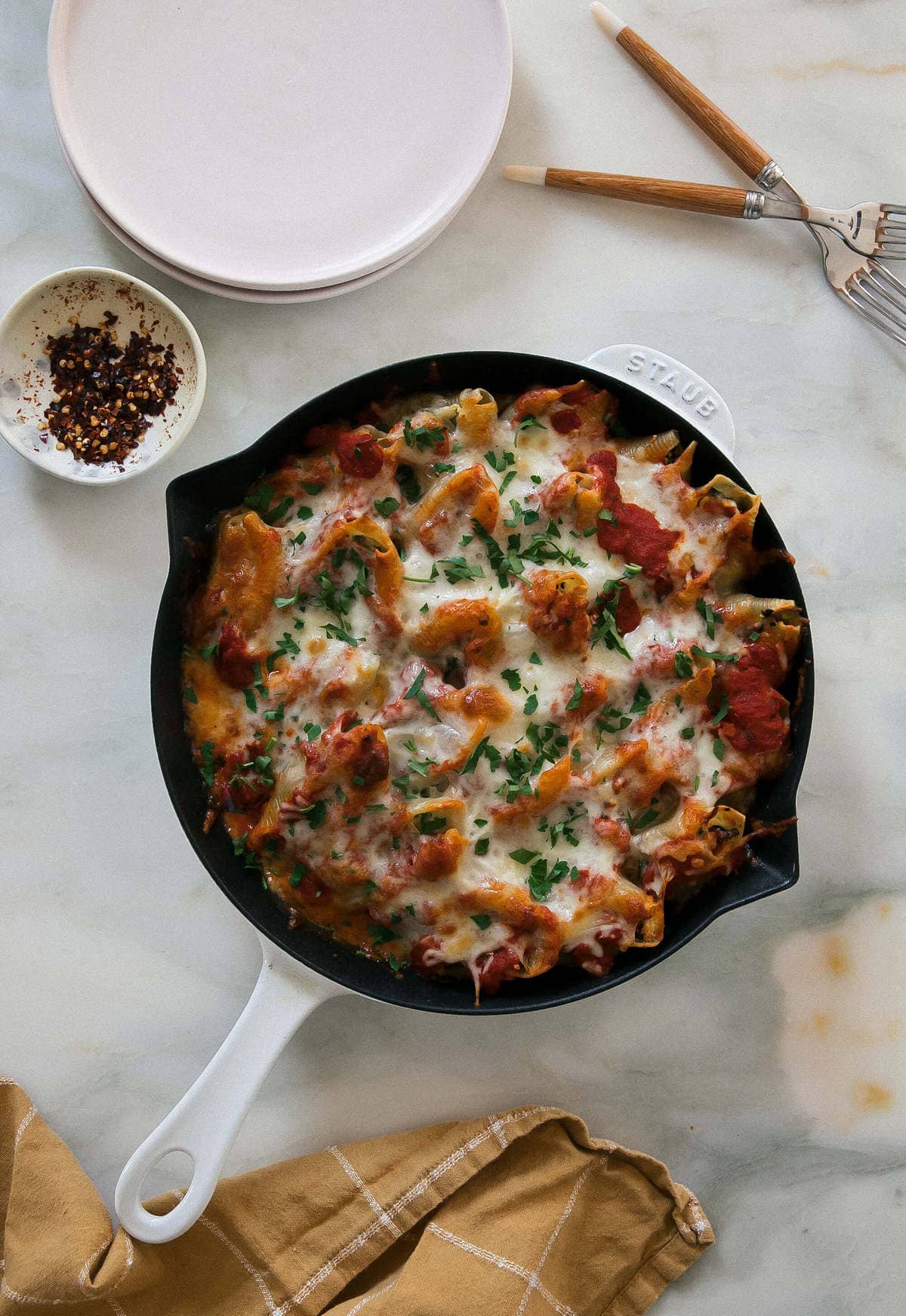 As we drove around, I saw all the beautiful cauliflower and rows of kale and knew that I really wanted to make something from the sturdy kale that grew from their land.
Pure Farmland teamed up with American Farmland Trust, which is an organization that tackles the biggest threats to our nation's farmland and family farmers. In fact, more than 175 acres of American farmland are lost every hour across the United States, so it's important to get involved and see the role we can play in our food system with farmers like Craig. Now through December 31, 2019, Pure Farmland has pledged to protect one square foot of American farmland for every specially-marked Pure Farmland item purchased, up to $140,000.
It was a lovely educational day, and I'm glad I could take what I learned and incorporate it into this dish.
Print Recipe
Cheesy Bacon Kale Stuffed Shells
Ingredients
1

(10-ounce) package

Pure Farmland All-Natural Uncured Bacon  

1/2

pound

medium shells

1

bunch

kale, cut into very thin slices and then minced

4

garlic cloves, minced

7

ounces

fresh ricotta

1/4

cup

freshly grated Parmesan-Reggiano

Pinch

crushed red pepper flakes

1

large

egg, beaten

12

ounces

jarred marinara sauce

2

cups

shredded mozzarella

1

tablespoon

minced Italian parsley
Instructions
To Make the Bacon:
Preheat oven to 400 degrees. Line a baking sheet with a cooling rack. Place the bacon side-by-side on the cooling rack. Transfer to the oven to bake until crispy and golden brown, about 20 to 25 minutes. Place the bacon on a few layers of paper towels to drain. When cool enough to handle, chop up the bacon into bite-size pieces.
To Make the Stuffed Shells: 
I made this in a 10-inch skillet but feel free to use what you have that's comparable. A square baking dish or round baking dish would also work.

Bring a pot of salted water to a boil. Cook the shells according to your package's directions. For pasta that I'm then going to bake, I always cook it a minute or two under the recommended time. Drain and rinse well with cold water.

In a saute pan, set over medium heat, add the olive oil. When warm, add the kale and cook until softened, about 2 to 3 minutes. Add a pinch of salt and mix in the garlic cloves. Cook for an additional minute or so.

To a medium bowl, add the sautéed kale and garlic mixture, fresh ricotta, Parmesan, crushed red pepper, black pepper, few pinches of salt and beaten egg. Mix until combined. Then fold in the bite-size bacon.

Preheat the oven to 350 degrees F. The assembly takes a few minutes so this is the perfect time to preheat your oven.

To the bottom of your baking dish, add 1/2 cup of marinara sauce. Spread it around so it's an even layer.

Scoop a teaspoon or two of the bacon/ricotta mixture into the shells and place them in the pan. Repeat until you've worked through all of the shells.

Pour about a cup marinara on top and then sprinkle with 1 cup of cheese. Transfer to the oven to bake for 25 to 30 minutes, until the cheese is melted and the color is lightly golden brown. Garnish with Italian parsley and a sprinkle of crushed red pepper.
Nutrition
Serving:
4
g
|
Calories:
350
kcal
(18%)
|
Carbohydrates:
71
g
(24%)
|
Protein:
20
g
(40%)
|
Fat:
44
g
(68%)
|
Saturated Fat:
5
g
(31%)
|
Cholesterol:
140
mg
(47%)
|
Sodium:
120
mg
(5%)
|
Potassium:
300
mg
(9%)
|
Fiber:
3
g
(13%)
|
Sugar:
2
g
(2%)
|
Vitamin A:
100
IU
(2%)
|
Calcium:
50
mg
(5%)

(This post is sponsored by Pure Farmland. Thanks for supporting the sponsors that keep A Cozy Kitchen cozy.)