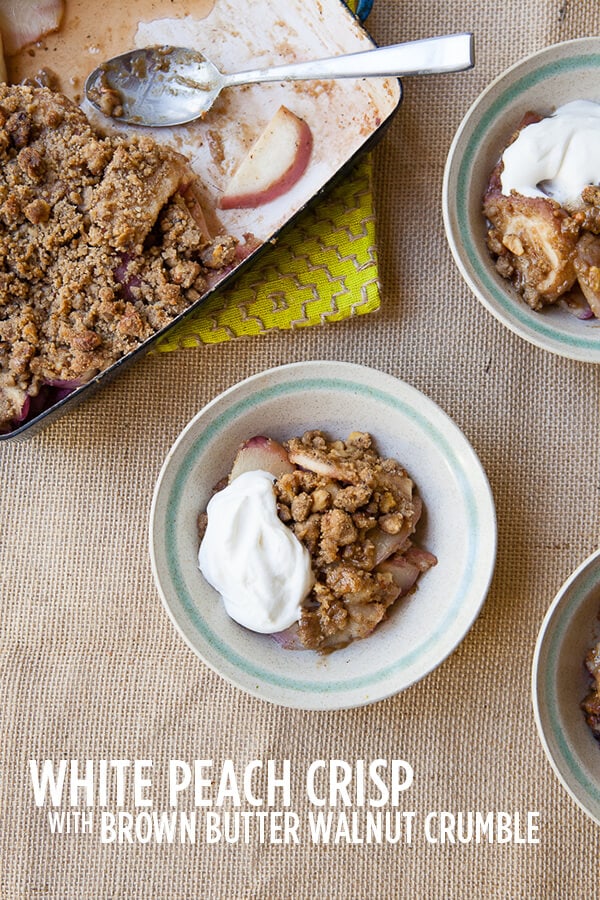 If you were around these parts yesterday, you know that this is the two-parter of the Short Cake post with Jennifer Chong.
Brown butter. Let's talk about it. Hourie threw my world for a lil' loop a few weeks ago when she was all like, "Oh and I burn my brown butter. Like, burn." Up until that point, I always did it the way you were "supposed to": cooked it until it reached that perfectly autumn, nutty brown, removed it from the heat and then stirred it vigorously until it cooled so it wouldn't burn. She said that it never tastes like brown butter if you do that, there's not enough depth. Burning it is the only way.
I was skeptical–I figured surely we're going to taste the burnt flavor (not that that can't be enjoyable either). But when we sat there eating the crisp, there wasn't a trace of burnt flavor, just rich, delicious buttery depth in the crumble. I'm sold. You should try this. When I made this, I took the butter in this way too far, until it was a very, very dark brown, almost black and it was glorious.