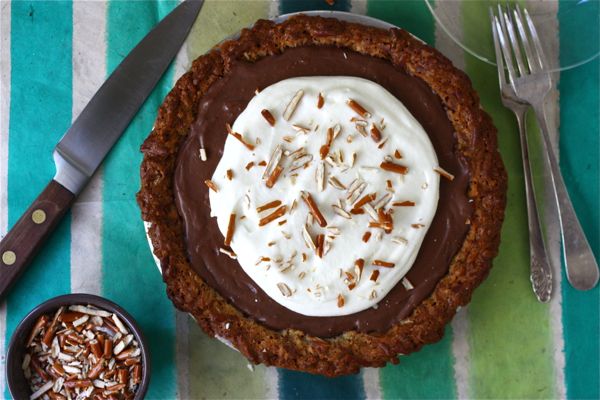 Pretzel Chocolate Pudding Piiii-aaaahh.
Sometimes when I say "pie" in my head, I actually say it in Paula Deen's voice and say "piiiii-aaaahh." I have no idea why. Mainly because when I'm all by myself saying things in other accents entertains me more than not. Also, Paula Deen's voice is kind of hilarious. I used to think she was faking it…that was until I met her a few years ago for a job I was on and it was then when I realized that she's totally real. Everything. It's not an act. She's a woman obsessed with butter and mayonnaise and putting a hamburger in between two doughnuts. I dunno…all I can say is that in real life she's Paula…which is both relieving and scary all at the same time.
Back to piii-ahhh…I had been dreaming of some sort of pretzel crust for months. I'm obsessed with all things salty at the moment. I have no idea what's wrong with me. First, there was the giant peanut butter thing with big flakes of sea salt on top; then just a few days ago there were salty vanilla cookie things. Though a little random, I think this recent, little obsession is proving to be delicious.