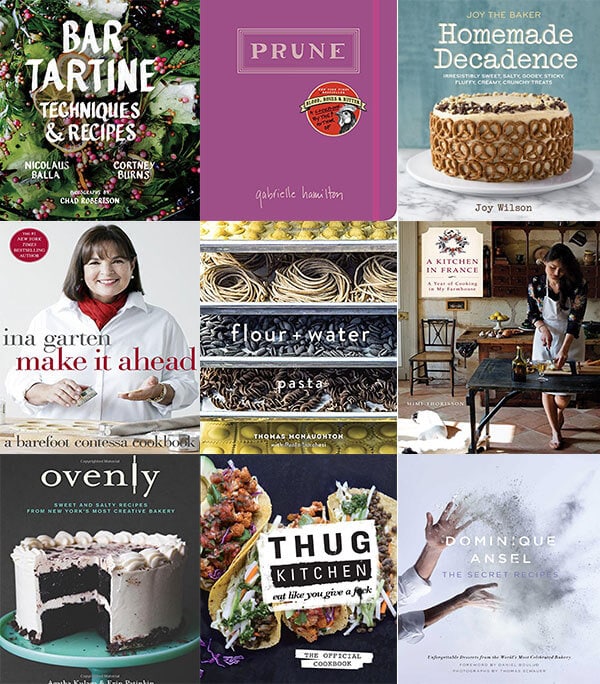 I love cookbooks. LOVE. There's a gigantic part of me that wishes I could edit cookbooks, that's how much I love them. I want to read, gaze and cook from every single one that catches my eye. Most of the cookbooks you see above aren't out yet, but they will be soon, so feel free to get your pre-order on!
1. Bar Tartine. I went last month for the second time (the first time was years ago) and it was incredible. Josh of course geeked out on the server and we ended up leaving with three loaves of free bread. I'm not kidding. The free bread isn't want makes me want this book. I just know that the book will be full to the brim with perfectly written recipes that will wow anyone who comes over when I make them. Also, dat font on da cover.
2. Blood, Bones and Butter and loved it. Every single time I go to New York, I make a promise to go to Prune and then something happens and I don't. Now I can just open up the book and be transported there instead.
3. Homemade Decadence. Joy was the first blogger I got an internet crush on. I was like, I want to eat all the baked goods she makes AND be her friend. I'm really excited about all the indulgent things I get to bake this season. And I imagine her witty sense of humor and heart will be in this book too. How can it not be?
4. Make It Ahead – Oh Ina. She can do no wrong, except when she bakes with extra large eggs and tells me to cook with fancy red wine. Why??? If it's fancy then I want to drink it, not put it in my coq au vin. Besides that, she's the queen. Her food is beautiful and simple. And I want to grow up to have that barn! Also, Jeffrey! I love Jeffrey.
5. Flour and Water. I have a dream and it is to be able to make pasta at home in a super legit way. Most of the pasta I've made (and it has been on very rare occasion), has been really awful. I went to a restaurant a few months ago, which will remain nameless, and their homemade pasta was so terrible that I compared it to my homemade pasta. Not ok. This cookbook should fix my issues.
6. A Kitchen in France. Mimi lives a life that doesn't seem real. Me, over here in my one-bedroom apartment with way too much dog hair accumulating near the wall's baseboards…very real. Mimi? Not so much. But who cares, that's why I read her blog and am so fascinated with her whole shebang: life a farm, with a ton of kids, a handsome husband and even more animals than kids. It's fascinating! I want to jump in the book and cook with her.
7. Ovenly – One lesson I've learned over the years is always go to meetings with treats. Always. It's a really simple gesture that goes such a long way. It's your way of saying, Hey you, Tuesdays suck, here's a cookie. When I was in New York last fall for a few meetings, I went to Ovenly and picked up an array of cookies. Everyone loved everything! Luckily in the cab ride over, I was smart enough to eat a shortbread cookie studded with caraway seeds and dried cherries…bomb. P.S. I love the cover so freaking much.
8. Thug Kitchen. The f-word might be my most used word. It's true. I love it. And in this space of lifestyle, food blogging, da internets, I feel like everyone is trying to be the next Martha Stewart. Everyone acts so dang perfect. And it drives me crazy. Really, it makes me want to say fuck. A lot. I'm excited about this book because apparently the f-word shows up a lot, along with some fun recipes.
9. Dominique Ansel. The cronut was the thing to eat in 2014. And apparently it still is in 2015. I never understood the fascination. Deep-fried croissant dough? Lots of people can do that…but then I visited his bakery last fall (pictured here) and can honestly say the rest of his pastries are really what's special. They were magical, perfect and really, REALLY beautiful. It felt like I walked into Willy Wonka's Chocolate Factory, except Ansel wasn't some mad man tyrant, but instead an actual real pastry chef who constructs all these delicate little prizes of sugar. If anything, the cronut has brought attention to his bakery, but it's his other pastries that really are worthy of the obsessive 5am hoards of people.
10. Heritage. This is on this list because I'm obsessed with his laugh. It's this, like, southern laugh that reminds me of my uncle. I can't describe it. Awesome laugh aside, Husk is at the very top of my must-visit restaurants. His episodes of PBS's Mind of a Chef are my absolute favorite and his approach to food and story is what draws me in.
Am I missing any? Are there a few that are on your list?