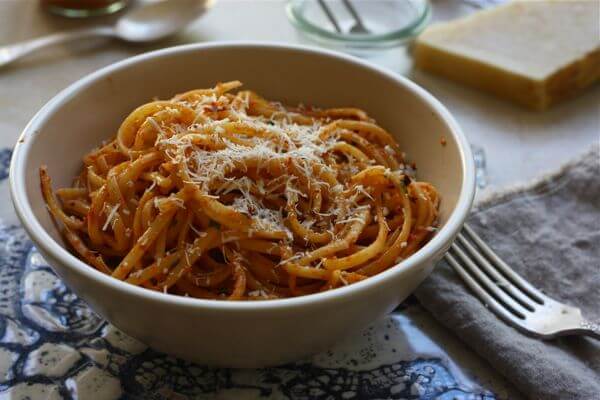 Pasta: A Love Story.
Week nights are weird. Most of the time you're tired and kind of want to just eat something, chill out, sit on the couch and watch a few things before you have to do it all over again the next day. I know what this feels like. And most nights cooking something even slightly labor-intensive is really daunting, but take-out also seems like a lot of work because you have to talk to someone…on the phone. And forget about driving somewhere, you JUST got home. UGH. And OMG the feeling of hungry has now turned into HANGRY (hungry + angry), and you just wanna eat something. right. this. second. When this is the case, I turn to pasta–it's my go-to. Always and forever.
Over the years I've become a private master of the "15-minute pasta dish for one person." Lemon pasta. Vegetable scrap pasta. Spaghetti with eggs and lots of black pepper. Carbonara. Butter and crushed red pepper (not all that exciting). Butter and cheese pasta (also not that exciting, but very dependable), and the list goes on and on…
If you do a small amount of planning and remember to a buy a few red peppers over the weekend, this is a new little 15-minute pasta that could enter your rotation. It's a solid one.