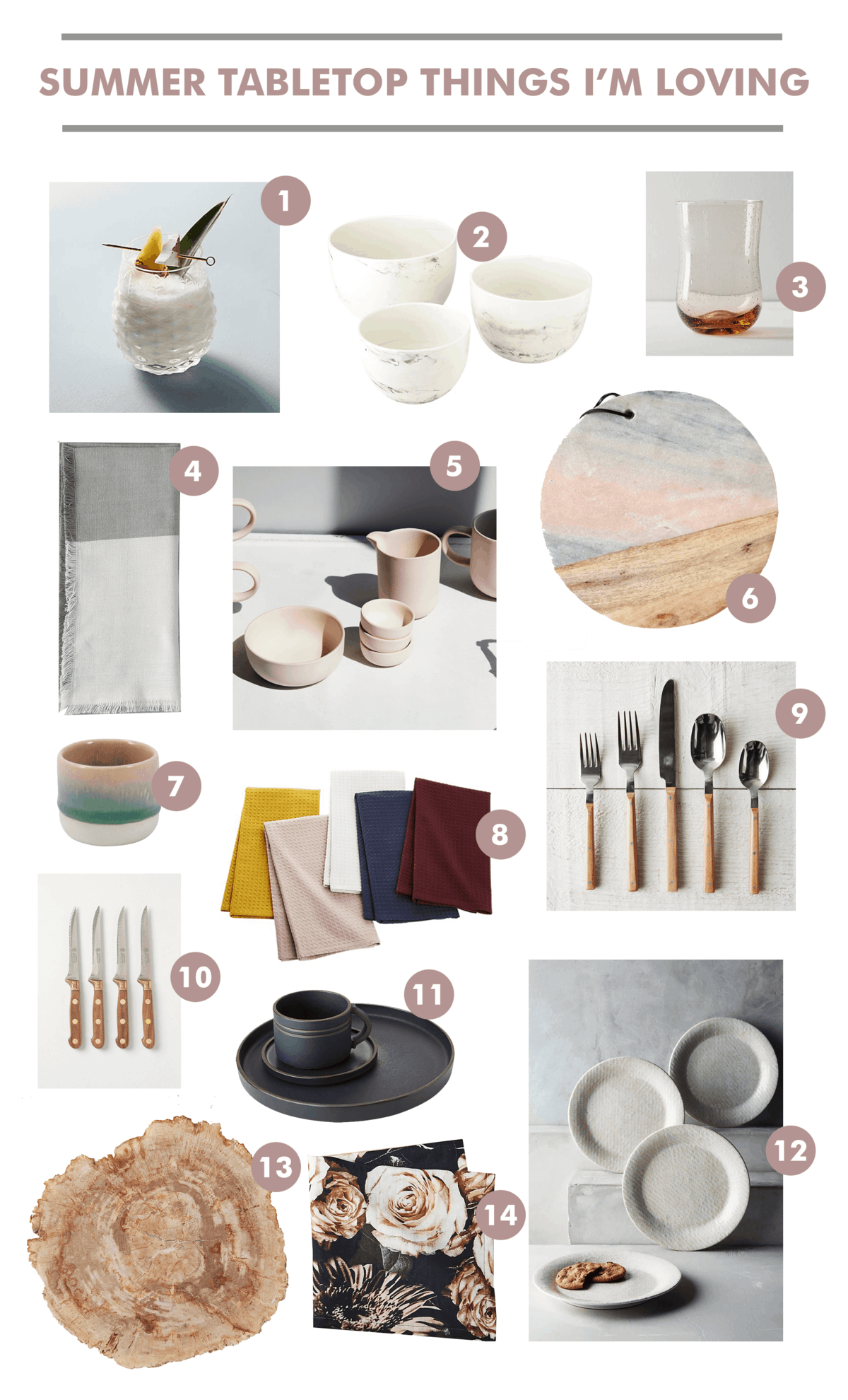 1. Pineapple Glasses – These pineapple glasses are so beautiful to me. They're so tropical and fun. I don't like to buy these that are too seasonal but I think these would look beautiful for fall, too. (Yes, fall is coming soon. I am not ready.)
2. 3-Piece Marbled Mixing Bowls – You'll notice a lot of my favorite things come from CB2. That's because they make SUCH pretty and affordable things. I love this set of mixing bowls. I'm pretty firm on having just simple glass ones but they're not super photogenic. And sometimes it's nice to go from mixing bowl in the kitchen to just straight to the table.
3. Pink Farren Tumblers – Sale alert! These are on sale right now and I just scooped up a few because I think they're gorgeous and perfect for a big, tall glass of lemonade or iced tea.
4. Colorblocked Cotton Napkin – I love this color green. I'm going through a green phase right now where everything in my life either needs to be green or pink or mauve or brown.
5. Pink Powder Jug – Is there anything prettier to put cream in? I think not. I still swoon at all of these glaze colors. They're just gorgeous.
6. Jupiter Pink Marble Board – I love this thing. I love pink marble—it's so beautiful and kinda hard to find. I wanna put all the cheese and snacks on this.
7. Rose Leaf Nip Cup – Don't ask me what a "nip cup" means. I dunno. But all I know is this glaze on this mug is gorgeous and I wanna hold that mug while I drink coffee every morning.
8. Waffle Weave Multi-Color Kitchen Towels – I have a lot of ugly kitchen towels. Mainly just plain white ones that have been stained into oblivion. I need a new set that's photogenic and honestly just looks nice IRL, too. I have my eyes on this set.
9. Wood Handle Flatware Set – I love wood on flatware because it really warms up the space a bit. I'm drawn to a lot of modern plates and modern shapes so sometimes if my flatware is too modern, everything can feel cold. Obviously I'm the opposite of cold, I WANT IT TO FEEL COZY U KNO.
10. La Fourmi Steak Knives – Admittedly, I have a ton of dishes and stuff but one big thing I don't have is a nice set of steak knives. These are just beautiful.
11. Pitch Dinnerware – These are Japanese-inspired plates that are simple and modern and minimalistic in the best way. I love the dark color and while I normally don't shoot on black plates, I want to start injecting a bit darker colors into my work. I think these are an affordable way to start.
12. Vivienne Side Plate Set – I think this set of side plates is so beautiful. I dream of having colorful foods on them like melon wrapped with prosciutto, a variety of fruits and sautéed veggies. I think the neutral color is perfect for summer and fall.
13. Petrified Wood Serving Board – The edges of this serving board are SO beautiful. I love the rustic look of this board and I think everything from cupcakes to your favorite cheese would look gorgeous on it.
14. Floral napkin – I feel like the old me never would've liked something this classic but the new 2017 me is VERY into these rose napkins. They're romantic and dark. I love 'em.