1. At My Table: A Celebration of Home Cooking – I've always loved Nigella Lawson's easy, casual cooking.
2. Bravetart – Stella Parks hit out of the park with this classic baking book. If your mom loves to bake, this is an amazing book all about American classics.
3. How to Eat a Peach – Menu planning and musings by Diana Henry.
4. The Year of Cozy – Give the gift of ME for Mother's Day!
5. Magnolia Table – Joanna Gaines's new cookbook. Everyone loves her, including my mama.
6. The First Mess – My mom eats mostly a plant-based diet and this cookbook has been an wonderful addition to her cookbook collection.
7. Love Real Food – If your mom loves vegetarian recipes then this cookbook would be a great gift. Check out the reviews–everyone loves it! Kate makes cookable, delicious recipes that everyone loves.
8. The Perfect Scoop – David Lebovitz re-released his classic ice cream book. Can't wait!
9. Gather & Graze – I've never had the opportunity to visit Stephanie Izard's restaurant so this is the next best thing!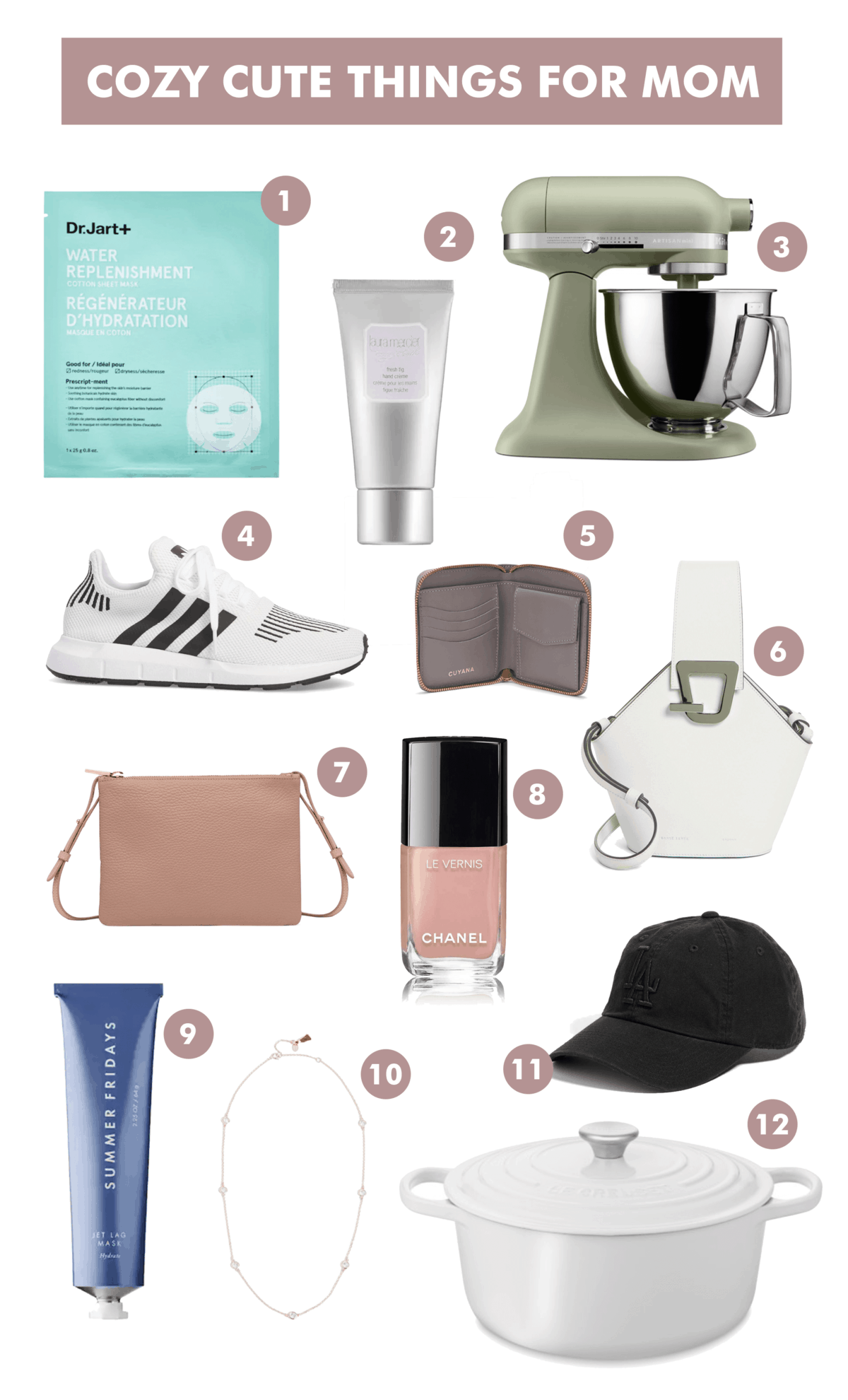 1. Dr. Jart Water Replenishment Sheet Mask – Dr. Jart sheet masks are my absolute favorite. I love to pack them for long flights and put one on when I arrive at my hotel room.
2. Laura Mercier Fresh Fig Hand Cream – This hand cream smells so delicious. It's everything you want in a hand cream, too: thick, rich and ultra-hydrating.
3. KitchenAid Architect Stand-Up Mixer – If your mama loves to bake and cook, this is a must. This color Pistachio will always be my favorite. Always.
4. Adidas Swift Run Sneakers – I swear by these shoes. I bought myself a pair for Christmas (I got the black and gold) and wear them nearly every single day. They're so comfortable and look great with jeans or workout clothes.
5. Cuyana Zip-Around Wallet – I've been searching for a new wallet and this one fits the bill. It's pretty and has the perfect amount of space. I feel like mom would love it, too.
6. Danse Lente Mini Johnny Leather Bucket Bag – If mom is hip to game, she'll love this purse. I have this purse in black and it's so beautiful in real life.
7. Cuyana Cross Body Bag – This bag is so simple and pretty. Every bag I buy for myself OR for someone else has to have a crossbody feature.
8. Chanel Nail Polish in Origandi – This color looks good on a wide range of complexions.
9. Summer Fridays – This is a night cream and mask in one. It's multi-functional and it feels like butter on. I LOVE IT. I wear it every night and I wake up with super hydrated skin.
10. Shashi Necklace  – A simple and pretty necklace.
11. Black Dodgers Hat – LA FOREVER! I love this black iteration.
12. White Matte Le Creuset – This white matte le creuset is my favorite. I love their matte collection. A plus (in case your mom is a food blogger lol), I photographs beautifully because ZERO shine.
Continue Reading