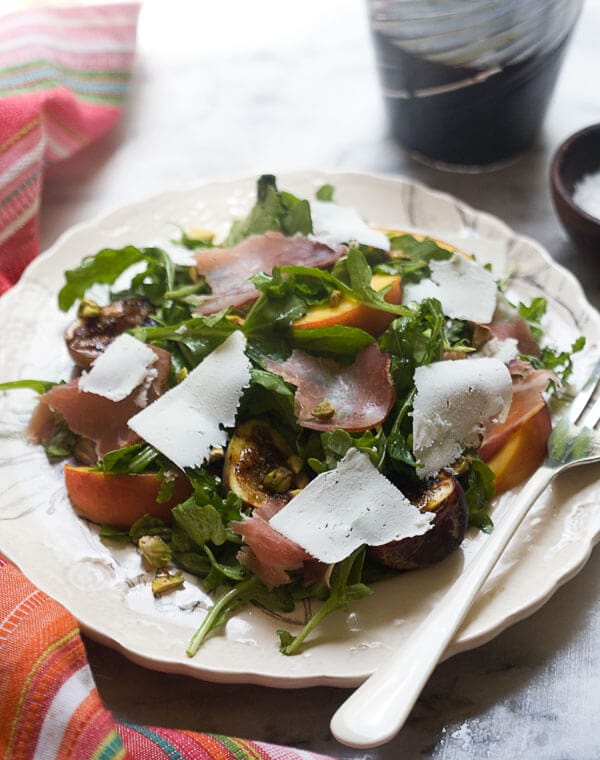 UGH. I hate long recipe titles but I really wanted to convey what the heck was in this thing. It's important. This salad is an honest to Yeezus (I had no idea this was Kayne's nickname until like two days ago so now I use it all the time) example of what I've been eating for the past few weeks. I'm a big fan of dinner for one, mainly because I kind of sometimes like it when no one talks to me for a few hours and I can be alone with my thoughts/latest episode of Real Housewives.
I never like my "dinner for ones" to be too labor-intensive. I can't bother to make a mess. This salad is sooo quick and so amazing. Figs are officially in season, yet I can't find any that really taste the way they should. I bought a big box of them last week and quickly realized that nature needed a bit of a hand, a little tap on the bottom. Nothing that a little brown sugar and a griddle can't fix! And voila they tasted like grade-A, delicious, sweet figs.
I mixed it with bright, sweet yellow peaches, crushed pistachios and arugula. It was incredible. And since I couldn't' get enough of the peppery flavor that the arugula gave me, I paired it with a black pepper vinaigrette and topped it with slivers of prosciutto and ricotta salata.