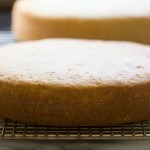 Print Recipe
How to Bake Flat Cake Layers
Bake perfectly flat cake layers with an old towel!
1

old towel (but fluffy)

4

safety pins

1

batch of cake batter
Cut 3-inch wide strips that fit all the way around your cake pans. Make sure they fit around the cake pans!

Soak the strips in water and squeeze out about half of the water from them. I like them to be very damp.

Secure the wet towel strips around your prepared cake pans, pinning them using the safety pins. You'll want them to fit tightly.

Add the cake batter to the pans and transfer to the oven and bake according to your recipe.