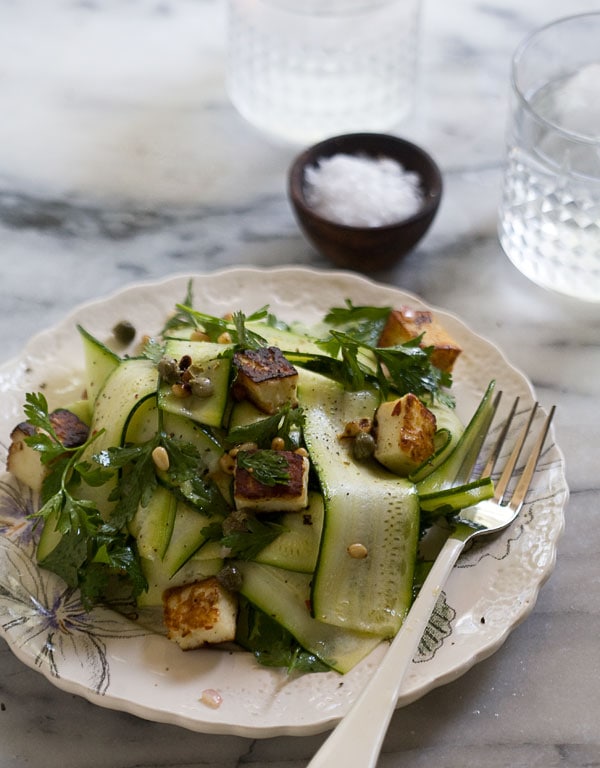 It's not summer if there isn't massive amounts of zucchini everywhere. You're probably experiencing this too. You go to the grocery store and the zucchini is marked down so cheap that you can't say no. And so you don't, but then you don't know what to do with it. One can only have grilled zucchini so many times, you know?
Also, I think it's weird that zucchini is literally everywhere but its flower - the zucchini flower - is kinda this rare, expensive little bird that people oooo and ahhhh at. Why aren't there more? Doesn't each zucchini get a flower too? Is this how this works? Nature confuses me.
This salad is ribboned, which I'm obsessed with because it's soooo pretty. And it being ribboned means you can eat the zucchini raw like it ain't no thang. Also, I love ribbons. It's my dream to have big organized drawers in my home full of ribbons. What I would do with them? Who cares. I love ribbons!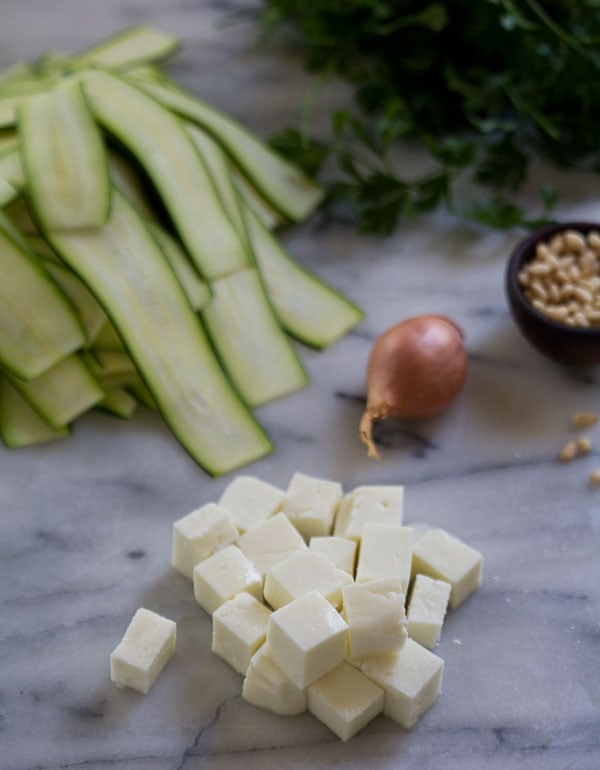 Can we agree that the only thing better than normal cheese is SEARED GOOEY CHEESE! This is a fact. Haloumi cooks, sears on both sides without just melting in a big globby mess. I love it.
Haloumi is a salty cheese that when uncooked tastes a little rubbery. I actually still like it uncooked. But when it's seared, the outside is nice and crispy and the center is warm and cheesy.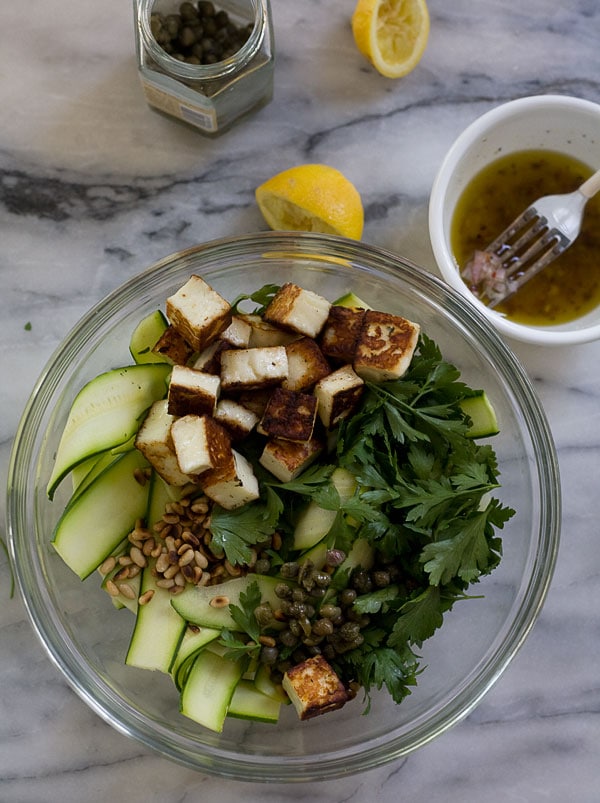 This salad only gets better with toasted pine nuts, fresh Italian parsley, capers and a simple shallot vinaigrette.
This is dinner that can literally be made in like 15 minutes. It's all so super simple.
I got all of the ingredients together and then seared the cheese. Tossing the salad with the seared cheese actually warms the rest of the salad to the perfect temperature - not too hot and not too cold.
Now, umm…can you please make this for dinner?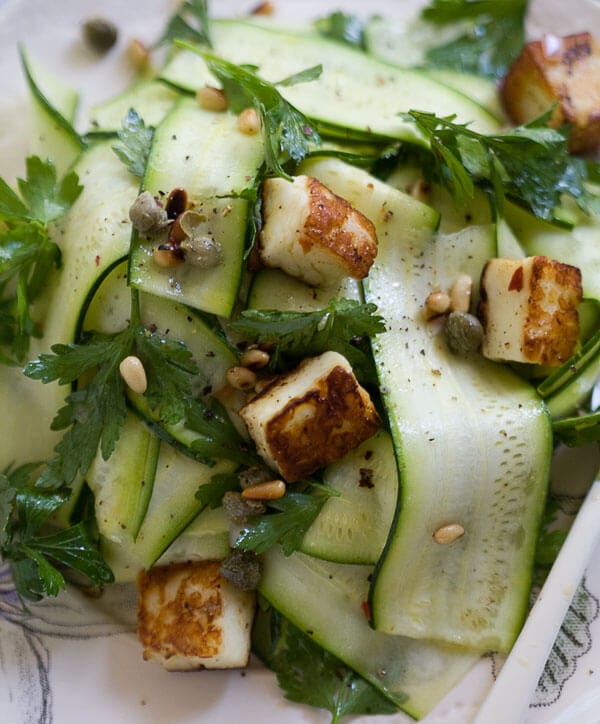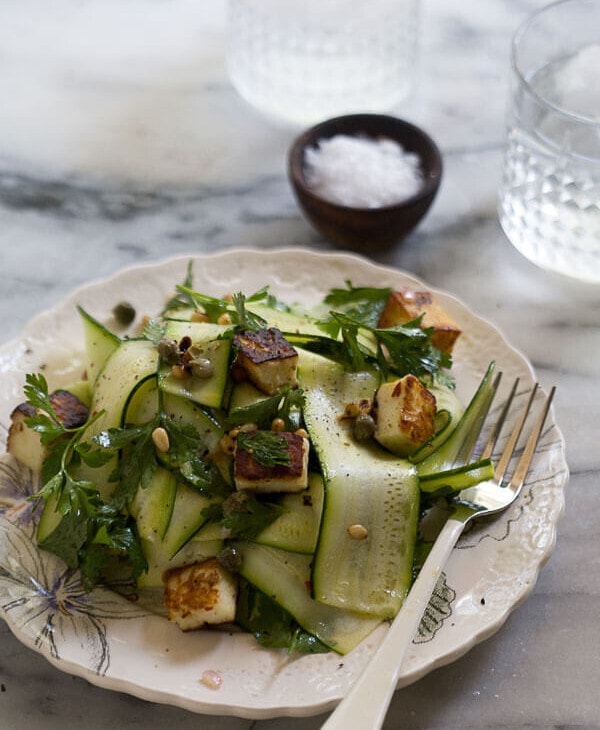 Print Recipe
Zucchini Ribbon Haloumi Salad
Ingredients
Dressing:
2

tablespoons

minced shallot

from about ½ of a large shallot

Salt

Pepper

¼

teaspoon

crushed red pepper flakes

2

tablespoons

olive oil

1

tablespoon

lemon juice

1

tablespoon

champagne vinegar or rice wine vinegar
Salad:
1 ½

pounds

zucchini

ends trimmed and ribboned

1

cup

Italian parsley

stems discarded

3

tablespoons

capers

2

tablespoons

pine nuts

6

ounces

haloumi

cubed
Instructions
In a small bowl, add the shallot, pinch of salt and pepper, crushed red pepper, olive oil and lemon juice. Whisking the entire time, add the vinegar and continue whisking until the mixture is smooth and emulsified. Set aside.

To a large bowl, add the zucchini, parsley and capers. Place a non-stick skillet over medium-low heat. Add the pine nuts and toast, shaking the pan every so often, for 1 to 2 minutes and until lightly golden brown. Pour the pine nuts into the zucchini/parsley bowl.

Using the same skillet, increase the heat to medium-high. Add the cubed haloumi and sear on its first side for 2-3 minutes, or until golden brown. Flip, using a pair of tongs, searing the cheese on its opposite side for an additional 2-3 minutes. Immediately add the haloumi to the salad bowl, add half of the dressing and gently toss. Add more dressing to your liking, tossing once more. Serve immediately.