Welcome to the meal I've been eating almost every single day for the last few weeks. I'm obsessed with zucchini noodles. Mainly because there's nothing I love more than normal Spagehtti and Meatballs, but since I'm trying to cut back on flour, this is sufficing…for now.
There are plenty of zucchini noodles around the web; this is my version, which I'm strangely excited to share.
Let's start with how to make zucchini noodles. For this post, I used a Spiralizer. I borrowed it from a friend of mine because I wasn't sure I wanted to commit to a new kitchen gadget (between the waffle maker and ice cream maker and the damn pasta maker attachment, I feel like I have too many); I'm currently still gauging if I actually want to buy one myself. If you don't want to buy one, you can use a mandolin, though be careful because they can be a bit dangerous, or you can use a julienne vegetable peeler. The Spiralizer is the only kitchen tool that will make noodles that are spirally and beautiful, like these: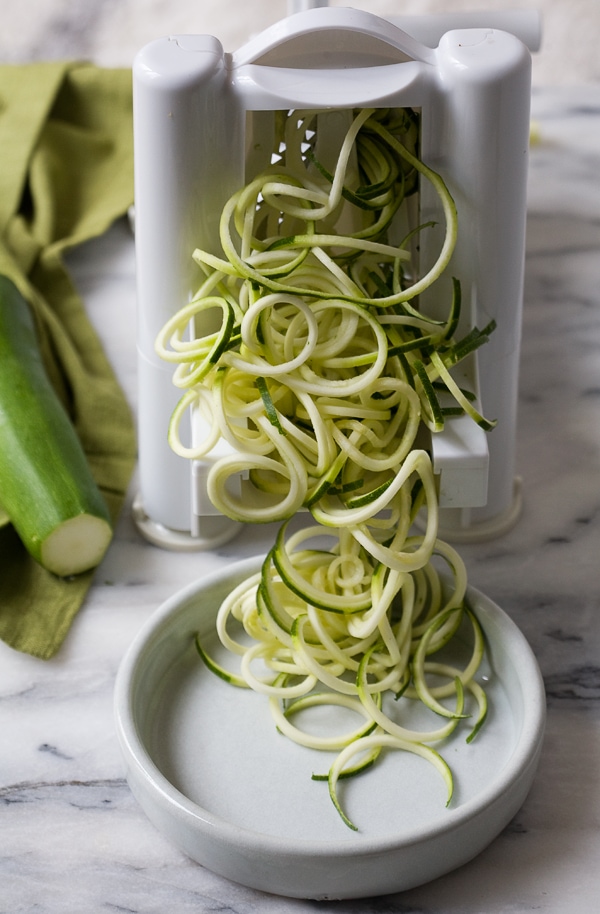 I mean, I can just stare at them all day long. Am I the only one obsessed with how pretty they are?!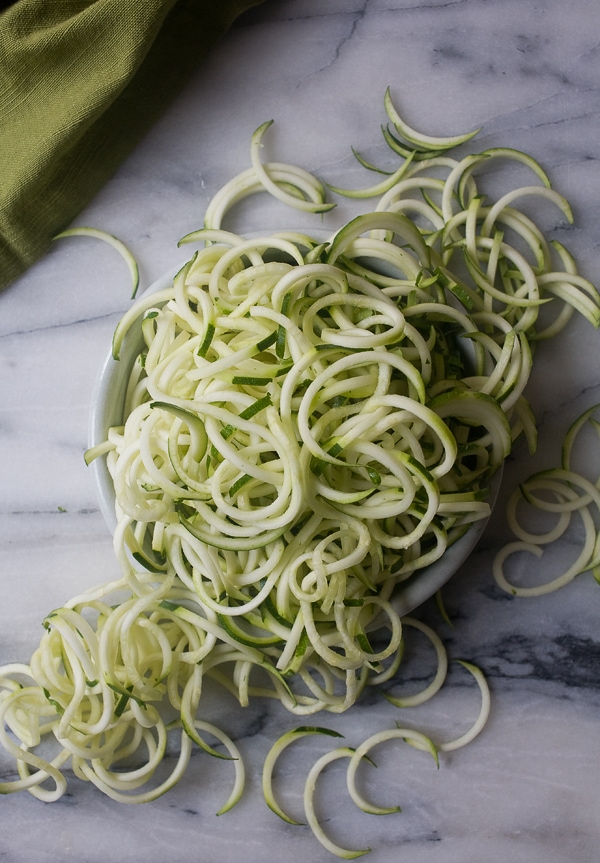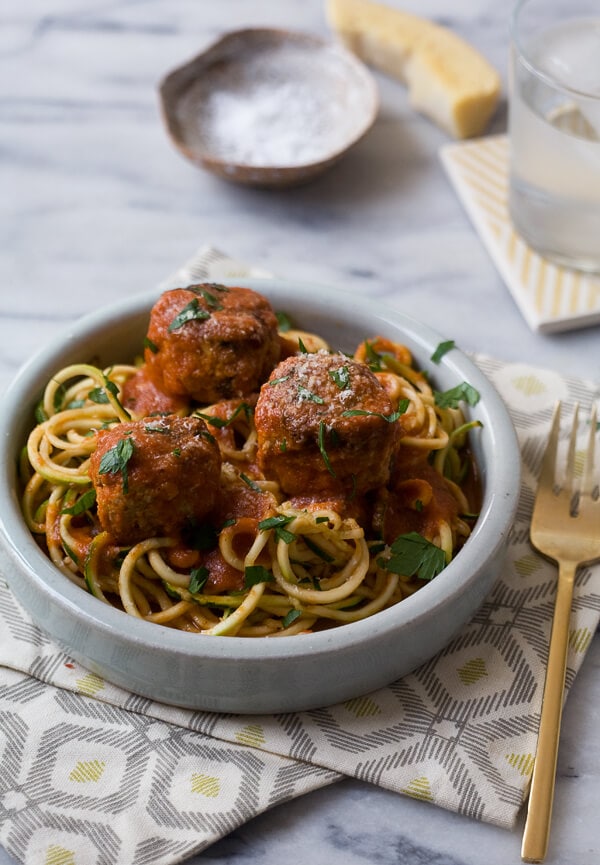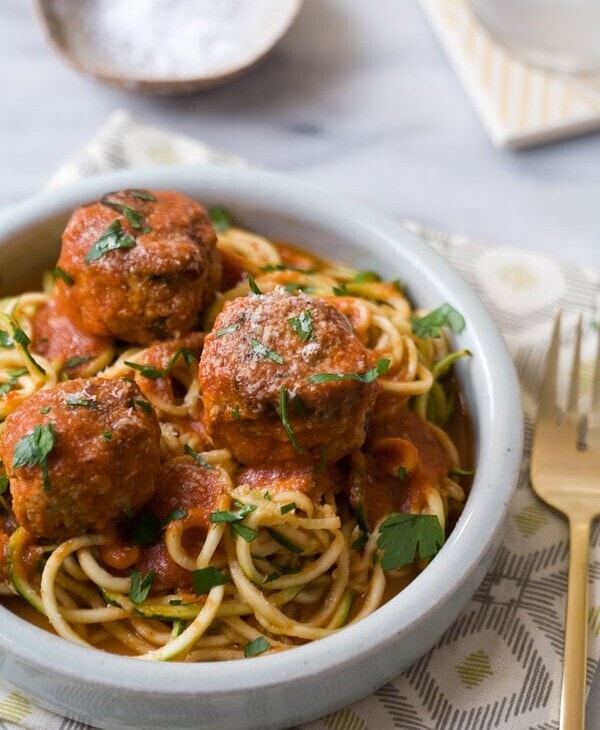 Print Recipe
Zucchini Noodles with Turkey Meatballs
Ingredients
Healthy-ish Turkey Meatballs:
1

pound

dark ground turkey

2

tablespoons

dried fine bread crumbs

2

tablespoons

grated parmesan

1

large egg

1

teaspoon

kosher salt

Olive oil

½

yellow onion

diced

3

garlic cloves

minced

3

tablespoons

finely chopped Italian parsley

2

tablespoon

freshly chopped sage

½

teaspoon

crushed red pepper
Classic Tomato Sauce:
2

teaspoons

olive oil

¼

yellow onion

diced

3

garlic cloves

2-3

sage leaves

chopped

½

teaspoon

crushed red pepper

1 28-

ounce

can of good quality tomatoes like San Marzano

1

parmesan rind

optional
Noodles:
4

medium zucchinis

ends trimmed and either spiralized or julienned
Instructions
To a large bowl, add the ground turkey, dried bread crumbs, parmesan, egg and salt.

In a medium sauté pan, placed over medium heat, pour in a teaspoon of olive oil. Add the diced onion to the oil and cook until translucent and soft, about 5-7 minutes. Turn the heat down to medium-low, and add the minced garlic, Italian parsley, sage and crushed red pepper. Add the onion mixture to the bowl of meat. Mix the turkey mixture until completely combined, but being careful to not over mix. Scoop out two tablespoons of the turkey mixture, and using your hands, roll it into a ball. Repeat until all meatballs are formed.

To sear the meatballs, add a few tablespoons of olive oil to the sauté pan (you can use the same one you just used for the onion mixture–we're into saving dishes around here). When the oil is hot, gently add the meatballs and sear on all sides for about 1-2 minutes per side, until golden brown. Transfer them to a bed of paper towels to drain. Repeat until you've seared all of the meatballs, adding more oil, if the pan needs it.

To make the tomato sauce, add the olive oil to a dutch oven or medium pot. When the oil is hot, add the diced onion and cook until translucent, about 5 minutes. Add the garlic, sage leaves and crushed red pepper; cook for an additional minute, until fragrant. Pour in the can of tomatoes and add the parmesan rind (if using); mix and cover the pot, allowing the tomato sauce to simmer, over low heat, for 20 minutes.

Remove the rind and using an immersion blender or regular blender, puree the tomato sauce until smooth (if you're using a regular blender you may need to do this in batches). Transfer back to the pot and salt to taste.

Add the seared meatballs to the tomato sauce and cook for an additional 10-15 minutes.

To make the zucchini noodles, add a teaspoon of olive oil to a sauté pan. When the oil is hot, add the zucchini noodles, cooking them for about 3 to 5 minutes. I say go with what you like. I go a bit under because I like them to have a bit of bite. Add them to a big bowl and toss with a few tablespoons of tomato sauce. Place the meatballs on top and garnish with a small sprinkling of parmesan cheese and a handful of Italian parsley.