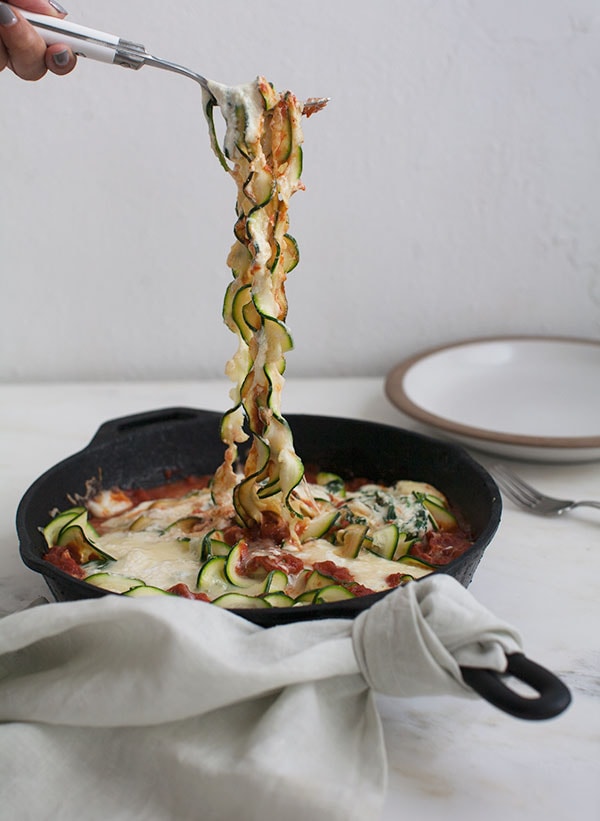 My favorite thing in the world to eat is pasta. Like, if I was seeing my last days and someone was like, Adrianna, what would you like to eat because dying sucks? I'd be like, BRING ME PASTA! A gigantic bowl of pasta bolognese with a glass of lambrusco would be it for me. So, it's not really a surprise that the dish I crave the most when I'm trying to eat healthier is pasta.
Last year I got super into zucchini noodles. I'm pretty sure I ate zucchini noodles with turkey meatballs every single night for like weeks, WEEKS. I actually first discovered the glory of spiralized vegetables from Ali's blog, Inspiralized. At first I was like, uh, I dunno, I like real pasta but then I was needing something healthier in my life and this seemed like an awesome alternative.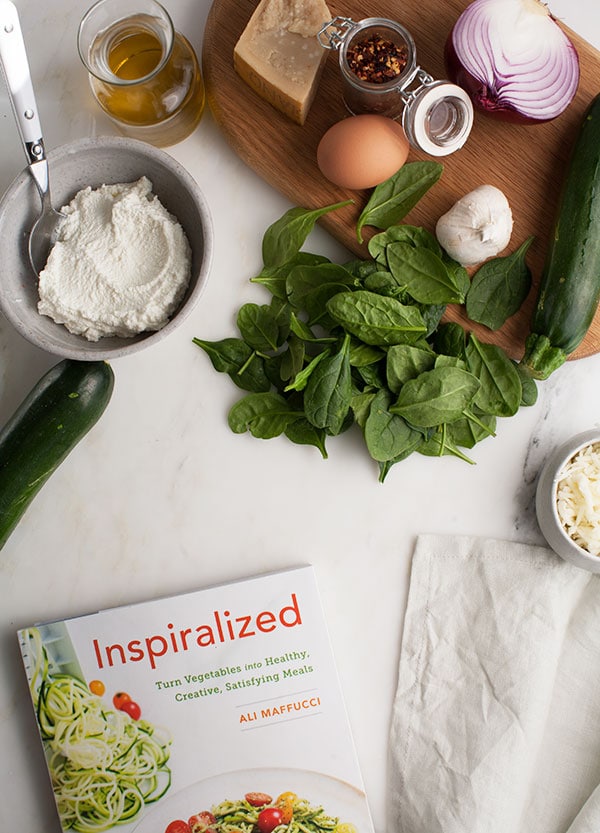 And guess what? I felt A LOT better and of course, the pounds slowly came off (I was exercising a lot too, by the way). But zucchini noodles helped my brain think it was eating normal pasta. The flavors were still present so it made me really happy and satisfied.
This recipe is from Ali's new book, Inspiralized! And I loooove the book. She's pretty smart with a spiralizer, even figuring out how to make vegetable rice using the tool. I mean….really, really genius. There's a carrot paella in here that looks incredible with carrot rice!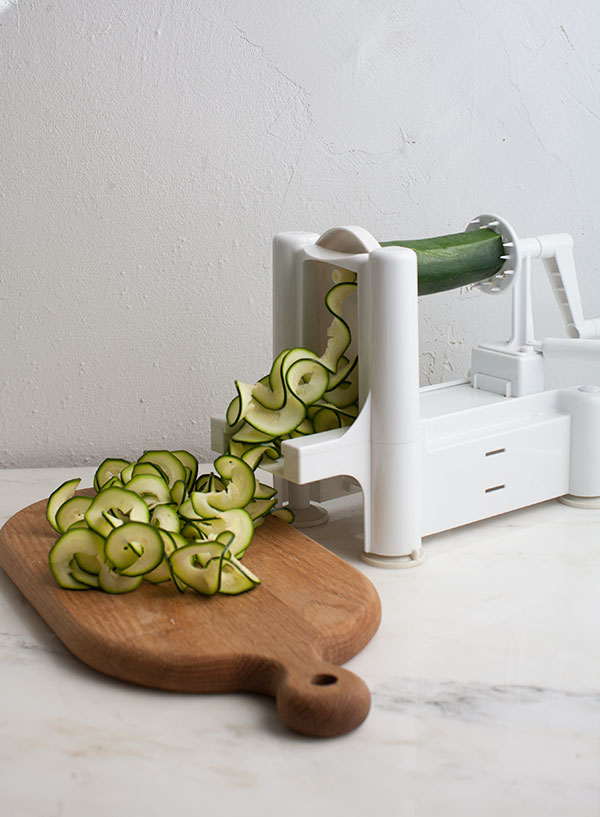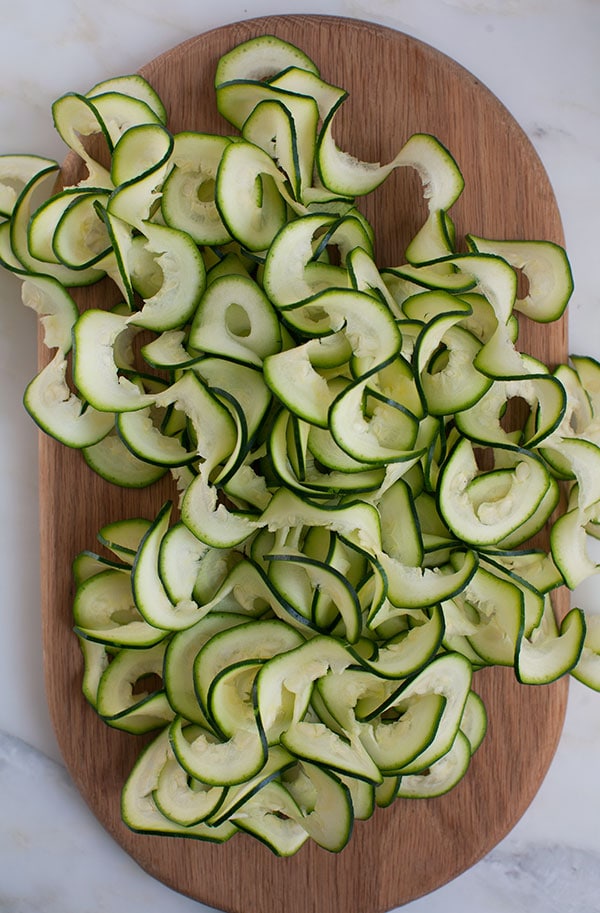 The next recipe I want to try is this clam zucchini linguine recipe. It looks soooo good and fresh.
A spiralizer comes with three blades: A, B, C and D (Ali walks you through all of this in the book). Before this recipe, I'd never even used another blade besides B, so she really did inspire me to make something that I normally wouldn't ever do. When it comes to eating healthy, I really need ideas because I get bored fast! This book is really good in that department.
In a few weeks I'll be starting a new healthy plan that will go 6 weeks. UGH. I'll still be cooking my normal food for this space because butter is what I love but I'll definitely be including new healthy dishes too.
In the meantime, check out Ali's book and blog for new ideas, if you're looking for new healthy stuff to cook!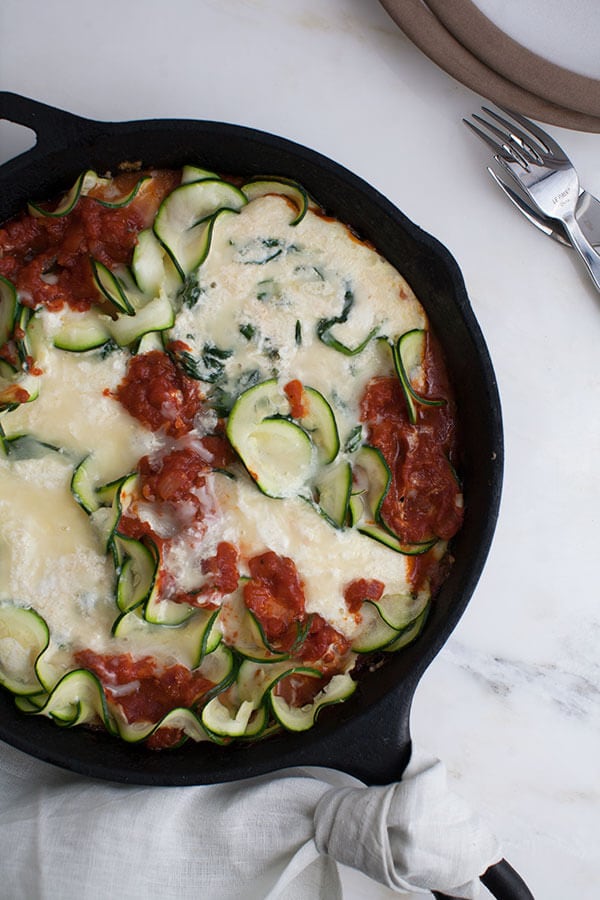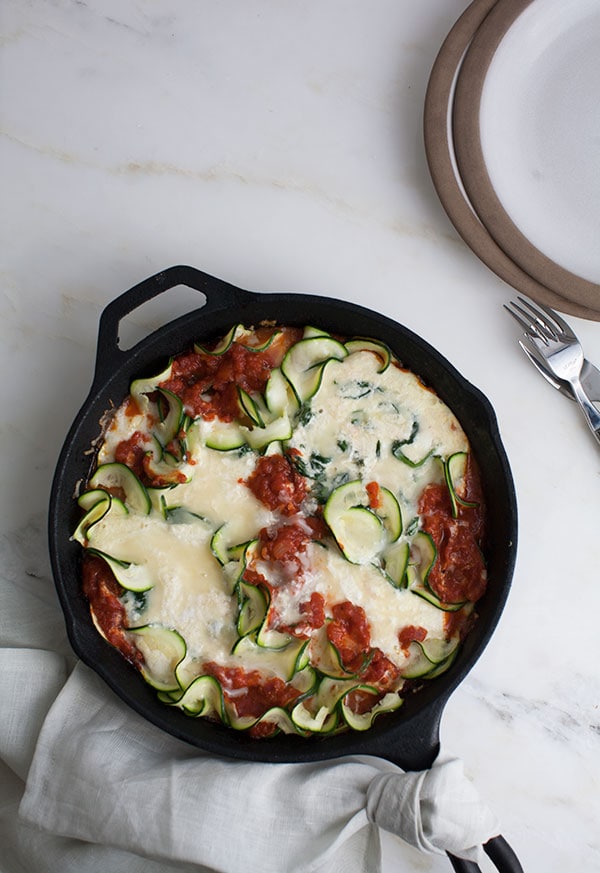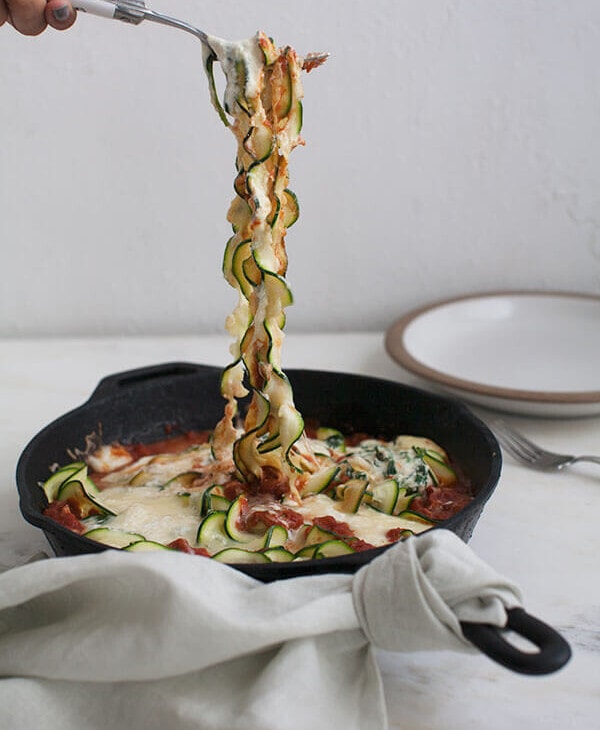 Print Recipe
Deconstructed Zucchini Manicotti
Serving Size:
(ten-inch) skillet of manicotti
Ingredients
For the Sauce
1/2

tablespoon

olive oil

1

large garlic clove

minced

Pinch

of red pepper flakes

1/2

cup

diced red onion

1

14.5-ounce can diced tomatoes

Salt and Pepper

5

basil leaves

chopped
For the Filling
1/4

cup

grated Parmesan cheese

1

scant cup ricotta cheese

1/4

cup

shredded mozzarella cheese

1

large egg

Salt and Pepper

Cooking spray or a teaspoon of olive oil

3

cups

baby spinach

2

zucchini

spiralized with Blade A

2

tablespoons

shredded mozzarella cheese

for topping
Instructions
Preheat oven to 375 degrees F.

Place a large cast iron or nonstick skillet over medium heat and add the olive oil. When the oil is shimmering, add the garlic, red pepper flakes, and onion, and cook for 2 to 3 minutes or until the onion is translucent. Add the tomatoes and their juices, season with salt and pepper and stir. Increase the heat to medium-high and bring to a boil, then lower to a simmer. After 5 minutes, add the basil. Continue to simmer the sauce for 5 minutes more or until it is thickened.

Make the filling. Combine the cheeses and egg in a large bowl. Season with salt and pepper.

Place a medium nonstick skillet over medium heat and coat with cooking spray. When some water flicked onto the skillet sizzles, add the spinach and toss until wilted, about 2 minutes. Remove from the heat and fold into the cheese mixture.

Assemble the manicotti. Reserve half of the sauce and spread the remaining evenly on the bottom of the skillet. Place the zucchini noodles on top, then add the remaining sauce. Create two wells in the noodles and add the cheese filling. Sprinkle the mozzarella over the skillet and season with pepper. Cover with foil and bake for 20 to 25 minutes or until the noodles have softened and the cheese is melted. Serve hot.