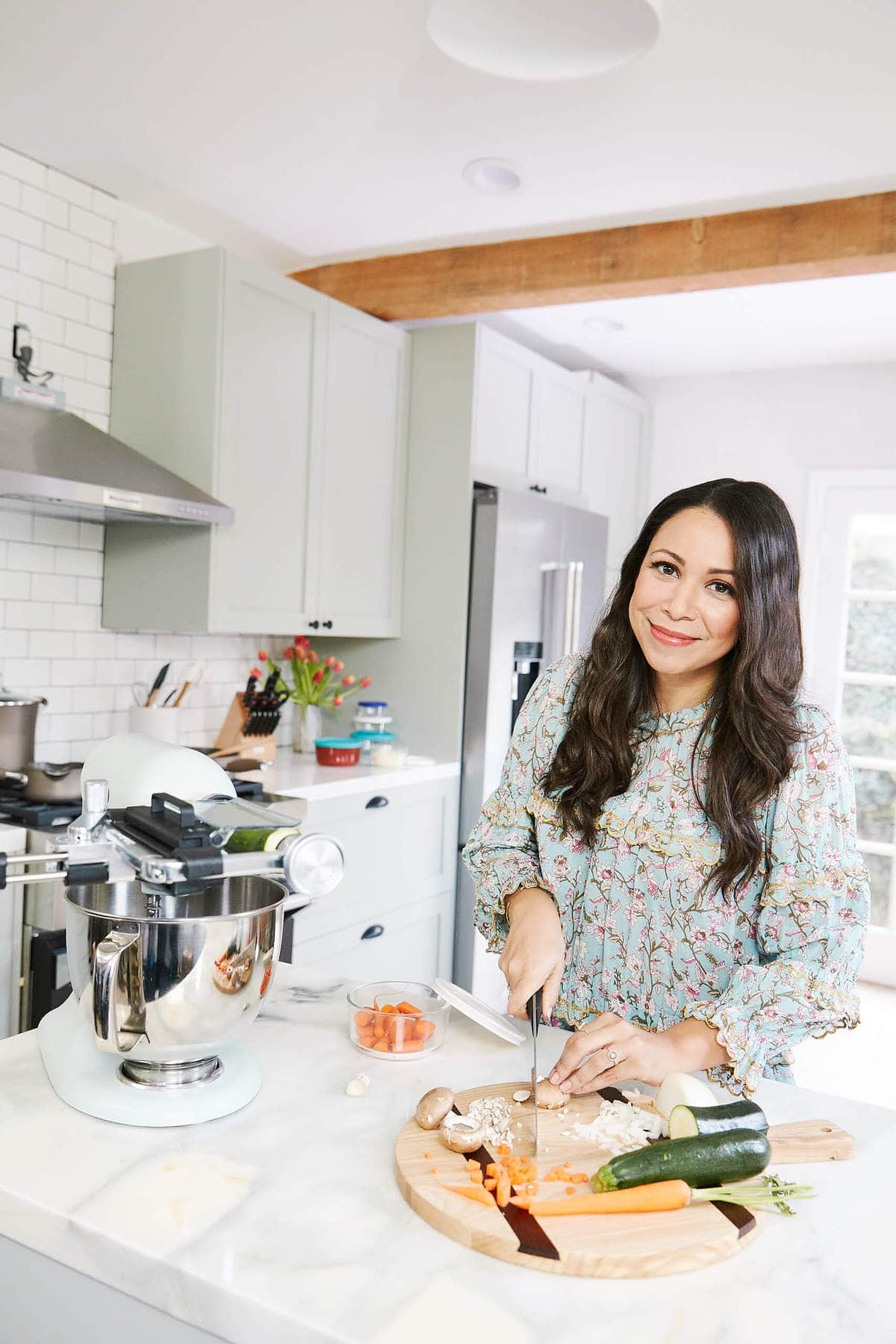 I love a vegetable noodle dish. Real, gluten-filled pasta is my fave, but sometimes I crave the flavor of those dishes and want to skip the heaviness. (And then again, sometimes I like the heaviness haha!)
One thing I use over and over is my KitchenAid Architect Stand Mixer with Vegetable Sheet Cutter attachment. I got both of these things from Macy's (my architect stand-up mixer is my favorite). I've made different iterations of this same dish, swapping out zucchini for butternut squash and even eggplant—it's so good. The classic version of this dish used zucchini. It's delicious and cheesy and when you're craving something lighter, this is the move.

For this post, I teamed up with Macy's Wedding Registry where I'm recommending that these two items have a place on it. Yep, they truly deserve a spot. As you probably know by now, I use my KitchenAid Stand Mixer daily. I bake a lot, but really it's not just for baking. I make plenty of other things in my KitchenAid, including lasagna!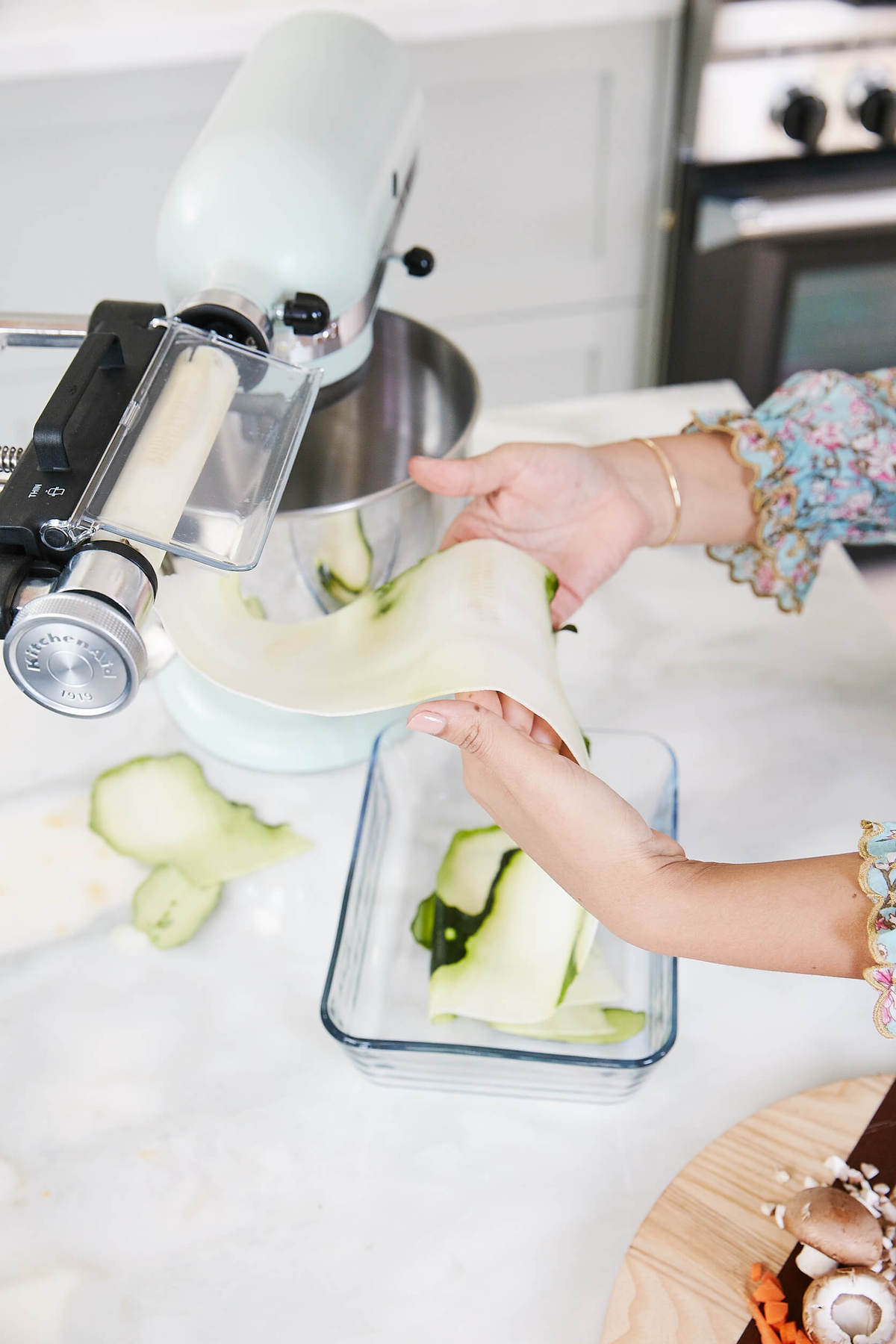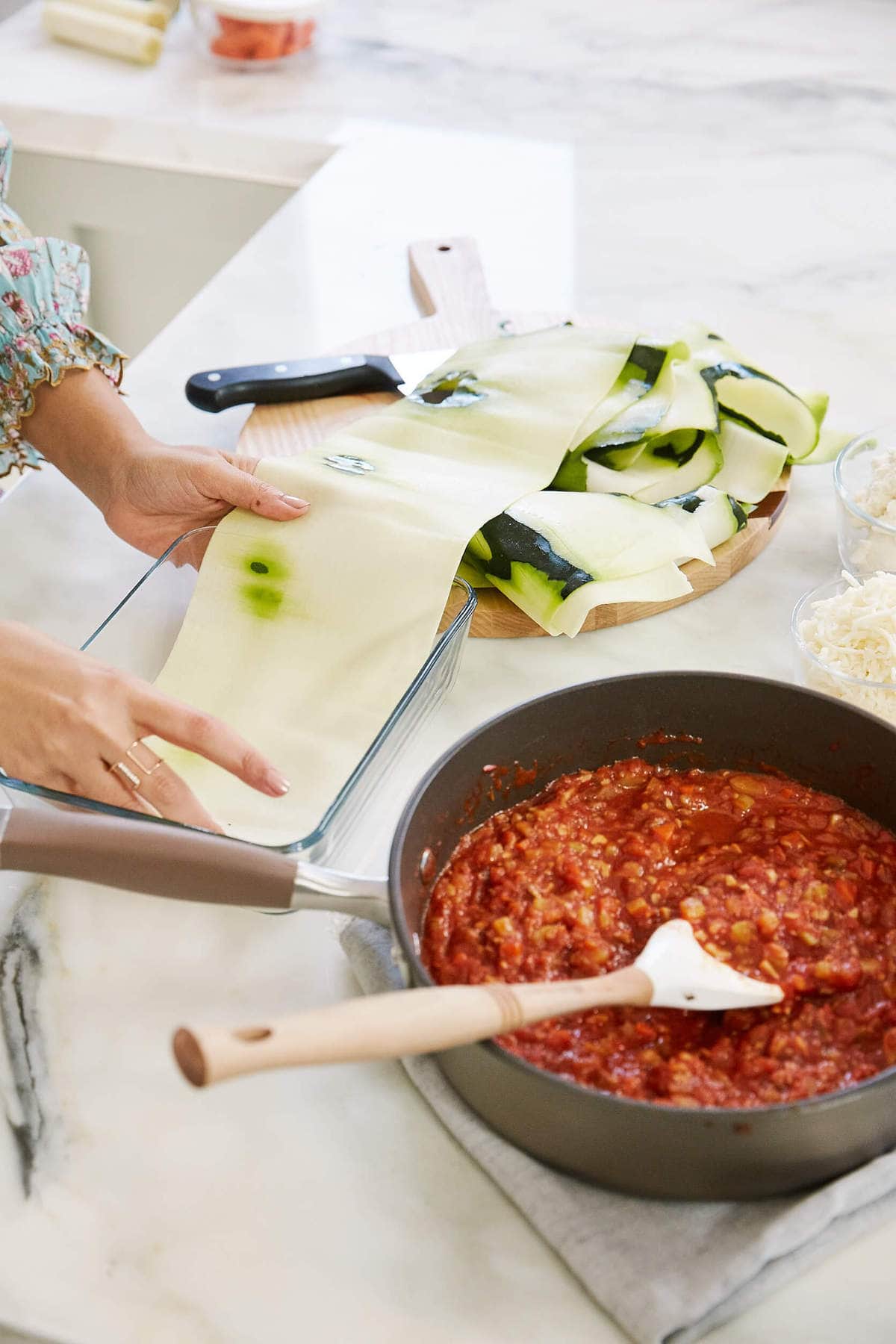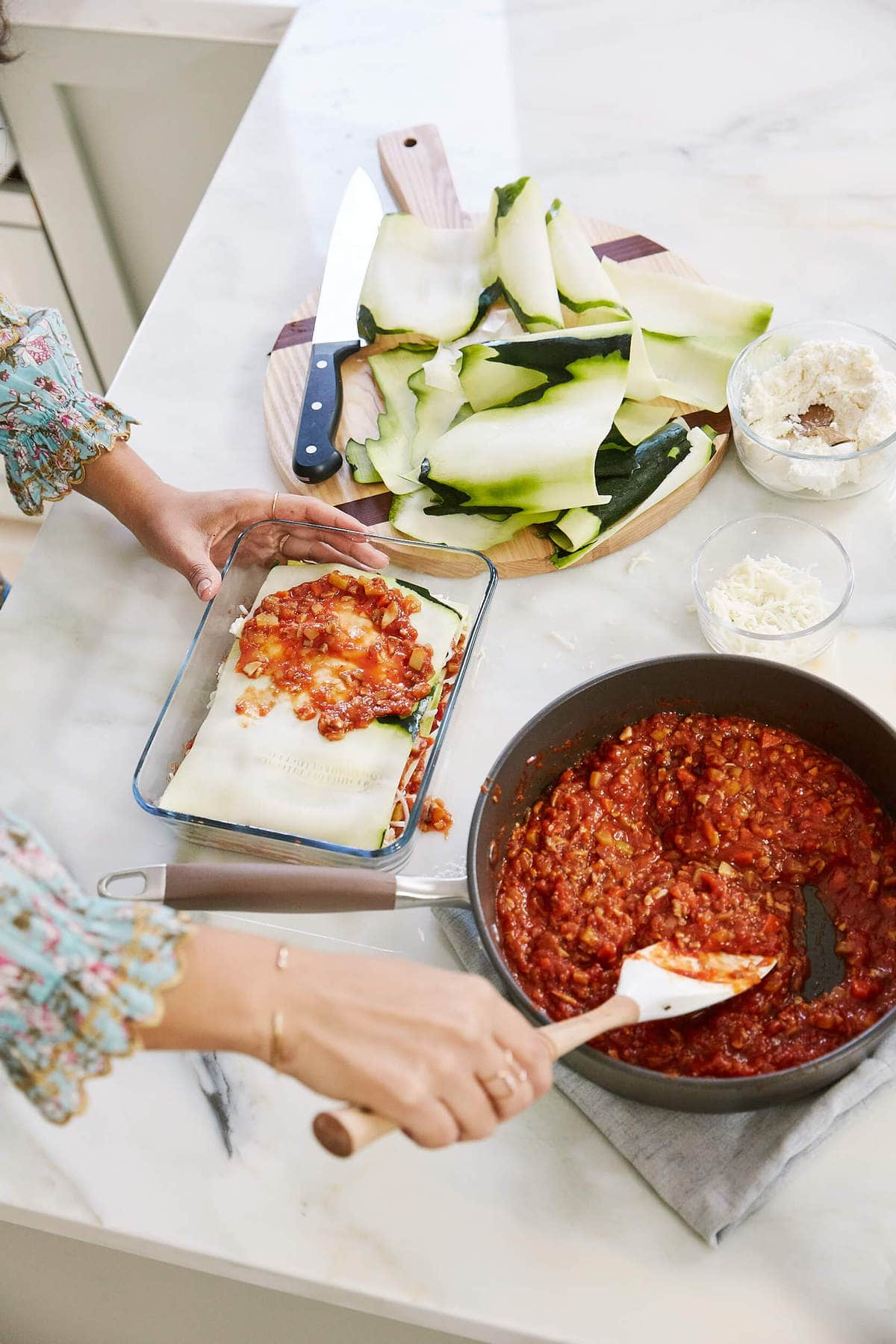 I used a few other products for this post, including my favorite non-stick Anolon set. I cooked the marinara in it and it makes for super easy cleaning. I baked the lasagna (and stored the leftovers) in this food storage set from Pyrex. It's amazing. I used to use plastic containers but have swapped them out for this glass set.
The sauce is so good—it uses the leftover zucchini so there's no waste! It has mushrooms and carrots and lovely spices that make it flavorful and delicious. I layered the lasagna with ricotta and mozzarella. And even with the cheese, it still feels light and delicious.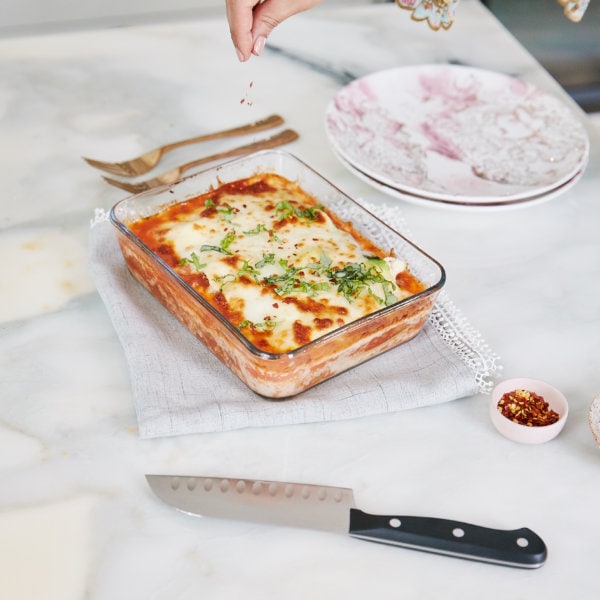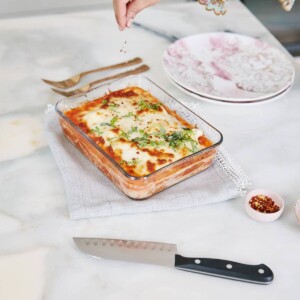 Ingredients
Zucchini Lasagna Sheets:
4 to 5

zucchini

,

any extra zucchini will be chopped up and used in the marinara sauce
Simple Tomato Sauce:
1

tablespoon

olive oil

Extra zucchini from making the sheets

,

diced

2

carrots

,

peeled and diced

8

ounces

cremini mushrooms

,

stems removed and diced

Salt

1/2

teaspoon

dried oregano

1/4

teaspoon

crushed red pepper

2

cloves

of garlic

,

peeled and minced

1

14-ounce can crushed tomatoes
Lasagna Assembly:
1

8-ounce bag of shredded mozzarella cheese

4

ounces

ricotta

Basil

,

lightly chopped, as garnish
Directions
To Make the Zucchini Sheets+
Process the zucchini to make the sheets using the KitchenAid Mixer Vegetable Sheet Cutter Attachment. There will be extra pieces of zucchini leftover. Dice the remaining zucchini for the sauce.
To Make the Tomato Sauce:
To a medium pot, set over medium-low heat, add the olive oil. When warmed, add the zucchini, carrots and mushrooms. Add a few pinches of salt, oregano, crushed red pepper and garlic. Cook until softened, about 10 minutes. Add the crushed tomatoes; bring to a gentle simmer and cook, partially covered, for about 10 minutes. Taste and adjust the salt to your liking. Turn the heat to low and continue cooking until you're ready to use the sauce.
To Assemble the Lasagna:
To the bottom of the lasagna dish, spread a thin layer of sauce. Top with three sheets of lasagna, overlapping them slightly. Spread a thin layer of sauce on the "noodles" and then add a few spoonfuls ricotta and a handful of shredded cheese. Repeat the layering process until you've reached the top and worked through all of the "noodles." I ended up doing about four layers. The top layer should be "noodles," a bit of sauce and a good amount of shredded cheese.

Transfer to the oven to bake for 20 to 25 minutes, until the top is as melty. Garnish with basil. And then slice and serve
(This post is sponsored by Macy's. Thank you for supporting all things that keep A Cozy Kitchen cozy.)