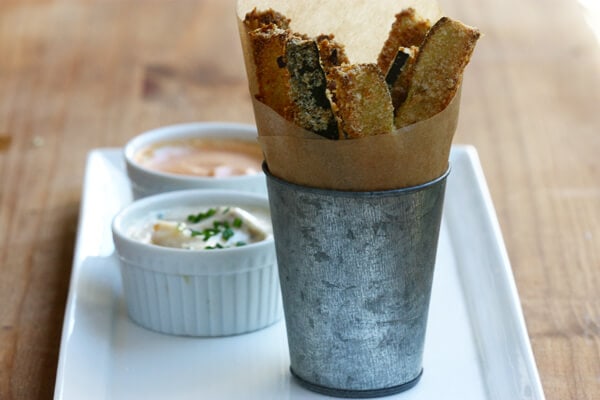 I realized something yesterday…
Making fries in various vegetable varieties is kind of my jam. I'm starting to think it's my life calling to make fries out of just about anything…except potatoes. I have no interest in making French fries…I can just buy those from In-n-Out.
First there were Portobello Fries that I made for you, me…and Kate Moss.
Then…Avocado Fries. I mean…I've made them twice since Caroline originally posted them. Amazeballs.
Next there were Spicy Carrot Fries. And then…if I cut these pickles differently, they totally would've been pickle fries instead of pickle chips. But seriously, who cares. They were dipped in batter and fried. And then I ate like a hundred with a beer. End of story.
And now I give you these Zucchini Fries. With not one, but two dipping sauces!! Dipping sauces are important. Are you the type that has bbq sauces and hot sauces from fast food restaurants in your glove compartment?!
Yeah, me neither.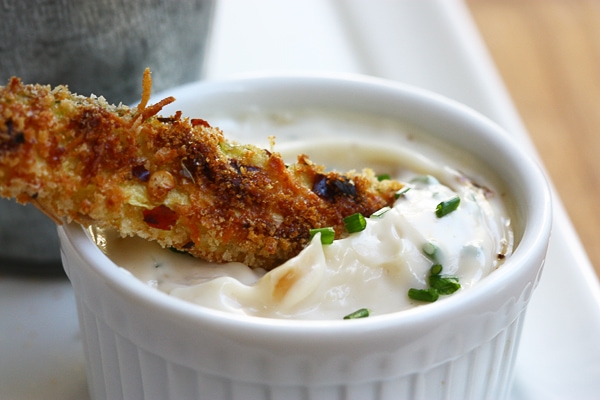 I roasted some garlic and made into an aioli. This was a good idea.
And Sriracha Mayonnaise. Ummmm…hello!!! It was delicious. You should do this.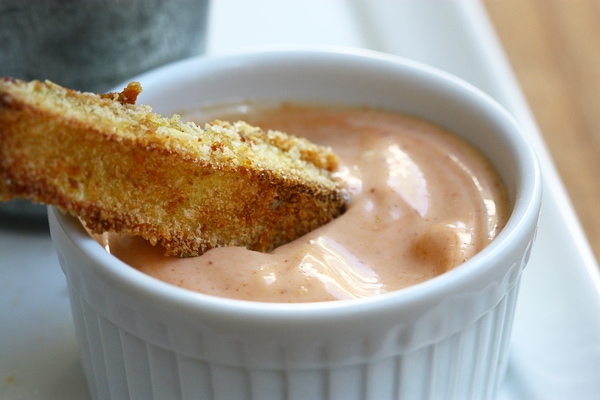 I think we need to start with the garlic aioli. This might take a bit…but it's downtime; meaning you don't actually have to do anything.
Just lop off the top part of the garlic, sprinkle with salt and pepper and a tablespoon of olive oil, wrap it up in foil or parchment and stick it in the oven.
<! Your house will smell glorious. And then later your breath is gonna smell EXACTLY like your house. Don't worry...it'll be cute. And plus, this is why toothpaste was invented.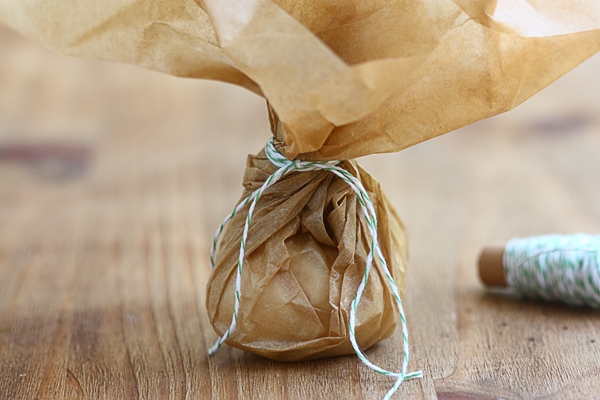 A few minutes before the garlic is done, start with the zucchini fries. Cut them in three, long ways, and then halve them. Batons!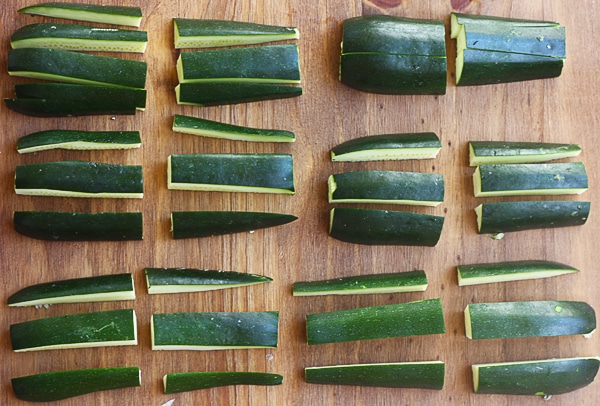 Next you wanna dip 'em in a few beaten eggs.
And then transfer them to a plate with the bread crumb mixture. Let's talk about this bread crumb mixture for a second.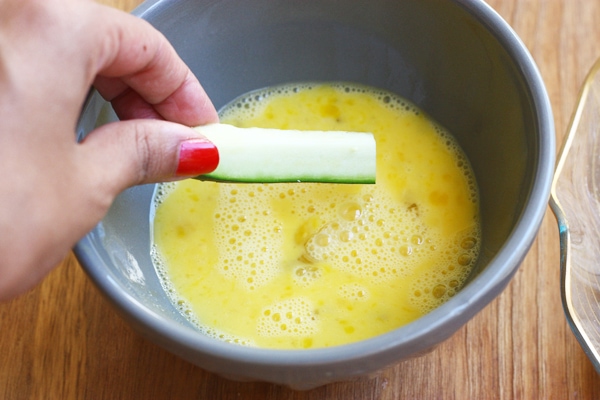 It's glorious. There's grated cheese, red pepper flakes, salt & pepper and dried oregano. So good!
Stick 'em on a lined baking sheet and bake them for 20 minutes, or until they're all golden and beautiful.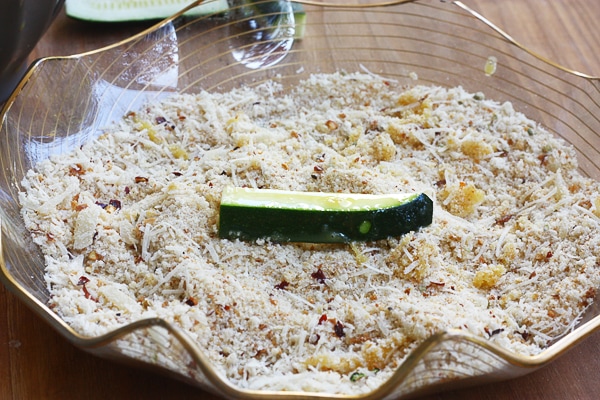 While that's all baking, you can make the aiolis. Food processor. Mayonnaise. Salt. Pepper. And the roasted garlic. Next make the Sriracha Mayonnaise.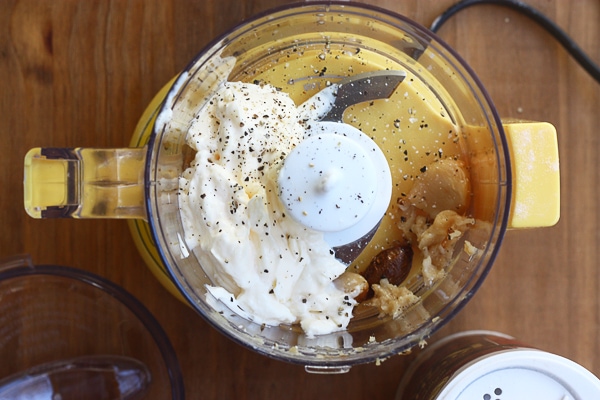 And then…eat all of the zucchini fries while watching TV. It's a cute look. Promise.
P.S. Back to school commercials are STILL depressing. How is this possible?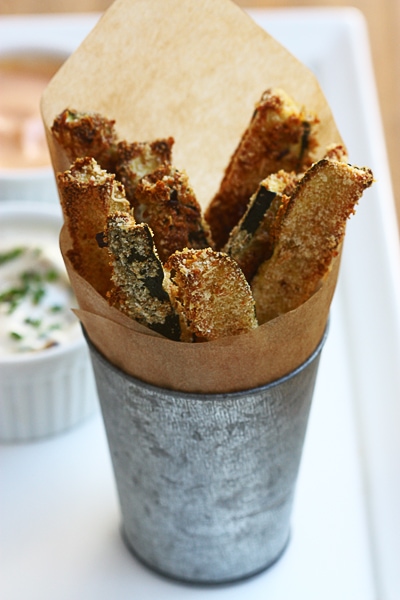 Zucchini Fries with Roasted Garlic Aioli and Sriracha Mayo
For Zucchini Fries:
1 cup plain bread crumbs (homemade or storebought)
1/4 cup grated Parmesan or pecorino
1 teaspoon crushed red pepper (scale back to 1/4 teaspoon if you're adverse to spice)
1/8 teaspoon dried oregano
1/8 teaspoon salt
Dash of pepper
2 large eggs, beaten
4-5 zucchini
Preheat oven to 425˙F. Line a baking sheet with parchment paper or spray it with cooking spray. On a plate, mix together the bread crumbs, Parmesan cheese, red crushed pepper flakes, oregano, salt and pepper. In a small to medium bowl, beat the two large eggs.
Cut the zucchini into batons. One by one, dip the zucchini batons in the beaten eggs and transfer to the plate with the bread crumb mixture, being sure to coat the zucchini thoroughly. Place the bread crumb covered zucchini on the baking sheet and bake for 15-20 minutes, checking on them after 10 and flipping them to ensure thorough baking. Remove and serve with sauces.

For Roasted Garlic Aioli:
1 whole head garlic
1 tablespoon olive oil
3/4 cup mayonnaise
Salt and Pepper
1 sprig of chives, diced
Preheat oven to 400 F.
Lop off the top of the garlic, exposing the cloves, and discard. Pour the olive oil on top and add dash of salt and pepper. Wrap it in foil or parchment and bake for 45 minutes. Let cool.
Take the garlic out of its shell and add to a food processor, along with mayonnaise, salt and pepper. Pulse until smooth. Transfer aioli to a bowl and stir in chives.
For Sriracha Mayonnaise:
1/2 cup mayonnaise
1 tablespoon of Sriracha
Dash of salt
Add all three ingredients to a small bowl and mix. If you like it more spicy, add more Sriracha.