Omygoodness. I feel like I've been gone forever. I wasn't. I was very nearby, I swear. And I have excuses.
First there was the bout of heat exhaustion that resulted from the terrible Los Angeles heat wave (that has since subsided thank da heavens), combined with a trip to the vintage store to try on, like, twenty, gigantic dresses and getting my hair blown out in a salon that just had their air conditioning break. I felt funny, woozy and started getting cold and sweaty all at the same time. I had a feeling I might be sick, but became even more worried (and sort of depressed) when Josh told me I looked like I was dead, which exactly what you want to hear from a boyfriend. Cute.
Then there was the situation with my server and session files and var files. Good gracious. How boring and confusing all of it is to me. Cheese is so much more exciting, especially when pretty flowers are involved. Zucchini is everywhere, which means so are their flowers. We find zucchini and squash blossoms so very rare and exotic, but in Mexican cuisine they're actually super common. The taco cart near my house sells zucchini blossom tacos---nothing fancy!
If your zucchini or squash blossoms come with stems, slice 'em up! We're using every last bit of this. The zucchini slices are first sautéed in a bit of olive oil and ancho chile powder. If you can't find ancho chile powder or don't feel like buying yet another spice, skip it. No biggie.
I like making quesadillas like sandwiches. One quesadilla on top of another.
When I was a kid the two things I made myself post school were quesadilla, microwaved hot dogs (what was I doing) and mac n these from the box with a TON of pepper. Oh and spaghetti and eggs. I was so obsessed with spaghetti with eggs.
Back then my quesadillas were kind of depressing. One gigantic flour tortilla, lots of cheese in the center, cooked in butter. That was it. And maybe some terrible salsa from that company that had the terrible commercials about it being from Texas. (I forget the name.) I'd eat the quesadilla and watch Oprah. It was heaven. And of course I was the ten year old who looooooved Oprah. Still do.
Honestly, I really wish she was still on TV because I'd totally make this grown-up, cooler version and sit in front of the TV and watch her give away a bunch of stuff. I can't think of anything more fun. (Which is a little sad...)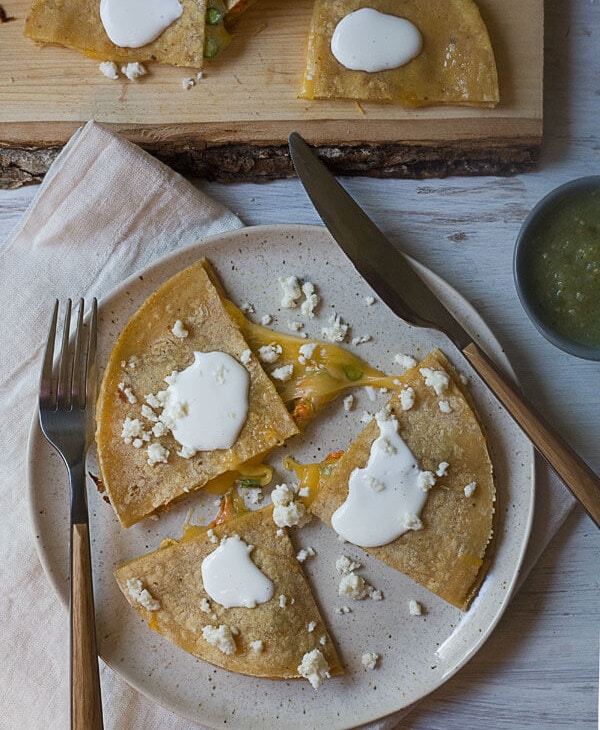 Print Recipe
Zucchini Blossom Quesadilla with Roasted Tomatillo Salsa
Serving Size:
quesadillas
Ingredients
Salsa:
4 to

matillos

1

lime

¼

jalapeño pepper

¼

yellow onion

chopped

Salt

Handful of cilantro
Quesadilla:
6

zucchini blossoms

weight: .2 pound, washed thoroughly

4

teeny squash or zucchini

weight: .4 pound

Olive.

¼

teaspoon

ancho chile powder

Salt

Pepper

Corn or flour tortillas

1

cup

Mexican blended shredded cheese*
Instructions
Preheat the oven to 400 degrees. Don't bother removing the husks on the tomatillos--they'll help steam the tomatillos. Place the tomatillos on a baking sheet and roast for 15-20 minutes, or until they're tender with a fork. Allow them to sit until they're cool enough to handle. Remove the husks (use a fork as an aide if they're still hot) and add the tomatillos to the jar of a blender, along with the juice from the lime, jalapeño pepper, yellow onion, a pinch of salt and the cilantro. Pulse until completely combined. The mixture should be thick yet runny. If the salsa is too thick, add a squeeze or two of lime juice. Salt to taste. Set aside.

Start by washing your zucchini blossoms thoroughly. If your zucchini blossoms came with little zucchini stems, cut those off and slice them thinly. We're gonna use it all! Slice the teeny squash or zucchini in slivers.

To a small skillet, heat a tablespoon of olive oil over medium heat. When hot, add the zucchini stems and slivers. Cook for 2-3 minutes, until slightly softened. Add the ancho chile powder, salt and pepper; mix. Add the blossoms (flowers) and cook on both sides for 1-2 minutes. Remove from heat to cool slightly.

To assemble the quesadillas, add a handful or two (always go with more cheese) to a tortilla. Top with a few zucchini blossoms and sautéed zucchini. Place another tortillas right on top and transfer to a medium skillet. Cook on the first side for 2-3 minutes, covering the pan so the cheese gets super melty. Carefully flip and cook for an additional few minutes. Repeat with the second quesadilla and slice and serve with salsa.
*I'm usually not a fan of "blended" cheese packages, but I like the Mexican blend at Trader Joe's. In this case it simply makes more sense to buy the blend versus spending a bajillion dollars on all the various cheeses you'll need/want. The blend I used had Monterey Jack, Pepper Jack, queso fresco and cheddar. Feel free to just stick to one if you like.