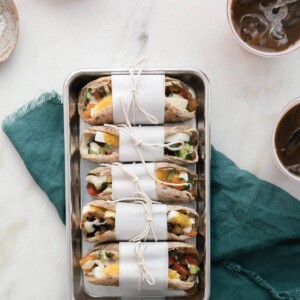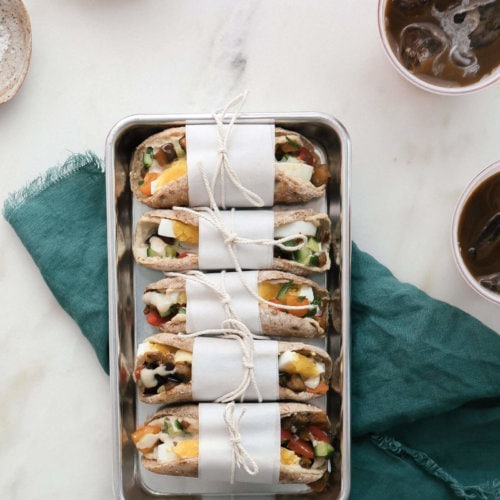 Print Recipe
Sabich Recipe
My sabich is warm pita filled with creamy hummus, spicy eggplant, crunchy Israeli salad, and hardboiled egg. It's topped with a creamy tahini sauce and is great for breakfast, lunch, or dinner.
Other Accessories + Sabich Assembly: 
To Make the Eggplant: 
In a small sauté pan, set over medium heat, add the olive oil. When hot, add the diced eggplant and pan-fry for about 2 to 3 minutes, until there's color on all sides. Pour in the harissa paste and add about two tablespoons of water (this create more of a sauce). Toss the eggplant until it's evenly coated in the harissa and add a few pinches of salt. Turn the heat down to low and cook for an additional 3 to 5 minutes. 
To Make the Tahini Sauce: 
Whisk together the tahini, garlic, lemon juice, water and salt. It might give you a bit of trouble at first but keep whisking, it'll eventually smooth out. Add an additional teaspoon or two of water, if you want it to be a tad bit thinner. Give it a taste and adjust the salt to your liking. 
To Make the Israeli Salad:
To Assemble the Sabich: 
Take one half of an Ozery Bakery bun and add a few teaspoons or hummus. Smooth it out to the sides and then add spoonful of diced eggplant, two pieces of egg, tahini sauce and Israeli salad.
Serving:
2
g
|
Calories:
259
kcal
|
Carbohydrates:
8
g
|
Protein:
7
g
|
Fat:
23
g
|
Saturated Fat:
4
g
|
Cholesterol:
75
mg
|
Sodium:
312
mg
|
Potassium:
250
mg
|
Fiber:
2
g
|
Sugar:
2
g
|
Vitamin A:
372
IU
|
Vitamin C:
12
mg
|
Calcium:
49
mg
|
Iron:
2
mg