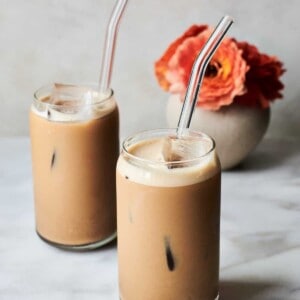 Print Recipe
Iced Pumpkin Spice Latte
Perfectly balanced Homemade Iced Pumpkin Spice Lattes are easy to make and even better than store-bought. Making your own Pumpkin Spice Syrup ensures you've got a week's worth of Iced Pumpkin Spice Lattes in your future. Here's how you can make it in your own kitchen, using ingredients that you can name and feel good about.
ICED PUMPKIN SPICE LATTE
1

cup

milk

(use your desired milk: oat, whole, almond, etc.)

1

shot espresso or strongly brewed coffee or cold brew

(about 3 tablespoons of espresso)

3

tablespoons

Pumpkin Spice Syrup

see above

Ice
TO MAKE THE PUMPKIN SPICE SYRUP:
Combine brown sugar, granulated sugar, water, pumpkin spice, pumpkin purée, and salt in a saucepan and bring to a simmer over medium heat.

Reduce to medium-low and simmer for 15 minutes. Let cool in the pan for another 15 minutes before straining through a fine mesh sieve. Stir in vanilla extract.

Transfer to an airtight container and store in the refrigerator for up to a week. Makes enough for 10 lattes.
TO MAKE AN ICED PUMPKIN SPICE LATTE:
Pull a shot of espresso or brew your coffee and let it sit out for a few minutes until it reaches room temperature. You could also put it in the fridge or freezer to speed up the cooling process.

Fill a glass with ice and set it aside.

In a cocktail shaker, filled halfway with ice, add the milk, 3 tablespoons of Pumpkin Spice Syrup, and the cooled shot of espresso (or coffee or cold brew). Cover with the lid and shake until very cold.

Pour into your glass, making sure to pour all of the mixture, including the glorious foam, and enjoy!
Tips and Tricks: 
For the pumpkin pie spice: if you don't have any pre-mixed pumpkin pie spice, feel free to add 3 teaspoons ground cinnamon, 1/2 teaspoon ground nutmeg, 1/2 teaspoon ground ginger, and 1/2 teaspoon of ground cloves or allspice.
If you don't have a cocktail shaker, simply combine the milk, syrup, and espresso in a blender jar and blend until well combined with a frothy foam on top.
To make a hot pumpkin spice latte, pull a shot of espresso and whisk in 2 to 3 tablespoons of Pumpkin Spice Syrup. Froth or steam your milk of choice and pour it into the espresso mixture.
If you want to garnish: Top with whipped cream and sprinkle pumpkin pie spice, nutmeg, or cinnamon.
Calories:
146
kcal
|
Carbohydrates:
34
g
|
Protein:
1
g
|
Fat:
1
g
|
Saturated Fat:
1
g
|
Polyunsaturated Fat:
0.03
g
|
Monounsaturated Fat:
0.2
g
|
Cholesterol:
3
mg
|
Sodium:
19
mg
|
Potassium:
91
mg
|
Fiber:
0.4
g
|
Sugar:
33
g
|
Vitamin A:
1313
IU
|
Vitamin C:
1
mg
|
Calcium:
58
mg
|
Iron:
0.5
mg