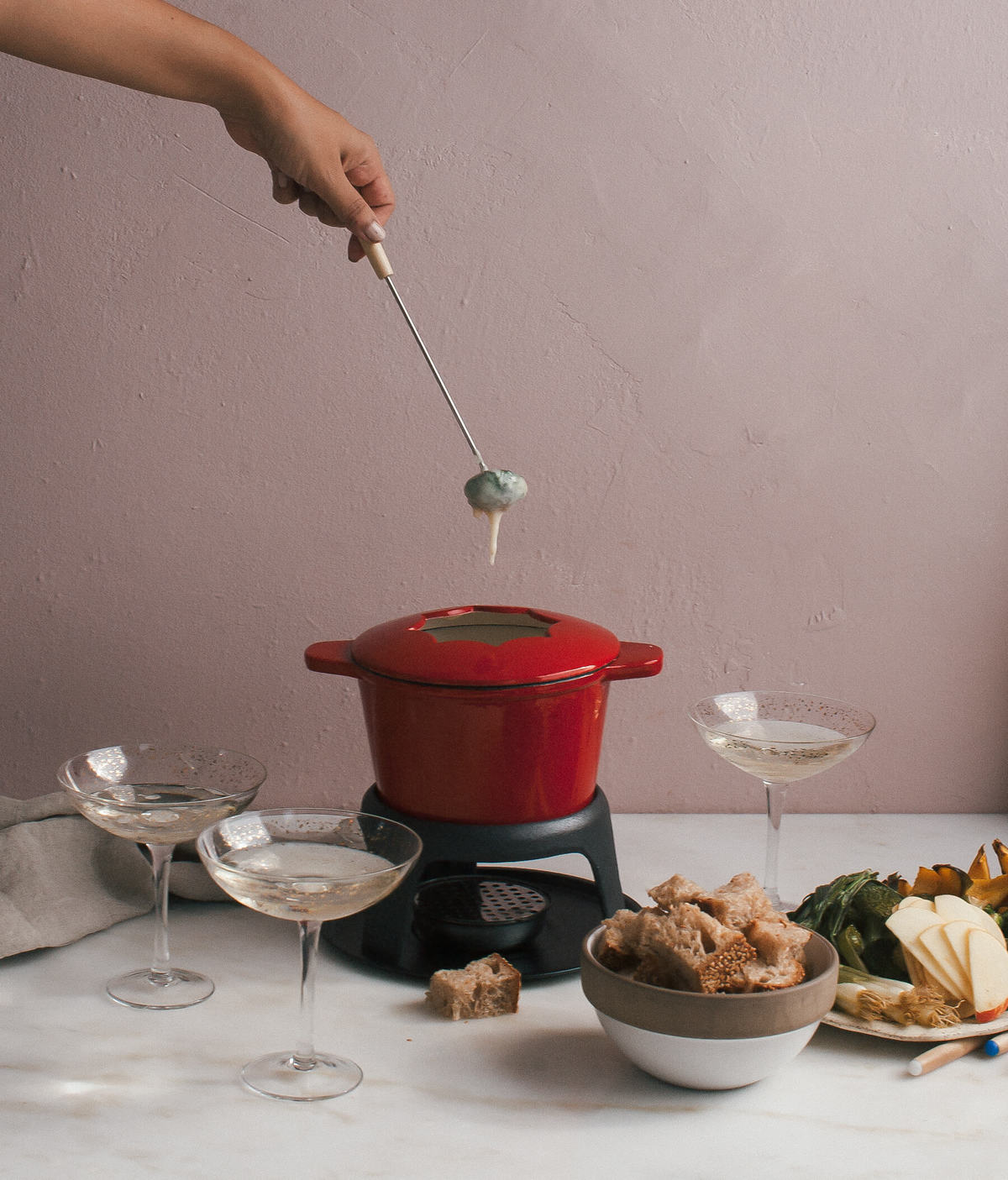 My first date EVER in my entire life was at an upscale fondue restaurant. I think I was 15 or 16 and had been to some nice restaurants before but this time I was by myself, with a boy (!!), not with my parents. For the first time, I sort of felt like an adult. It felt super fancy and I was very into it.
Halfway through the meal, after the lobster, I realized I'm not all that into boiled meat and fish. My favorite part, by far, was the bread dipped into the cheese and dessert, of course. Who doesn't love melty chocolate with fruit?
For this very adult, fondue party, I teamed up with ALDI to score all of the veggies and cheeses. A few weeks ago I walked through ALDI trying to think of all the things I could dip into cheese. The good news is that it's not a hard task. Mostly everything is delicious in cheese!
I feel like this is an easy winter-party situation that you can throw together. People come over, chop up some winter vegetables and tell everyone to dip them in cheese. Game over!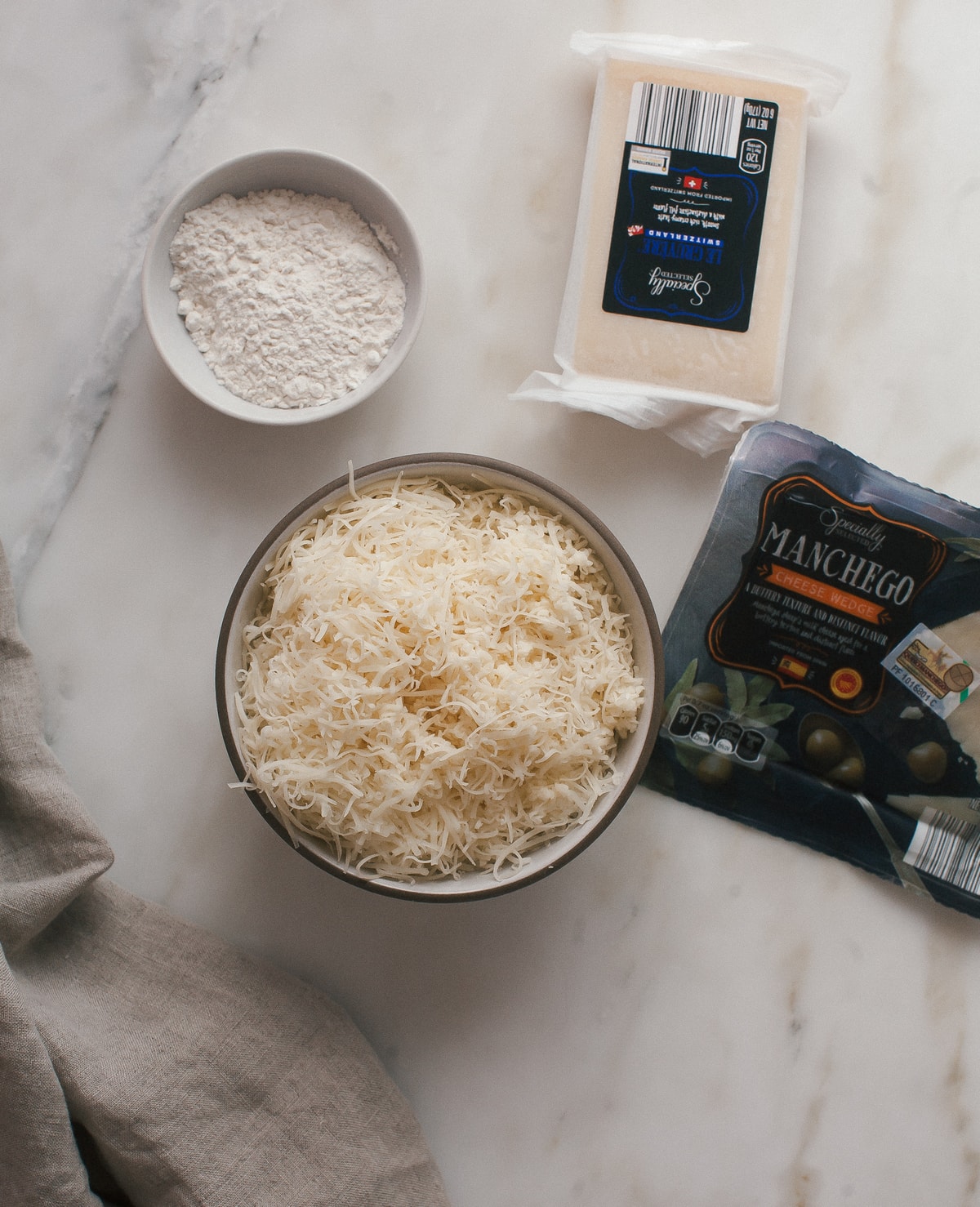 I picked squash, brussels sprouts, broccoli, bread, green onions and apples. I roasted the squash, seared the heck out of the brussels sprouts and roasted the broccoli. I cubed up the bread and roasted the green onions and sliced up some apples. All in all, it was super easy and pretty hands off.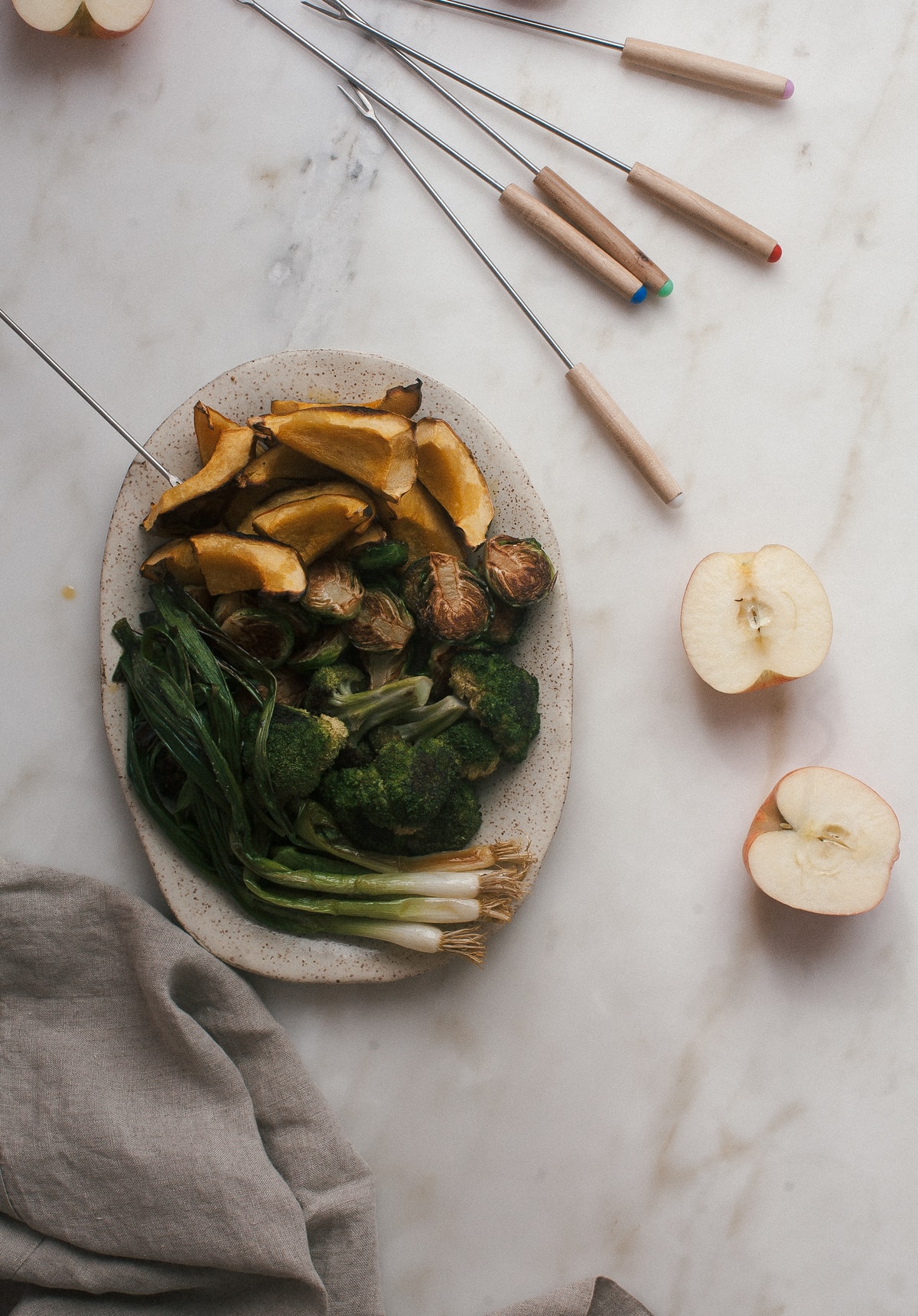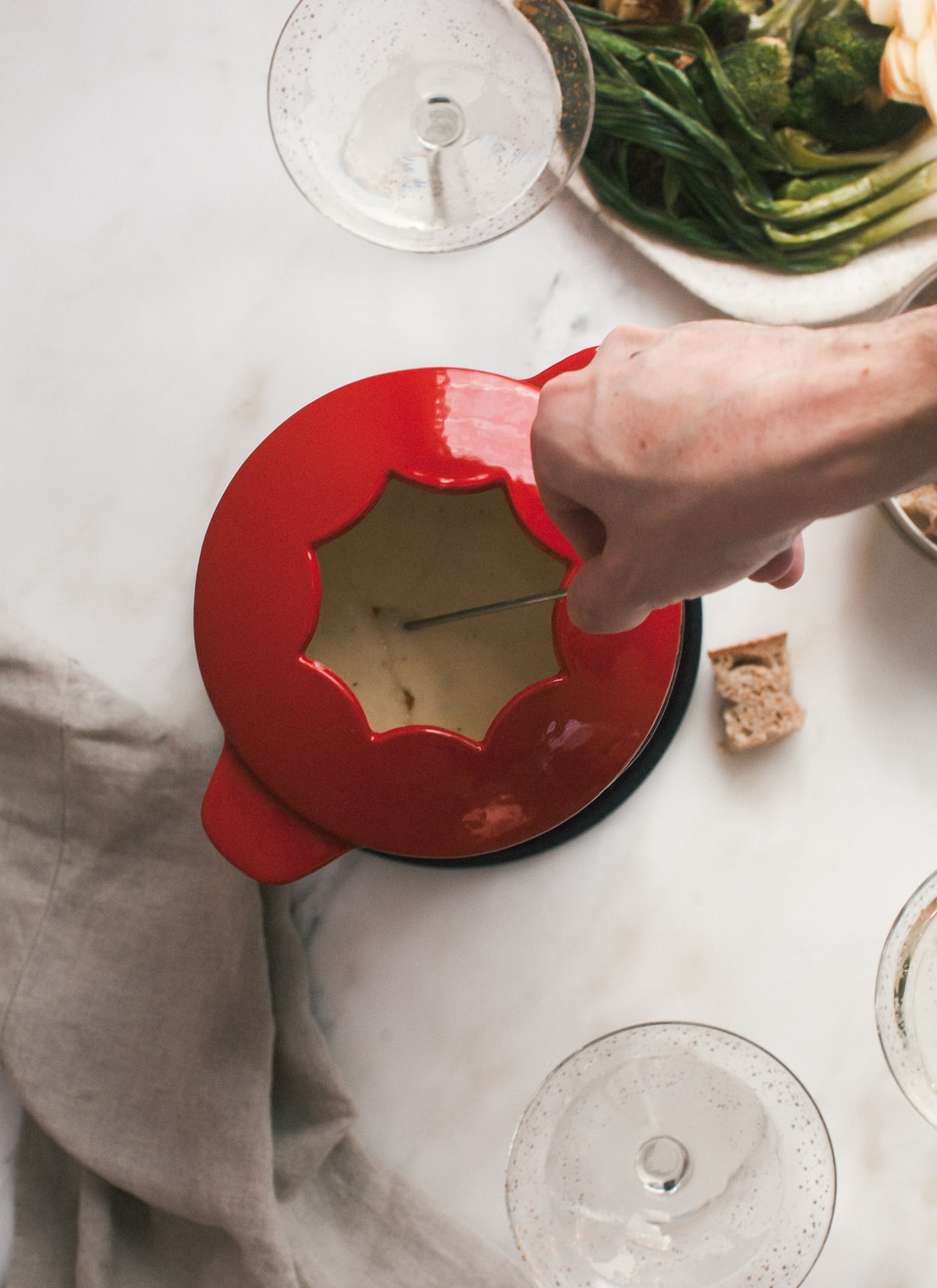 I've made melty cheese before and it's not that easy. There are so many accounts of cheese getting all clumpy but I found out some things that help:
1. Tossing some acid and flour with the cheese helps.
2. If the cheese sauce breaks or gets clumpy, it's because it might've cooled. Usually just reheating it and stirring it until smooth does the trick!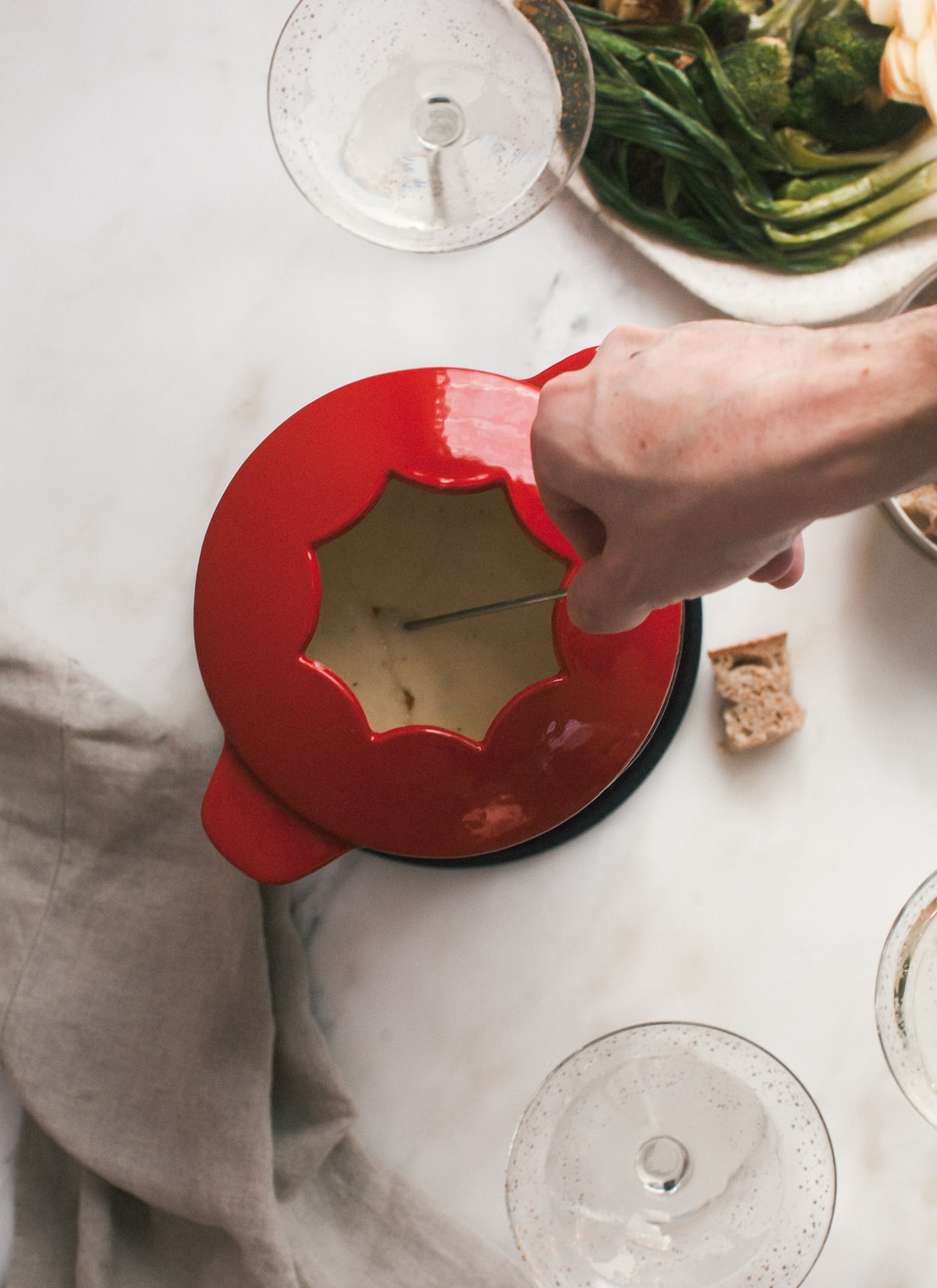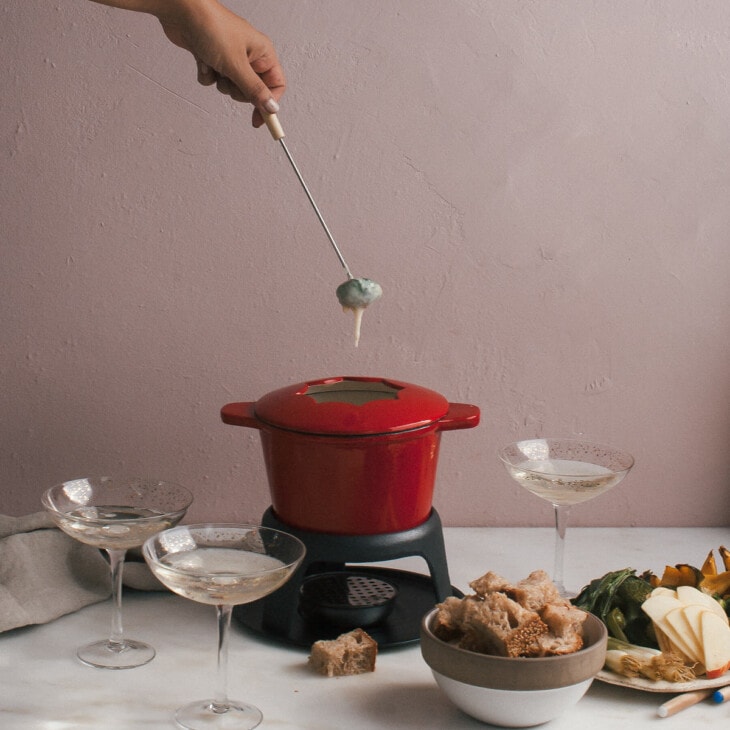 Print Recipe
Winter Fondue
Ingredients
For Dipping:  
1

head of broccoli

cut up into florets

1/2

acorn squash

cut up into small wedges 

1

bunch of green onions

Stonemill salt

Stonemill pepper 

Handful of Brussels sprouts

halved

1

apple

cut up into slices 

1/2

loaf of bread

cut into cubes 
Cheese Sauce: 
1

cup

of Grandi Mori Valdobbiadene prosecco

bubbles subsided

1/4

pound

of Specially Selected gruyere cheese

1/4

pound

of Specially Selected manchego 

2

tablespoons

of Baker's Corner all-purpose flour

1/2

teaspoon

Burman's dijon mustard

1/4

teaspoon

Stonemill salt

1/4

teaspoon

Stonemill freshly cracked pepper

Pinch

of Stonemill Essentials ground nutmeg 

Juice from 1/4 lemon
Instructions
To prep the dipping ingredients: Preheat the oven to 400 degrees F. Line a baking sheet with parchment, spread out the florets of broccoli, wedges of squash and green onions. Drizzle with a bit of olive oil and toss them together. Sprinkle with salt and pepper. Transfer to the oven and roast for 10 to 15 minutes. Remove the broccoli and green onions; return the baking sheet back to the oven to roast the squash for a remaining 10 to 15 minutes, until tender. Turn the heat down to 200 and add all of the veggies back to the baking sheet and transfer back to the oven to keep warm. 

Meanwhile, to a medium sauté pan, over medium heat, add a tablespoon of oil. When hot, add Brussels sprouts, cut side down to the pan. Sear for 1 to 2 minutes, until crispy and browned. Remove from the pan and transfer to the baking sheet with the rest of the veggies. 

To make the cheese sauce: In a bowl, toss the gruyere and manchego with the flour and a squeeze of lemon juice. Pour the prosecco into the fondue pot, placed over medium high heat. When the prosecco is warm, add the cheese, mustard, salt, pepper and nutmeg. Stir until smooth. Bring to a simmer and continue to stir, it will thicken as it heats up. 

Transfer all of the veggies and slices of apple to a serving platter and serve alongside the fondue pot! 
(This post is sponsored by ALDI. You can find them on the internet: Facebook, Twitter, Instagram, Pinterest and you can visit www.aldi.us/holidays.)