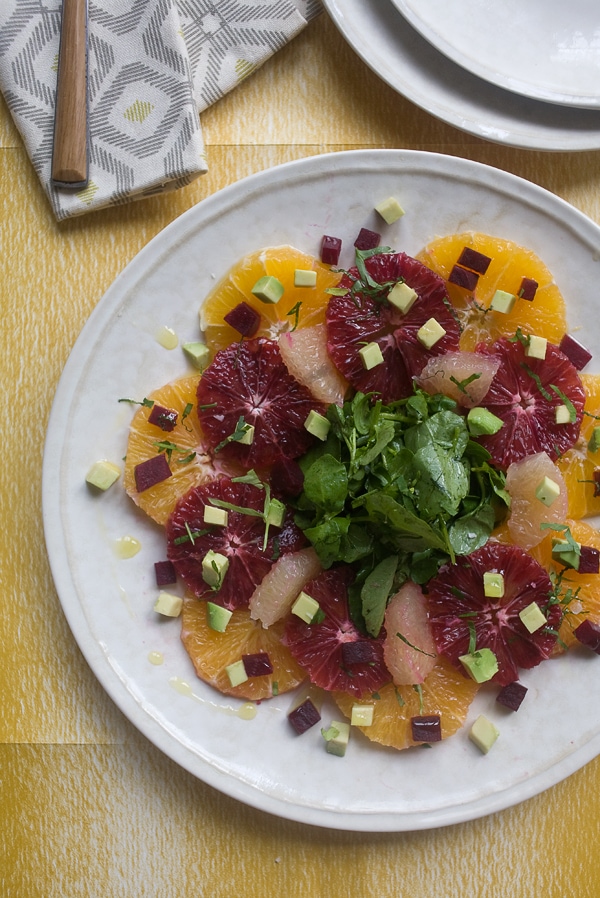 What do you eat when you're sort of stressed and worried? Let me preface this by saying if you say carrots, we're no longer friends. You're gonna be kicked off the island. JK, I would never do that to you, ok.
I spent a solid hour last night just staring off into space, imagining all of the awesome things people should stress-eat. A whole cookbook could be written on the subject. It could be packed to the brim, giving people ideas on how to numb their anxiety with doughnuts and cheese. This type of cookbook definitely wouldn't be have a release date in the month of January, but I bet it'd be super popular right before tax season.
Last night I chose nachos as my ammo…and it worked! I felt calmer and more relaxed after each and every cheesy chip. This salad is sort of the opposite of what I wanted last night but now that I'm done with my nacho craving and I'm a more relaxed me, bring on the pretty salad, man!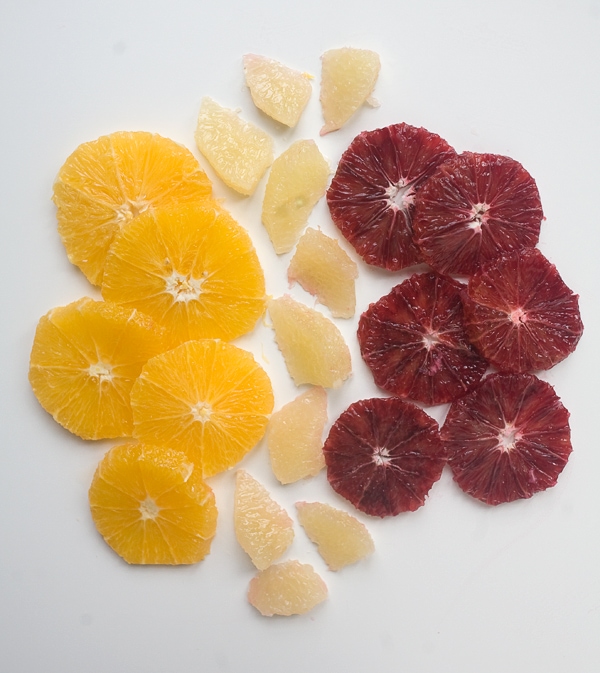 Winter citrus is a bright and beautiful gift from winter. I know many of you are dealing with dreary, dark days (we are too in Los Angeles, if you can believe it) and pretty citrus helps.
I have a weird fascination with brightly colored food. I love it so much. Remember this roasted plum ice cream? Sure, the flavor was amazing, but the color just did me in. Let's eat color!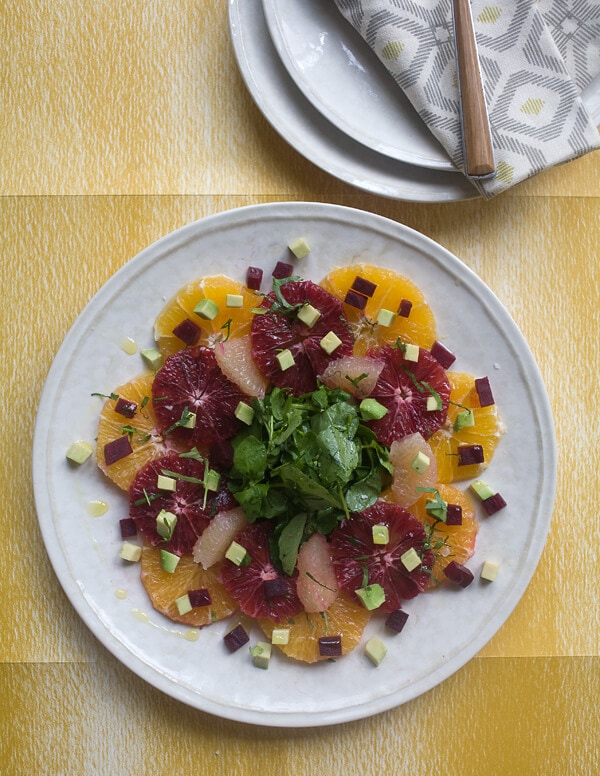 I'm sure all of you are very accustomed to seeing winter citrus sliced up and sprinkled with feta or topped with slivers of avocado. Honestly, I love both of those preparations, but I wanted to do something a little bit different.
The beet is braised. BRAISED. I love it so. It's tender and bright. The beet is braised in a liquid spiked with fun stuff like orange zest, olive oil and balsamic vinegar. I cubed it up into a small dice and used it almost like a garnish.
I used a combination of pomelos, blood oranges and valencia oranges, but feel free to what you have available to you.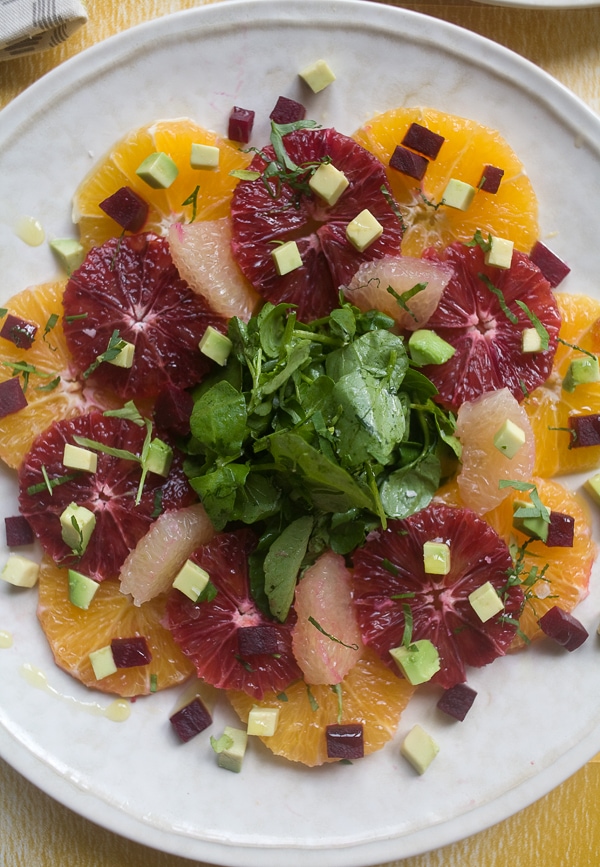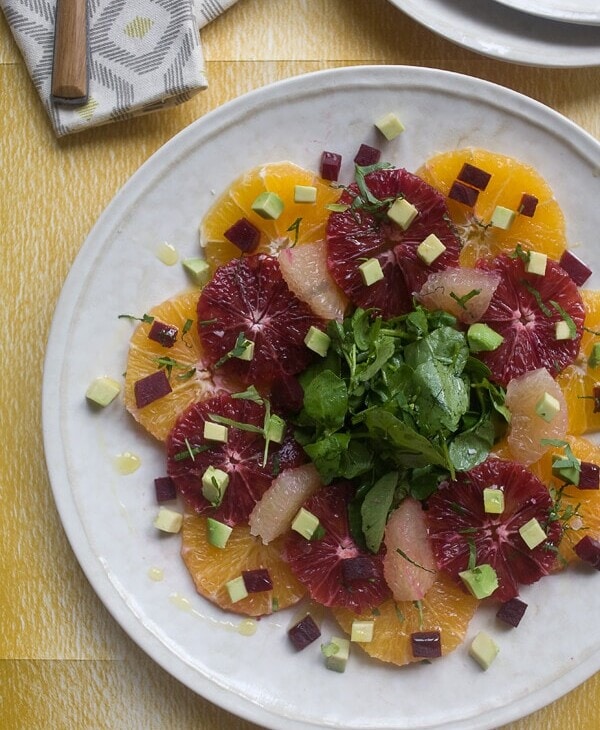 Print Recipe
Winter Citrus Watercress Salad with Avocado and Braised Beet
Ingredients
Braised Beet:
1

small beet

trimmed and scrubbed

1

tablespoon

olive oil

2

tablespoons

balsamic vinegar

Salt

divided

Zest from 1 naval orange

Water
Salad:
1

navel orange

you can use the one you zested

1

blood orange

1

pomelo

1

small bunch watercress

about 1 cup, stems trimmed and cleaned

1/4

avocado

cut into a small dice
Garnish:
2-3

sprigs of mint

minced

2-3

sprigs of Italian parsley

minced

Olive oil

Salt
Instructions
Preheat 375 degrees F. To a small baking dish, add the beet, olive oil, balsamic vinegar, one teaspoon of salt and zest from the naval orange. Fill up the baking dish with water so the beet is submerged in water. Cover the dish with foil and transfer it to the oven to braise for 1 hour, or until the beet is tender when poked with a fork. Remove from the oven; using tongs, transfer the beet to a cutting board to cool. When it's cool enough to handle, shave the beet's skin. Cut the beet into a small dice. Depending on how big your beet is, you may only need about 1/2 of the beet for this salad.

To prepare the citrus fruits, start by slicing off about 1/4-inch off the stem end. Slice off the other end and rest the citrus on its now-flat surface. Take your knife and slice off the pith and peel in a vertical motion. Ultimately you want the citrus to be pith-free. If there are any bits of white pith, take your knife and carefully slice it off. Repeat with the remaining citrus fruits. Slice the blood orange and navel orange into 1/4-inch thick rounds. Transfer the rounds of citrus to a plate and arrange how you like. NOTE: In the pictures above, you'll notice that I segmented the grapefruit. You can do this too, or you can simply slice the grapefruit into rounds. I did it because the pomelo was simply too big for the plate.

Transfer the watercress to a bowl and pour in about 1 teaspoon or two of olive oil and a pinch of salt. Rub the leaves, making sure they're evenly coated. Place the mound of watercress in the center of the plate. Garnish the salad with the reserved cubed beet, diced avocado, mint and Italian parsley. Drizzle the citrus with a bit of olive oil and top with a sprinkling of salt.