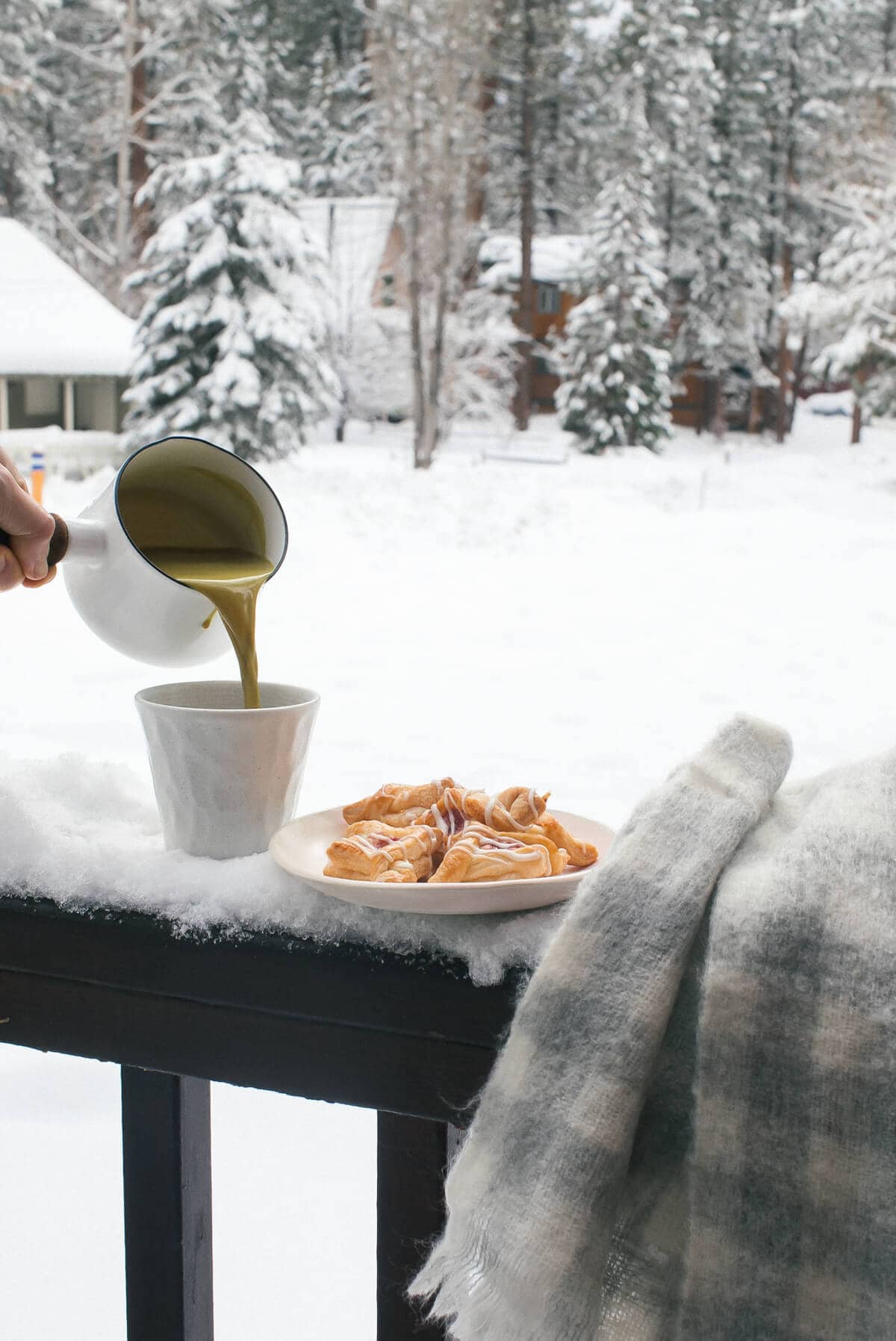 OMG Whole 30 is officially out of my life and I am happy but still sort of doing it? Yes, I know that's strange, right? Like if I'm so happy it's over why keep doing it? The truth is that eliminating some foods for me has been a huge plus.
Ok let's start at the beginning. I'm going to breakdown my feelings and sentiments thought the process because they weren't always happy and they weren't always glowing. There were many times when I really hated Whole 30. And not just because I missed sugar.
I will say that flat-out, if you don't eat that much meat (I don't), there will be times where the thought of meat will make you sick.
Ok but let's start at the beginning:
Day 1 to 5:
This is the part when most people want to die. Haha. You're sort of in the hangover stage because you miss sugar and alcohol and carbs. But surprisingly this was my easiest time. I think because I was genuinely SO excited to start that I didn't miss many foods during this time. I ate a lot of meatballs and spaghetti squash.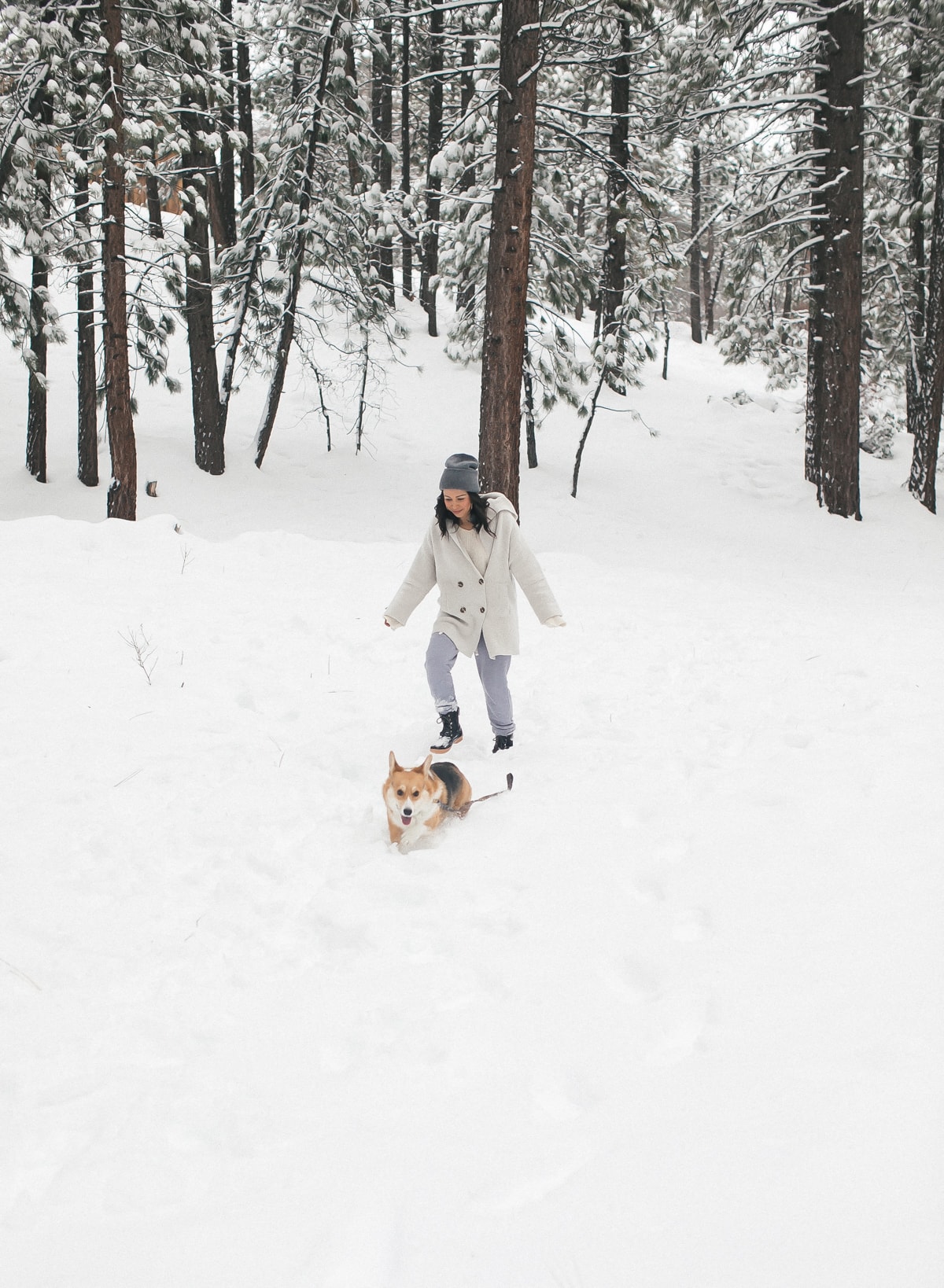 Day 5 to 10:
Day 5, for me, meant the weekend and I found it SO hard to not be able to drink a glass of wine and unwind. I'm honestly not even a big drinker, like, at all, but I craved wine so very much. (This was my biggest surprise craving.) All I wanted to do after a week's worth of Whole 30 was to be able to go to a restaurant, order a glass of wine and have a normal dinner.
But after the weekend ended, I was a-ok.
Day 10 to 15:
During this time I really missed going out to eat. We still ate out but the list of Whole 30-approved restaurants is SO short but I still went because I needed to get out of the house and feel like a normal person. I also started working out more heavily during this time and was able to wean myself off of any dried fruit/fruit.
Fruit is totally allowed during Whole 30 but I will admit that I used it as a crutch to deal with my sweet cravings (a big no-no). Luckily this is the time when they started to go away.
Still a good 13 days of sugar cravings. GEEZ!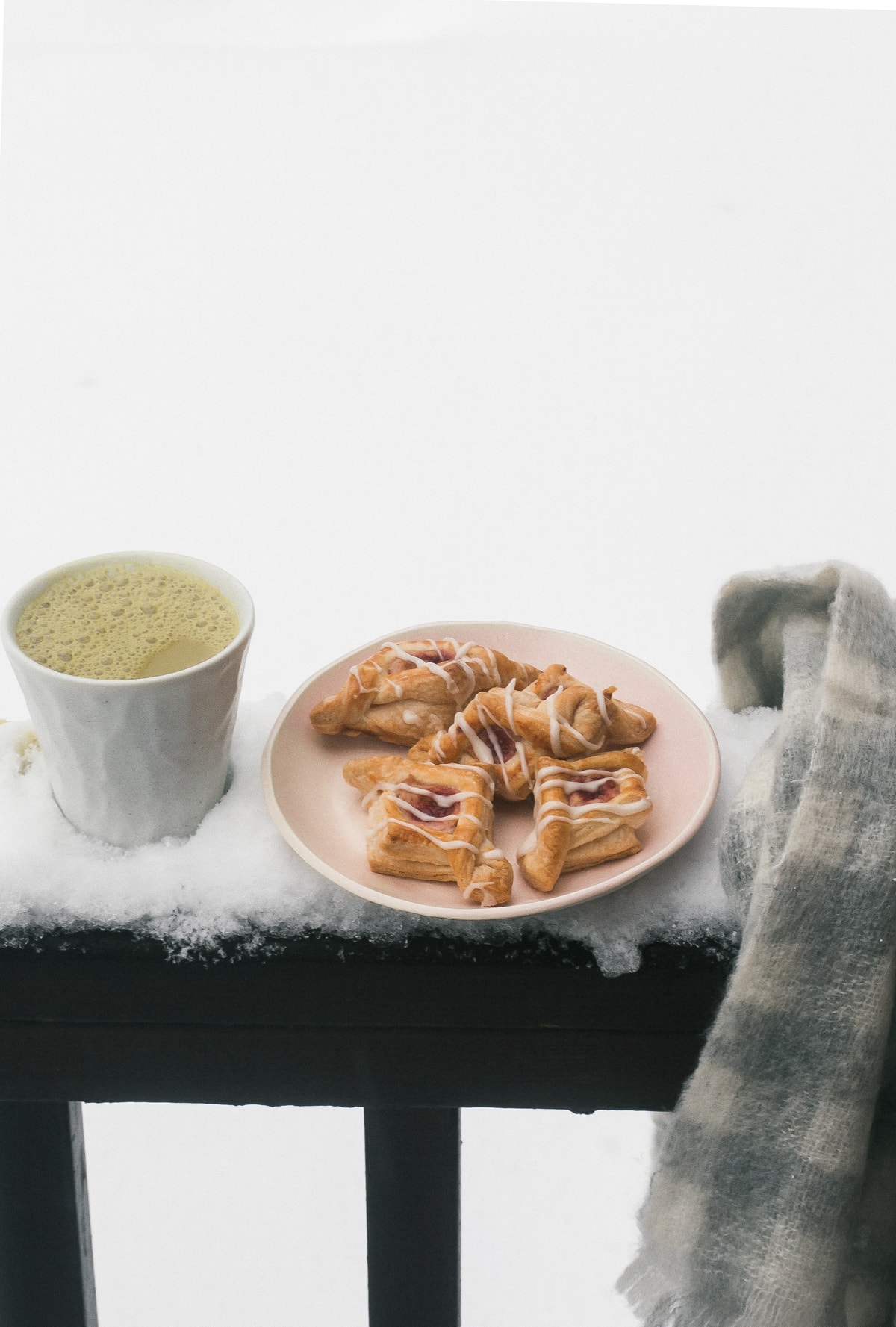 Day 15 to 20:
I went to Big Bear and was in a snow storm for much of this time. All I can say is, thank the heavens for potatoes because when it was cold outside and snowy, all I wanted to do was eat stuff that was super cozy and comforting. NO CAN DO! I stuck to the diet but was so happy I could eat roasted potatoes with chimichurri on 'em.
Day 20 to 25:
This was by far the hardest time for me. I was just bored and over it. The news also made me want to hide under the sheets and eat doughnuts. I didn't do either and it was so annoying. I started to get the moodiest during this time because I was just so bored. I also couldn't stand the sight of meat.
So I started to drink more smoothies for my breakfast and eat eggs for lunch. There were also a few days when I ate just vegetables. I couldn't handle any meat whatsoever.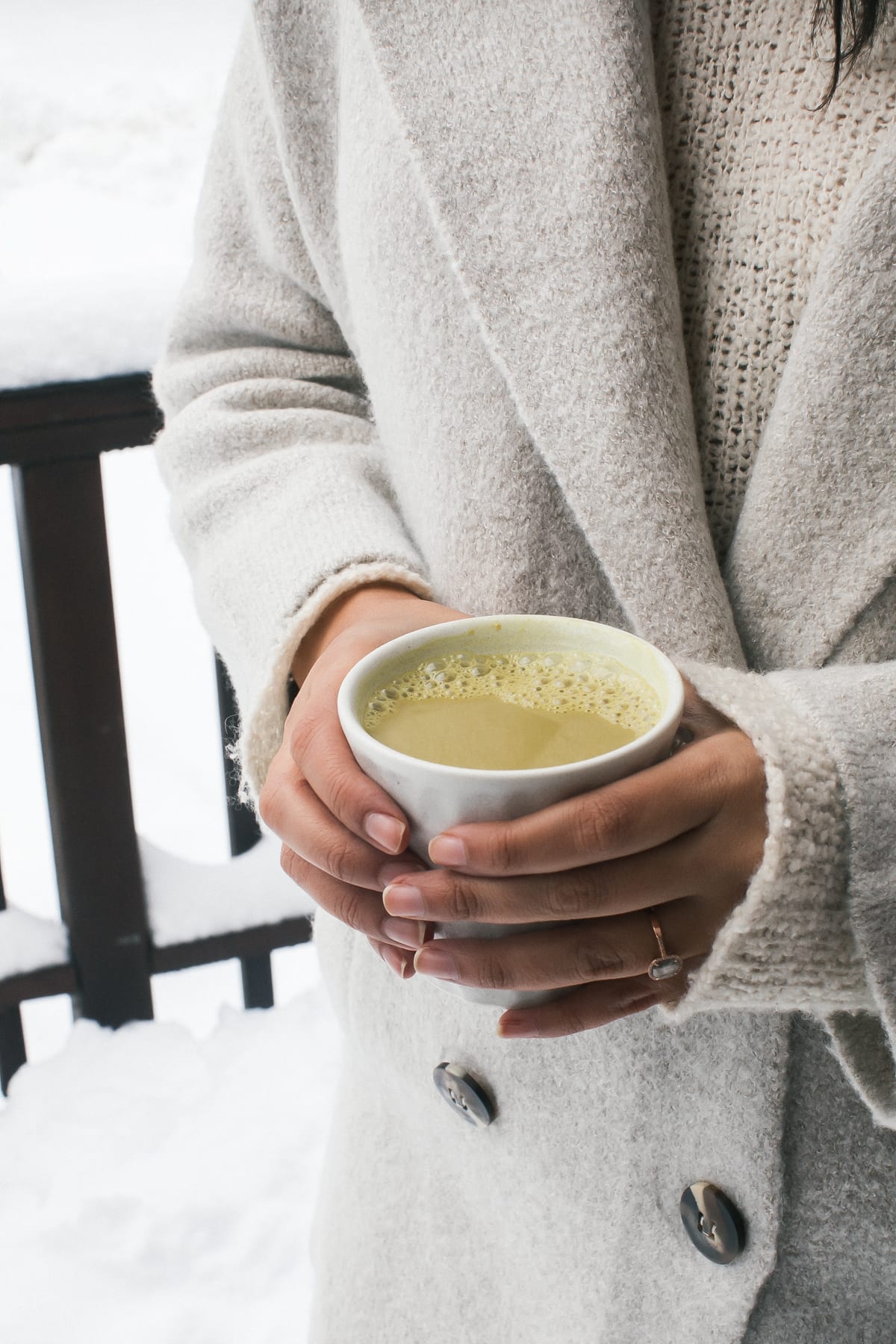 Day 25 to 30:
I sort of lost my appetite during this time. There were some days when I felt like I would rather eat nothing than eat meat. Haha. I don't know if this is normal. But I say listen to your body so instead I ate vegetables and eggs. I did make sure to eat an avocado so I was getting some fat but I really just wanted veggies and a salad. I also found it helped if the meat wasn't the main part of my meal. Like if there was a small amount of meat in my salad, I'd be ok. I just had no interest in it being the main part of my meal, i.e., a steak or piece of chicken.
Let's talk CRAVINGS!
They never fully went away for me. I always still wanted pizza. I always still wanted a bowl of pasta. All of that stuff sounded good to me.
I've always considered myself the type of food person who enjoyed the process of making food over eating it but I realize that's absolutely not true. I LOVE EATING FOOD.
I love tasting different flavors. I love eating. Period.
I also learned about some bad habits I have while making food. I was making cookies a few weeks ago and I got a bunch of royal icing on my hand. I went to go lick it off and stopped myself because I wasn't allowed to have sugar.
We all know that royal icing isn't THAT great tasting. So I really don't need to eat a tablespoon of frosting. Like, I will survive. It's just a bad habit and totally unnecessary.
One of the largest positives about doing Whole 30 is learning your relationship to food. You realize why you eat at certain times and a lot of it is totally emotional. I don't think all of it is bad.
Weight loss?
I'd be lying if I said losing weight wasn't a goal of mine. Of course it was! I lost 5 pounds. I do feel much better, hence the reason why I'm continuing to eat mostly Whole 30.
Drinking water is super important. I drank a lot (or at least tried). I'm not the best at drinking water but I bought a water bottle and would fill it up each morning, place some cucumbers in it and get on with my day. I'd try to drink at least 2 of them.
Did you cheat? 
Umm…not on purpose but I think it's honestly impossible to have a non-slip-up Whole 30, especially your first go-around. There are so many things that you don't think have sugar/soy, etc., in them so you eat them and then are like GRRR! I had soy sauce a few occasion and had Sriracha. So yes, technically I did. But you couldn't pay me to start over so I just kept going.
Reintroduction
I'm starting to reintroduce foods into my diet that I eliminated. I already know that corn is not my bestest of friends. I had corn chips and felt AWFUL. I thought that was interesting because normally I would blame it on something else.
I'm most curious if I have a slight dairy intolerance. Last night I had a caesar salad that had parmesan cheese on it and I felt great afterwards. So probably not?! YAHOO! I still like almond milk in my lattes.
In the meantime, I'm sharing with you an updated golden milk tea that I drank in Big Bear. It has date syrup in it, a pinch of cinnamon and cardamom and is SO good.
I had it in during a snow storm and it was exactly what I wanted it to be: cozy and delicious.
And lastly, would I do it again? 
Yes? I think so. The only determent for me is the amount of meat consumption. I would definitely focus on trying to find vegetarian Whole 30 meals and eat those every other day so me getting sick of meat doesn't happen.
If you're thinking of giving it a-go, here are some posts throughout my process:
Peruvian-ish Stew with Cauliflower Puree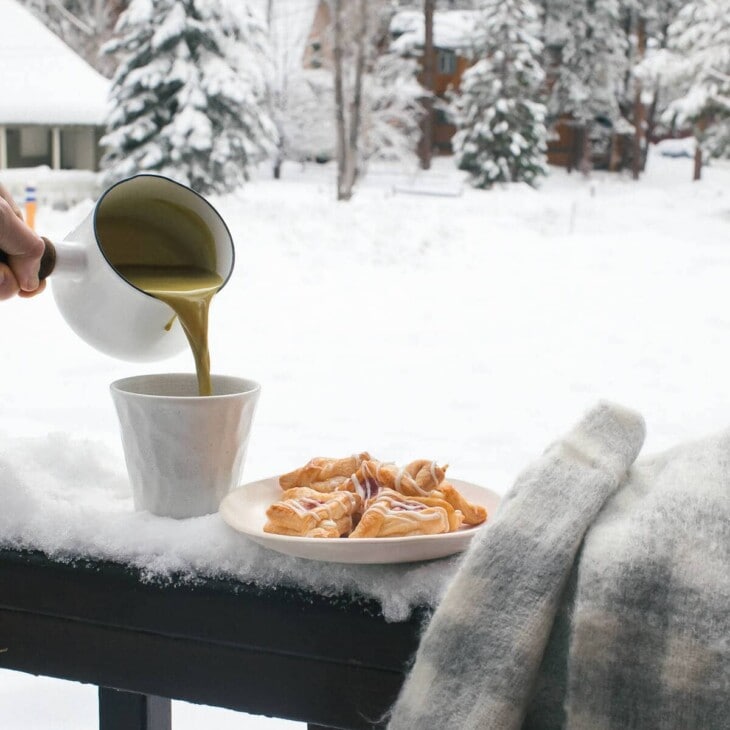 Print Recipe
Whole 30 (A Review!) + Golden Milk Tea with Date Syrup
Ingredients
2

cups

almond milk

2-

inch

knob of fresh turmeric

sliced into coins

2

teaspoons

date syrup

or more to taste*

Pinch

of ground cinnamon

Pinch

of ground cardamom
Instructions
In a small saucepan, set over medium heat, add the almond milk and fresh turmeric. Bring to a gentle simmer, remove from heat and cover, allowing to steep for 10 minutes.

Remove the fresh turmeric and stir in the date syrup, cinnamon and cardamom. Place it back on the heat and warm. Divide amongst mugs.
Notes
*If you can't find date syrup, feel free to use coconut nectar or honey or agave or maple syrup.
You can often times find date syrup at Whole Foods or other health food stores.