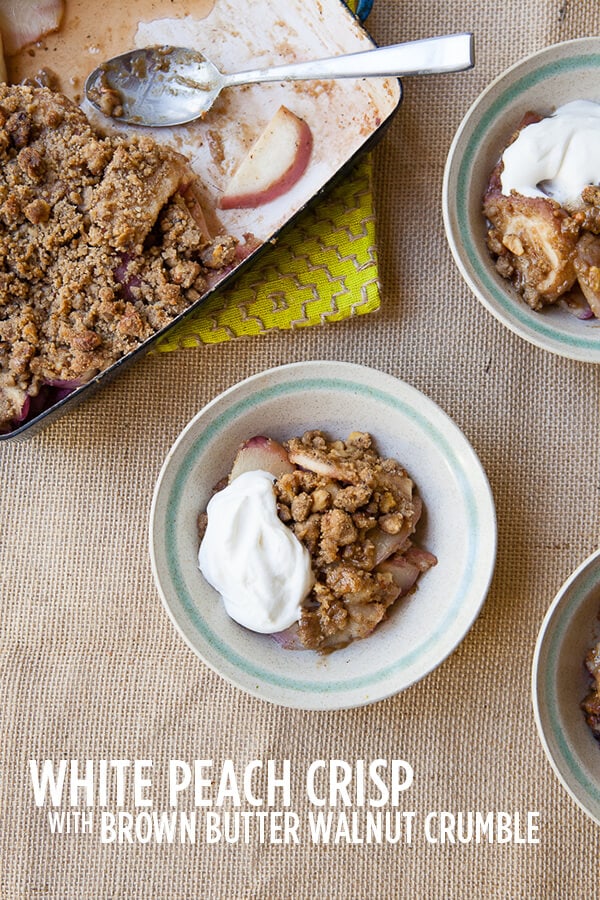 If you were around these parts yesterday, you know that this is the two-parter of the Short Cake post with Jennifer Chong.
Brown butter. Let's talk about it. Hourie threw my world for a lil' loop a few weeks ago when she was all like, "Oh and I burn my brown butter. Like, burn." Up until that point, I always did it the way you were "supposed to": cooked it until it reached that perfectly autumn, nutty brown, removed it from the heat and then stirred it vigorously until it cooled so it wouldn't burn. She said that it never tastes like brown butter if you do that, there's not enough depth. Burning it is the only way.
I was skeptical–I figured surely we're going to taste the burnt flavor (not that that can't be enjoyable either). But when we sat there eating the crisp, there wasn't a trace of burnt flavor, just rich, delicious buttery depth in the crumble. I'm sold. You should try this. When I made this, I took the butter in this way too far, until it was a very, very dark brown, almost black and it was glorious.
This crisp couldn't be easier, and in this instance I adapted the ingredients and ratios a bit so it could be made in a casserole dish. If you'd like to put this in individual little pie pans like Hourie did, then go for it! This recipe should make about eight small crisps.
Like all crisps, this thing comes together in the matter for like 20 minutes. The filling is mixed up. The crumble is made. They're stacked and then the whole thing goes in the oven. While I looove making pie (you know this), this an easy and quick alternative. And since temperatures are rising even more (today is supposed to be 90 degrees, please help me), I know rolling out dough isn't all that appealing.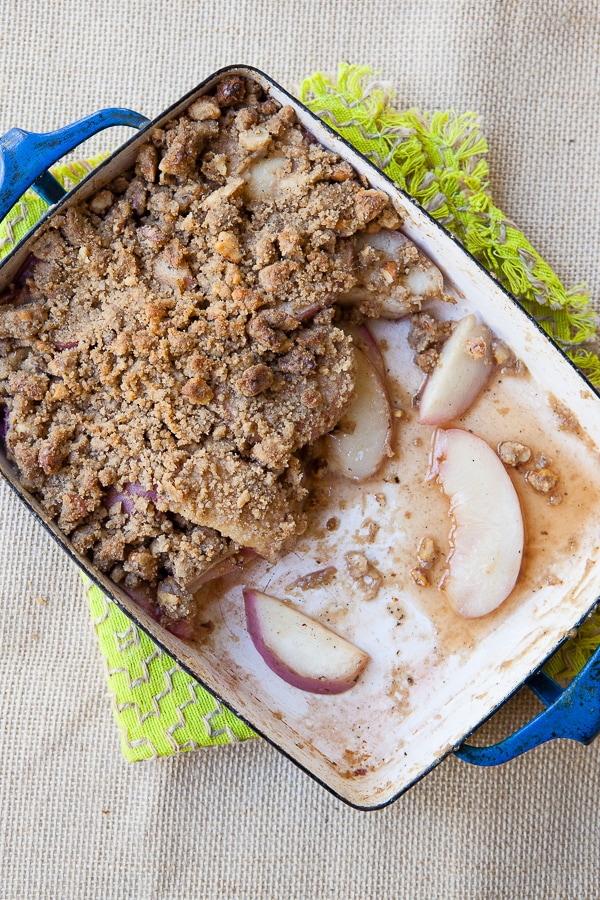 This crisp is set apart by a whole vanilla bean being used. The walnuts add a whole lot of flavor and nice crunch factor. This crisp is simple in many ways, but it's done right. If you have yellow peaches, use them in this–they'll work wonderfully, though I might scale down the sugar just a tad.
I hope you enjoyed the Short Cake post! I'm excited to do more! And aren't Jennifer's photos super pretty?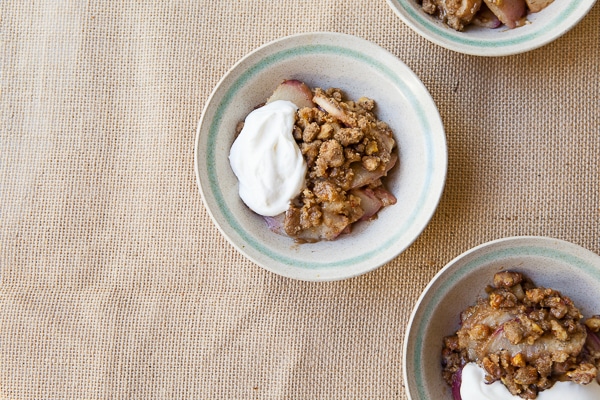 Recipe adapted for the home from Short Cake