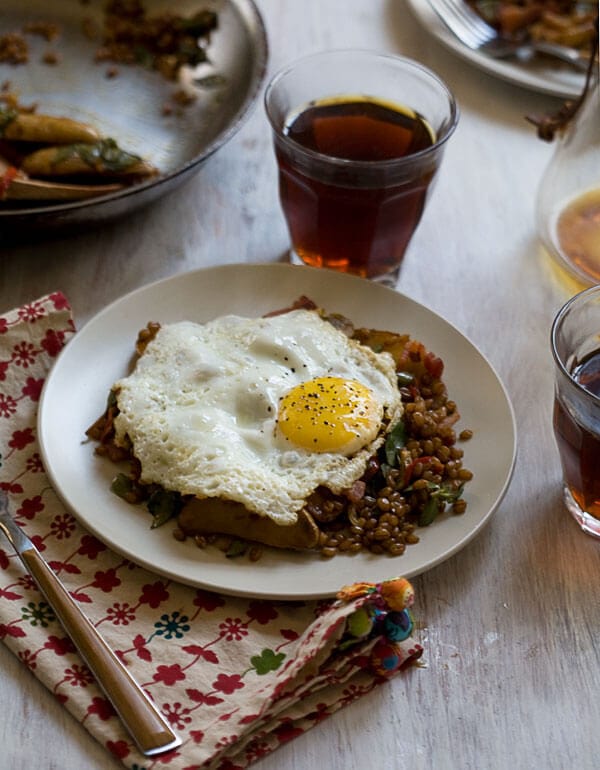 I'm going to try my hardest not to talk to you about how excited I am about fall TV shows. I mean…Scandal, Parenthood, Downton Abbey, The Mindy Show!! I can't. Growing up, starting school in fall felt like The New Year to me. New clothes/new school supplies/new shows! UGH. My heaven, seriously. Back then it was all about Felicity, Roswell and Dawson's Creek.
Even though I was just as obsessed with TV back then as I am now, my TV-watching was limited. My parents were super strict about the TV and I was only allotted one hour a night, so I had to be VERY choosy. I had no TV in my room–wasn't allowed! And a lot of nights my brother and I had to come to an agreement as to what we'd watch for our one hour of TV. Looking back I have no idea if watching less TV made me smarter or more connected to real humans. I honestly have no idea. I just no at the time it was torture! Well, I'm an adult now; I can eat alllll the Twinkies I want while watching all the TV I want. YES!
You know I love breakfast, especially when I'm having it for dinner. (Or you could have this like a good, responsible person for, well, breakfast.) Whatever you're in the mood for is fine! But seriously, this hash is interesante and delicious. (To be completely transparent on this blog, I made this breakfast dish, which I wanted to sell you as a good "breakfast for dinner" option, and then ate it for lunch. It's a little complicated.)
I'm having a moment with wheat berries. They're a little more tender than farro, it'd say, and just as delicious.
This hash is filling and hearty and makes you feel nice and healthy after. All of the ingredients should be fairly easy to find, aside from purslane. If you've never had purslane before it's kind of this bright, fresh tasting weed. It's actually SUPER cheap at farmer's markets. A big bunch cost me $1 and it's great in salads or even gently wilted. I love it so. If you can't find purslane, I'd recommend replacing it with kale or rainbow chard. Both would work great.
I talked about my TV-watching excitement on Facebook and a few of you recommended new shows! I love new shows, though a lot of them are super big commitments. What new fall shows are you pumped about?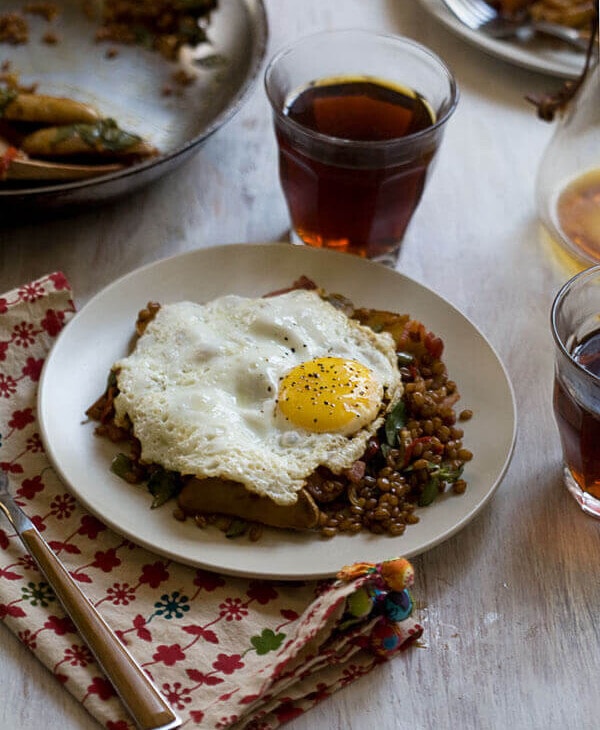 Print Recipe
Wheatberry Hash with Purslane, Pimenton and Bacon
Ingredients
1

cup

wheatberries

Salt

Olive oil

3

cups

water

3

slices

of thick-cut bacon

.3 pounds

1/2

pound

fingerling potatoes

about 6, halved

1/4

teaspoon

dried thyme

1

leek

cleaned and thinly sliced

1

garlic clove. minced

1 1/2

tablespoons

worcestershire sauce

1/2

pimenton

thinly sliced

Handful purslane

.2 pounds
Instructions
In a medium pot, add the wheat berries, 1/2 teaspoon salt, a teaspoon of olive oil and water. Cover the pot and turn the heat to medium. Cook for 30 minutes, or until the water is evaporated and wheatberries are tender. Set aside.

In a medium saucepan, add the cubed bacon and cook until lightly golden brown, about 3-4 minutes. Remove with a slotted spoon and drain on paper towels. If needed add a teaspoon or two of olive oil. Turn the heat to medium and when the oil is hot, add the potatoes. Cook for 8-10 minutes, or until the potatoes are cooked and tender when poked with the tines of a fork. Sprinkle the potatoes with the thyme, a few pinches of salt and toss.

Add the leeks and garlic; cook for an additional 2 to 3 minutes, until the leeks have softened and the garlic is fragrant. Deglaze the pan by adding the worcestershire sauce. (Steam should rise from the hot pan. No biggie! Just mix it all up.) Add the pimenton, cooked wheat berries and bacon. Cook for an additional minute or two until the mixture is warmed. Fold in the purslane and then salt to taste. Turn the heat to low while you cook the eggs.

In a small saucepan, fry up a few eggs. Divide the hash between the plates. Top each plate of hash off with a fried egg.