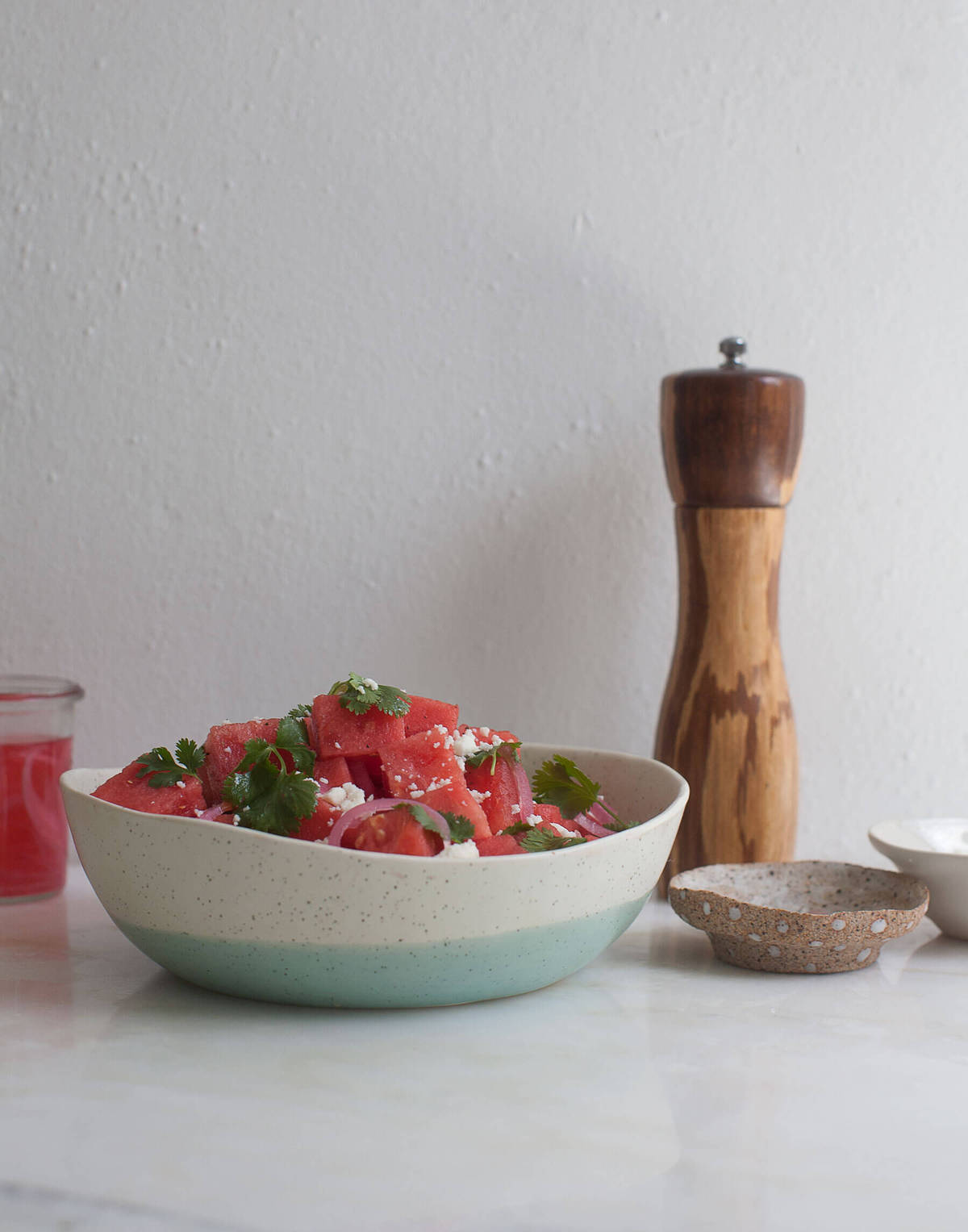 I'm not sure if you've heard but watermelon salad is the new kale salad. It's everywhere. So, here I am being a super basic b providing another iteration, but one that, in my humble opinion, is superior to the others. Or at least slightly different.
There's no feta or balsamic vinegar or parsley. Instead there's shaved queso fresco, pickled red onion, lots of cilantro, slice of jalapeño and a bunch of lime juice. It's a refreshing punch in the face during the most hot time in our year.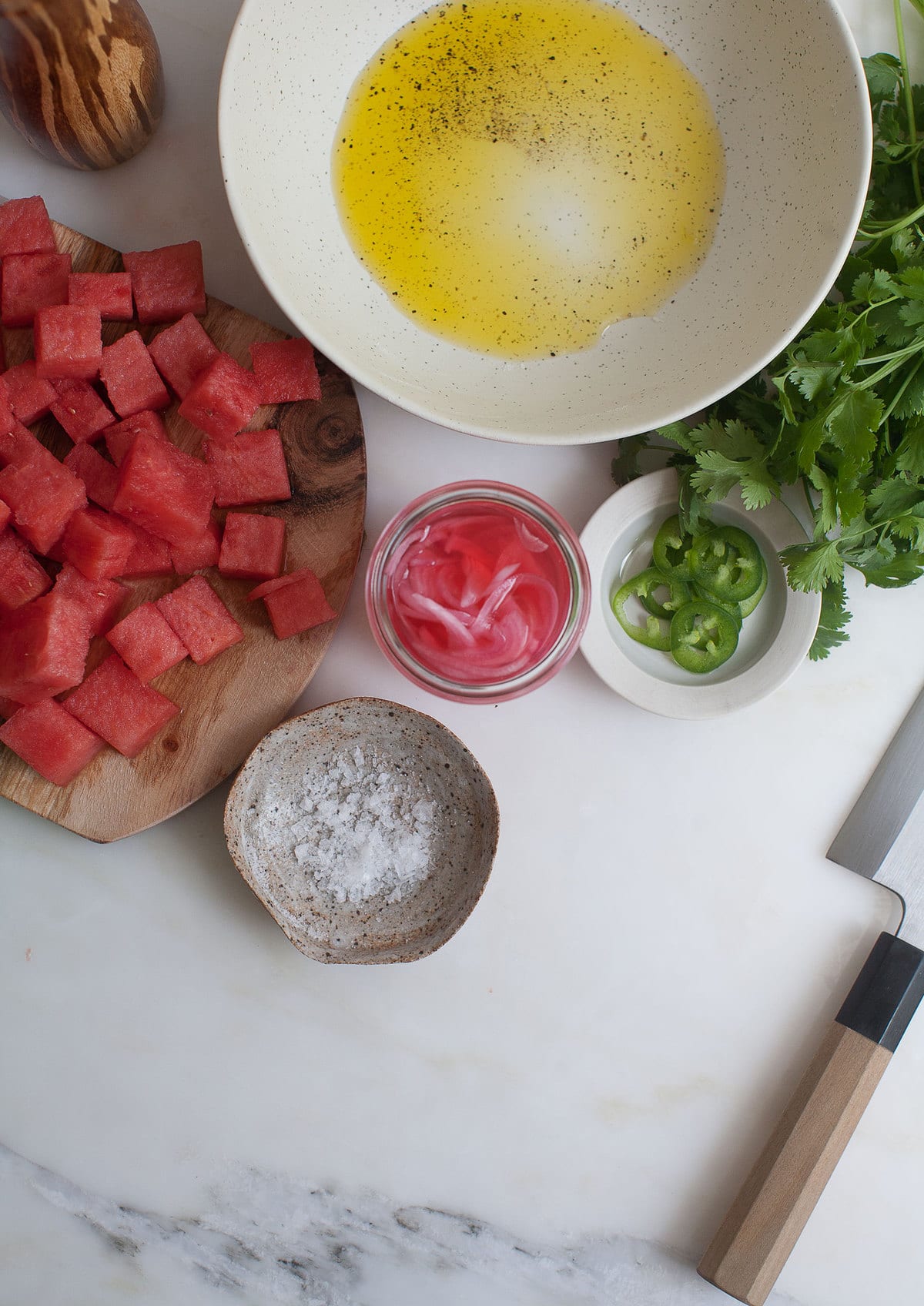 These are officially the dog days of summer. Days have been slow in my corner. I'm not that busy. Or as busy as I'm used to being. But that's ok because it's a nice slow down before a crazy hectic fall and holiday season. While summer is usually not my season of choice, I'm enjoying the slowness right now. I'm eating lots of bbq, hanging out with Amelia and reading. It's been a lovely break from the madness.
Oh can we talk watermelons for a second! I've gone through a ridiculous amount of watermelons over the course of this summer. I don't know why (I mean I know why) but I can't go to the grocery store and NOT buy a watermelon. I usually don't incorporate it into meals, instead I just eat it plain. I've also had a ton of bad watermelon.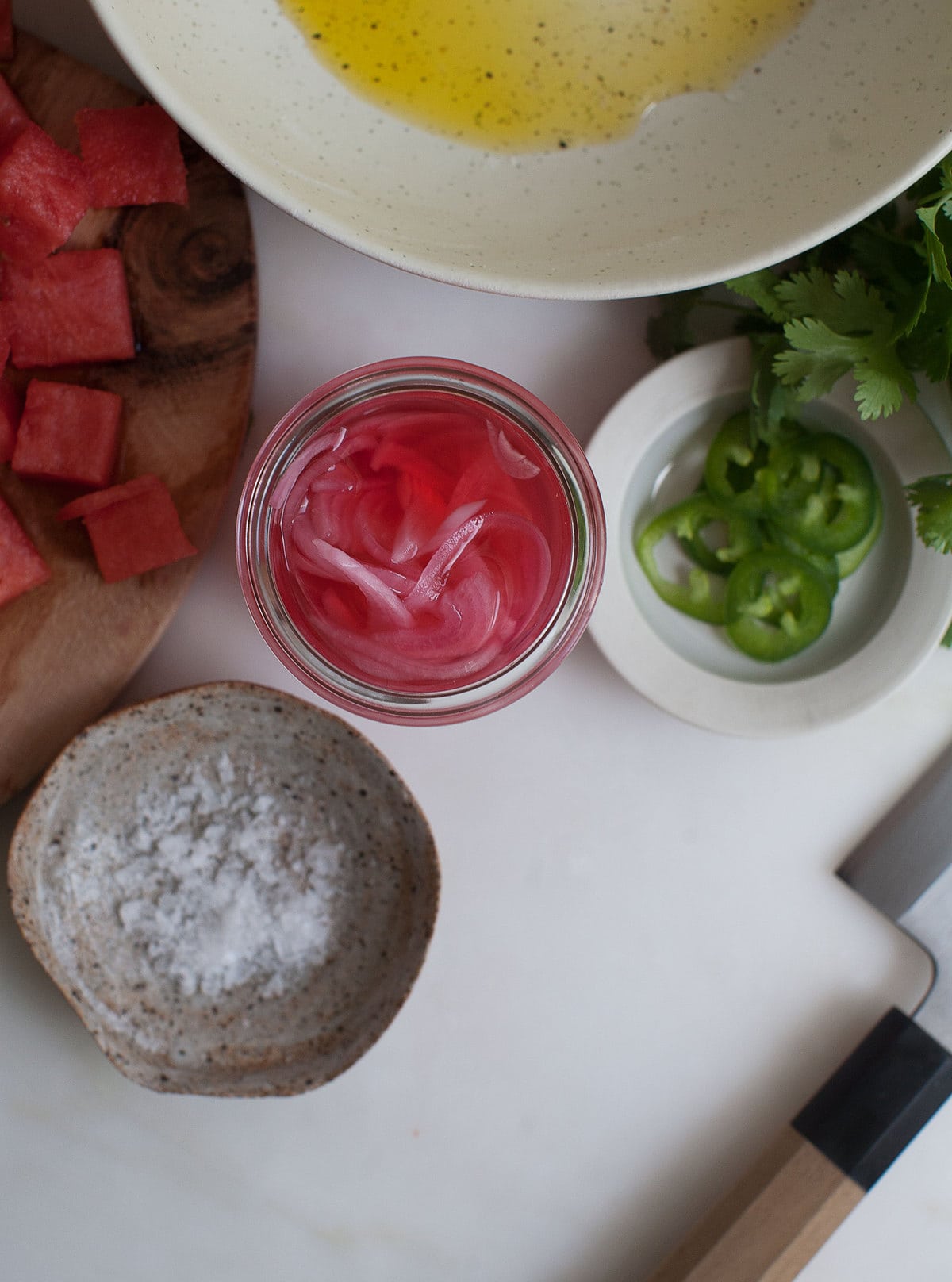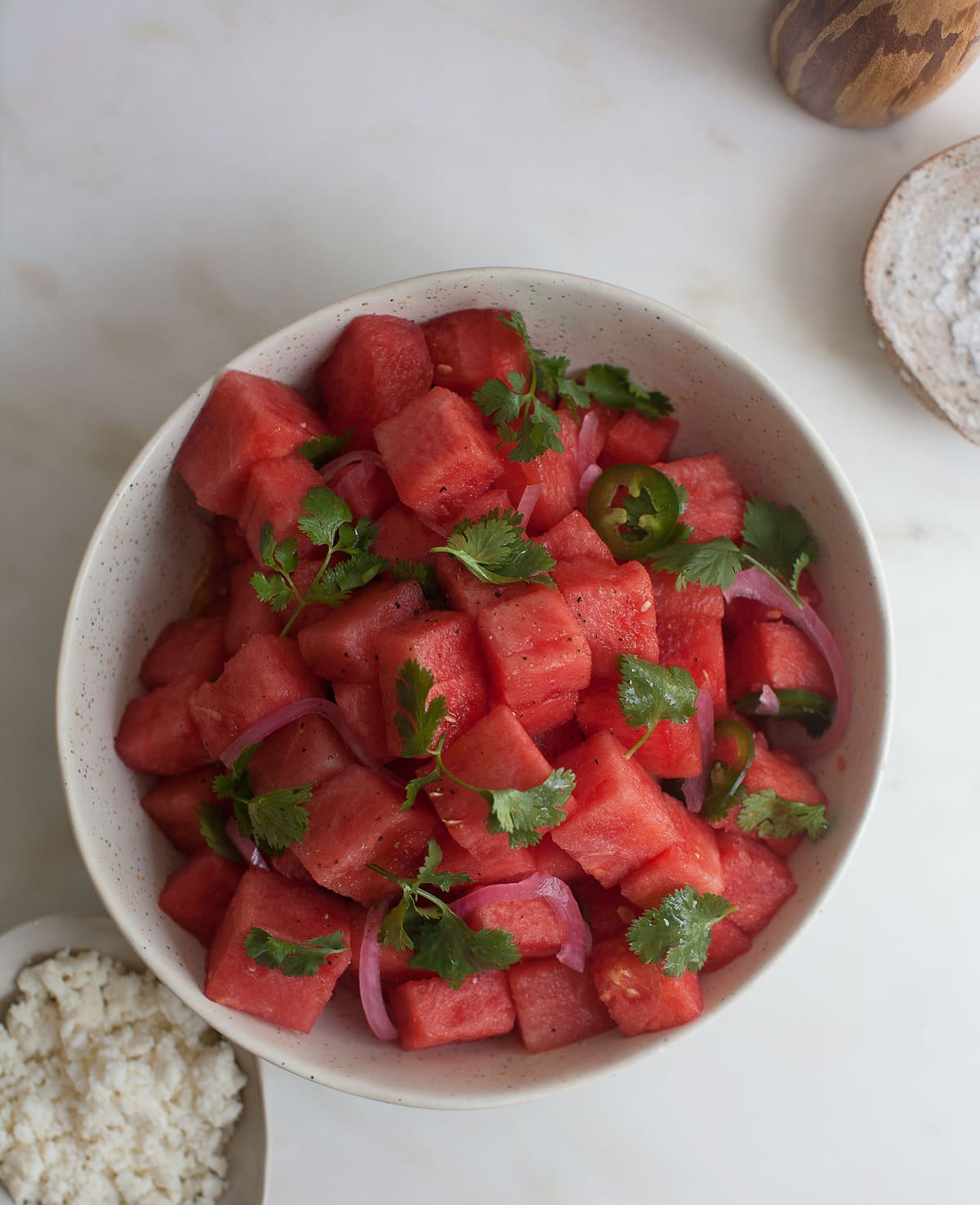 Here are some (hopefully) helpful tips on selecting a watermelon to bring home with you:
1. Tap the watermelon. I should give off a deep but hollow sound. If it sounds a bit dullish, more like a boring thump, then it's overripe. Eeeesh!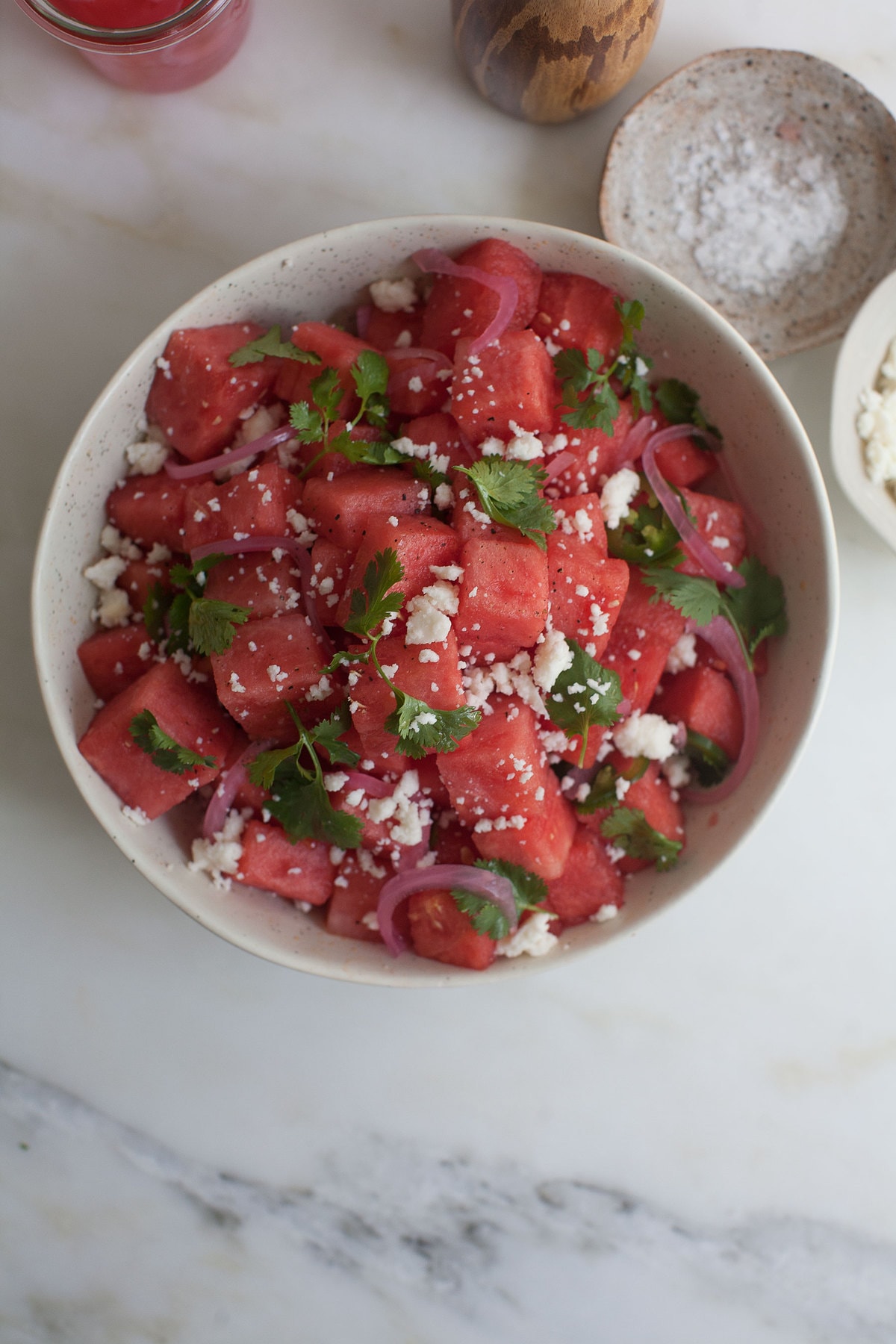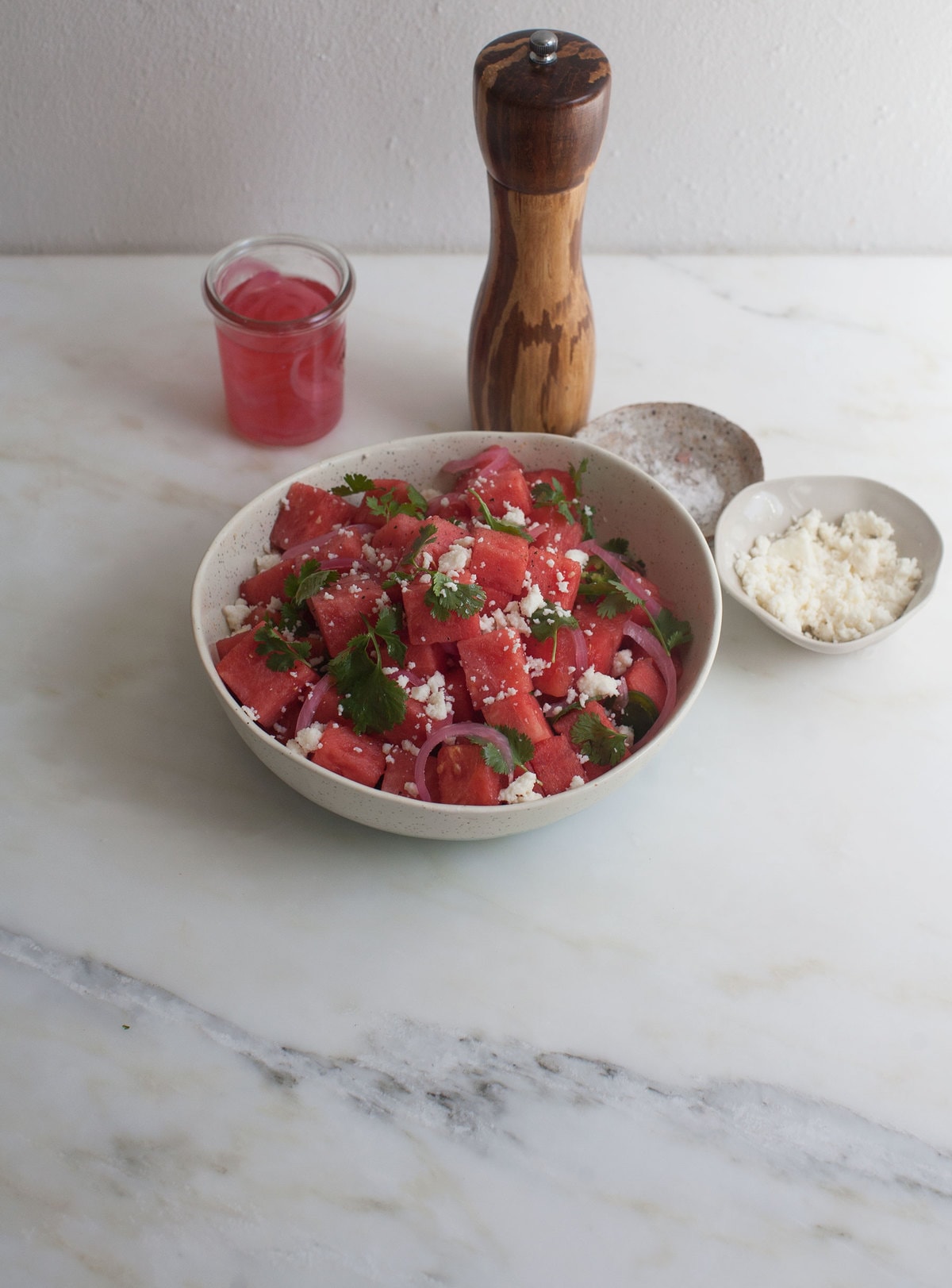 2. The weight of a watermelon matters. It should be heavy for its size.
If you're lucky enough, you'll open up the watermelon and it'll be yellow! That was a good day.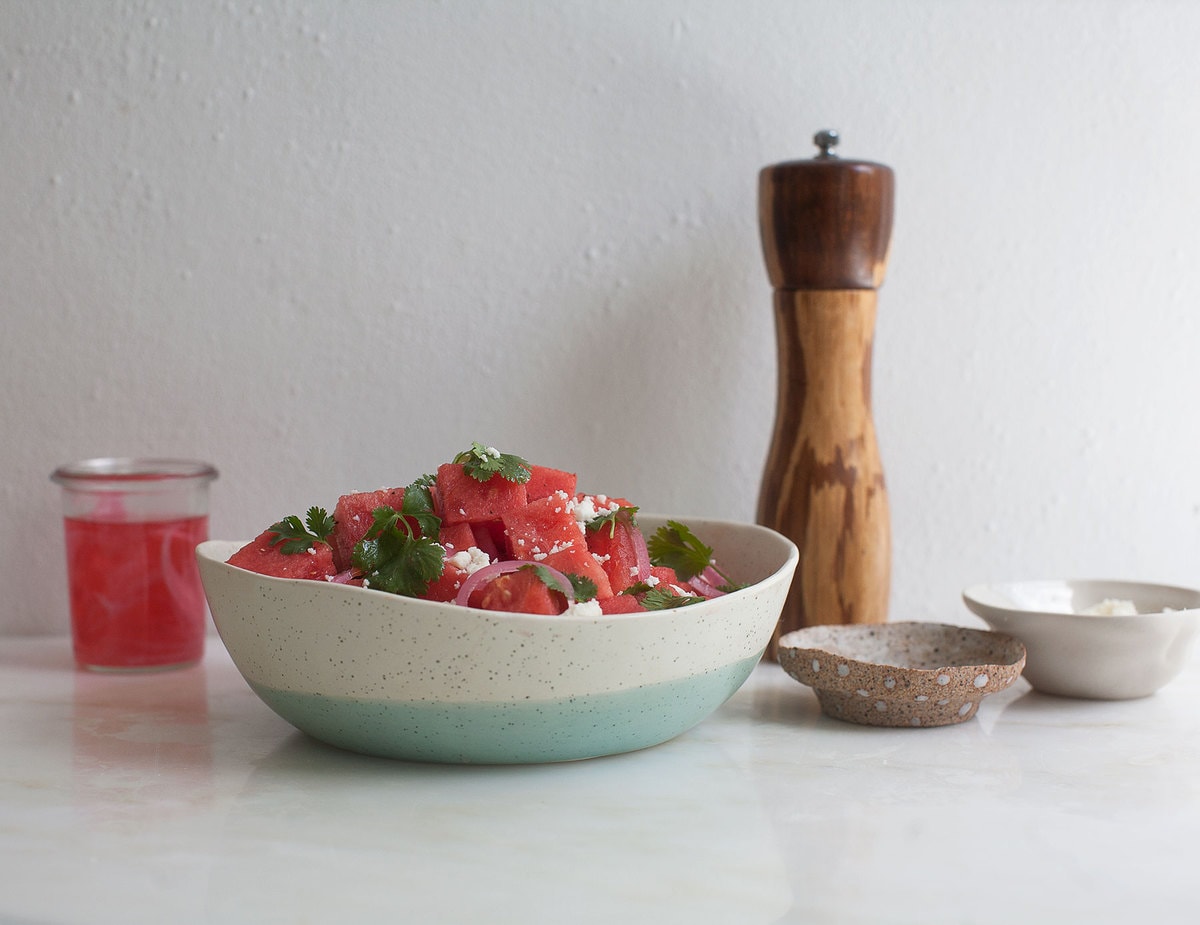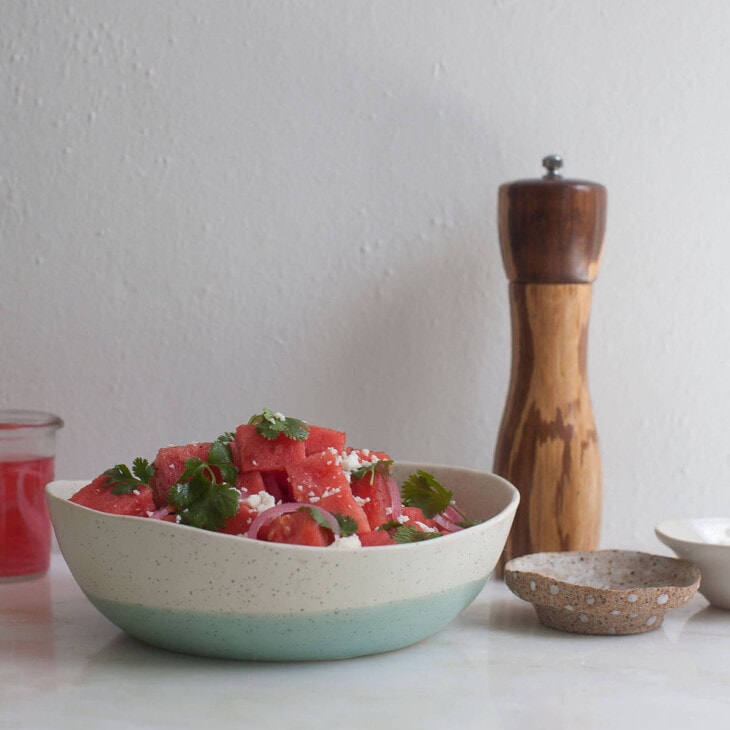 Print Recipe
Watermelon Salad (w/ Queso Fresco& Pickled Onion)…That Isn't Basic
Ingredients
Quick-Pickled red onion:
1/2

red onion

1/2

cup

champagne vinegar

1/2

cup

water

1/4

cup

white granulated sugar

1/2

teaspoon

sea salt
Watermelon:
Juice from 1 lime

2

teaspoons

olive oil

Salt

Freshly cracked pepper

1

small seedless watermelon

about 3 pounds, cubed

2

ounces

queso fresco

shaved or crumbled

1/2

jalapeño

thinly sliced

1

bunch of cilantro leaves
Instructions
To a small bowl or mason jar, add the red onion. In a small saucepan, combine the vinegar, water, sugar and salt. Bring the vinegar mixture to a boil then immediately turn off the heat and pour over the onions. Allow to stand at room temperature for at least 2 hours or up to 2 days. Transfer to the refrigerator. Pickled red onions keep in the fridge for 3 to 6 months.

In a serving bowl, whisk together the lime juice, olive oil, pinch of salt and a few turns of freshly cracked pepper. Add the watermelon, sliced jalapeño, cilantro and toss gently until everything is evenly coated in the dressing. Top with shavings or crumbles of queso fresco, pickled red onion and more cilantro.