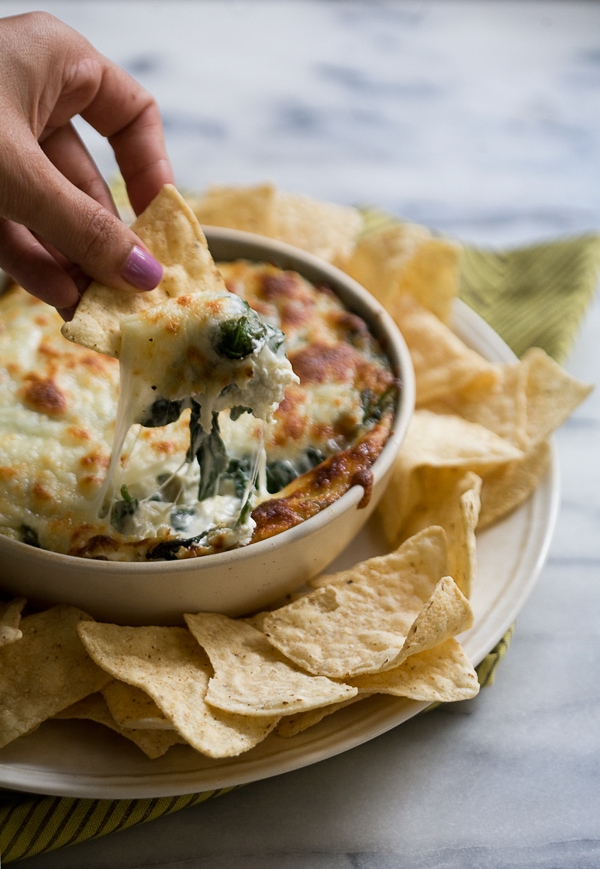 Who doesn't love a cheese pull?!?
My nails usually look a wreck from cooking, so please let's enjoy the fact that my nails are actually looking civil. I only paint my nails on my days off because polish lasts a total of five hours for me. And please don't sing the praises of gel nails. They do last a long time, but the time it takes to have them put on and the effort to get them properly removed is too much for me. I can't deal. I'm way too impatient.
This weekend is the weekend when all of our healthy eating goals of 2014 just go to hell. Kale salads and broths are replaced with piles and piles of chips with melted cheese on 'em. I'm not mad at this. I plan on making chicken wings, per Wednesday's recipe. And maybe I might even make some with traditional buffalo wing sauce. I love Frank's hot sauce, though the wing competitions at buffalo wing places freak me out. I definitely won't be eating 50 wings that make my face wanna explode, but I might have like 4.
This Spinach Arichoke Dip will also definitely be present. It's sort of a classic, but I like this version. It's a tad bit spicy, warm and a little tangy (thanks to the creme fraiche). It's soooo good.
For the full recipe and pics, go over to PBS Food.