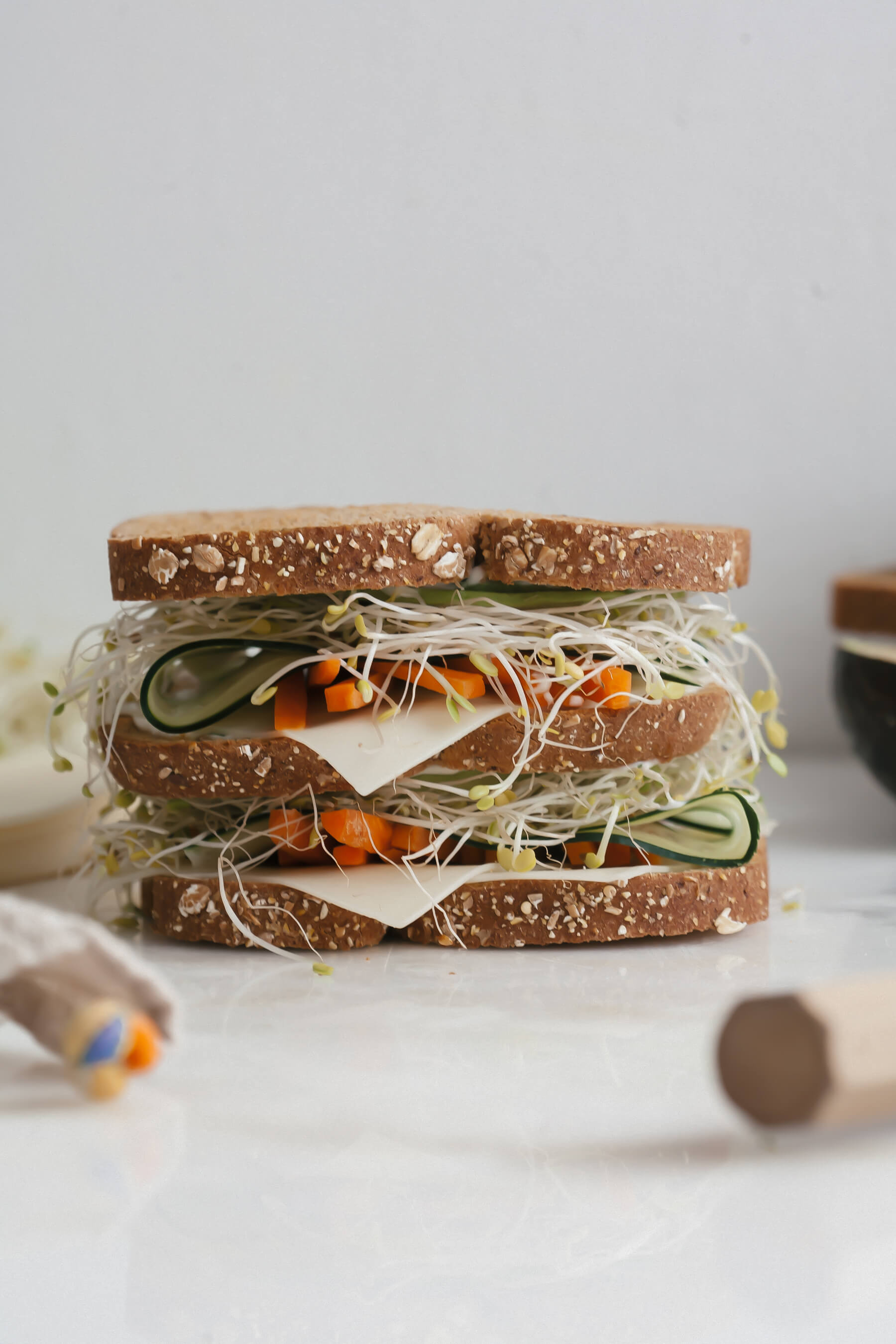 Club sandwiches should be on that VH-1 show Where Are They Now? because I haven't seen one grace any sort of menu anywhere for a very very long time. I think it's because they're super 90s, like Nirvana and Blossom and no one really wants to remember. Except me.
I love a club sandwich. And I like the classic version, with its barely toasted bread, slices of Swiss cheese, turkey and bacon AND iceberg lettuce and slices of tomatoes. My favorite part is when they were cut into triangles and held together with toothpicks (see: around da stadium).
This version is a little different. The turkey and bacon have vanished and been replaced with ribbons of zucchini, carrots and sprouts. I know. You're either shaking your head or you're super stoked and want to try. I'm crossing my fingers it's the latter.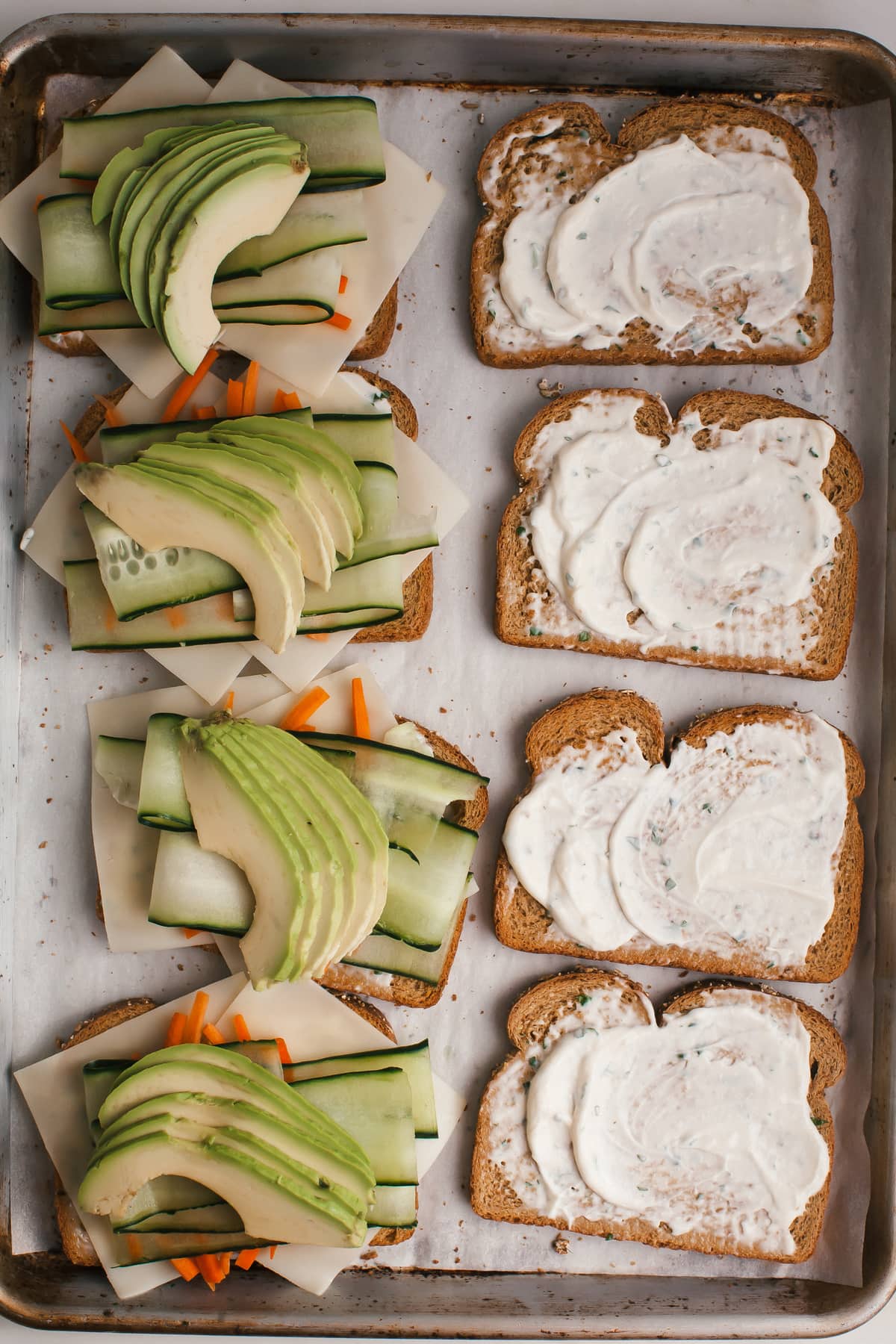 My favorite part of about the sandwich is the slice in between the two top slices. It's a requirement. Another requirement: a toothpick, which unfortunately isn't in these photos but is in the stadium.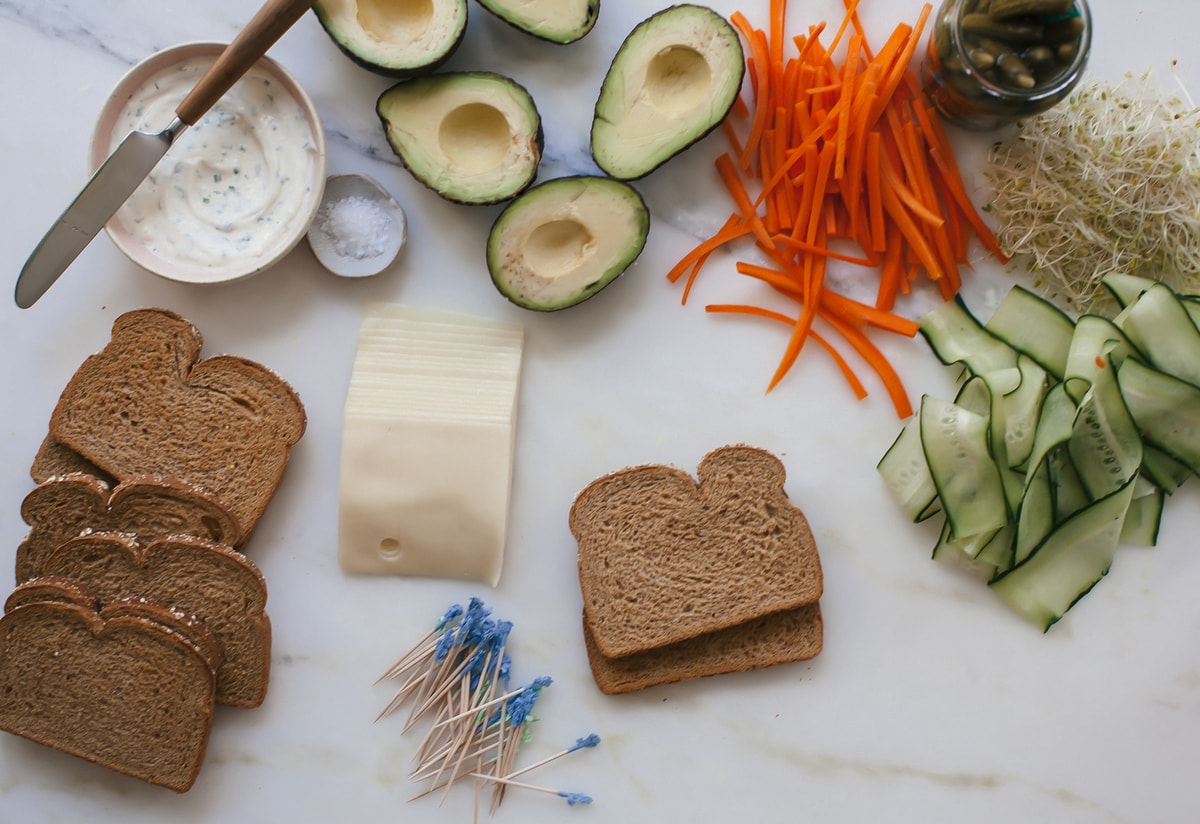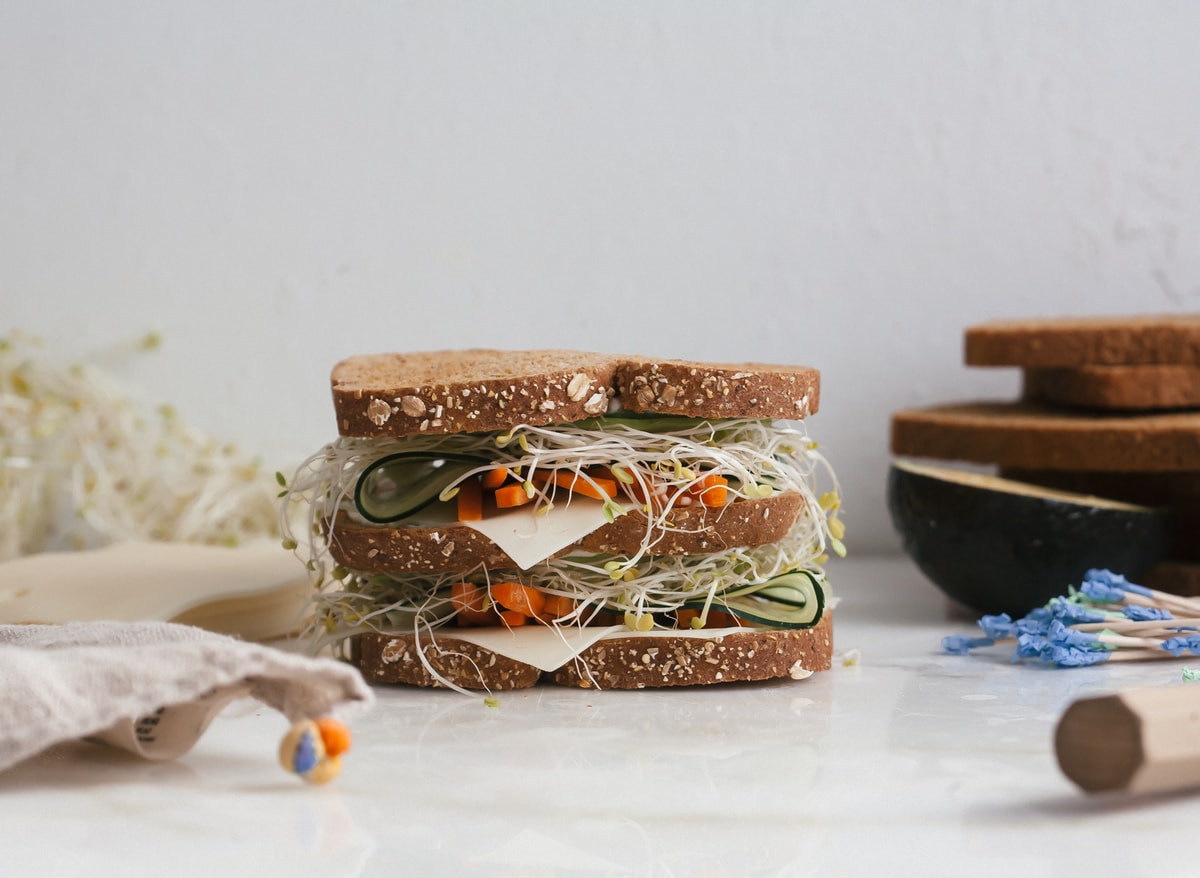 This sandwich is the perfect combo of soft (bc of the cheese and bread) and super crunchy and refreshing tasting. The herb mayonnaise adds a nice bit of freshness and moistness (sorry!).
It tastes like health…but with carbs.
Happy Super Bowl Sunday (or whatever!)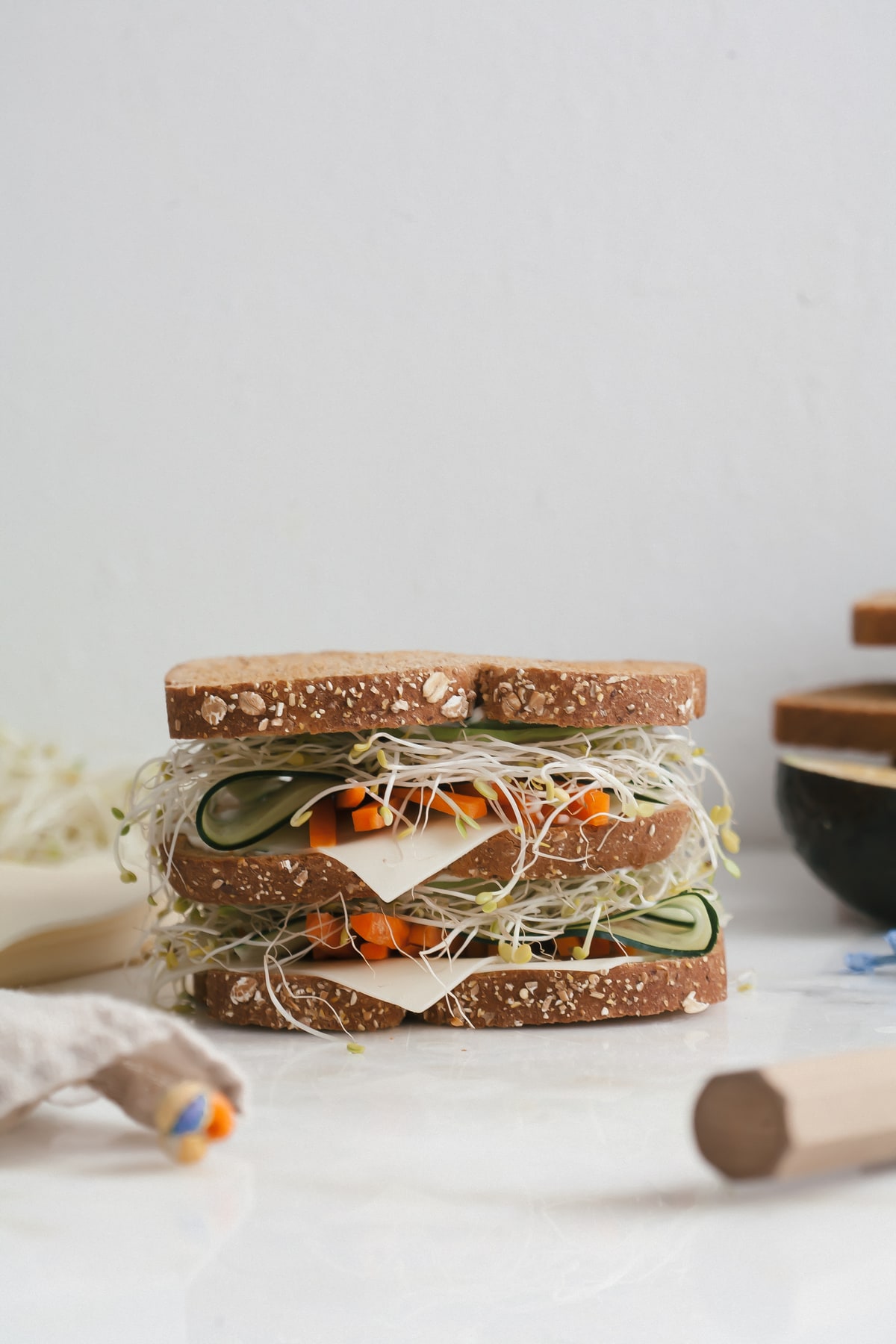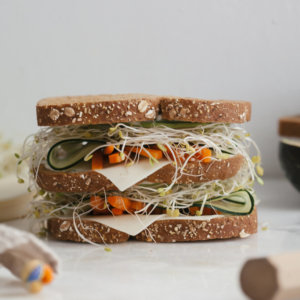 Veggie Club Sandwich
Print
Serving Size:
4
very large sandwiches
Ingredients
1/4

cup

mayonnaise

Handful of Italian parsley

,

minced

Handful of chives

,

minced

Salt

1

loaf of bread of choice

,

I used seven-grain, lightly toasted

1

zucchini

,

ribboned with a vegetable peeler

2

avocados

2

carrots

,

peeled and sliced

1

cup

sprouts

2

ounces

Swiss cheese

Cornichons

,

for garnish
Directions
Mix together the mayonnaise, minced Italian parsley and chives and pinch of salt.

Smother the mayonnaise on a few slices of lightly toasted bread. Make layers, starting with the cheese, carrots, ribbons of zucchini, avocado, a pinch of salt on the avocado and then sprouts. Add a third layer. Repeat until you've worked your way through all of the sandwiches. Slice up and top with a toothpick with a cornichon on top.