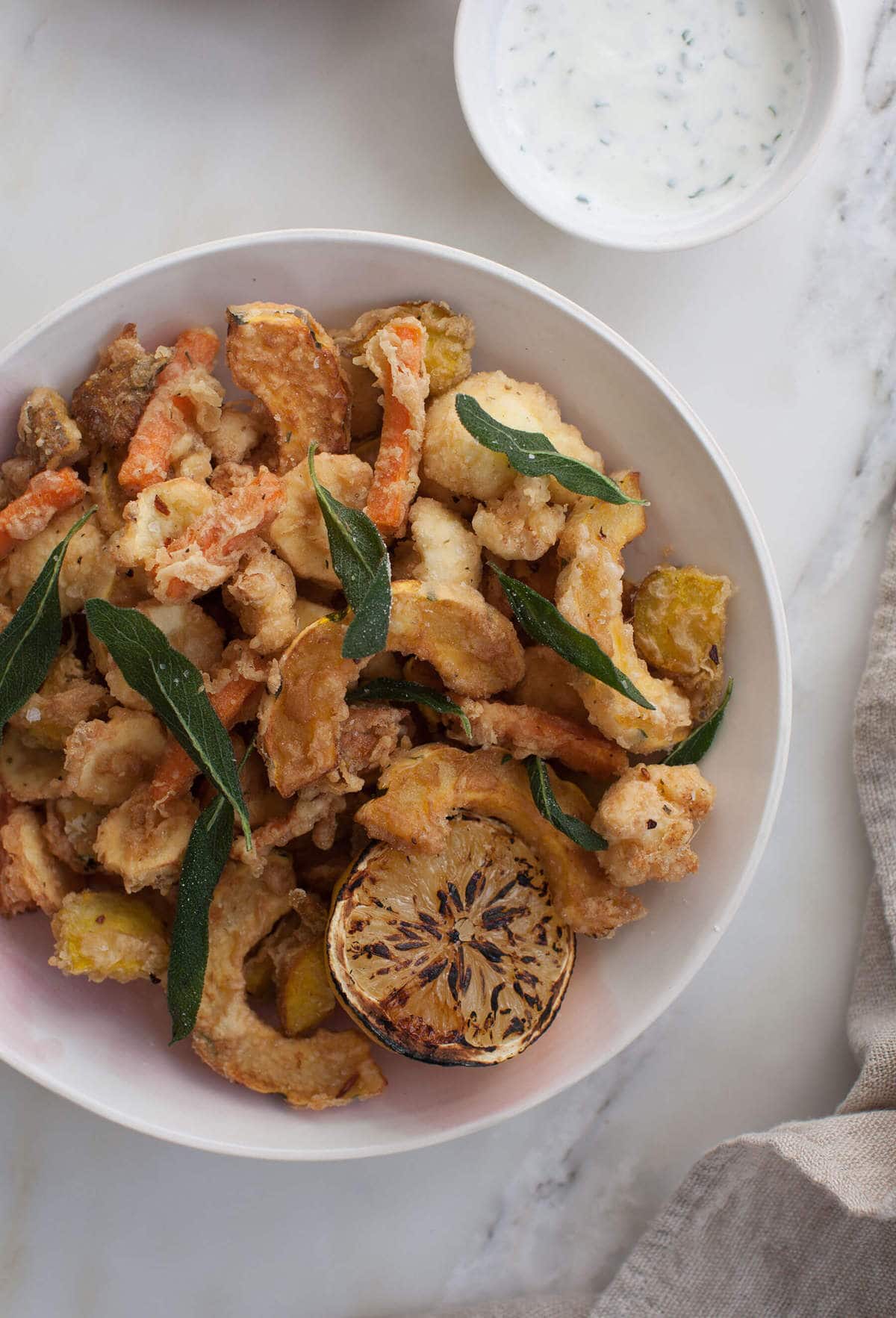 This is a classier version of dipping pizza into ranch dressing. It's the same idea! Something Italian being smushed together with someone southern and very very American.
I was about to call this a high and low but that would insulting to ranch dressing. If these two were people, yes, they'd probably grow up quite differently. They'd be going to different schools, wearing different types of clothes, speaking different languages but they'd both agree on this: anything fried dipped in ranch dressing is a big, gigantic WIN!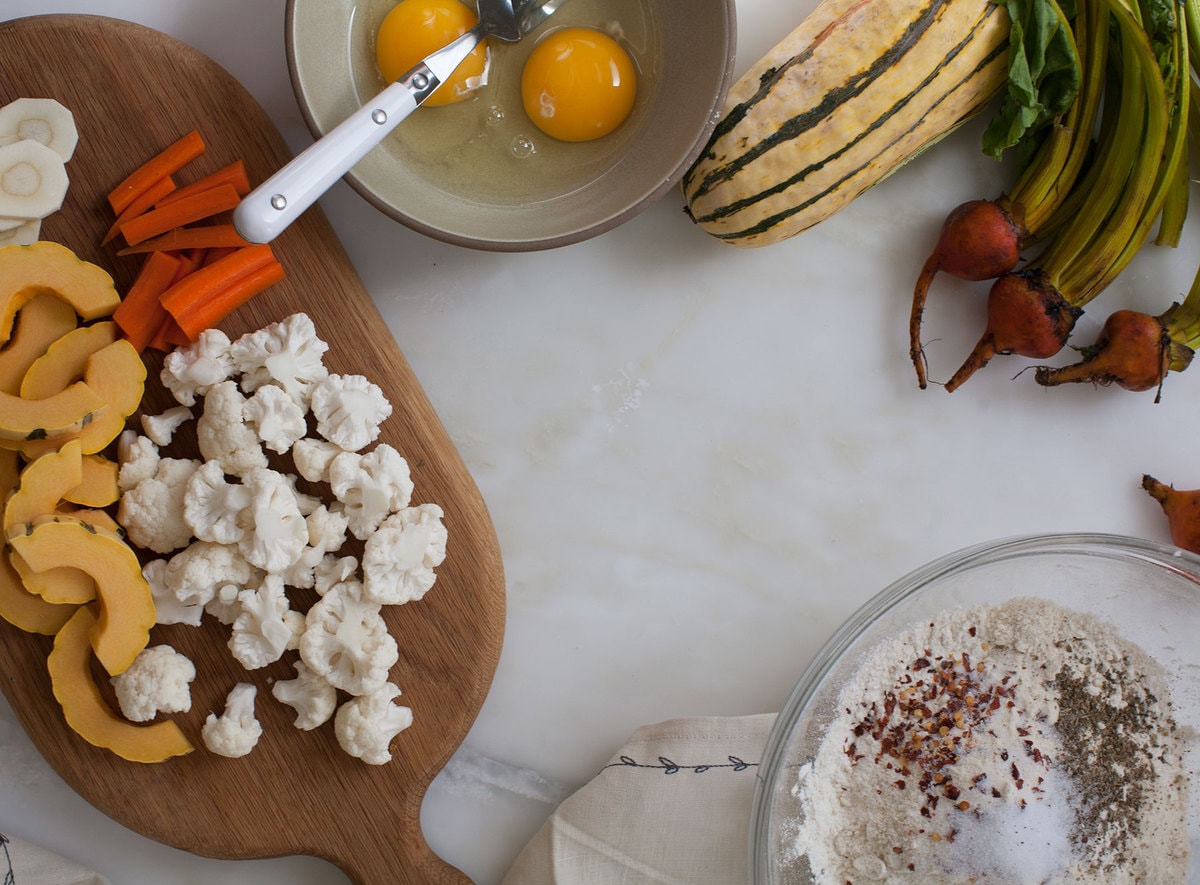 Last week when I was in Nashville, I went to Rolf and Daughters for dinner. It was one of the best dinners I've had maybe this whole entire year. It was simple and interesting and delicious all at the same time—not an easy fete!
As I was studying the menu, one of the dishes that stood out was a summer vegetable fritto misto. The idea was awesome but I didn't order it because I was really craving a salad (this is what happens to me when I'm in a place like Nashville!). But I couldn't stop thinking about this simple idea of frying up seasonal vegetables. I ended up doing it with fall vegetables and pairing it with ranch dressing. YASSS!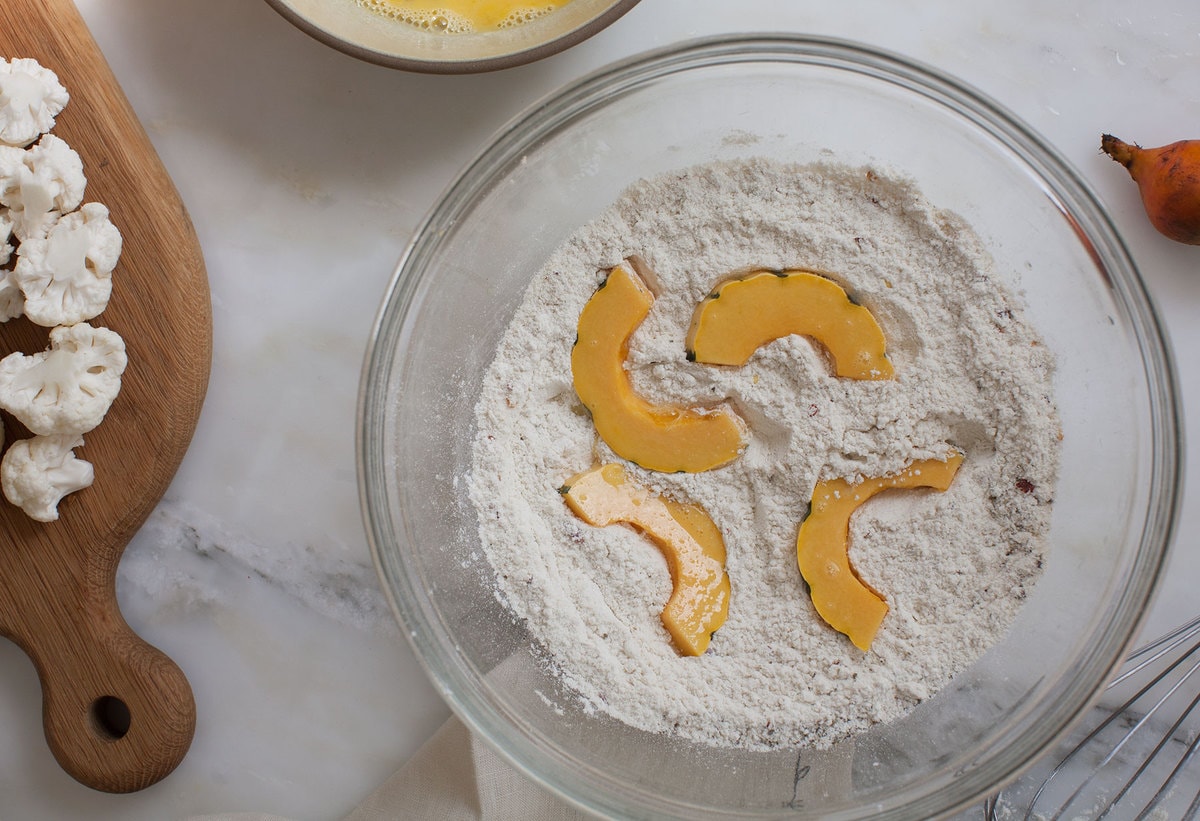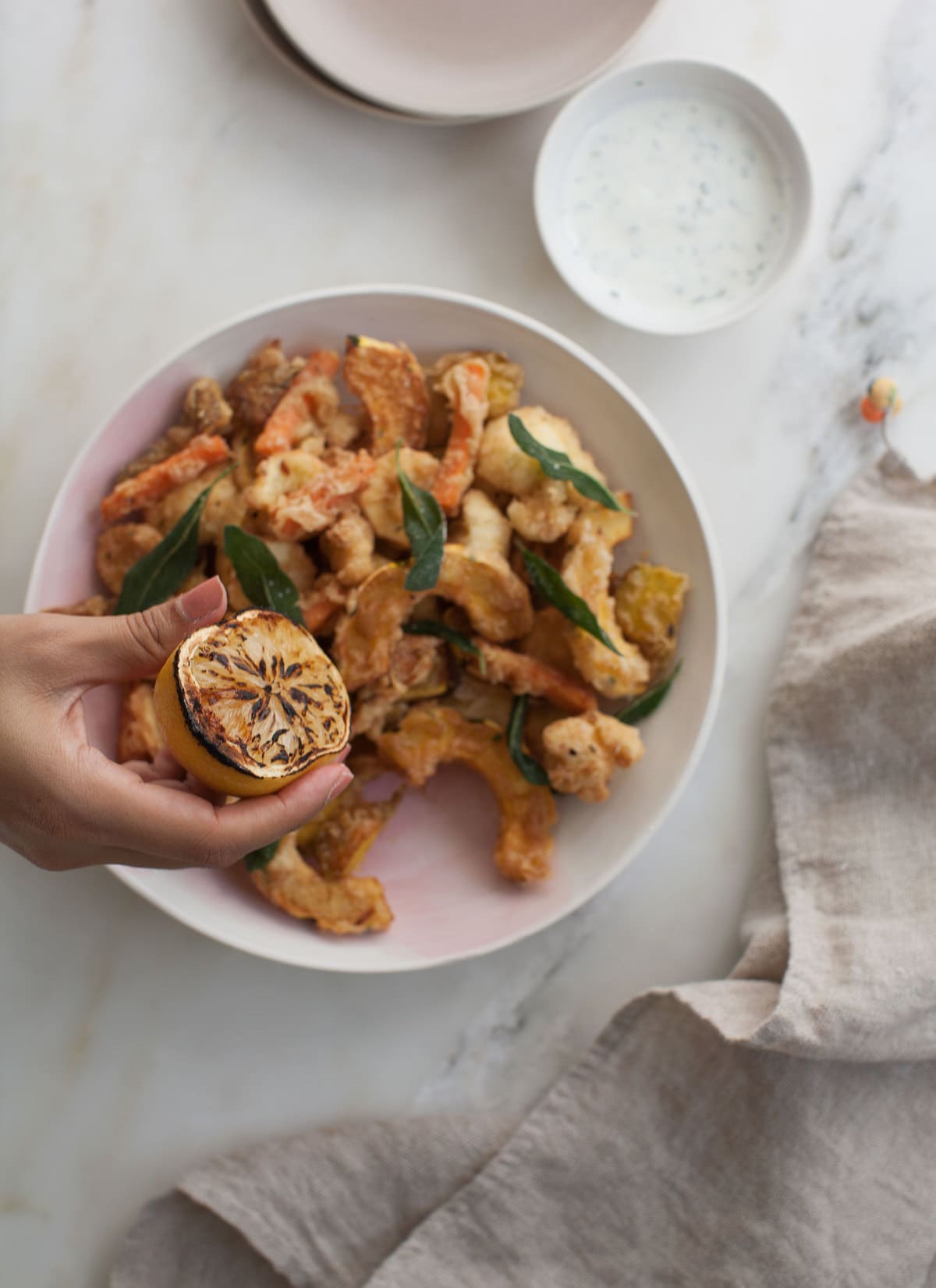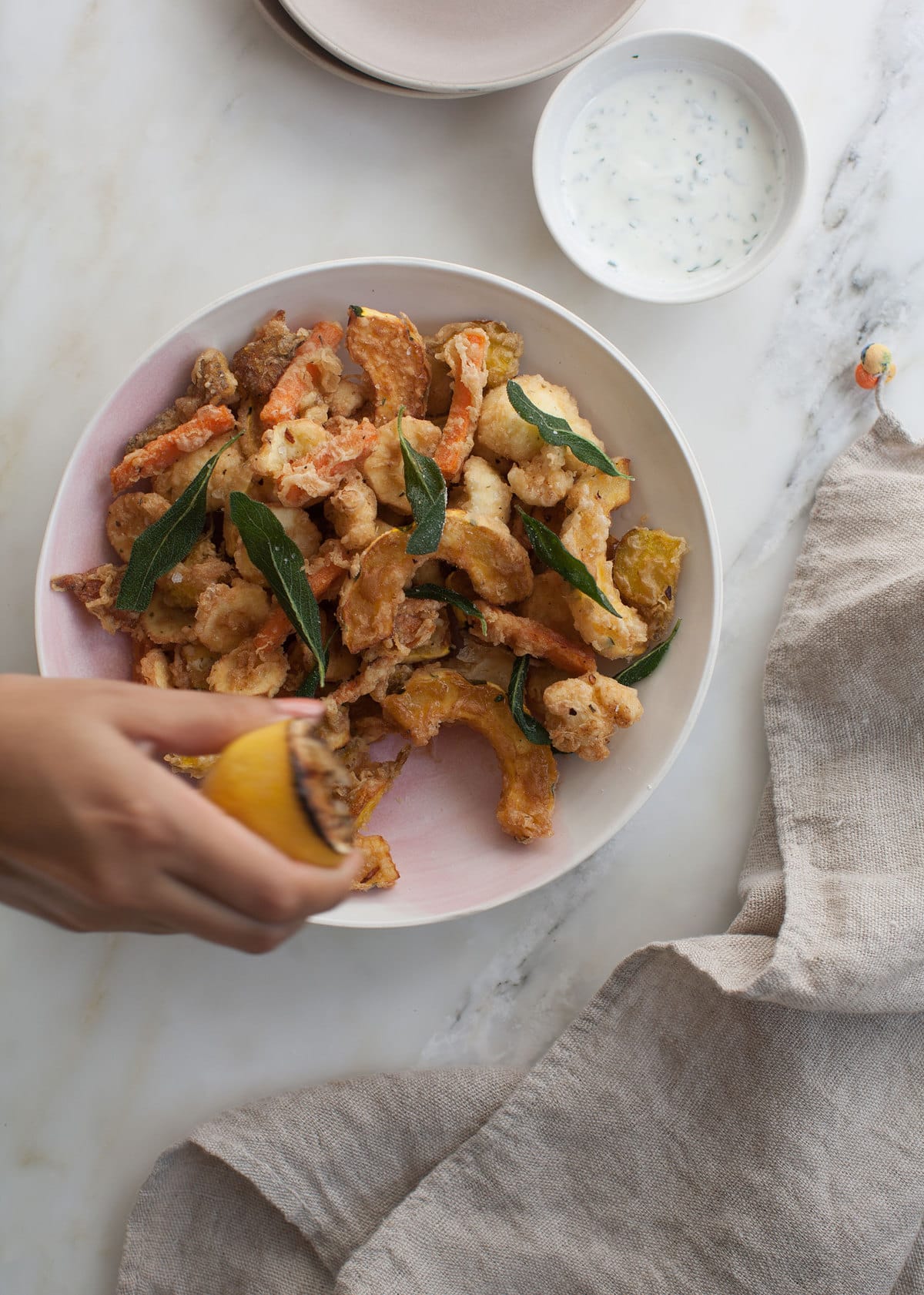 You can really use any fall vegetables you like.
I used cauliflower florets, thin slices of delicata squash, quarters of golden beets, matchsticks of carrots and sliced parsnips.
Use a combo of things or even just one or two. Just be sure to fry up some sage, too because there's maybe nothing better. And a grilled lemon. And ranch dressing. All are musts.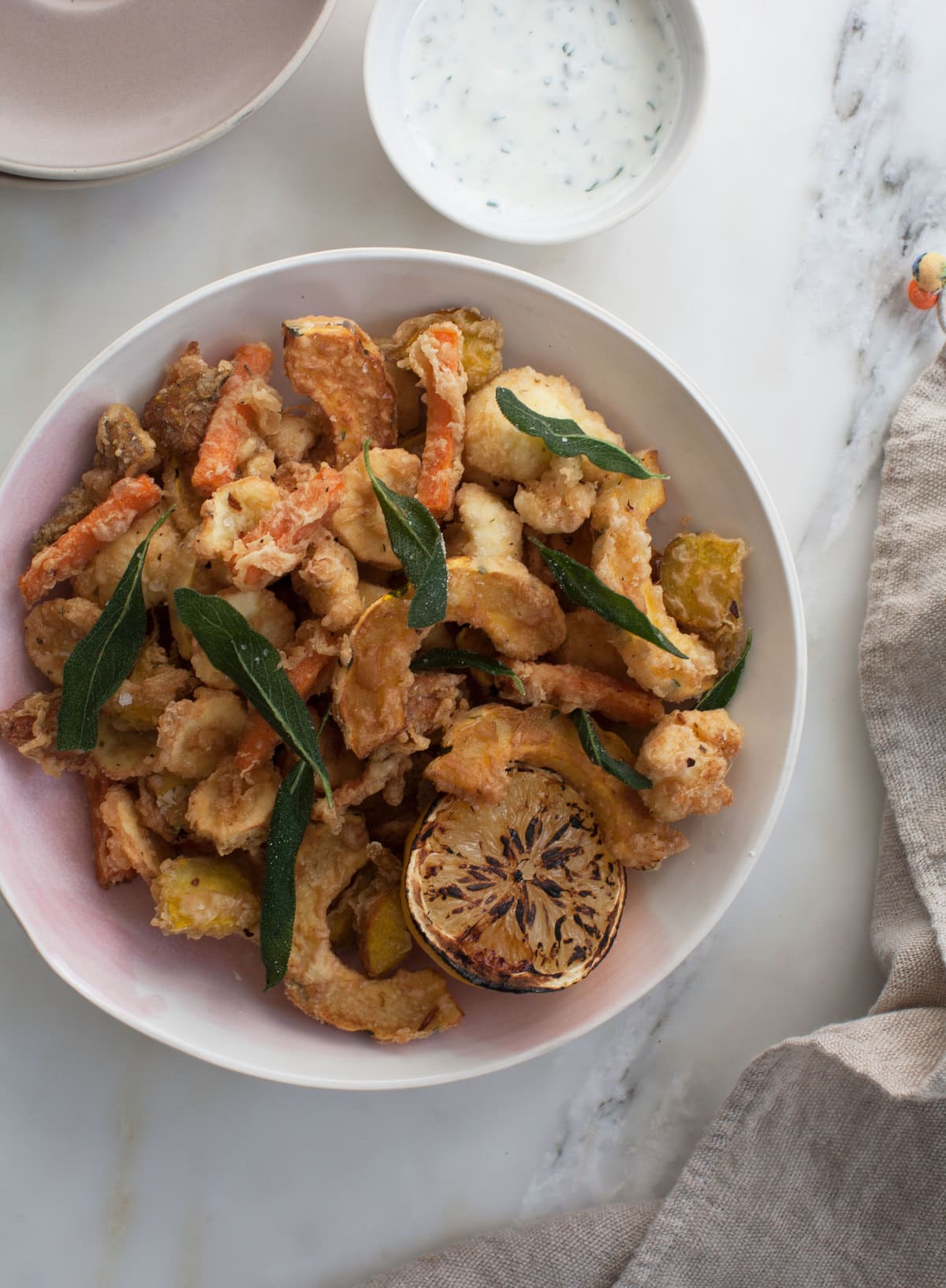 Print Recipe
Fall Vegetable Fritto Misto with Ranch Dressing
Serving Size:
TO 6 (AS AN APPETIZER)
Ingredients
Ranch Dressing:
1 1/2

tablespoons

yogurt or mayonnaise

1

tablespoons

sour cream or creme fraiche (in a pinch you could also use yogurt)

1/4

cup

buttermilk

1

garlic clove, minced

1

tablespoons

finely chopped Italian parsley

1

tablespoons

finely chopped chives

1

tablespoon

freshly chopped dill

1

teaspoon

lemon juice

Dash of hot sauce

Salt, to taste

Freshly ground pepper, to taste
Fall Vegetable Fritto Misto
2

large eggs

1 1/2

cup

all-purpose flour

1/4

cup

corn meal

2

teaspoons

Italian seasonings

1

teaspoon

salt

3/4

teaspoon

crushed red pepper

Vegetable oil

Various fall vegetables:

Sliced delicata squash, cauliflower florets, matchsticks of carrots, quartered very small golden beets, sliced parsnips

3 to 4

fresh sage sprigs

1

lemon, halved and charred
Instructions
To make the ranch dressing: In a medium bowl, whisk together the yogurt or mayonnaise, sour cream and buttermilk. Add the garlic clove, Italian parsley, chives, dill, lemon juice and dash of hot sauce. Give it a stir until the herbs are evenly distributed throughout the dressing. Add a few pinches of salt and some freshly ground pepper. Taste it and adjust the salt according to your liking.

In a medium bowl, beat together the two eggs. In a large bowl, toss together the all-purpose flour, corn meal, Italian seasoning, salt and crushed red pepper.

In a medium pot, pour in 3 inches of oil. Heat the oil to 325 degrees F. While the oil is heating up, prep your vegetables. Working in batches (and to ensure even cooking, I cooked one type of vegetable at a time), transfer the vegetables to the bowl with the beaten eggs. Transfer them, a few handfuls at a time, into the flour mixture, being sure the vegetables are thoroughly coated. Gently fork drop the flour-dusted vegetables into the hot oil, cooking for 1 to 2 minutes, until light brown. You may need to give them a flip using a fork.

Transfer to a bed of a paper towels to drain. Place the fried vegetables into a warm (200 degree F) oven while you fry up the rest of the vegetables. Repeat the dredging, frying steps until you've worked your way through all of the vegetables. For garnish, add a few sprigs of sage to the hot oil, cooking for about 30 seconds. Garnish with a grilled lemon (I just put a half a lemon on the grates of my stove and charred it until it was juicy and blackened). Serve with ranch dressing.
Notes
Just a few notes about the vegetables:
1. I sliced the delicata in half, lengthwise, and then sliced the delicata into 1/2-inch slices. Any thicker than this and I was afraid the squash wouldn't cook.
2. The florets were on the smaller size. No big trees!