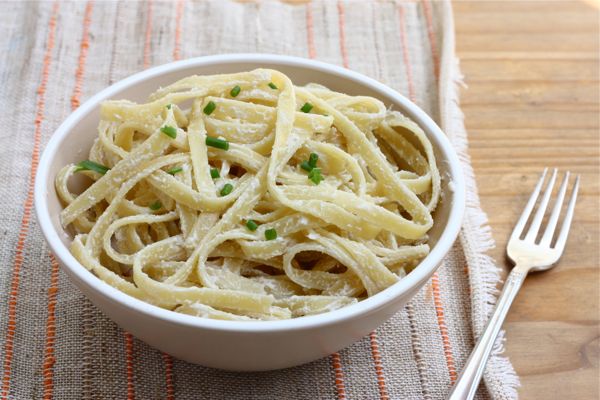 A few Friday things:
1. I'm officially addicted to Pinterest. I feel like I've said this before, but then I forget about it and blah blah. But this week I reorganized my pins, started following more people, etc. I'm into it!
2. Do you ever love a song so much that you google the lyrics so you can sing along? I can't be the only person that does this. A lil' embarrassing, but how else are you supposed to memorize the CORRECT lyrics?
3. I sometimes think I was put on this earth to convince skeptical people to watch and love Friday Night Lights. I feel like it's my duty. WATCH IT!
4. Spotify. Are you on it? I like it. I can listen to all sorts of music whenever I want, though, I hate its sharing aspect. I don't want people to see what ridiculousness I'm listening to. I don't ALWAYS listen to cool-people music. And sometimes I wanna listen to the same song over and over and I don't want to be judged, okay?! If you, too, feel this way, "private profile" is the way to go.
5. Trying is very important. I try hard at all sorts of things. Another thing that's important: knowing when to quit. I quit something this week, I think, and it feels sad, but relieving all at the same time.
6. When you quit something, you might have the urge to eat your feelings. That's cool, but also try drinking them. That's fun too!
7. In other news, I'm eating more vegan food. Because I like to feel healthy every now and then. And I'm in love with this bathing suit. This pasta could be considered "bathing suit pasta." It's totally a thing.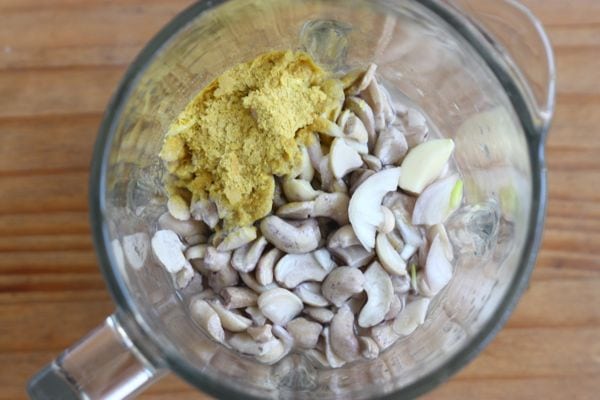 Let me preface this by saying I loooove traditional fettuchini alfredo. My mom makes a great version of the traditional with heavy cream, loads of Parmesan cheese and a heavy hand of butter. I love it.
Since I'm an ardent fan of real cream, real cheese and real butter, I'm not going to tell you that the two dishes are interchangeable. They're not. Apples and oranges.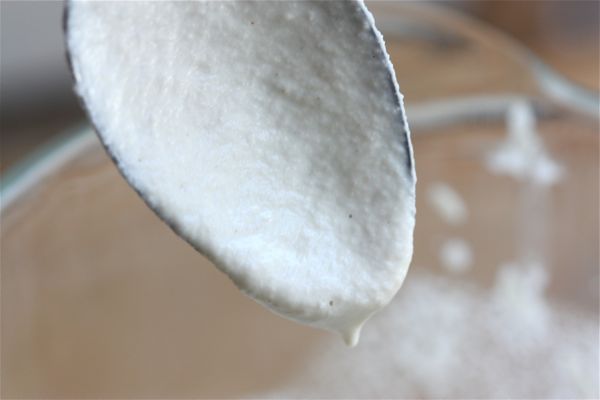 This starts with cashews being soaked in water overnight (in the fridge).
This soakage gets the cashews all soft and pliable.
After that they take a trip to the blender with nutritional yeast (whaaa?), salt, garlic and minced shallots.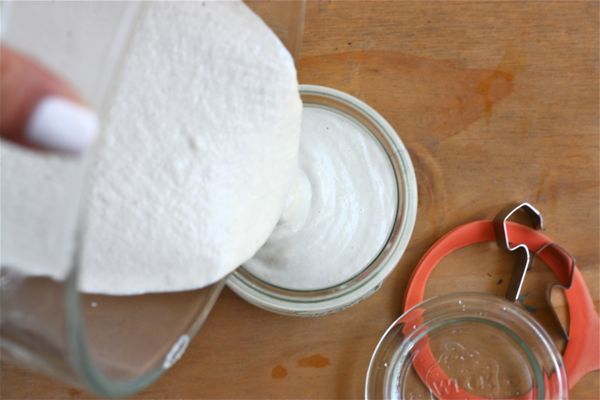 Nutritional yeast is used to thicken the cashews up a bit, and contribute to a creamier texture overall. I bought it in the bulk bin section of Whole Foods for about fifty cents.
After everything is all blended, I heated it up, and tossed it with some fettuchini. Nothing fancy. Nothing difficult.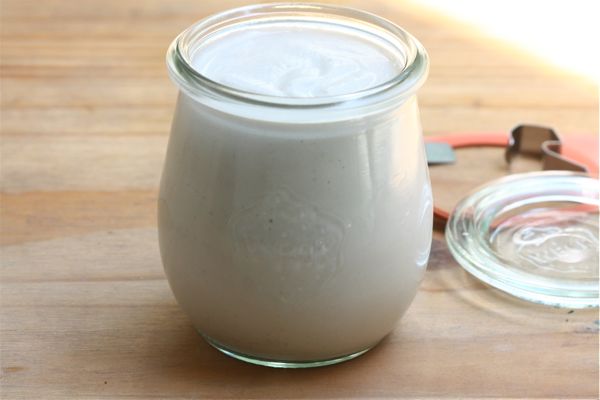 I first fell in love with cashew cream at my favorite vegan restaurant here in LA. They put it on everything from fried eggplant sandwiches to vegan enchiladas.
The texture is smooth and creamy, while the flavor is nutty and rich. I just love it so much.
If you like, feel free to leave out the garlic and shallots, and put the cashew cream on toast topped with fresh fruit. Hello breakfast snack!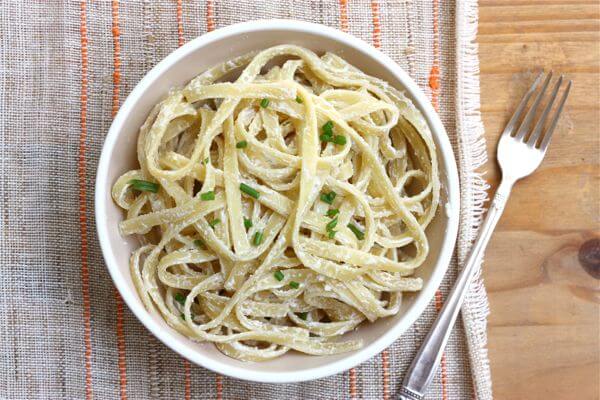 Vegan Fettuchini Alfredo
1 1/2 cups cashews, unsalted
2 teaspoons nutritional yeast
1/2 shallot, minced
1 garlic clove, peeled
3/4 teaspoon kosher salt
Fettuchini Pasta
Chives (optional)
1. Transfer the cashews to a colander and rinse them under cold water. Place them in a medium bowl and cover with just enough water until they're completely submerged. Wrap the bowl in plastic wrap and transfer it to a refrigerator overnight.
2. Place the cashews in the colander and rinse one more time. Transfer them to a blender, along with nutritional yeast, minced shallot and garlic clove; pour in just enough water to cover the cashews. Blend for 3-4 minutes, scraping down the sides with a spatula every few minutes, until the cashews are smooth. You may need to play with the consistency a bit, adding a tablespoon or two of water.
3. Meanwhile, bring a medium pot of heavily salted water to a boil. Add pasta and cook until al dente (fettuchini takes about 10 minutes). Strain pasta, reserving a bit of pasta water. Warm cashew cream in the same pot and add fettuchini and toss. Serve immediately with fresh chives as garnish, if you like. Cashew cream lasts in the fridge for up to 4-5 days.
Yields 2 cups of cashew cream