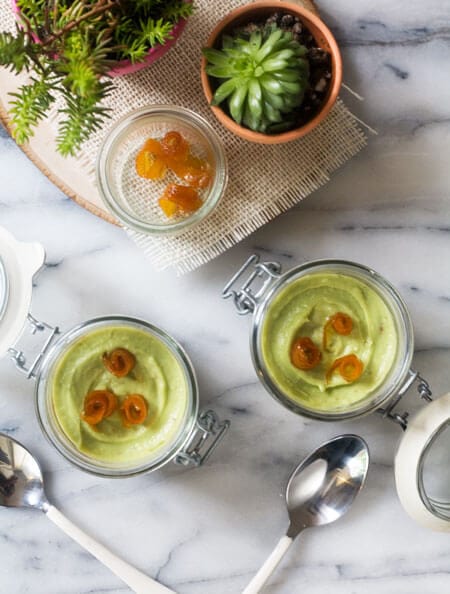 Last week, two days before the party I threw, I bought twelve (yes, twelve!!) avocados with a grand plan to make myyyyy guacamole. I mean, who doesn't love guacamole?! Demons, maybe.
So, yesss, I had avocado plans, but…oh, I dunno, the night before the party, I realized that the avocados were still hard as a rock. Like, no softness AT ALL. I googled avocado-ripeneing tricks (and yes they exist) and tried one. I put all of the avocados in a big paper bag with an over-ripened, ugly brown banana. The bananas have a chemical called ethylene, which is a hormone that triggers ripening in mature fruit. Food science, I like you! Well, it sounded like it would've worked but I think my avocados weren't mature; they were immature, so nothing. Still hard.
That meant I was left with a crazy amount of avocados that became ripe days later. My brain froze. All I could go to was avocado pie and guacamole so I took to the world of Facebook and all of you assisted me quite nicely. Many of you commented about avocado mousse. I was intrigued. I did some research. I tested a few times and boom! Here we are.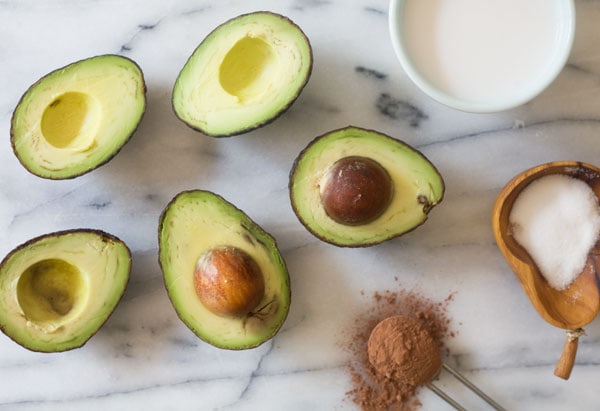 Ok. So. I think we should talk about the mousse because it really can't be simpler but you must promise me a few things.
You must promise to me that you'll use either honey, agave or powdered sugar. Regular sugar will be grainy. And I actually really love the flavor of the agave with the chocolate so I think that works out just lovely.
And secondly, you must promise to me that you'll include the ground cardamom. It's just so important. It's not to be missed.
The cardamom flavor isn't overwhelming, it's actually barely detectable, but it works with the chocolate in the nicest ways. And the salt! Oh the salt is important.
Since this avocado chocolate mousse tastes nothing like avocado (it's mainly used as a fat substitute), I really wanted to taste the avocado so I turned to adding a nice little avocado coconut creme on top.
Not gonna lie, the avocado cream (or "creme," if we're being French) looks a lil' cray, but it's so delicious. It's nutty, sweet and coconut-ey. I would go as so far as to describe it tasting how suntan lotion smells but I feel like that is unappealing.
So, I'll say that it tastes like how Hawaii looks, all tropical-like.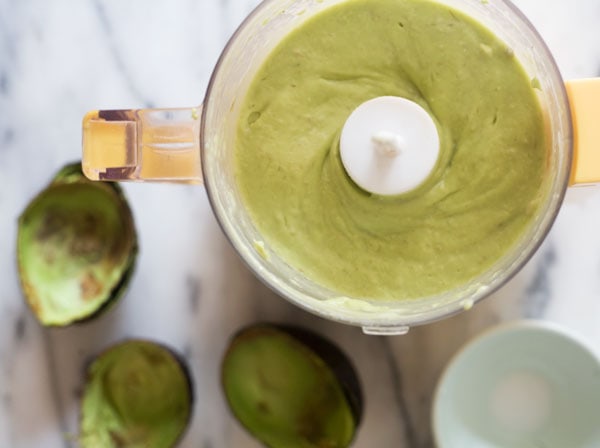 In a last minute move, there was a decision to quick-candy some grapefruit peel. The grapefruit peel adds a bit of sugary bitterness to the dish that I really love. I left a note below saying that if you don't like bitterness, skip it all together. No biggie!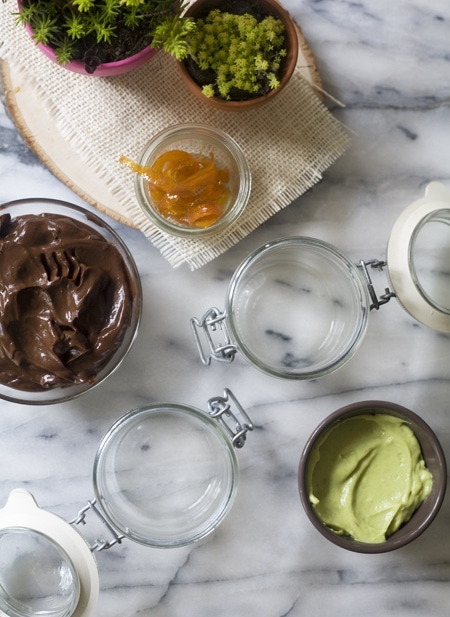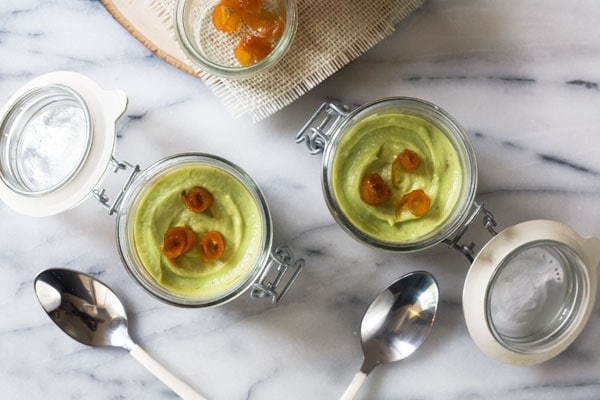 I think eggs, butter and cream are beautiful things. It kind of blows my mind how a bit of flour, sugar and eggs can transform into works of art. (I'm being melodramatic.)
But who knew the avocado could be so magical! I mean, seriously. I thought it was going to be tough for me to form a bond with this vegan avocado version of mousse, but it happened. We're are bonded, my friends. Big time.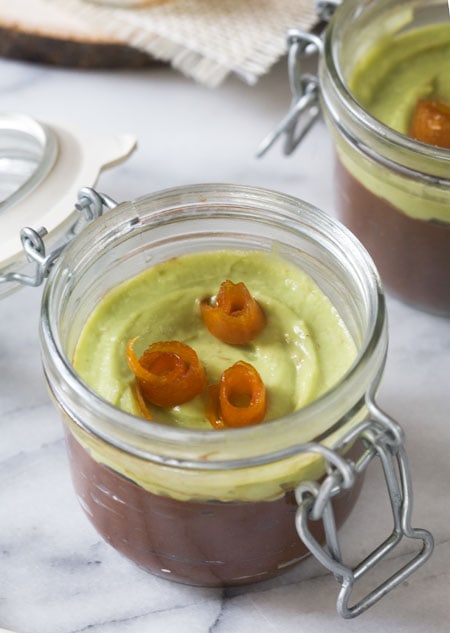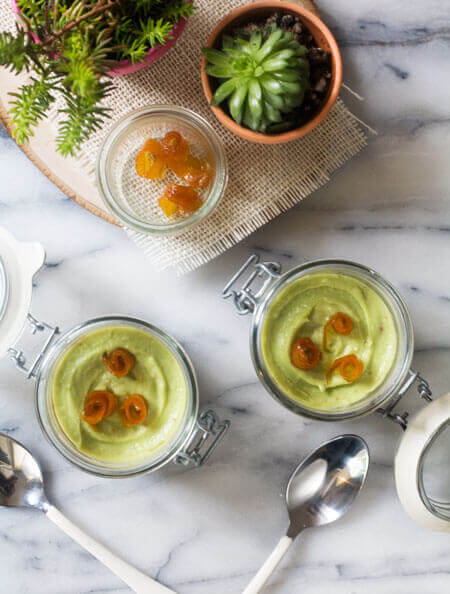 Print Recipe
Vegan Avocado Mousse with Avocado Coconut Creme
Ingredients
Mousse:
2

ripe avocados

½

cup

light coconut milk

¼

cup

Dutch processed cocoa powder

¼

cup

agave

1

teaspoon

vanilla extract

⅛

teaspoon

cardamom

Sea salt
Avocado Cream:
1

ripe avocado

3

tablespoons

light coconut milk

3

tablespoons

powdered sugar

Pinch

of sea salt
Quick-Candied Grapefruit Peel:
¼

cup

water

¼

cup

white granulated sugar

Peel from ½ grapefruit

sliced thinly
Instructions
To the bowl of a food processor, add the avocados and coconut milk and blend until smooth, about 1 minute. Add the cocoa powder, agave, vanilla extract, cardamom and salt and blend until very smooth and slightly fluffy, about 1-2 minutes. Do a taste test to make sure the agave amount is okay. You might want to add an additional tablespoon or two depending on how sweet you like it. Place in the fridge to cool while you prepare the rest of the ingredients.

Quickly clean the bowl of the food processor and place it back on its base. To it, add the avocado, coconut milk, powdered sugar and salt. Blend until very smooth, about 1 minute. Adjust sugar according to your taste. Set aside.

Place a small saucepan over medium heat and add the water and sugar, stirring until the sugar is dissolved. Bring the mixture to a simmer and add the grapefruit peel slices. Cook the slices for about 5-7 minutes. Transfer to a cutting board to harden slightly.

To assemble, divide the mousse between two ramekins or jars. Top with a with a few tablespoons of the avocado cream, smoothing out the top and adding a few candied grapefruit slices to the top. Serve immediately.
*Note 1: The grapefruit peels will be candied but bitter. I actually liked the bitterness. If you HATE bitterness and think it's repulsive, no biggie! Simply blanch the grapefruit peels in boiling water prior to the sugar/water process.
*Note 2: The pudding can be made up to 3 days in advance, if covered and kept in the fridge. The avocado cream, however, will begin to turn brown after a few hours. I would make sure to serve that immediately.