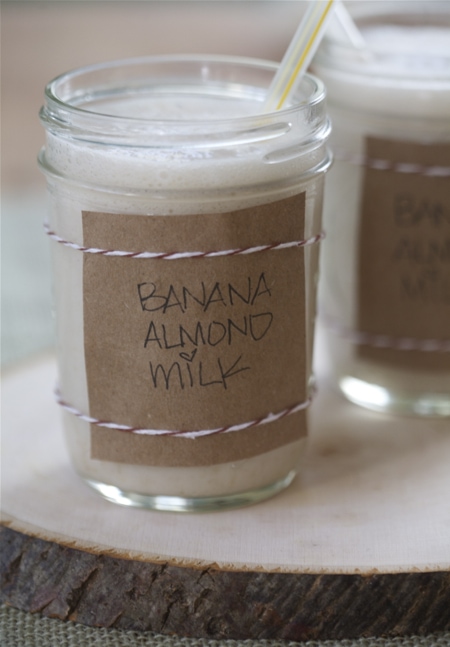 Breakfast is my main chick. My main steeze. My main squeeze. My major.
But so many times I skip breakfast, decide to eat a cup of coffee instead, sit at my computer and next thing I know it it's noon and I'm so angry. I'm hangry.
So, in 2013 I didn't have any major resolutions. I'm not good at those. But I did decide to eat breakfast more regularly. And I to travel to far away places.
One of my main problems in the morning is that I'm not that hungry. I don't wake up ravenous; I wake up wanting water and coffee. And Instagram. I have to force myself to consume something at 8am. This banana milk a good option. It's nutritious, tasty, and super easy to make.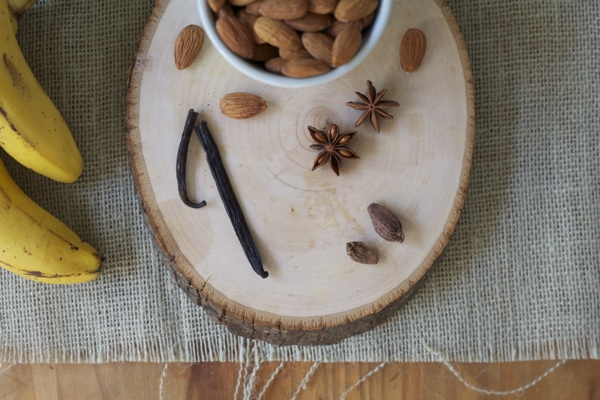 I love making homemade nut milks. Sure, you can buy almond milk for $2 at most grocery stores. But I spiced this one up a bit with star anise, a vanilla bean and cardamom. It was extra delicious and extra special.
The almonds soak overnight in water with the spices and in the morning they're drained and take a trip to the blender to get pulsed with even more water.
After the last straining, you have a bunch of almond milk you can grab out of the fridge whenever you're feeling it.
In this instance, I used it to make banana milk.
Ohhh bananas, I luv u, like, a lot. Recently I've been a little obsessed with banana, and honestly have no idea why.
I got the idea for banana milk from an old Marion Cunningham cookbook I have on my shelf. Her recipe used real milk and since I don't drink cow's milk (I don't love the flavor), I decided to change it up.
While I was doing some banana milk research, I learned that it's crazy popular in Korea. A childhood staple, for some. Who knew! Cool! This commercial is all about a grown up dude drinking banana milk. And then his mother (?) or grandmother (?) starts booty dancing. If that commercial doesn't sell you on banana milk, then I don't know what will. I mean, banana milk is just that good!
My wish is that you make this almond banana milk and it makes you dance like grandma.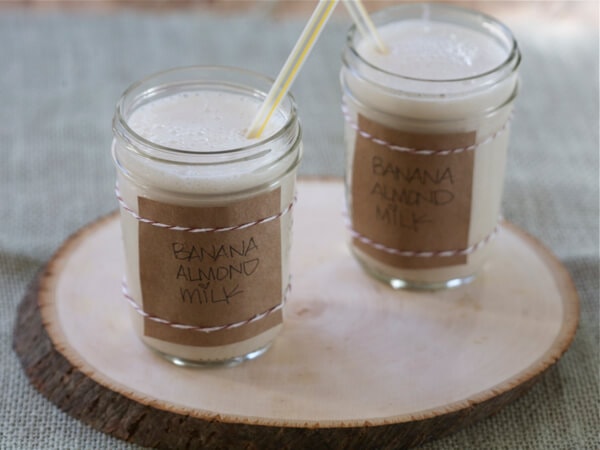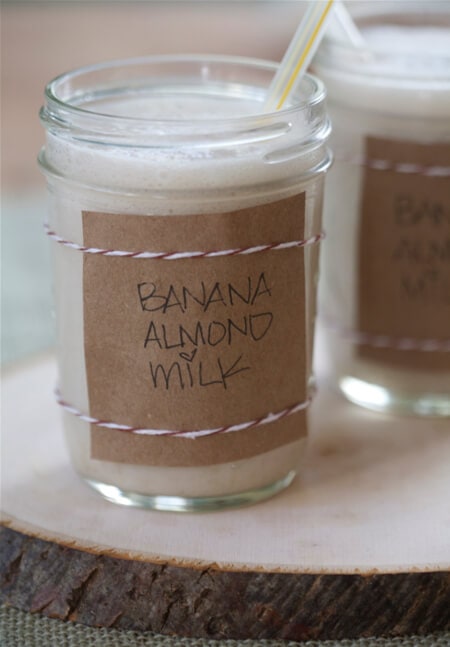 Print Recipe
Vegan Spiced Almond Banana Milk
Serving Size:
cups Almond Milk; 2 glasses of Vegan Almond Banana Milk.
Ingredients
1

cup

raw almonds

1/2

vanilla bean

scraped

1

star anise

2

cardamom pods

3

bananas

Salt
Instructions
In a bowl, add 3 cups of water, raw almonds, vanilla bean, star anise, cardamom pods and stir. Cover with plastic wrap and transfer to the refrigerator overnight.

Strain the almonds, discarding the water, vanilla bean, star anise and cardamom pods. Transfer the almonds to a blender and add 3 cups of water. Blend until very smooth, 2-3 minutes. Strain the almond and water mixture using a cheesecloth and strainer. Transfer the almond milk to a glass container and keep in the fridge for up to 3 days.

To make the almond banana milk, add 1 1/2 cups of almond milk to the well of a blender. Throw in 2 bananas and a pinch of salt; blend until nearly smooth. Divide between two glasses and serve immediately.