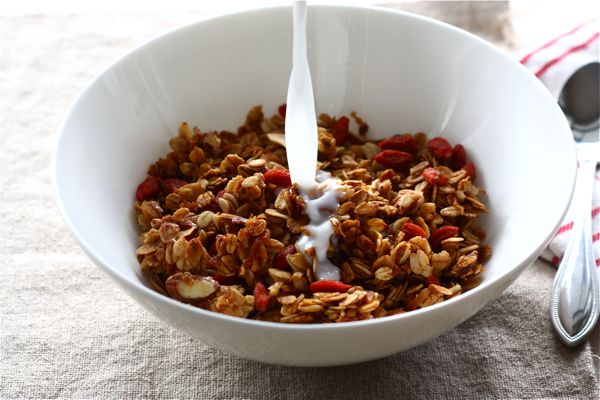 If you were a food, what would you be?
A starchy potato? A pile of rich brown sugar? Maybe a handful of macaroni? Or…would you be a fancy, high-class vanilla bean? Be honest.
I like to think I would be some sort of superfood. Like acaí, cacao nibs, or goji berries.
They're, like, the superheroes of food, aren't they? I bet if they were people they'd have a cape, be super strong and most likely, incredibly attractive. Who doesn't want to be all of those things?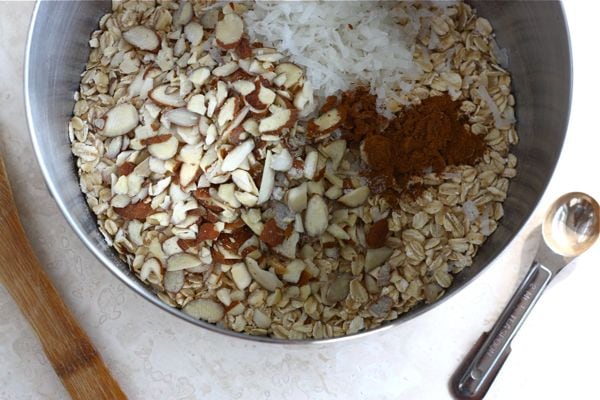 Before the holidays, I had big plans for my first recipe of the new year.
I wanted to be a rebel, turn my back on diet-land and give you guys a gigantic chocolate cake…piled with chocolate frosting on top. But then I ate. A lot. During the holidays.
I had too many cookies. Too many cupcakes. Too much of everything.
I need a break.
A sweets break. A bad foods break. No diet for me. Nah, I'm not interested.
But I am interested in a vanilla speckled granola with slivered almonds, sweetened by agave and a little bit of brown sugar.

And then baked until the perfect hue of golden brown. The last move, to make this super healthy/superhero food, is folding in goji berries.
I love them for their antioxidents. I love them for their texture. And I so love them for their pretty pretty color.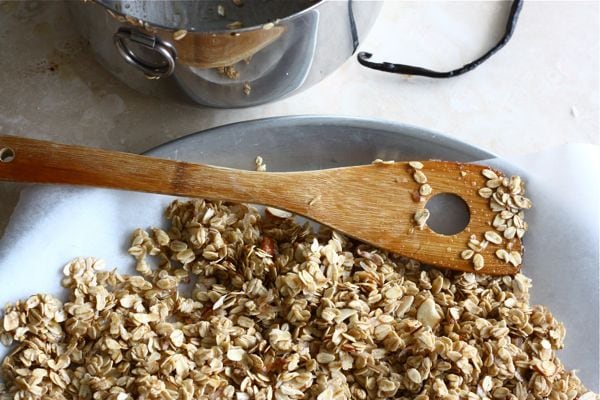 Accompanied with some coconut milk? Yum. Hi 2012, nice start we're having.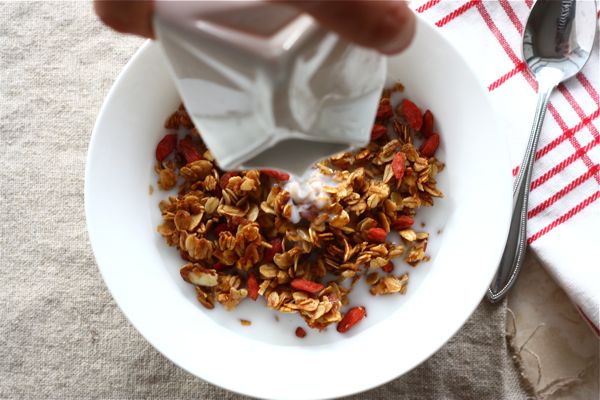 Vanilla Almond Goji Berry Granola
3 cups old-fashioned oats
1/3 cup slivered almonds
1/3 cup sweetened coconut flakes
1/2 teaspoon ground cinnamon
Pinch of salt
1/3 cup grapeseed oil (safflower will work too)
1/3 cup agave
1 vanilla bean, scrapped
1/4 cup light brown sugar
1/3 cup goji berries
1. Preheat oven to 325 degrees. Line a baking sheet with parchment. Set aside.
2. In a medium bowl, mix together oats, almonds, coconut flakes, cinnamon and salt.
3. In a small saucepan, combine grapeseed oil, agave, vanilla bean inards, vanilla bean and light brown sugar. Heat to a simmer (and until sugar is dissolved) and remove from heat. Drizzle syrup mixture over oat mixture, and toss. Transfer granola mixture onto sheet pan and spread evenly. Bake for 20 minutes, or until golden brown, mixing it once at the 10 minute mark. Let granola cool completely on a wire rack. Break it into chunks and mix in goji berries.
4. Using your hands, break granola into chunks; transfer to an airtight container and add goji berries and mix.
Yields about 4 cups