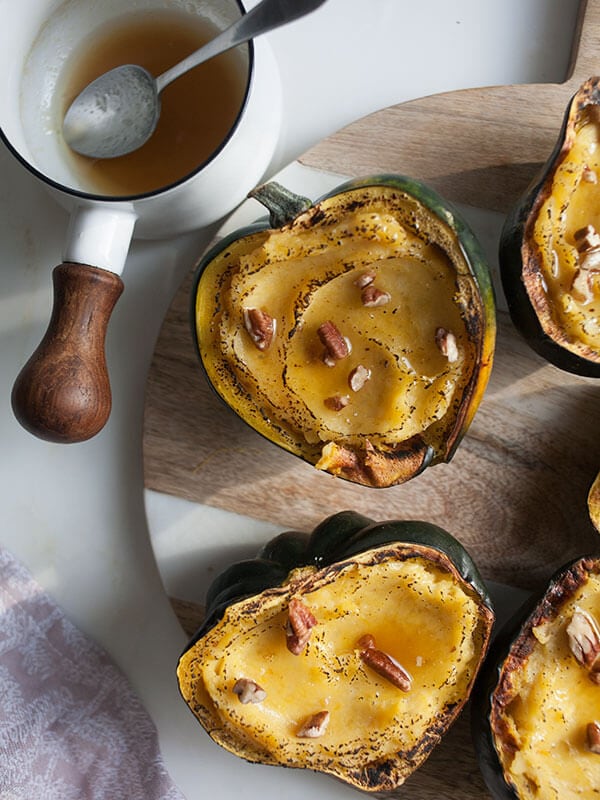 Twice-baked potatoes are kinda basic, aren't they? They are in an endearing way, of course. They're simple and adorable and I kinda have the urge to pat them on the head and tell them they're cute. But for this Thanksgiving, I wanted a side dish with a bit of class, so I decided that old favorite of ours needed a bit of a makeover.
This is its classier bigger sister; less cheese, less carbs yet still indulgent and delicious. Also, this is definitely the first time where I'm saying less cheese/less carbs and meaning it as a good thing.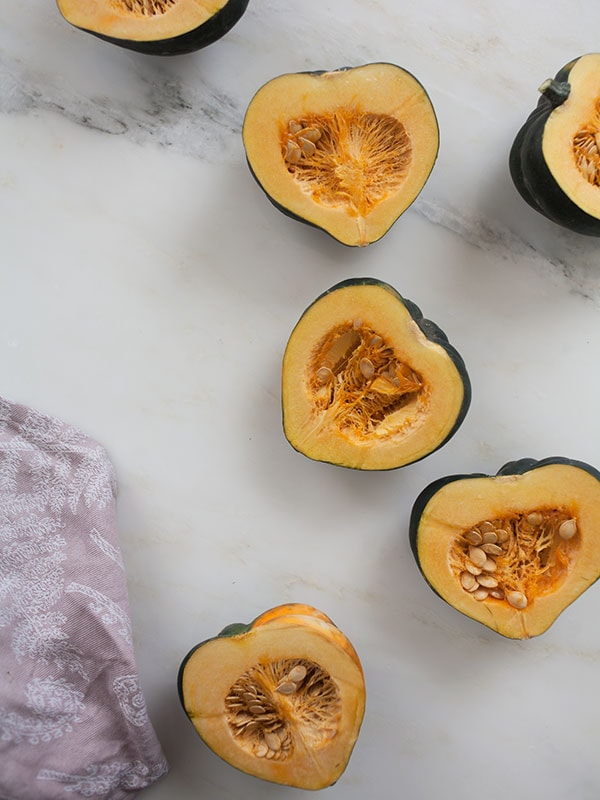 For this post, I teamed up with PayPal. The majority of the items I purchase online are made with the help of PayPal. And I'm talking everything…like this past Sunday's Real Housewives of Atlanta? Purchased with PayPal via iTunes. The Dansk butter warmer you see in these photos? Paid via PayPal. Big Sur getaway on Airbnb? Paid via PayPal. The list can go on and on!
I find it a million times easier to just login into PayPal versus getting out of my chair, finding my purse, grabbing my credit card and entering all my info over and over again. PayPal really is so much easier.
I was pumped to take my good experience offline and use PayPal mobile app. All the produce in this post was purchased at my local farmer's market using the app. The entire transaction, which included finding my phone from a crowded large purse to actually paying, took all but 45 seconds. The payment went through quickly, too; I'd say it took about 15 seconds and then I was on my way!
The mobile app was a breeze to use and it made my experience at the market SO much easier. I always forget to pull out cash to take to the farmer's market so I was really pumped that I could just pay using my phone;less juggling, less stuff to keep track of! And if you're wondering, "How do I know who accepts PayPal?" The app itself has a locator which tells you which vendors nearby take PayPal. Easy breezy.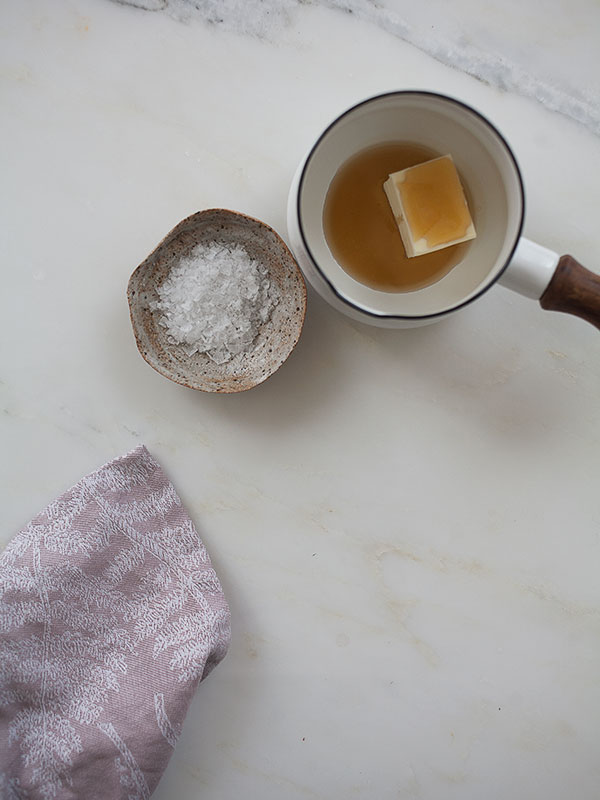 My trip to the farmer's market took about an hour (because I love looking at all the veggies), the check out via PayPal took less than a minute and cooking up these acorn squash boat cuties took about an hour.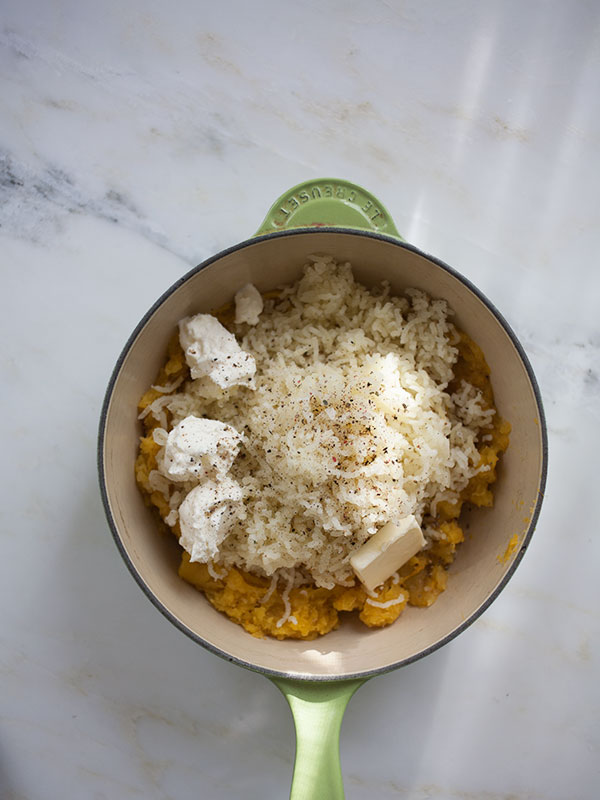 The acorn squash is roasted while a lone potato boils away. The potato surprisingly adds a bit of lightness to the acorn squash. The acorn squash boats are refilled with the filling and topped with sweet and salty maple butter and a small handful of pecans.
These little boats are perfect for dinner with a side salad or, if you're serving them as a side, they can even be cut in half. (I've eaten one by myself and it's like a whole meal!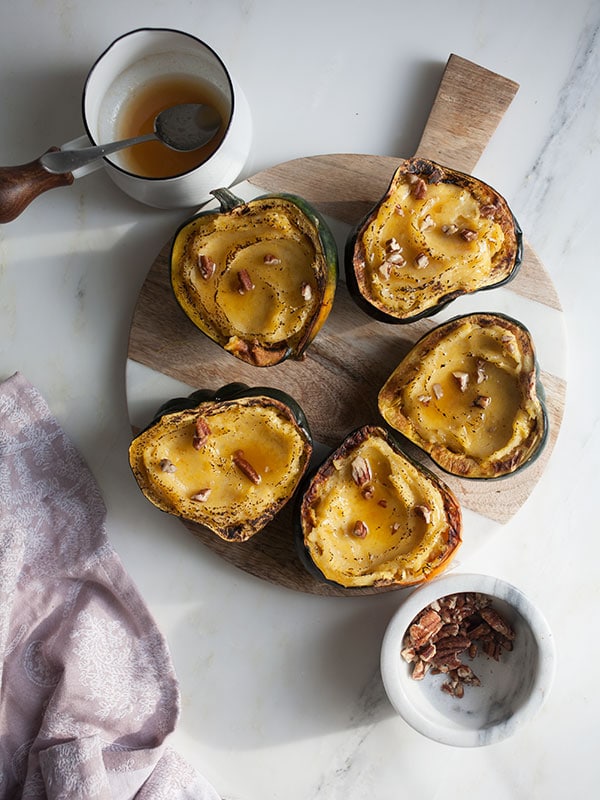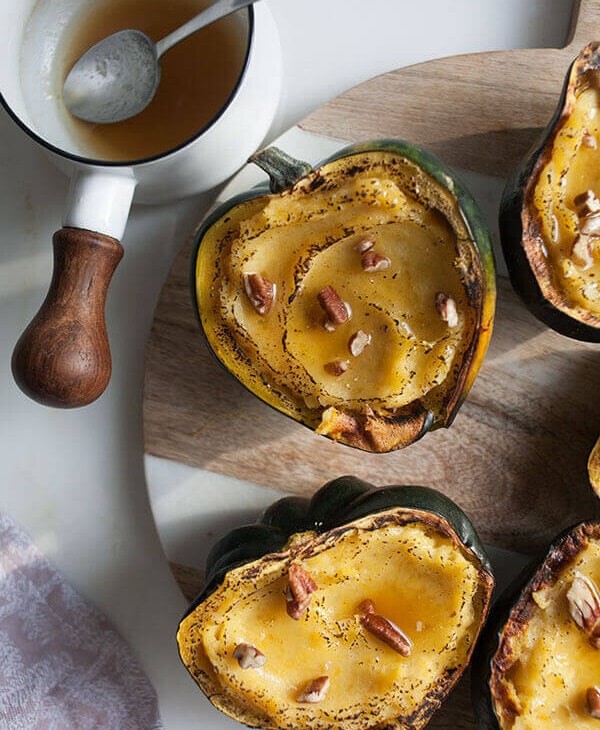 Print Recipe
Twice-Baked Acorn Squash w/ Maple Butter and Pecans
Ingredients
3

acorn squash

halved

1

large russet potato

1 pound, peeled and diced

1/4

cup

creme fraiche

4

tablespoons

unsalted butter

divided

Salt

Pepper

2

tablespoons

maple syrup

Handful of pecans

roughly chopped
Instructions
Preheat the oven to 400 degrees F and line a baking sheet with parchment. Place the halved acorn squash side by side, flesh side down, on the baking sheet and roast for 30 minutes, until squash is tender. When the squash is cooked, use a fork to carefully flip over the squash halves so they can cool slightly.

Meanwhile, bring a medium saucepan filled with water to a boil. Add the diced potato and cook until tender, about 10 minutes. Drain in a colander and set aside to cool slightly. Run the diced potato through a potato ricer and into the empty medium saucepan (you can use the same one you boiled the potato in - no need to clean it!). Add the creme fraiche, 1 tablespoon butter and a few pinches of salt and pepper. Set aside.

Discard the seeds from the acorn squash. Scoop out the flesh, being sure to leave enough squash so the shells still have structure, and add it to the potato mixture. Place the saucepan over medium heat and mix until combined. Adjust the salt and pepper to your liking.

Refill the acorn squash shells with the potato/acorn squash mixture. Note: you'll have enough for 5 shells; discard the 6th shell. Make nice swoops using the back of a spoon. Turn on your broiler and place the acorn squash shells underneath until the tops are a bit toasty - be sure to keep an eye on it, about 3 minutes. Meanwhile, add the remaining butter (3 tablespoons) to a small saucepan, along with the maple syrup and a few pinches of salt.

When the squash exit the broiler, spoon the maple butter over them and top with the chopped pecans.
Notes
**MAKE AHEAD** To make these ahead of time, stuff the acorn squash and then put in the fridge. When you're ready to serve, reheat them in an oven that's set to 300 degrees F for 10 minutes. Then, place them under the broiler to brown and top with maple butter and pecans.
{This post is sponsored by PayPal #paypalit. Thank you for supporting the sponsors the make A Cozy Kitchen cozy.}