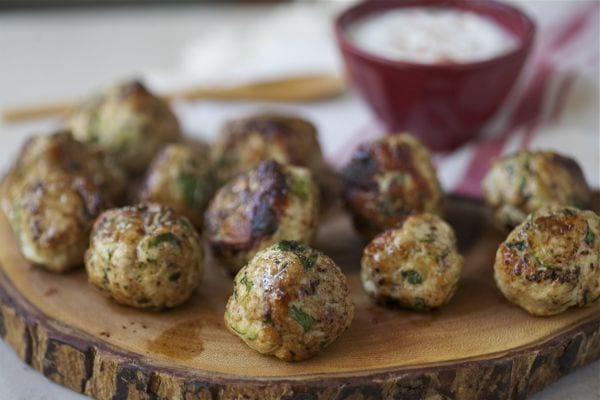 "Meat-a-balls!"
Meatballs are the coolest. The ones you see pictured aren't your typical Italian, breadcrumb-filled, pork and beef meatballs, though they are my first love. These are a little different. There's so much flavor like mint (whoa!), a good amount of cumin, ground up turkey and zucchini up in these things. They're topped with a sour cream and Greek yogurt sauce that's perfectly tart and creamy with little hints of sumac. Very special.
This recipe comes from the upcoming book JERUSALEM. (If you were a fan of the book PLENTY, then you'll love this, too.) It's a beautifully laid out book, with stunning pictures, lots of history and vivid descriptions about Jerusalem, the city and its cuisine. I'm pretty excited about it.
In the book these were actually called Turkey and Zucchini Burgers–and if you like, you can shape these into patties–but I figured since the party attending season is coming up, I'd miniature size them and make them appetizer friendly. But you have options!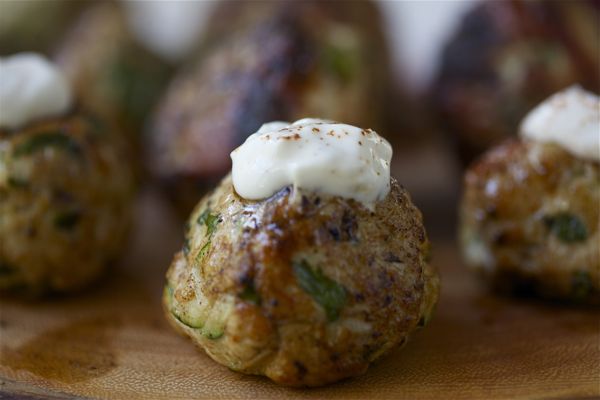 I never promise "easy" if the recipe isn't easy, but these are easy. Promise.
This meat-a-ball process starts with making the sauce. It's Greek yogurt, sour cream, garlic, lemon juice and olive oil. Also, sumac!
If you're not familiar with sumac, it's a Middle Eastern spice that comes from the berries of a flower. It has a bit of a tangy flavor that works really nicely on top of these meatballs. I will admit, that even in Los Angeles, it's a little difficult to find. If you do buy it just for this dish, other uses include: a little sprinkling atop hummus, in the dressing for a fattoush salad, dusting it on roasted potatoes, and I'm personally super curious how it tastes on popcorn.
If you have trouble spotting it at your grocery store, it'll be okay–this dish will still taste amazing without it.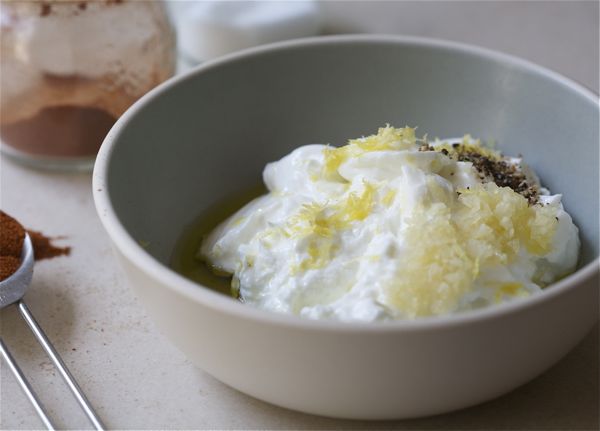 These meatballs have green onion, cilantro and mint.
The mint is my favorite. You get little bits throughout the meatball, making them taste… almost refreshing.
I never had a meatball even come sort of close to being refreshing, until these.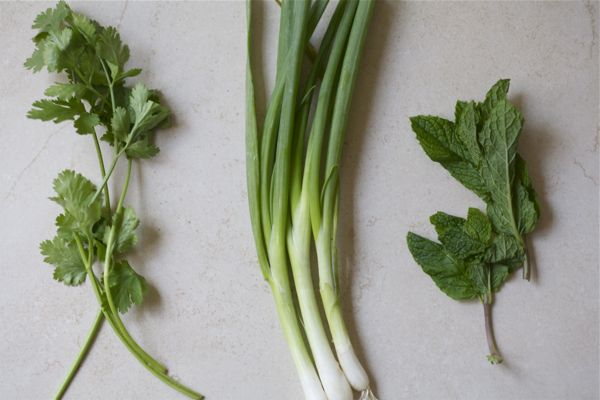 Zucchini is still hanging out at the farmer's markets here in LA.
If that's not the case in your part of the world, I bet butternut squash or kobocha would work nicely, too.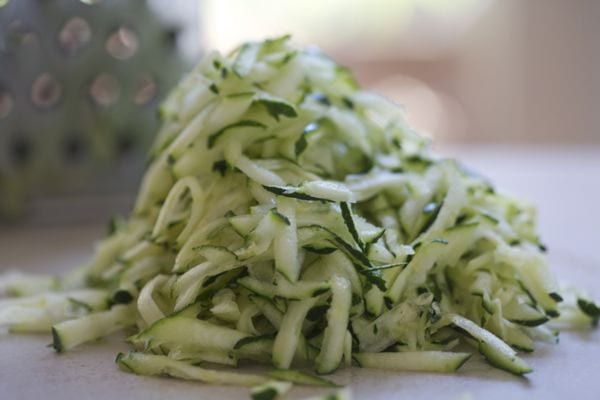 The meat mixture situation gets added to a bowl. And then all mixed up.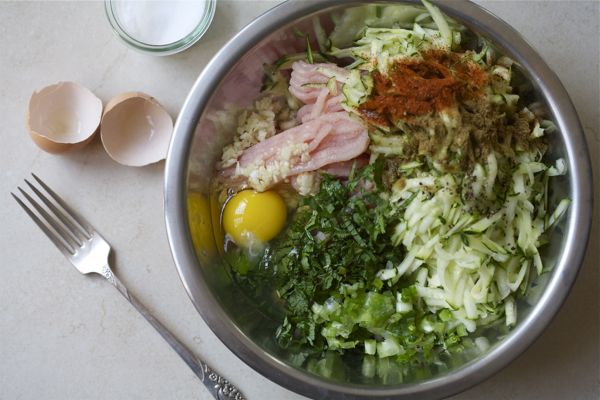 I used a tablespoon measure to scoop out the mixture and shaped each little cute meatball with my hands. They get a little pan fry and then to the oven to finish the cooking process. Serve them on a platter. With skewers. And the sauce.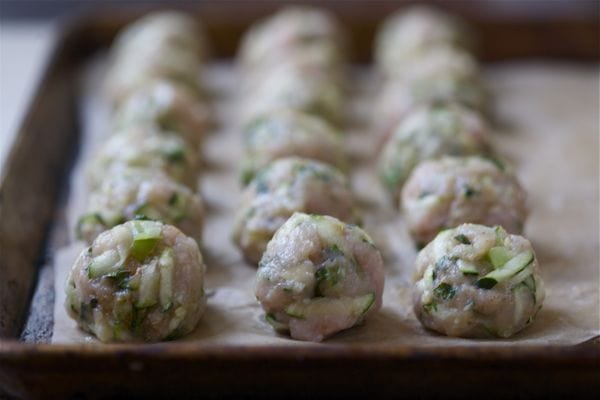 Turkey Zucchini Meatballs
Meatballs:
1 pound (300g) ground turkey
1 large zucchin, coarsley grated (scant 2 cups/200g)
3 green onions, thinly sliced
1 large free-range egg
2 tablespoons chopped mint
2 tablespoons chopped cilantro
2 garlic cloves, crushed
1 teaspoon ground cumin
1 teaspoon salt
1/2 teaspoon freshly ground black pepper
1/2 teaspoon cayenne pepper
about 6 1/2 teaspoons sunflower oil (canola oil will work too)
Sour Cream & Sumac Sauce:
Scant 1/2 cup (100g) sour cream
Scant 2/3 cup (150g) Greek yogurt
1 teaspoon grated lemon zest
1 tablespoon freshly squeezed lemon juice
1 small garlic clove, crushed
1 1/2 tablespoon olive oil
1 tablespoon sumac
1/2 teaspoon salt
1/4 teaspoon freshly ground black pepper
1. First make the sour cream sauce by placing all the ingredients in a small bowl. Stir well and set aside or chill until needed.
2. Preheat the oven to 425F/220C. In a large bowl, combine all the ingredients for the meatballs except the sunflower oil. Mix with your hands. Using a tablespoon, scoop a tablespoon and a half of the turkey mixture and shape into about 22 meatballs.
3. Pour enough oil into a large frying pan to form a layer about 1/16 inch thick on the pan bottom. Heat over medium heat until hot, then sear the meatballs in batches on all sides. Cook each batch for about 4 minutes, adding oil as needed, until golden brown.
4. Carefully transfer the seared meatballs to a baking sheet lined with waxed paper and place in the oven for 5 to 7 minutes, or until just cooked through. Serve warm or at room temperature, with the sauce spooned over or on the side.
Recipe from JERUSALEM by Yotam Ottolenghi and Sami Tamimi