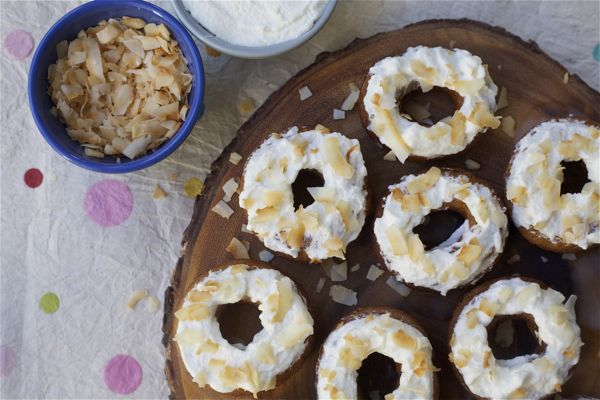 A very good first date question is: "Are you a cat person or a dog person?"
This will help provide clarity and understanding in a moment when both people are just sort of nervous and confused. There's no right or wrong answer. There's no pressure. Just information for both people to gather, process and store.
I am and will always be a dog person. I understand doggies. They understand me. But I like all animals so I want to be a cat lady, kinda. And since I'm a dog person, I want people to like me, including kittens. But they don't ever really do. SADFACE! They don't.
So, for all you cat ladies and cat dudes, tell me this: Do kittens hate most people?
There's this cat with dirty white paws and a cute, grey little body that lives on the property where my apartment building is. He's a stray…sorta. My landlord sets out food for him and few others and they just wander around the property and bask in the sunlight. And every day I have so much hope that we'll be friends. I go outside to check the mail or walk to my car and I see him. I bend down and talk in my most friendly kitten/animal voice and call him. You have an animal voice, right? I think we all do. I imagine even Obama has a voice he exclusively uses when talking to kittens.
Anyway, the kitten doesn't buy into my kitten voice. He just stares at me with that snarky, cat attitude face and runs in the other direction. And every day I tell myself, "one day we're going to be friends." But we're not gonna be.
Another question for you cat people: Do cats like doughnuts? If they like doughnuts, we might be OK.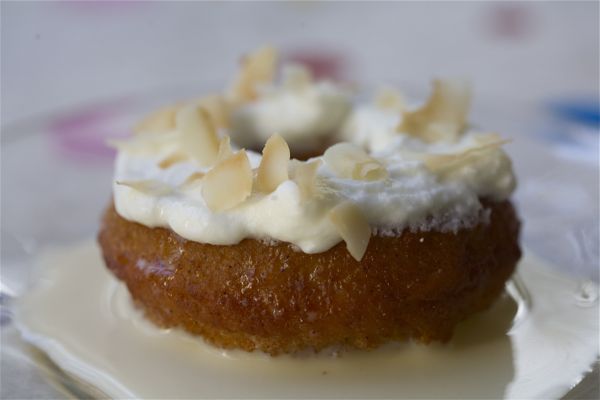 I first had a tres leches doughnut at Doughnut Plant in New York. Pretty, pretty major stuff. All their doughnuts are totally amazing. But their tres leches cake doughnut and their creme brûlée doughnut will send you into dreamland.
Cake doughnuts are cool. They're a bit easier to nail at home than a yeast doughnut. A lot of cake doughnuts tend to be a little bit dry. That's usually my complaint with them.
BUT with this recipe, dry is actually kind of good. You want the dry-ish cake to absorb the tres leches glaze. This glaze is special. It's pretty traditional, consisting of heavy cream, sweetened condensed milk, evaporated milk and spiked with rum and spices. I love it!
Making this glaze is step numero uno for this recipe.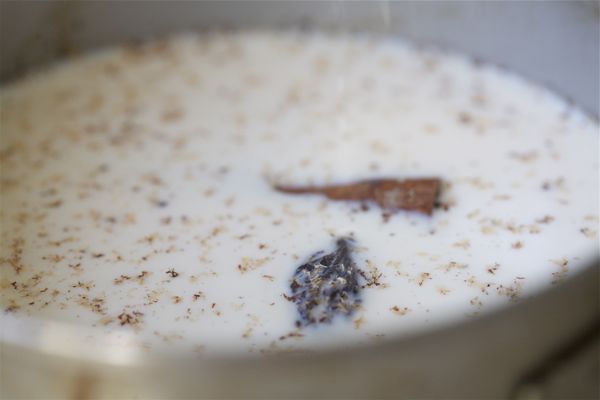 Next, you make the doughnuts. Pretty easy. If you want more step-by-step pictures, jump over to these Maple Bacon Cake Doughnuts I made a few months back.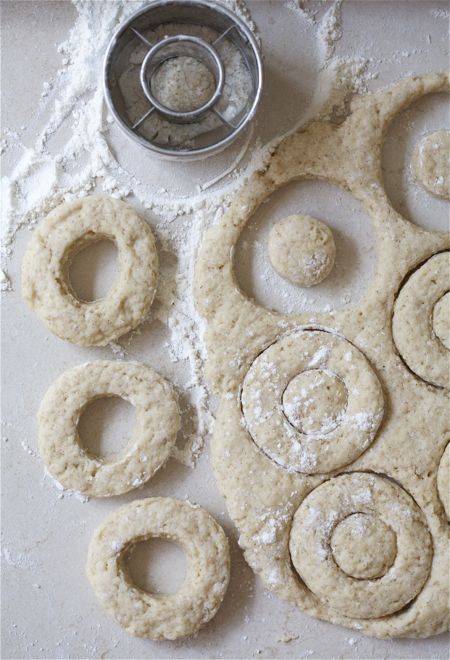 After they're fried, comes the fun part! The poking of the holes!
Take a skewer and pole a series of holes in each doughnut. This will allow the glaze to get all up in the doughnut.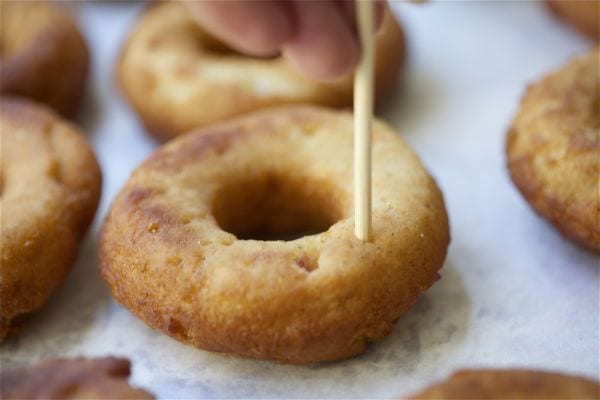 And then pour it all over the doughnuts. Life is fun!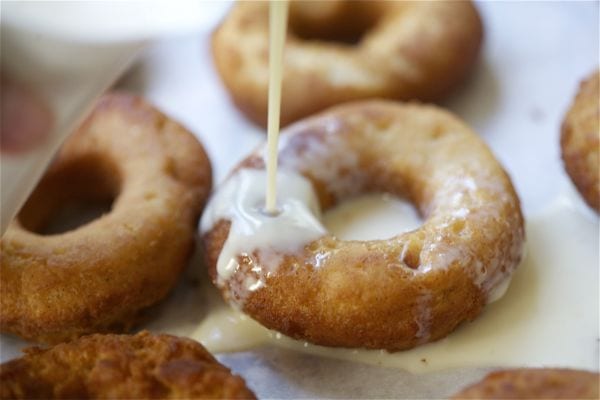 I don't love a soggy tres leches cake. There's a big difference between properly hydrated and just straight soggy. Let's skip the soggy!
I let these doughnuts soak for about 10 minutes. While they were soaking, I toasted up some coconut and made the whipped cream topping.
I garnished these things and served them immediately. Let's be serious. I was home alone. So I served them immediately…to myself.
If you want to make them ahead, I'd advise making the doughnuts and keeping them in an airtight container. They only have about one day of life to them. Then just soak and assemble the doughnuts right before serving.
I'm guessing you're going to tell me that kittens don't eat doughnuts. But guess what? Dogs do!
DOG LADY FOREVER!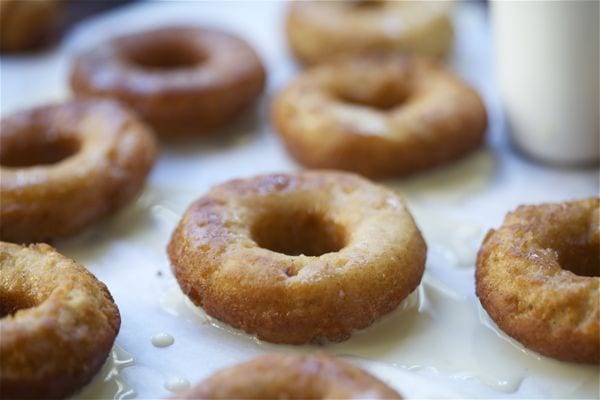 Tres Leches Cake Doughnuts
Print this recipe!
Tres Leches Glaze:
1/4 cup evaporated milk
1/2 cup sweetened condensed milk
1/4 cup heavy cream
1 cinnamon stick
1 cardamom pod
1 tablespoons aged rum
1/4 teaspoon freshly grated nutmeg
Doughnuts:
1 tablespoon vegetable shortening
1/2 cup white granulated sugar
1 large egg
1 3/4 cup, plus 2 tablespoons, all-purpose flour
1 tbls baking powder
1/2 teaspoon kosher salt
1 teaspoon ground cinnamon
1/2 cup whole milk
Topping:
1 cup coconut flakes (might also be labeled "coconut chips")
1/2 cup heavy cream
2 tablespoons confectioner's sugar
1 teaspoon pure vanilla extract
1. In a medium sauce pan, add the milks, cinnamon, cardamom, rum and freshly grated nutmeg. Heat over medium-low heat until everything is combined.
2. In a cast iron skillet, preheat the oil to 365°F.
3. Whisk together the shortening, sugar and egg yolk until well combined. In another bowl sift together the flour, baking powder, salt, and cinnamon. Alternate adding the flour mixture and milk to the yolk mixture until a dough has just formed. Turn the dough onto a clean surface and knead until smooth, 3 to 5 minutes. Lightly flour the surface and roll dough until ½ inch thick.
4. Use a 3-inch doughnut cutter, cut out doughnuts. Re-roll the scraps to make more doughnuts. I ended up with about 12 doughnuts and 12 doughnut holes.
5. Carefully drop 3 to 4 doughnuts at a time into the oil and fry for 1 ½ to 2 minutes, flipping the doughnuts after a minute or so. Drain on paper towels and repeat until all the doughnuts have been made.
6. This is the fun part! Place the doughnuts on a 1-inch rimmed baking sheet (a casserole dish would work too!). Using a skewer, poke a bunch of holes in each doughnut. I did about 7-10 little holes. Pour the glaze onto each doughnut and allow to soak for 10-15 minutes.
7. Meanwhile, preheat the oven to 300F. Spread out the coconut onto a baking sheet and bake for 5 minutes, until lightly golden brown. Remove from the oven and transfer to a bowl. Now make the whipped cream: add the sugar, heavy cream and vanilla extract to a bowl. Beat until light and fluffy.
8. Place a dollop of whipped cream on a doughnut and spread evenly. Top with a sprinkling of toasted coconut. Repeat process until all doughnuts are garnished. Serve right away. Alternatively, you could make the cake doughnuts ahead of time, store in an airtight container, and then assemble right before serving.
Cake Doughnut recipe from Spoon Fork Bacon; Tres Leches Cake Doughnut inspiration from Doughnut Plant.
Yields 12 Doughnuts