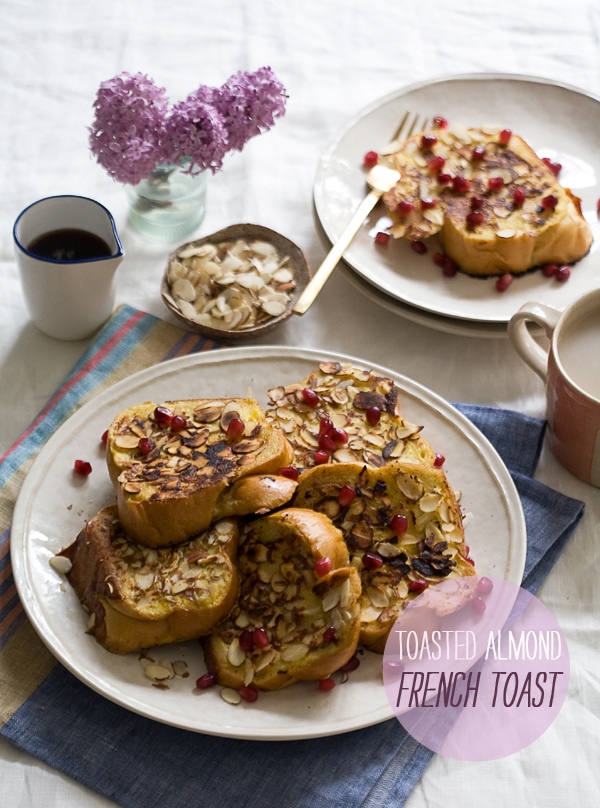 They say you can tell a person's true colors in the darkest of times.
That moment for me was early Monday morning when the Los Angeles earth decided to shake rapidly in the middle of the night. I was mid-crazy dream. I was in the South of France. Amelia and a cat were fighting. I found a Sriracha bottle (how a bottle of Sriracha was just laying on a French country-side road is unknown) and started to throw it at the two of them to quit it. That's when the earth shook, the doors to my closet trembled and my inner-self went into pure panic mode.
Petrified and confused out of my mind, I jumped out of bed, pushed Josh to wake up and bolted out of the bedroom door. Josh screamed (a very manly scream, I might add), "WHAT IS IT?!?" and him, me and Amelia headed for the bedroom door. Apparently, he thought there was a squirrel in our bed. Why a squirrel, I have no idea…so as we were running out of the bedroom door, he threw the blankets on top of each other, as to try and catch the non-existent squirrel and slammed the bedroom door shut.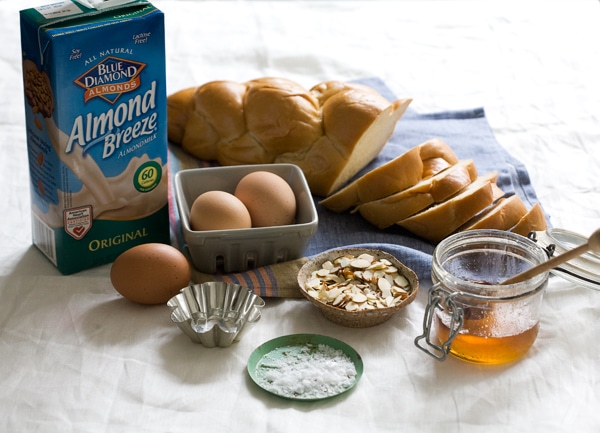 Amelia was not to be left behind. She was right there. The trembling stopped and I immediately started doing this weird cry/laugh thing I always seem to do when I'm embarrassed/scared/confused.
Josh explained his fear about the small animal in our bed and I just started laughing hysterically. I couldn't stop.
There are only a few things that can calm my panicked-self. French toast is one of them.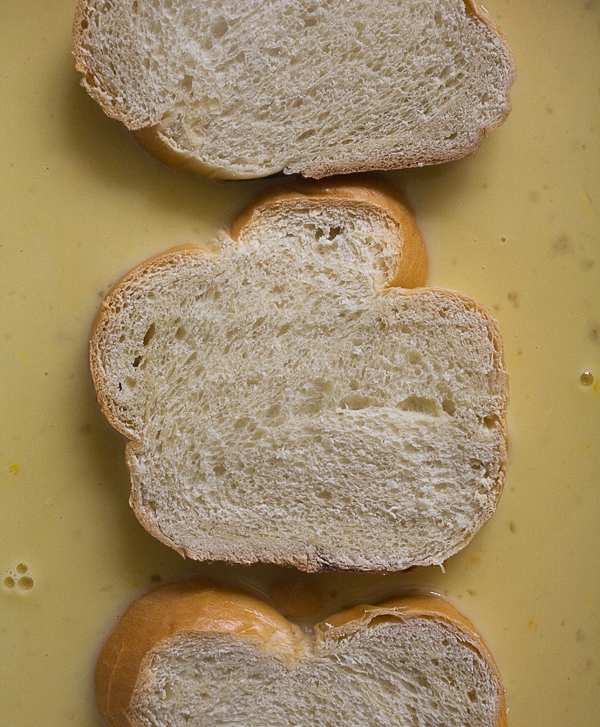 This recipe marks the first of six recipes of a collaboration with Almond Breeze. I've been drinking this stuff for forever; and couldn't be more excited to use it in so much more than just my morning cereal. Think almond custards, other baked goods and even savory dishes.
But first, Toasted Almond French Toast! The challah is soaked in a delicious combo of almond milk, honey, eggs and almond extract. The challah bread is dipped in almond slices and then pan-fried until the almonds are toasty and the edges are lightly golden brown.
The flavor is rich, satisfying, with a pleasant almond flavor and a bit of crunch for texture.
This is what brunch dreams are made of!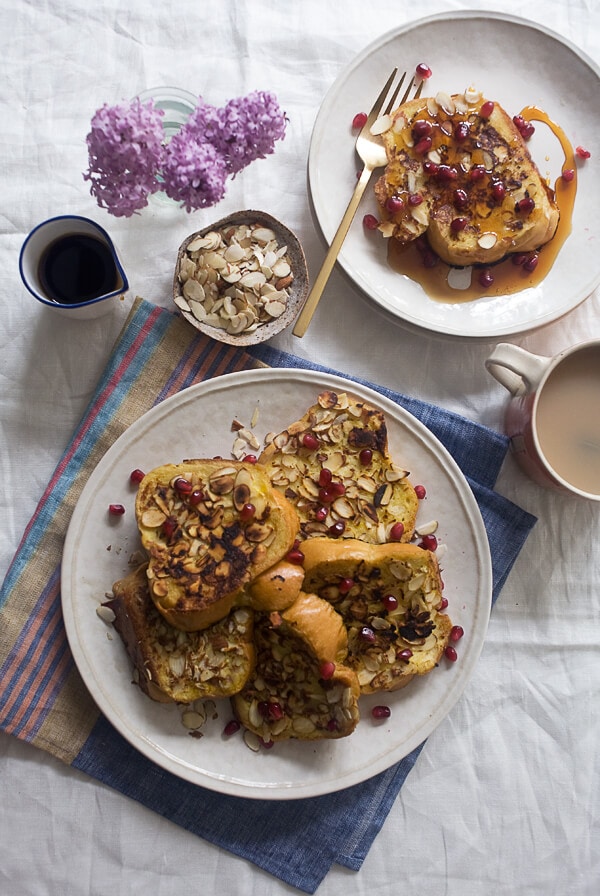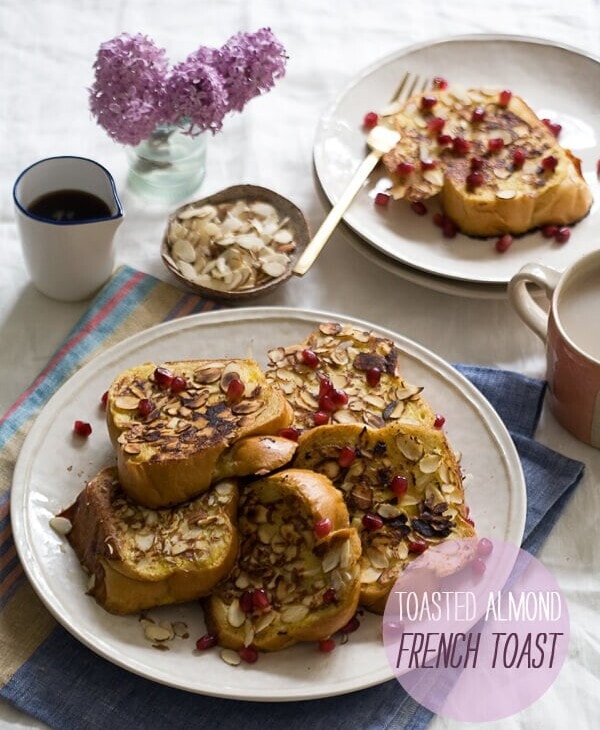 Print Recipe
Toasted Almond French Toast
Ingredients
1

cup

Original Almond Breeze Almond Milk

3

large eggs

3

tablespoons

honey

1

teaspoon

almond extract

1

teaspoon

vanilla extract

½

teaspoon

sea salt

1

small loaf of challah bread

sliced (about 10 slices)

½

cup

almond slices

Butter or oil for the pan
Instructions
Preheat the oven to 200 degree F. Line a baking sheet with parchment and transfer it to the oven. Since we'll be making this in batches, this is where we'll keep the cooked French toast warm.

To a large bowl or large baking dish (I prefer the baking dish because it's flat and easier for dunking), whisk together the almond milk, eggs, honey, almond extract, vanilla extract and salt.

Dip the slices in batches of two or three and allow them to soak for 10 minutes. Meanwhile, heat up a skillet over moderately medium heat and grease it with a bit of butter or oil. Lift up one piece of bread out of the custard, allowing for any excess to drip off. Transfer it to a small plate and sprinkle the almonds on both sides, pressing the almonds into the bread--they'll stick!

Place the slices of challah bread onto the warm skillet and cook until both sides are lightly golden brown. Be sure to keep an eye on it; the almonds toast quickly. Transfer the French toast to the oven to keep warm. Continue with the process of dunking, soaking, covering in sliced almost and frying, until you've cooked up the entire loaf of challah bread.

Serve with slices of fruit and maple syrup.
(This post is sponsored by Almond Breeze)