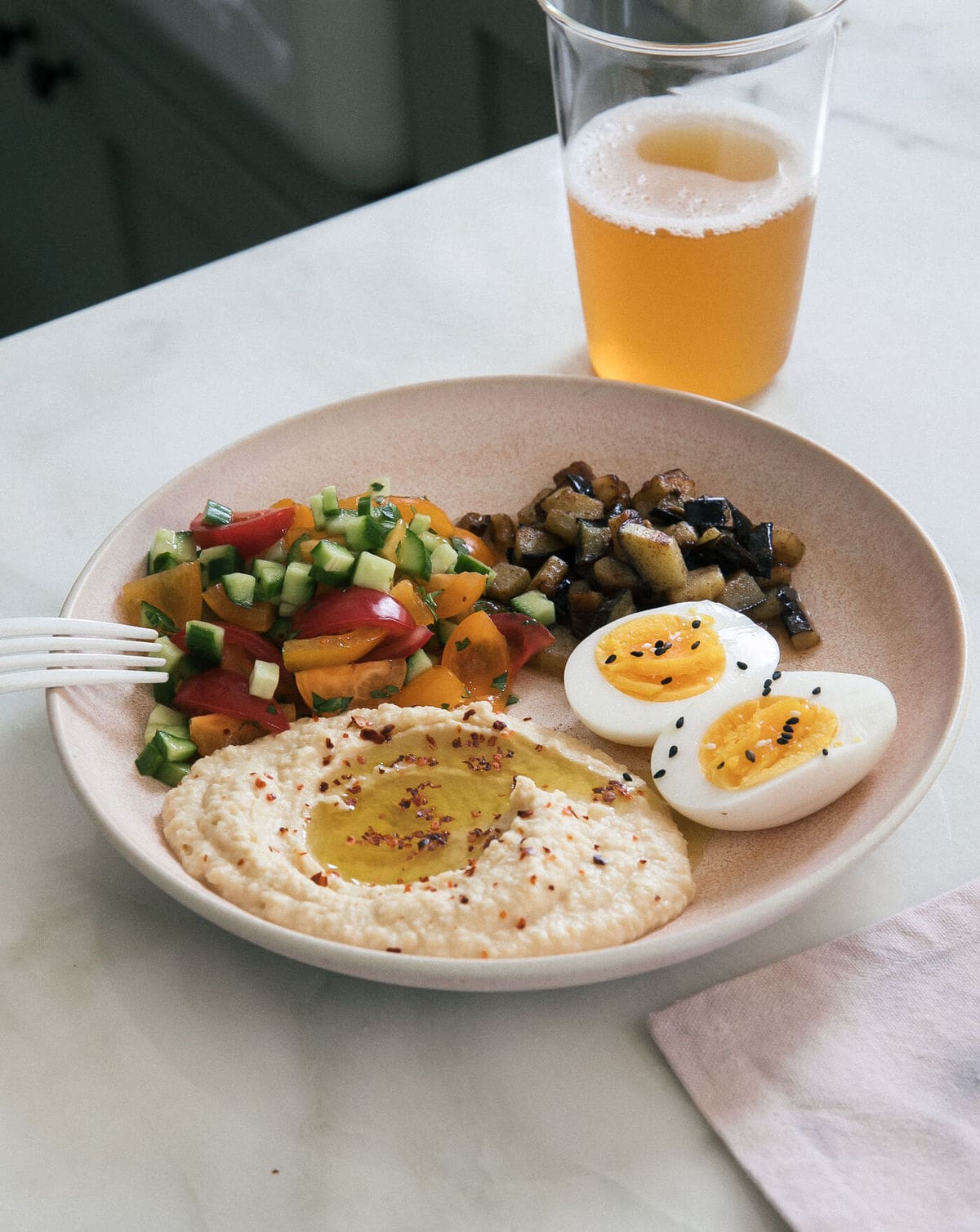 True story: I love butter and cakes and cookies and pasta.
Also true story:I eat healthy most of the time.
I don't follow a diet nor am I paleo, whole30, vegan, keto or any of that. I like to think that I attempt to practice balance and moderation. It's something I'm not always great at or successful at achieving but it's what I strive to do and it works for me. I have a hard time eliminating things completely from my diet, so I eat literally everything, I just don't eat ALL of it.
Most days I eat pretty healthy and that's because it makes me feel better about myself. It makes me feel lighter and brighter and keeps my energy up.
These are my three favorite things to keep me feeling all sprightly!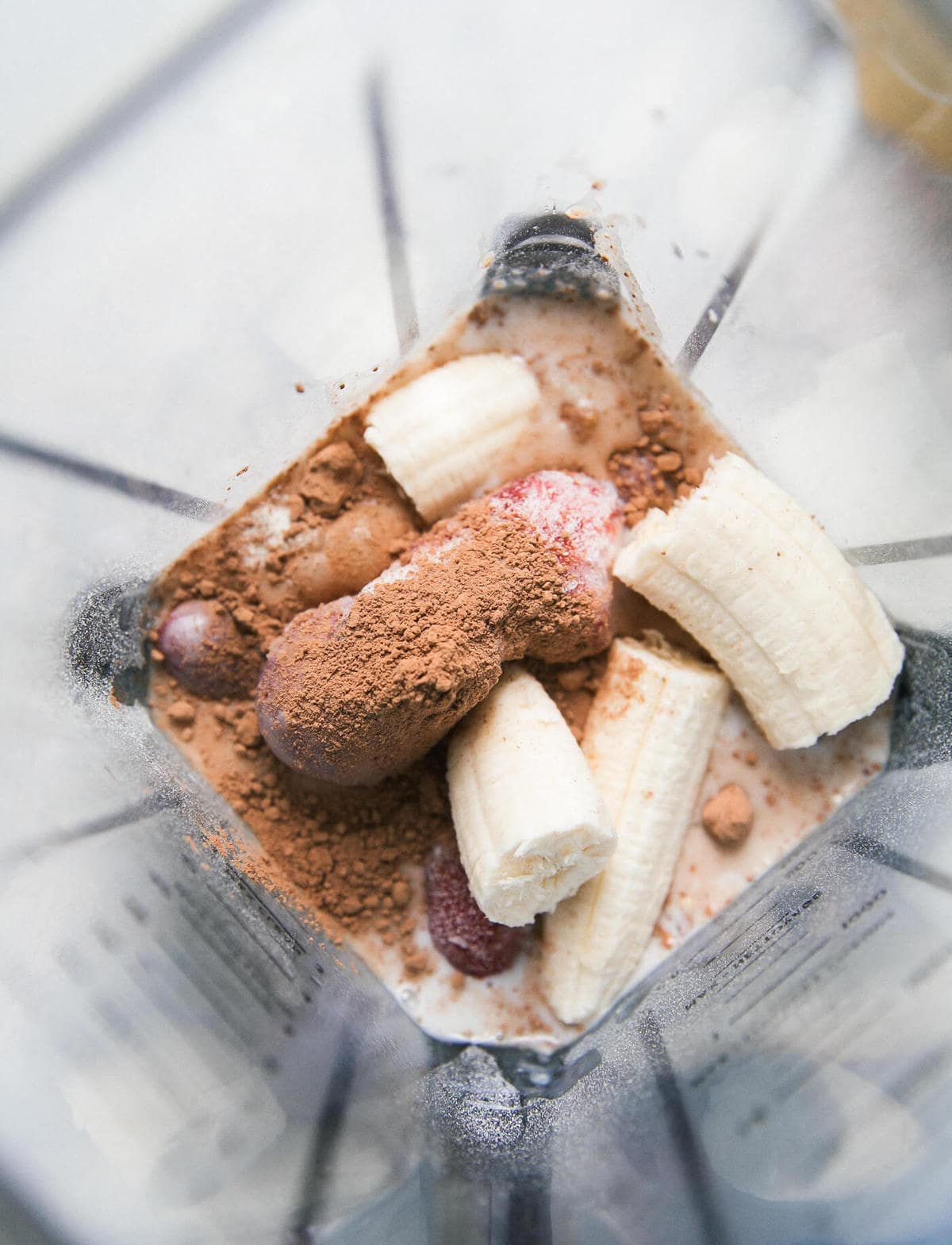 My morning smoothie:
I love having my morning smoothie an hour or so before a later morning workout OR right after a early morning workout.
And then there are mornings where I don't work out at all and I still drink it.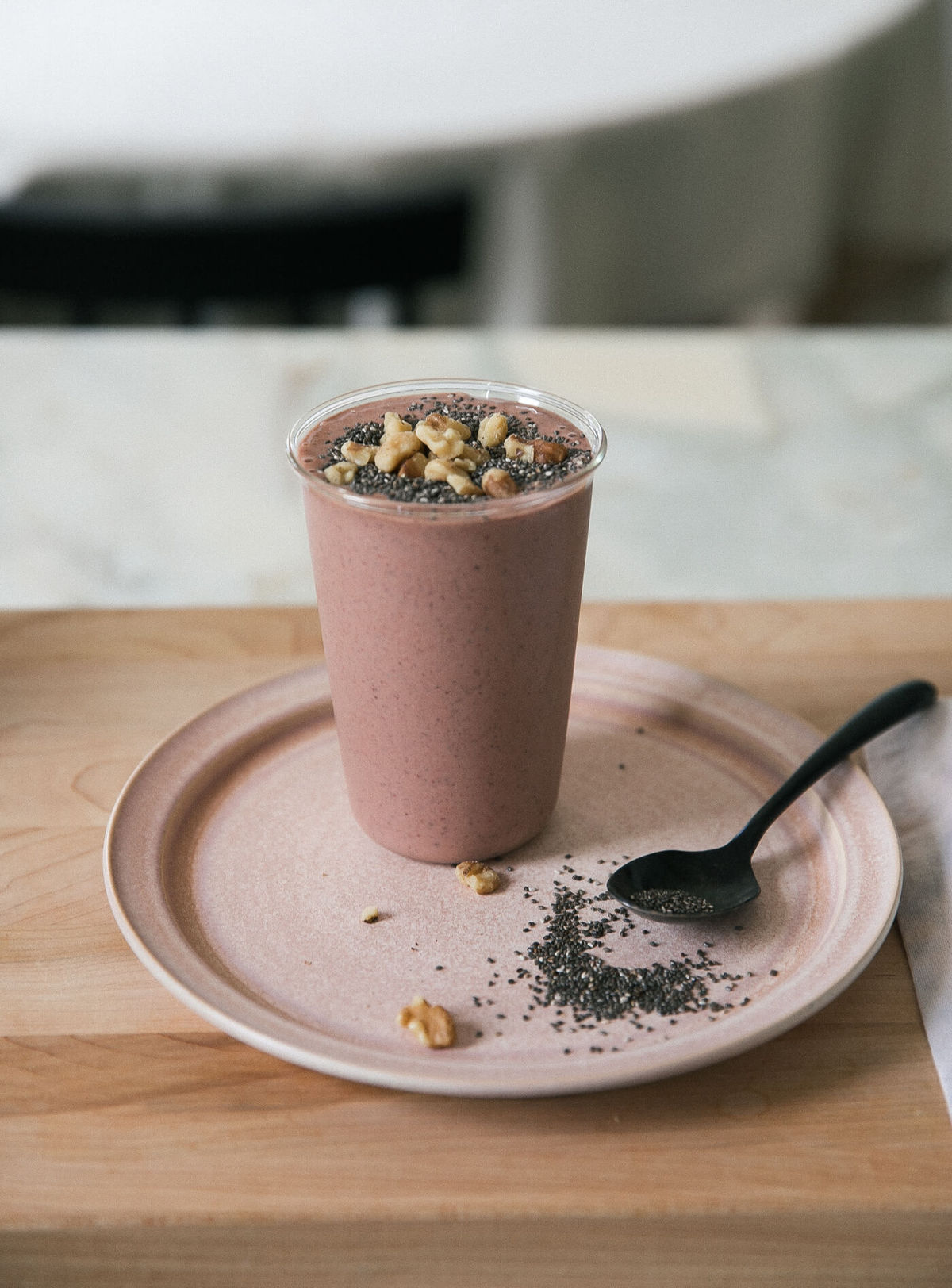 Here's what I add:
2 scoops of Vital Proteins Banana Collagen + Whey Protein Powder (I like Vital Proteins because it doesn't have stevia and just tastes like banana and vanilla)
1 banana (frozen or room temperature)
1 tablespoon cacao nibs
1 tablespoon cacao powder
Small handful of frozen kale or spinach
1/4 cup of frozen strawberries or ice
Small handful of walnuts (more for the top)
1/2 cup of almond milk
I add a few teaspoons of chia seeds and more walnuts on top because your girl likes texture!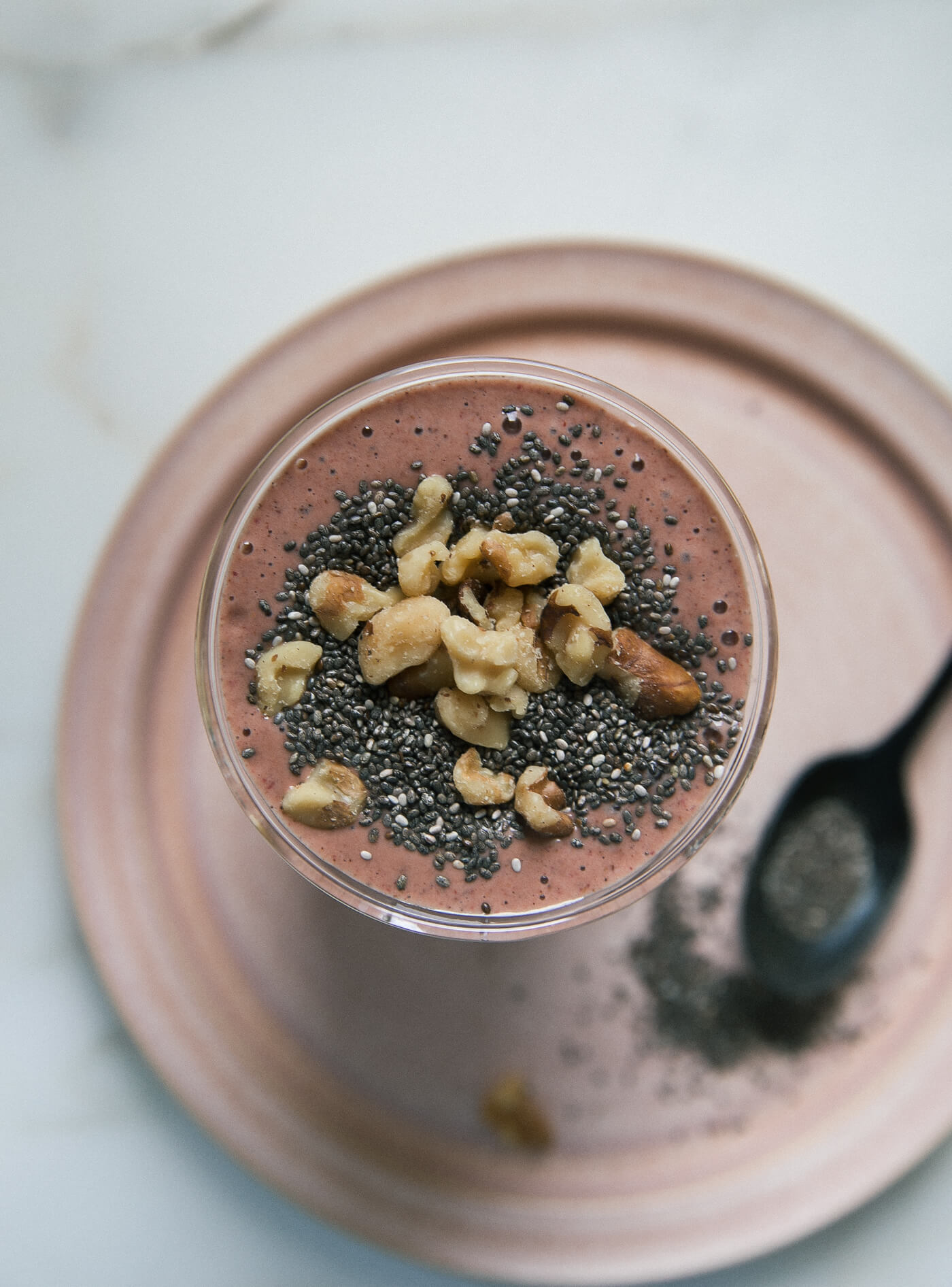 My afternoon lunch:
I don't always eat this. Sometimes I eat a tuna salad or a chicken salad or something else.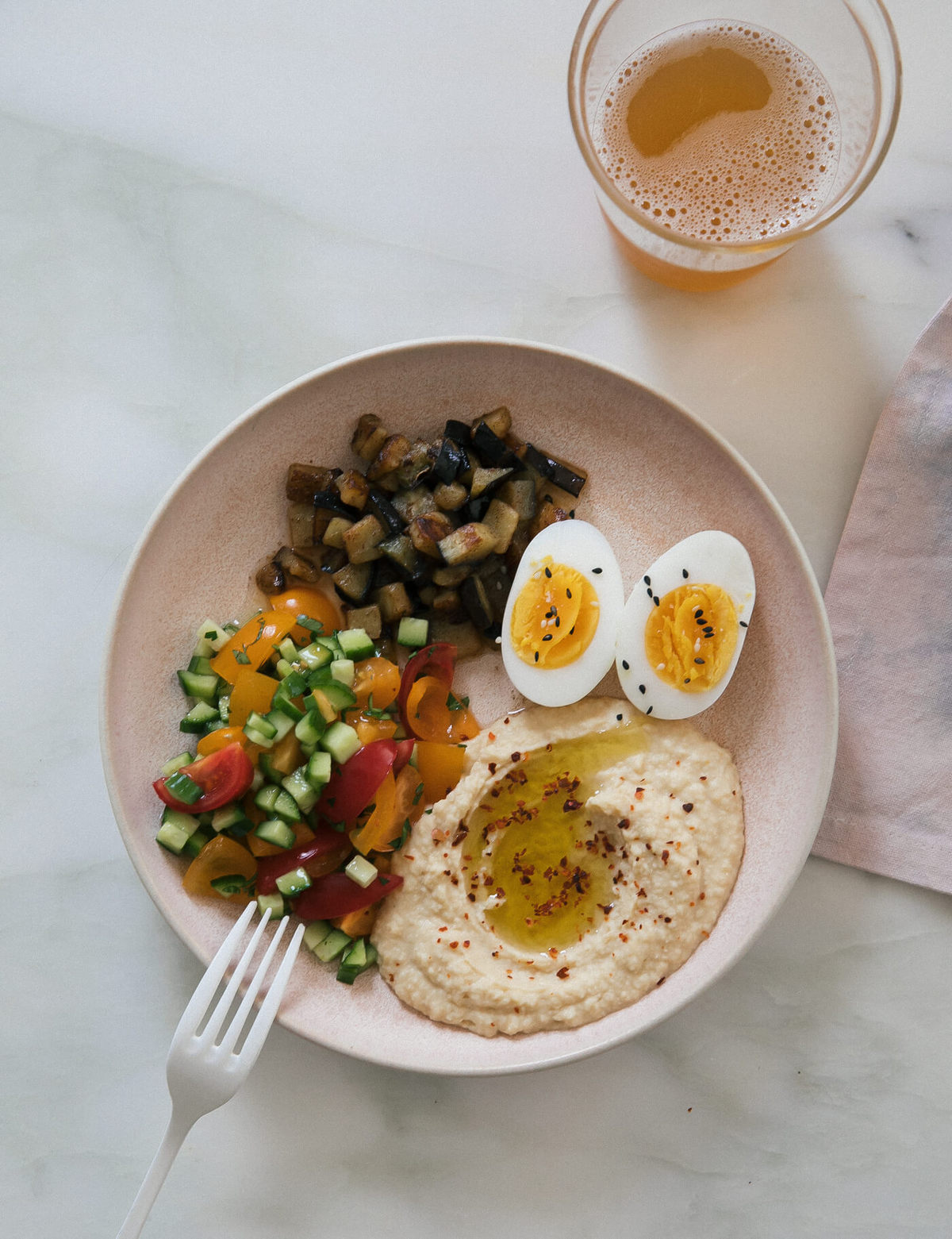 Or sometimes I eat a whole bowl of whatever we're recipe testing for the blog.
But this is probably my favorite as of lately. It consists of everything in a sabich sandwich, minus the bread itself and I usually leave the tahini sauce out together completely.
1 large egg, boiled
Diced eggplant sauteed in harissa or spices like cumin, olive oil and coriander and salt
A big dollop of hummus (homemade or store-bought)
Cucumber and tomato salad with Italian parsley and mint and lemon juice
All of these things taste SO good on the same plate. They make me happy.
A bridge snack:
I learned about bridge snacks from reading Be Well by Kelly's book. It's a snack that helps you get to dinner and she always says healthy fat can curb cravings and hunger. I'm into it.
This is my favorite bridge snack:
1/2 avocado
Jilz crackers
Squeeze of 1/4 lemon
Salt
Crushed red pepper
The one thing I have to have with anything healthy I eat is flavor. That comes by way of salt and hot sauce or crushed red pepper and spices.
What do you eat/consume/make for yourself to achieve a lil' balance?