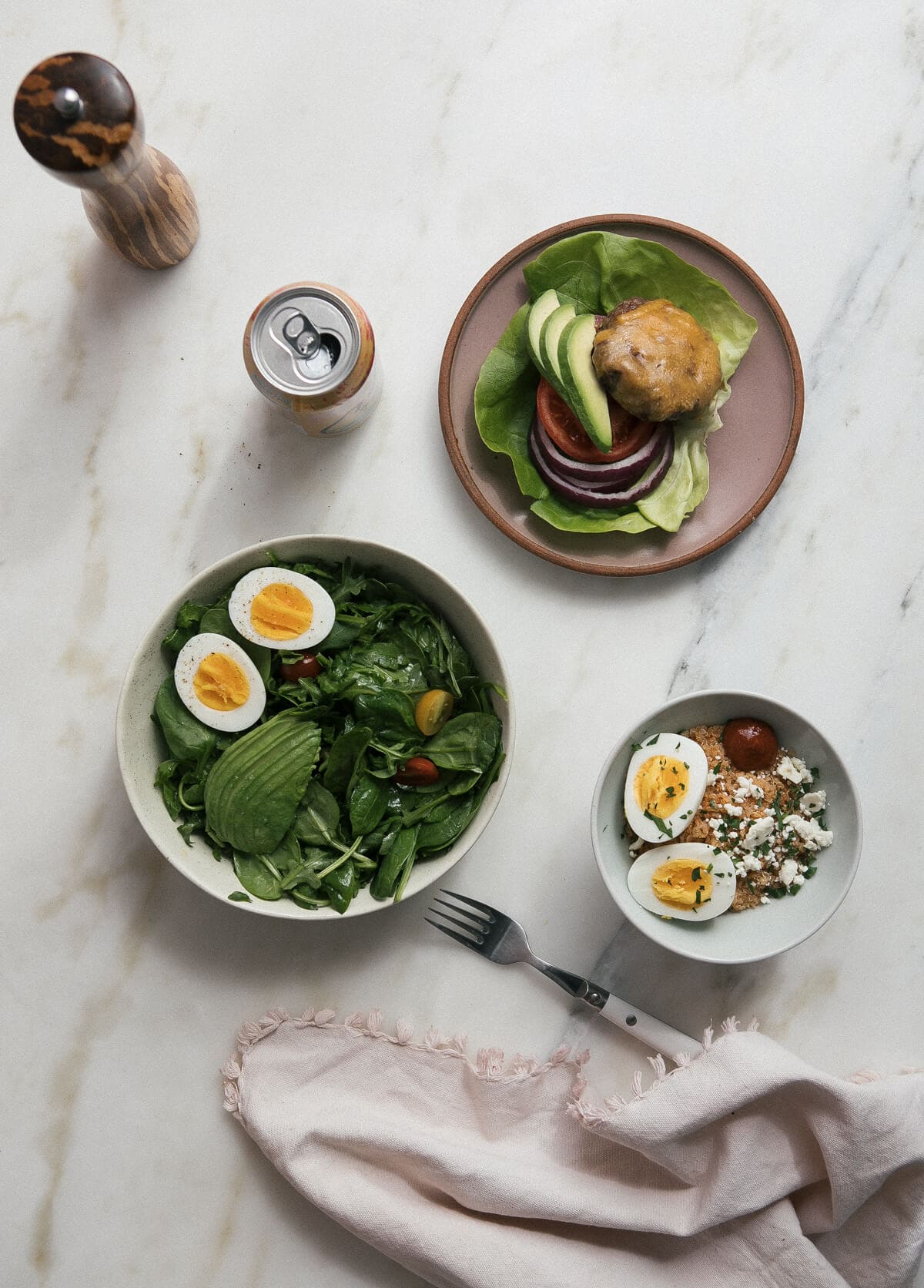 Low-key….this is what i've been eating on a daily basis.
If you follow me on Insta Stories you know that I've upped my workout routine this year. I'm currently on week 14 (!!) of Sweat with Kayla and I like it because it satisfies the to-do list human that I am.
I love how the app works because I get to "cross-off" workouts. I also LOVE that I can do the resistance workouts while not having to leave the house. I don't even belong to a gym so I just do the workouts at home with weights while I watch This is Us or The View or Good Morning America (I also realize I love ABC!).
AND, the cardio workouts are good because I go on 40 minute walks with Amelia, which we both have come to love SO much. For the high-intensity workouts, I head to Soul Cycle (Dani is my favorite instructor in LA).
ANYWAYZ, I feel like the last couple of weeks on this here blog, I've been providing recipes that are sort of complicated, indulgent, etc. so I wanted to share what I've been eating for lunch (or dinner) that all take under 15 minutes.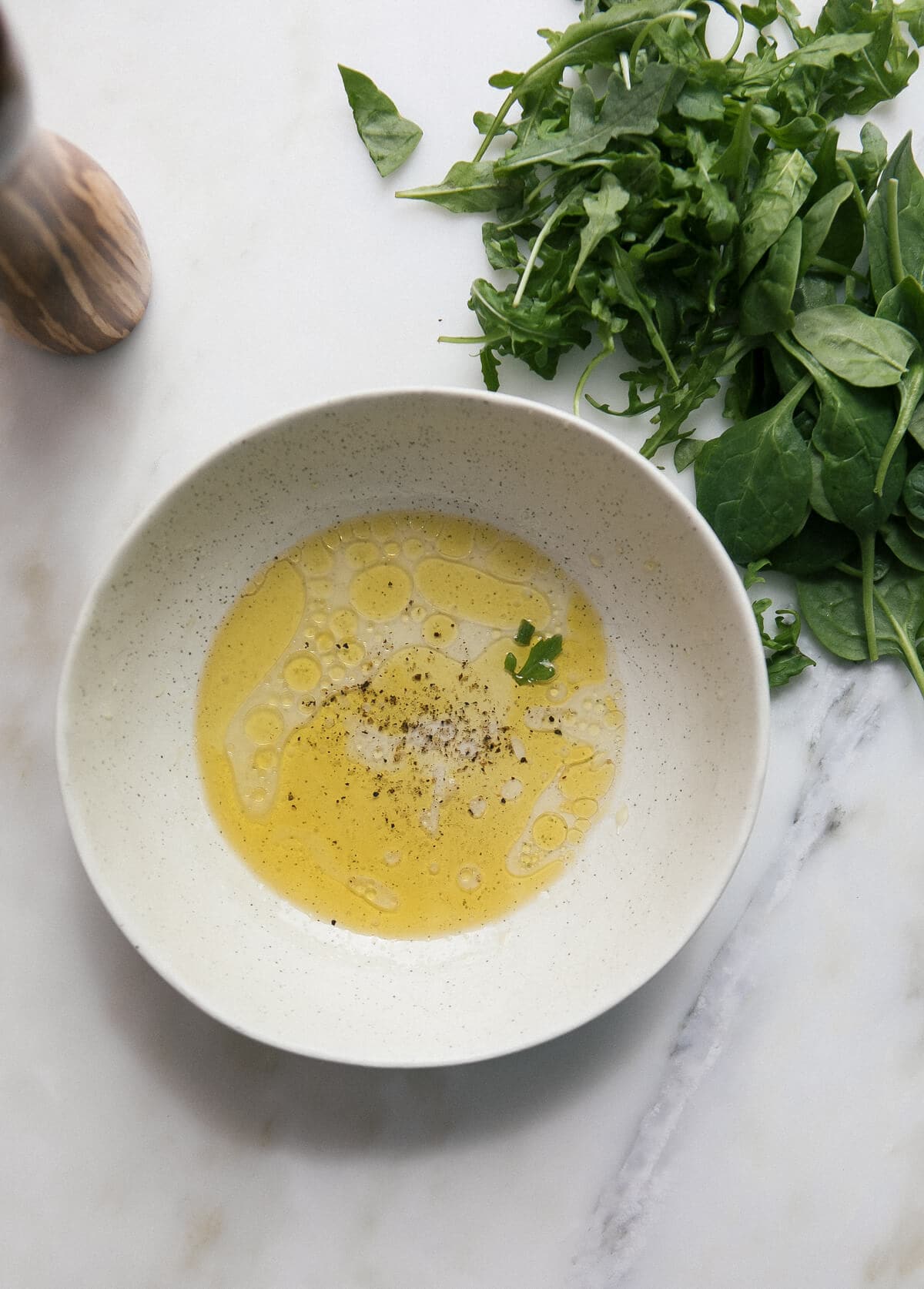 Also, for some reason I can spend three hours making a pie or a cake and love every second of it but when it comes to making something healthy for myself, I want it to come together in less than 12 minutes. All of these do!
This is what I've been eating A LOT. These posts won't be Pinned a million times or get all the likes on Instagram but they're really practical so I figured I'd share them.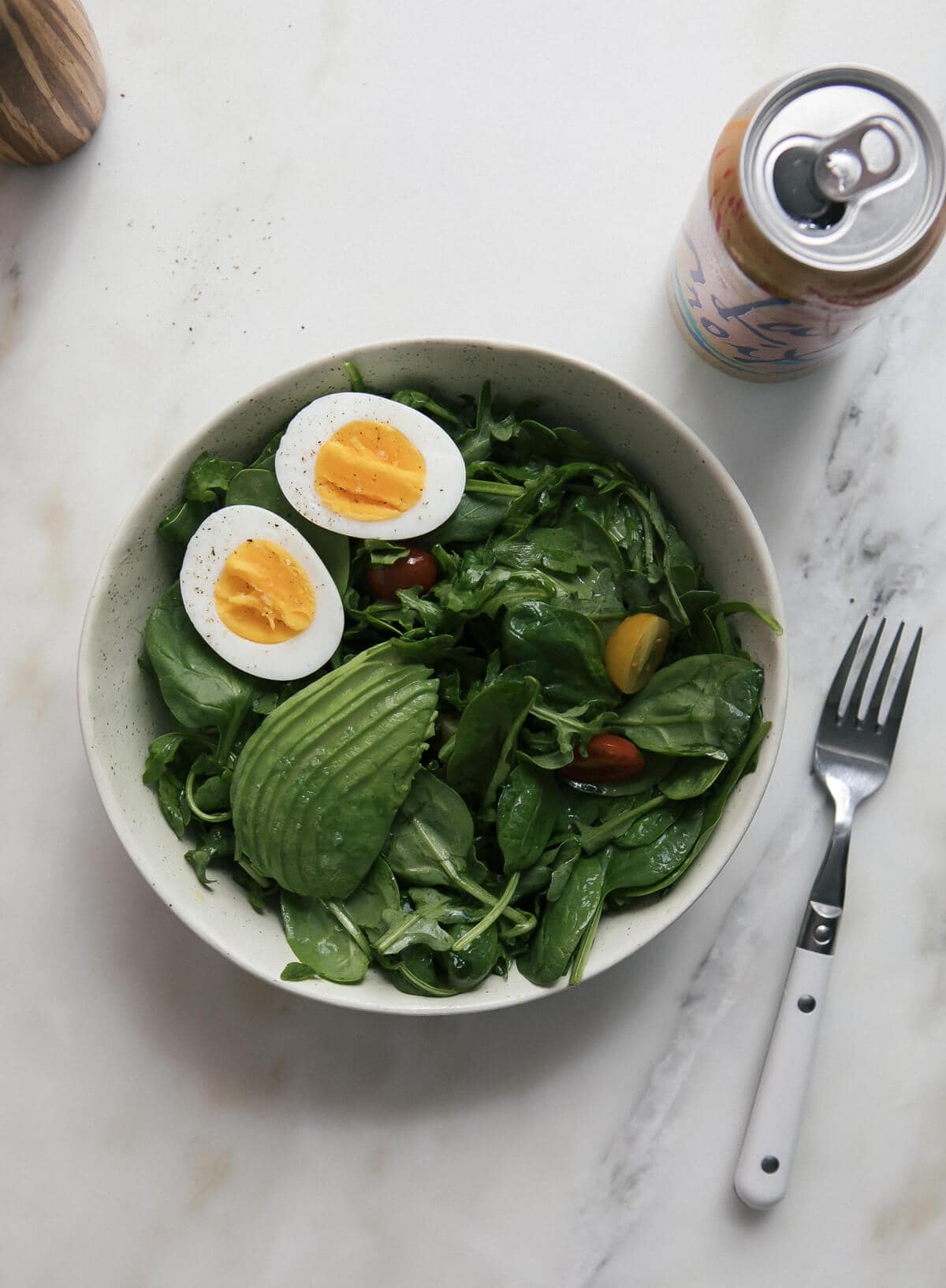 1. My favorite breakfast-y salad. Total time: 8 minutes.
I use and eat out of the SAME bowl. Less clean-up. A squeeze of lemon, olive juice, crushed red pepper (a staple in every meal ever for me), salt; all whisked together.
And then arugula. Added and tossed until thoroughly coated. More salt because it's necessary. And then two boiled 8-minute eggs, cherry tomatoes and half of an avocado. That's it!
Sometimes instead of eggs, I'll add a can of tuna, a dollop of mayonnaise and tons of pepper and lime juice.
2. Protein-Style Chicken Burger with a side of Sweet Potato Fries. Total time: 15 minutes.
I season the patty, cook it in and then top it with a small handful of Tillamook cheese. I also LOVE these frozen Alexia fries so I put those in the oven. They only take like 10 minutes. And then I wrap the burger in lettuce, slice of onion and tomato and serve it with the fries (not pictured because on this shoot day I forgot them lol).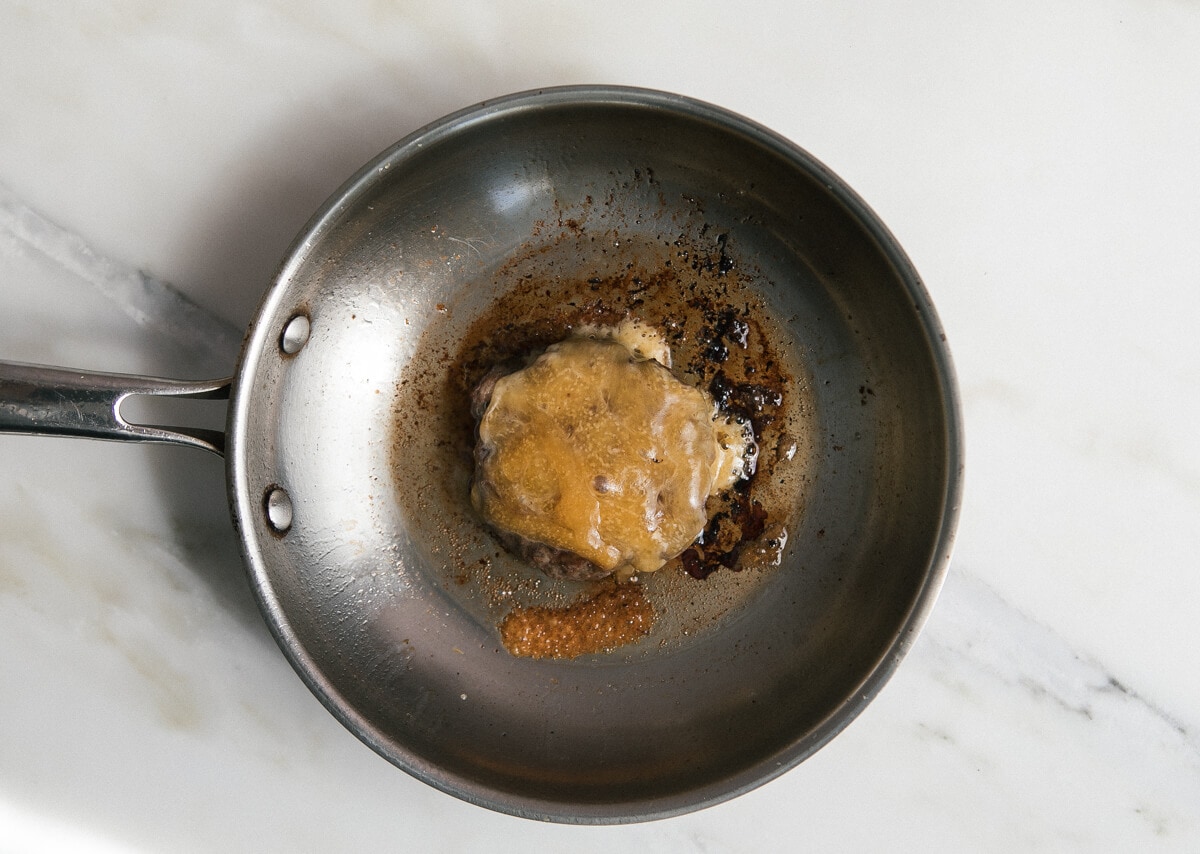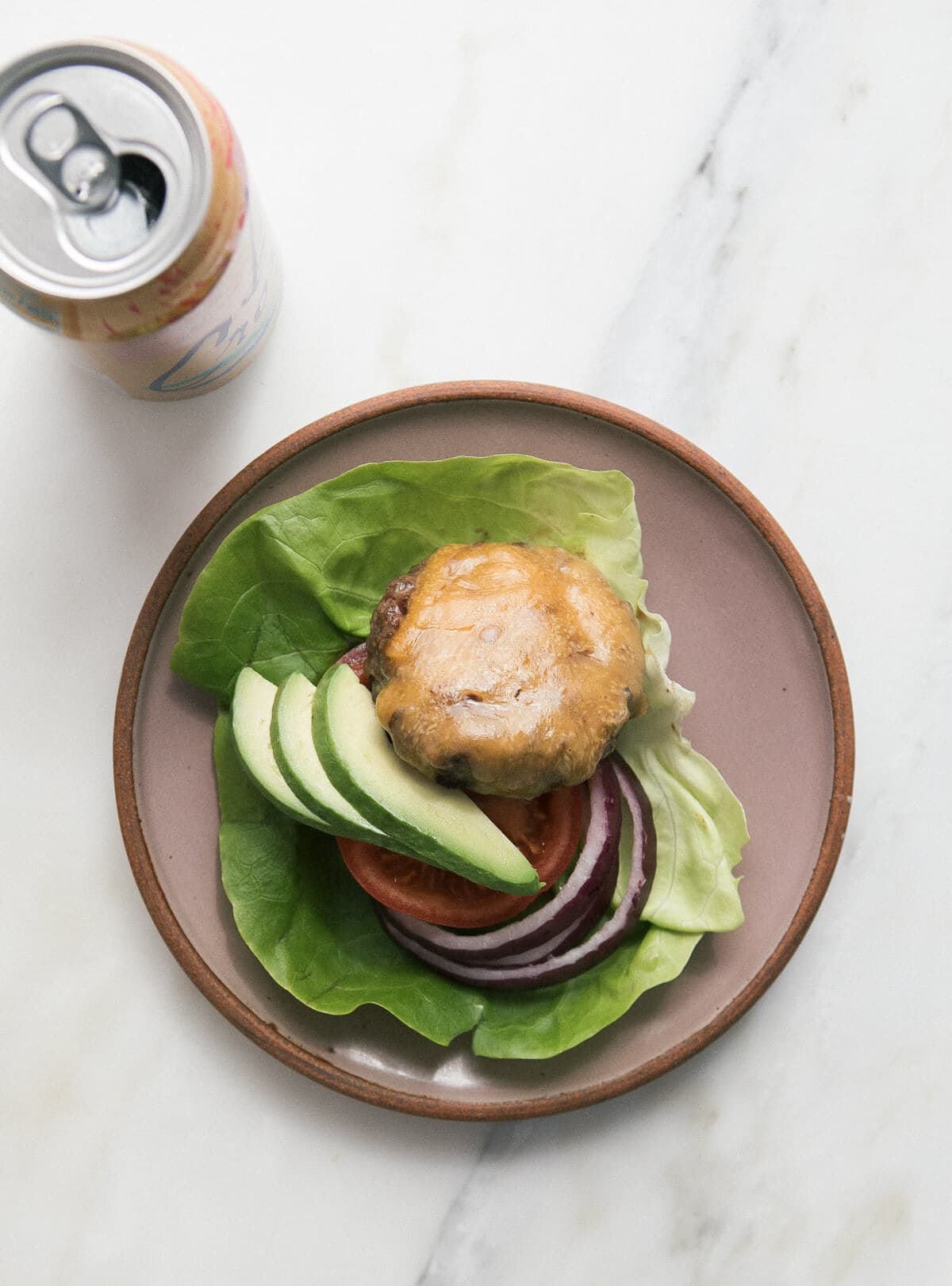 3. Harissa Quinoa with Eggs. Total time: 8 minutes
I buy frozen cooked quinoa from Whole Foods and yes it sort of means I'm a little lazy but I spend so much time already cooking that I figure I can afford to take some short-cuts. Harissa makes everything taste good so I usually mix a bit of harissa, water and feta cheese or parmesan (if I have it) with the quinoa. I'll throw in some Italian parsley, which I always have and I'll top it with eggs (because I always have them in the fridge).
I have no idea if these ideas are like super boring and so played out. Or if it's like oh cool I'll eat that!
But this is what I make for myself ALL the time.
Josh is the opposite of a dieter. He can literally eat anything he wants all day long, three meals a day and not gain a thing. (I still tell him this isn't the healthiest.)
But I AM NOT THAT WAY. I have to counterbalance my cake eating/testing with healthy meals.
Cooking super healthy for myself isn't my strong suit so please share what you cook for yourself that are quick and easy! I'd love to know!
xoxo
Adrianna