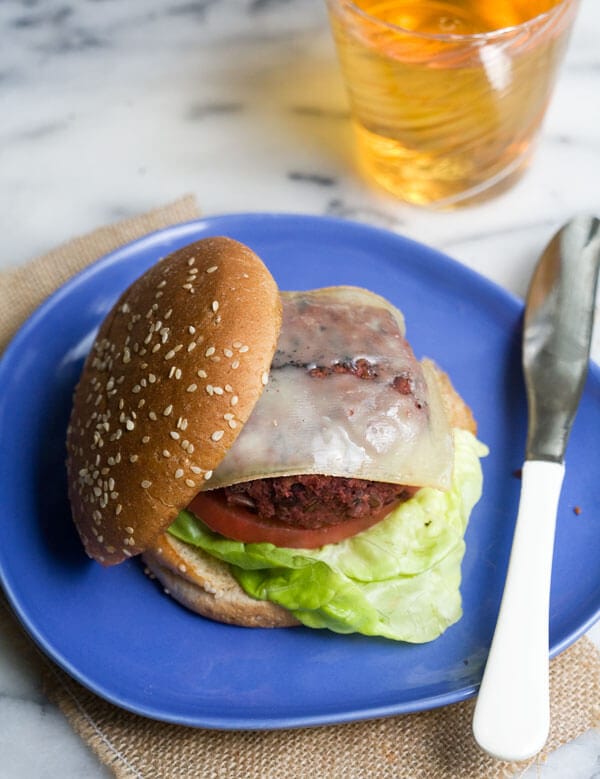 Ugh. What a cocky recipe title. But I'm serious. This thing is soooo great. I have sort of an attitude about veggie burgers because most restaurants don't treat veggie burgers with the proper respect they deserve, man. They're generally just some sad afterthought, a requirement for burger establishments so vegetarians don't starve to death while at their restaurant. Can you tell I'm passionate about the subject?
As a meat-eater, I eat veggie burgers all the time because I love them. I would never say that a veggie burger is necessarily better than a meaty, bacon-loaded burger with melty cheese on top, but I would say they're just different – you can't really compare the two. I don't always want that kind of burger; sometimes I want to go lighter, fresher but still want to feel full.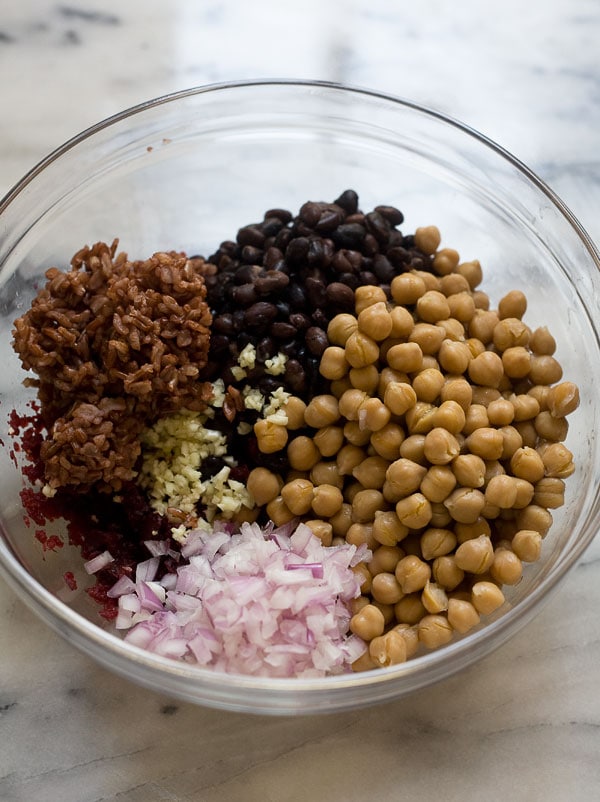 These veggie burgers are a mix of garbanzo beans, black beans, beets (!!), heirloom pink rice (can we talk about my love affair with fancy rice?), a bunch of spices and some red onion. They're vegan, too! No egg to hold them together – the coldness from the fridge helps bind them. It's vegan science.
Since I'm not a vegan, I love adding cheese to every burger ever, meat or no meat.
I love these things so much. I hope you get a chance to make 'em. Get at it!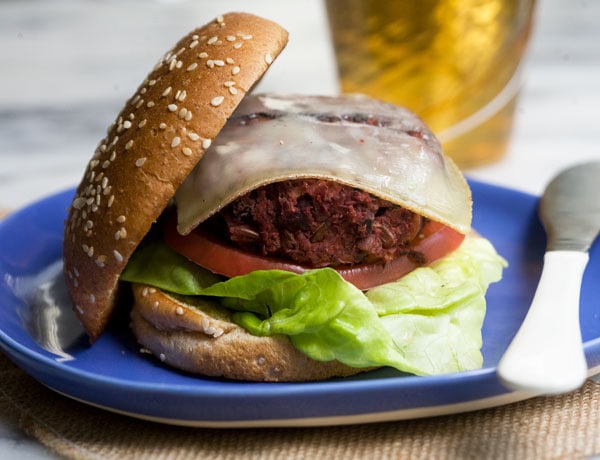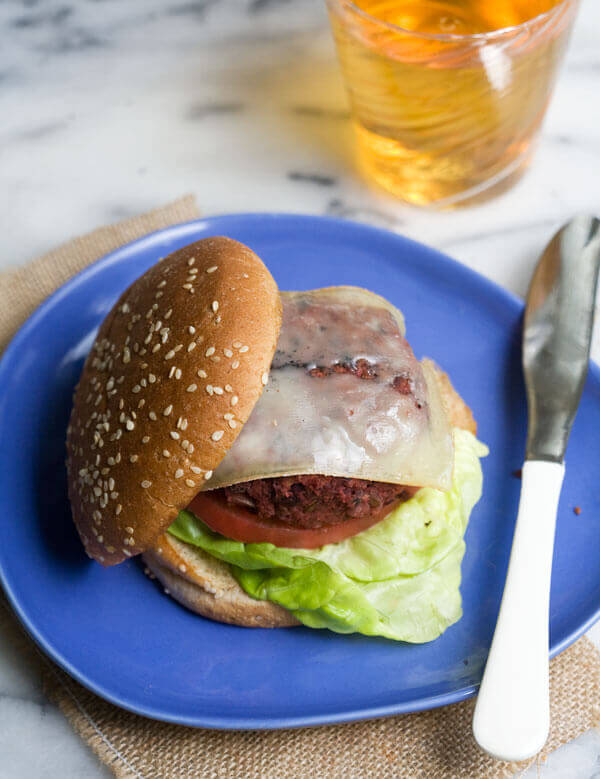 The Best Veggie Burger IN THE ENTIRE WORLD!
Print
Ingredients
Patties:
8

ounces

beets

,

steamed or roasted and peeled*

1

15 ounce can garbanzo beans, washed and drained

1

15 ounce can black beans, washed and drained

1/2

cup

cooked brown rice

1/4

cup

rolled oat flour**

1/2

red onion

,

diced

2

garlic cloves

,

minced

1

teaspoon

sumac

1

teaspoon

dried thyme leaves

3/4

teaspoon

ground cumin

1/4

teaspoon

ground coriander

Salt

Pepper
For the burgers:
6

hamburger buns

6

thin slices of Morbier cheese

,

or other strong cow's milk cheese of choice

Dijon mustard

,

optional

Mayonnaise

,

optional

Butter lettuce

Tomato
Directions
To make the patties:
Pulse beets in a food processor until roughly chopped. Add beets to a large bowl, along with the garbanzo beans, black beans, brown rice, oat flour, red onion, garlic, sumac, thyme leaves, ground cumin and ground coriander. Mash with two forks until all the beans are incorporated. Salt and pepper to taste. (I added about one teaspoon of kosher salt and half of a teaspoon of pepper.)

Using a half cup measure, form six patties. Cover them with plastic wrap and transfer to the refrigerator to chill for 30 minutes. (Since we aren't using egg to bind the mix, this step helps the patties hold together.)

Melt butter or olive oil in a non-stick skillet. Toast the hamburger buns for 1-2 minutes. Remove and set aside. Add more butter or olive oil if needed. Add the patties and cook on both sides for 3-4 minutes and until the tops are lightly golden brown. Place the slices of cheese on top of each burger and cook for 1 minute longer, until cheese is melty.
For the burgers:
To assemble burgers, add a smear or two of Dijon mustard and mayonnaise, a sheet of butter lettuce and a slice of tomato to one half of the bun. Top with the veggie burger pattie and the other half of the bun. Repeat until all six burgers are assembled.
Notes
*Many grocery stores sell roasted beets. If you'd like to roast them yourself, here's how: Preheat the oven to 400? Fahrenheit. Trim the beets. Place them in a casserole dish, add a splash of water, cover with foil and roast for 30-45 minutes, until beets are tender when scored with a fork. Allow to cool to room temperature, then peel.
**You can buy oat flour, or you can make it at home. To make oat flour, add 1/4 cup of rolled oats to the jar of a food processor. Pulse until the mixture is very fine. Measure out 1/4 cup (you may end up with a few tablespoons more) and proceed with the recipe.