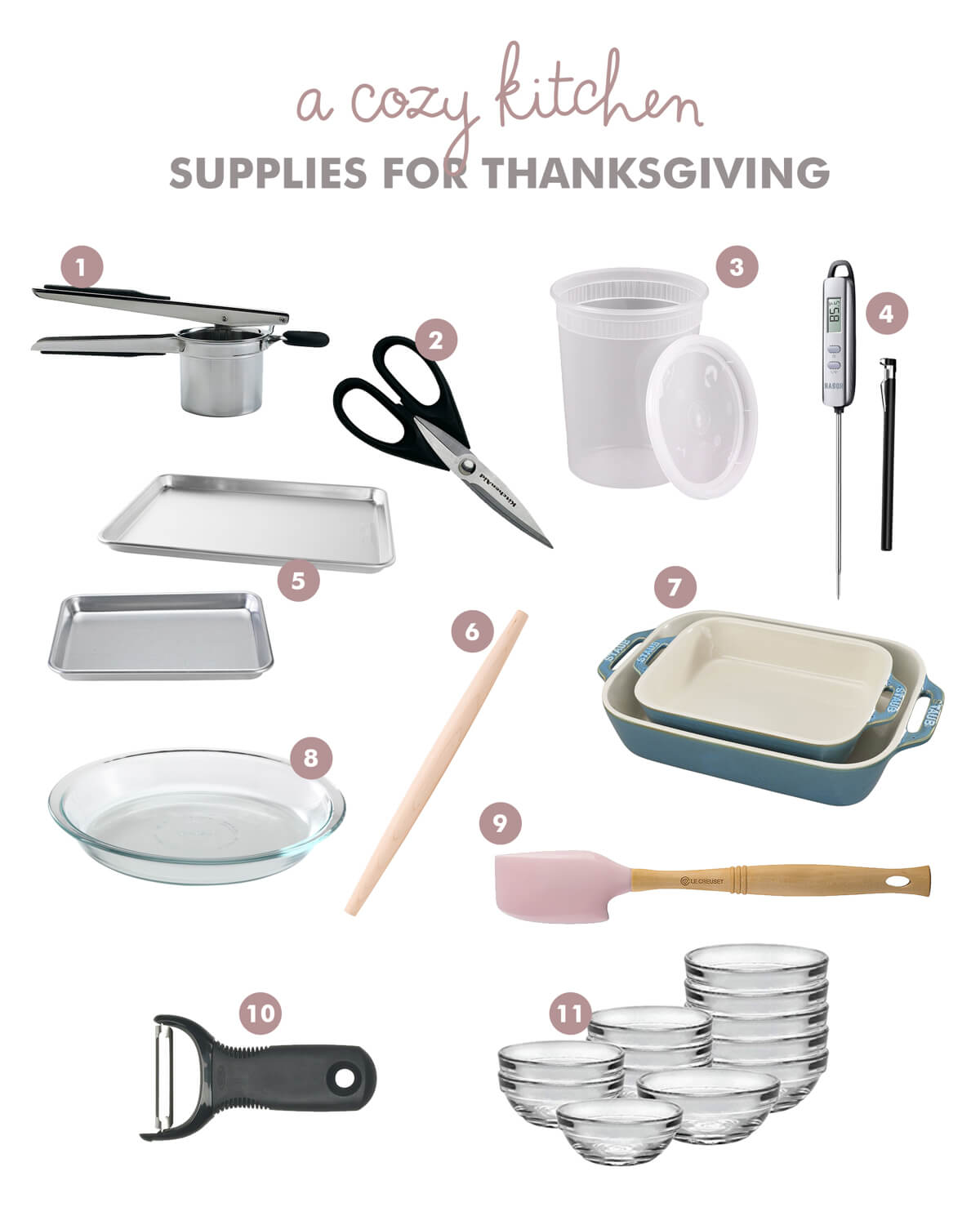 I'm the last person that is going to tell you that you HAVE to have anything. I baked for years without a stand-up mixer, I've used a colander as a sieve (I don't recommend it) and for a long time, I literally scooped out cookies with tablespoons I ate soup with. BUT, now I have a very well stocked kitchen and you know what, it makes my life easier! I move faster and I'm less stressed so here are some of my go-tos for cooking Thanksgiving dinner.
1. OXO Potato Ricer – This is the only proper way to make mashed potatoes. My post on mashed potatoes depends on it.
2. Kitchen scissors – I use these for cutting out the backbone of a turkey, I use it for cutting twine and I use them for cutting pie dough. I love kitchen scissors. They're super sharp and are dedicated to food only.
3. Deli Containers – If you're one of those people who loves to make things ahead of time, store mashed potatoes, gravy, cranberry sauce, and everything else, in these deli containers. They're also great for leftovers.
4. Kitchen/Meat Thermometer – I use this thermometer for everything. I never use a candy thermometer. This is the only one I use for taking a turkey's temperature or making candy.
5. Quarter Baking Sheets – I actually roasted my turkey on a baking sheet and it worked great AND it's so much cheaper than one of those fancy turkey roasting pans.
6. French-Style Rolling Pin – I despise those heavy-handled rolling pins because they're cumbersome and, um, heavy. I much prefer this style.
7. Baking dishes – I use these for making mac n' cheese, cooking casseroles…I dunno, you name it and they're pretty versatile.
8. Pyrex 9-inch Pie Plate – This is simple, glass pie plate. They're super inexpensive and bake pies very evenly.
9. Spatulas – You need them, in all sizes. They make scraping out the rest of that pumpkin pie filling out of the bowl easier. I kinda like buying spatulas at TJ MAXX and Marshall's–the best prices and varieties.
10. Vegetable Peeler – For all those potatoes and apples!
11. Glass Nestled Prep Bowls – I have this exact same set and use them for everything. They're great for all the things.